Judge grows tired of Yohn's 'delay tactics,' denies motion to continue; trial set to begin July 10
QUINCY — The seemingly never-ending saga of Bradley Yohn in Adams County Circuit Court may finally be close to a trial.
At the end of a Friday morning motion hearing, Yohn informed Judge Roger Thomson he had four more motions he wanted to file. Thomson (who lives in Havana) agreed to have another motion hearing two hours later after talking with Assistant State's Attorneys Josh Jones and Laura Keck, along with Yohn's standby counsel, Public Defender Todd Nelson.
At the second hearing, Thomson allowed Yohn to argue a motion to continue his case for a fifth time. Yohn explained he was waiting on a DNA review and a fingerprint analysis, despite Thomson granting a motion on Dec. 14 to spend up to $3,000 on the DNA review and up to $1,000 for the fingerprint analysis.
Yohn also claimed a lack of office supplies makes it difficult for him to create his defense. Earlier in the day, as Yohn explained difficulties is getting paper copies made of documents, Thomson called for a recess to give Yohn's thumb drive to the clerk to make copies.
Yohn also said he was waiting for Nelson to find more experts. He said he isn't allowed to use the phone in the Adams County Jail in the same manner other inmates do.
"We have taken a step forward in getting prints and copies. Now I can put my motion for a change of venue together," he said. "The defendant refuses to be forced into trial on false allegations without being able to secure his rights to appeal if it may go to that stage. I would also note that these prejudiced tactics are not accidental. I don't know who pulls the strings around here, but the jail stopped giving copies months ago when I started finding out things were not accurate, and things were being manipulated.
"I've not gotten to use the phone when reasonably needed to. I've been held in the hole ridiculously long, and it's not permitted me to do what I need to as far as contacting (people). I'm simply not prepared. As much as I wish to go to trial, I cannot. … It's not a delay tactic. It's a consistent complaint. My complaints are valid. I've been delayed. I'm not delaying myself. I don't want to be here. I don't want to be beat on in this county jail anymore. I would prefer to go to trial, but I can't."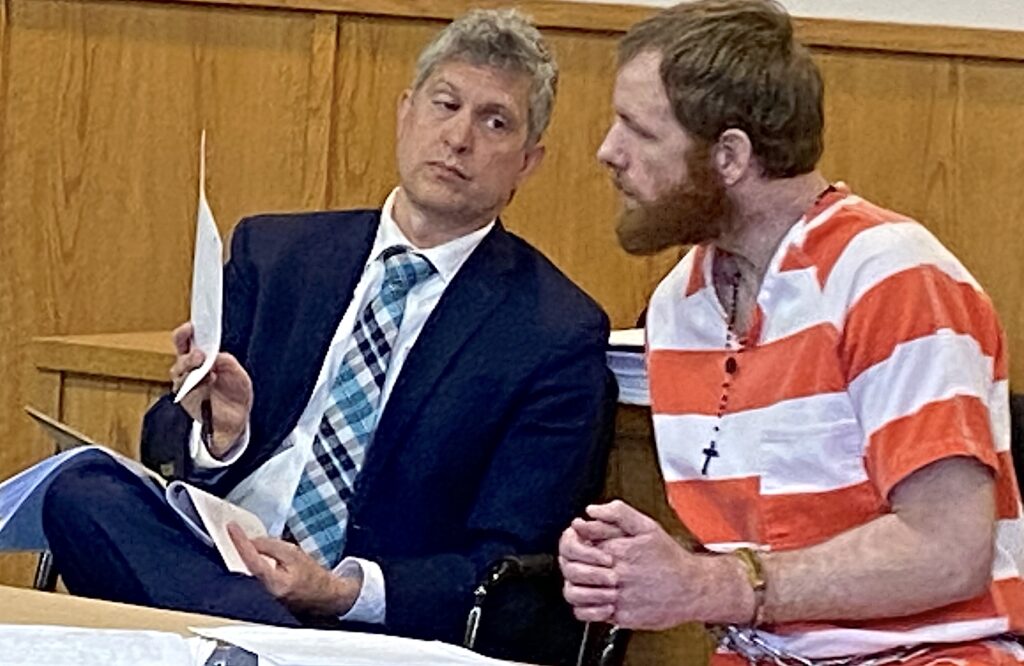 In denying the motion for a continuance, Thomson appeared to have had enough of what he called Yohn's "delay tactics."
He noted he continued Yohn's trial on April 29, 2022, moments before jury selection began, when he decided he couldn't continue as a pro se litigant. However, Yohn chose for Nelson to be withdrawn as counsel during a May 11, 2022, hearing.
"On that date, you signed a document entitled 'Admonishment to defendants wanting to proceed at a criminal trial without counsel' which advised you, the defendant, will receive no special consideration from the court," Thomson said. "Paragraph seven, I advised and admonished you, the defendant will receive no extra time for preparation or greater library time in prison. Paragraph nine, I advised and admonished you that you will not be given an opportunity to change your mind during trial."
Thomson then reminded Yohn he continued the trial on June 21, 2022, Oct. 26, 2022, and April 12, 2023.
"Your motion is denied, with the court specifically finding it to be a delay tactic," the judge said.
Undeterred, Yohn told Thomson he was being "railroaded" and had been intentionally delayed.
"The courts are wanting to force this case into trial and get me on out of here, because they know I'm a liability in that jail," Yohn said.
He reiterated complaints about his mistreatment in the Adams County Jail, then claimed people have taken "extracurricular avenues" to deny him of his rights. He said he hadn't received transcripts previously asked for to formulate his defense.
"There has been no evidence, basically witnesses testifying, that the transcripts would be useful for your trial," Thomson said. "They will be useful to you on appeal, if such becomes necessary.
"This is the fifth continuance you're moving for. The court has denied your motion to continue. You've seen fit and found a means to file 117 motions in this case, Mr. Yohn. Your inability to gain access to paper, stamps and pens hasn't seen to be interfered with very much. The motion to continue has been denied. Let's move on."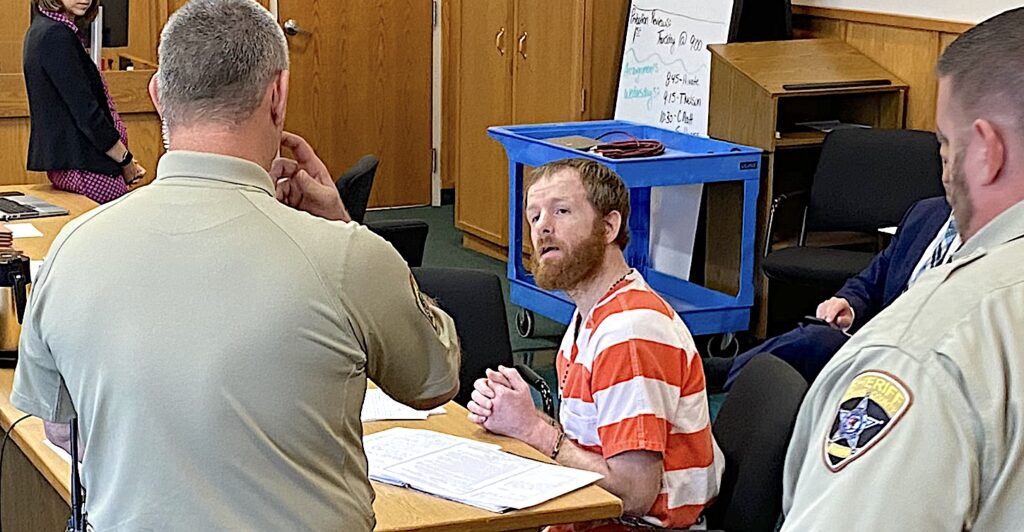 Yohn learned during the first motion hearing Friday that his request for a substitution of judge made Wednesday was denied on Thursday by Judge John Wooleyhan. Also denied was a motion to strike Thomson's ruling to quash subpoenas by Yohn, asking for camera footage on multiple days in April and May.
Thomson denied a motion for a psychological evaluation of Karen Blackledge. She is serving two 20-year sentences in the Illinois Department of Corrections for her role when she illegally entered a home on Quincy's North Bottom Road on Nov. 9 — the same night Yohn allegedly entered the same home.
A motion for Yohn to obtain a copy of a transcript from a hearing on Jan. 11, 2022, was denied. Court reporter Shannon Niekamp recently testified no recording was made of that hearing. Motions for an "OBGYN expert" and an "expert in bruising" also were denied.
Thomson did allow for Yohn to have a family member supply a charging cord to allow him to review his cellphone for evidence.
Yohn also took opportunities to take jabs at Jones, saying he was "not find to stand over this case" and "maybe he needs a fitness check."
Yohn is charged with home invasion, aggravated kidnapping, aggravated vehicular hijacking and aggravated criminal sexual assault with a weapon — all Class X felonies. He allegedly committed the crimes on Nov. 9, 2021, at the home of Christine "Tina" Lohman Schmitt. Yohn could be sentenced to serve between six and 30 years in the Illinois Department of Corrections if he's found guilty of any Class X felony.
A pretrial hearing is set for June 30, and Yohn's trial is set to begin July 10.
When he wasn't battling with Jones and Thomson, Yohn had plenty of commentaries for others in the courtroom. During a break in the courtroom, he told bailiff John Ervin about how the Lifetime channel would make a movie about his case. He had a stare-down with Blue Richards, a chief deputy with the Adams County Sheriff's Department, before saying, "Your hate for me is for all the wrong reasons."
When the second hearing ended, Yohn continued to talk to people in the courtroom. Bailiff Chad Downs told him to be quiet and tried to direct him out of the courtroom. Yohn retaliated by yelling a series of curse words at Downs.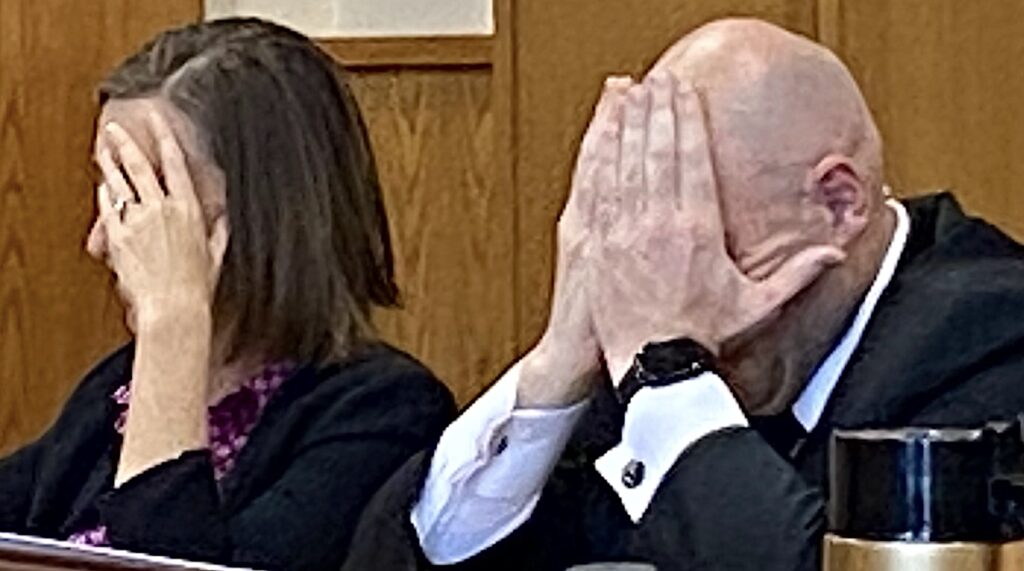 Miss Clipping Out Stories to Save for Later?
Click the Purchase Story button below to order a print of this story. We will print it for you on matte photo paper to keep forever.