Judge to rule in February on motion to suppress cellphone evidence in Wiley murder case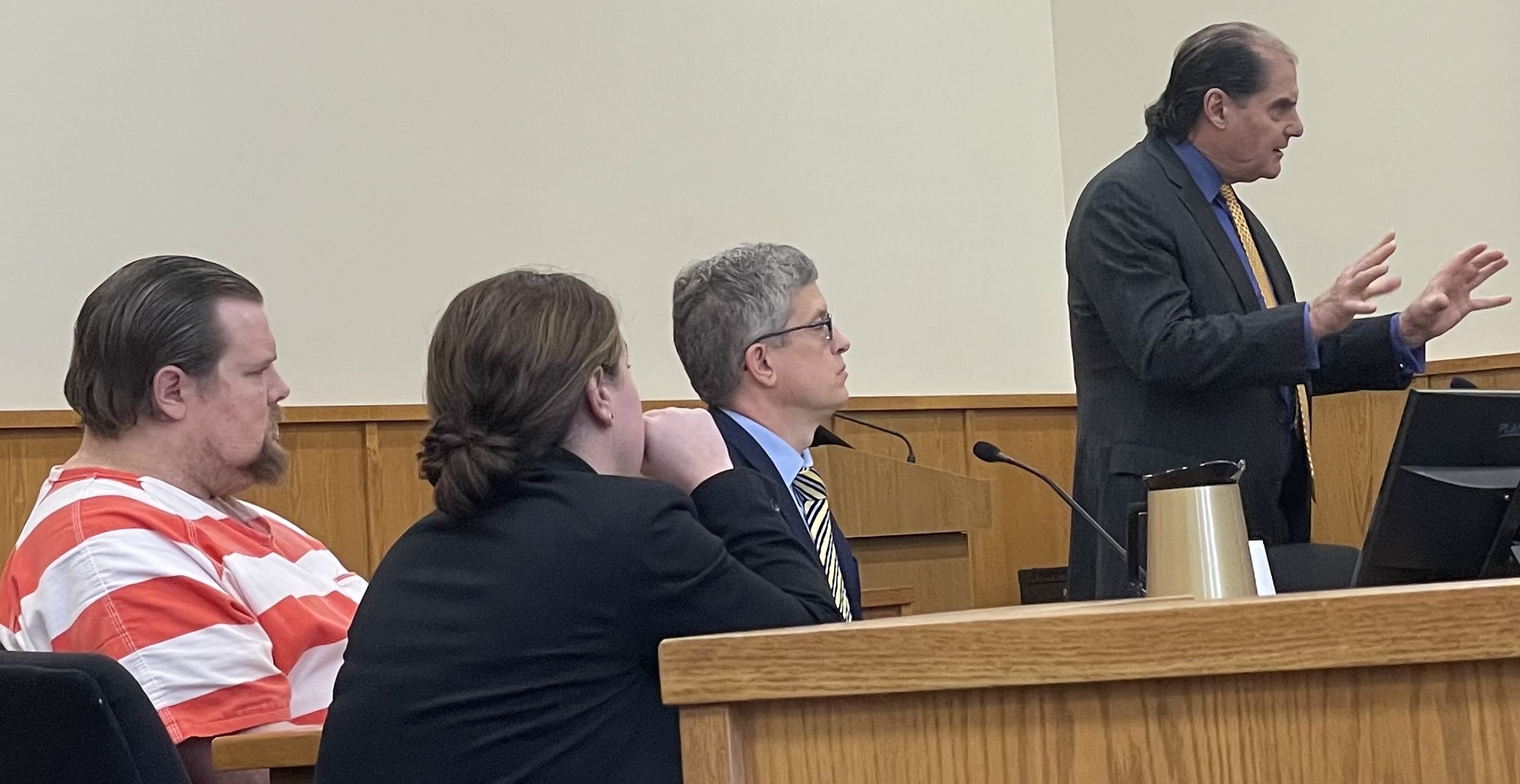 QUINCY — A ruling on a request by attorneys for a Quincy man, charged with first-degree murder in the death of an infant in 2018, to suppress statements and information from a cellphone extraction will be made in February.
Travis Wiley, 35, appeared with public defenders Todd Nelson and Shelby Hoiness before Judge Michael Atterberry Wednesday afternoon in Adams County Circuit Court.
Wiley faces three counts of first-degree murder and one count of aggravated battery in the Jan. 22, 2018, death of an infant girl. He is accused of shaking the infant on Jan. 20, 2018, and she died two days later at SSM Health Cardinal Glennon Children's Hospital in St. Louis. Wiley was arrested June 20, 2018. He continues to be held in the Adams County Jail on $5 million bond.
Wiley's case is set to go to trial in March.
Atterberry heard testimony during Wednesday's 90-minute hearing from Kevin Taute, a detective with the Quincy Police Department. He instructed Nelson and Jon Barnard, a special prosecutor appointed July 19 by the Fourth Judicial District's Appellate Prosecutor program, to submit written arguments by Jan. 13.
Taute testified he met Wiley on Jan. 20, 2018, at a residence at 718 Kentucky, where the child stopped breathing earlier in the day while under Wiley's care. Taute admitted searching Wiley, seizing a cellphone from him, and placing Wiley in the back of a squad car driven by Kyle Hatch, an officer with the Quincy Police Department.
Taute then instructed Hatch to take Wiley to the Quincy Police Department and put him in Interview Room No. 4, where video and audio recordings could be made. He said Wiley had signed a statement understanding his rights and that Wiley understood he was not under arrest. He also said Wiley had agreed to an extraction of information from his cellphone.
Barnard introduced both documents into evidence.
Taute testified he later learned the interrogation of Wiley was not recorded.
"I assumed it was rolling," he said of the recording equipment used.
In his motion to suppress statements, Nelson referred to the Illinois Compiled Statutes, which state, "An oral, written or sign language statement of an accused made as a result of a custodial interrogation conducted at a police station … shall be presumed to be inadmissible as evidence against the accused in any criminal proceeding unless an electronic recording is made of the interrogation."
When Wiley was arrested on June 30, 2018, Taute testified he interrogated him in Interview Room No. 4. That investigation was recorded.
Nelson again referred to the Illinois Compiled Statutes in his motion, saying, "If the court finds that the defendant was subjected to a custodial interrogation in violation of this section, then any statements made by the defendant during or following that non-recorded custodial interrogation, even if otherwise in compliance, are presumed to be inadmissible in any criminal proceeding against the defendant."
The child's mother was dating Wiley at the time and lived with him. Taute testified that when the mother went to work at a local fast-food restaurant on Jan. 20, she later received a call from Wiley that her daughter wasn't breathing. Wiley also told the mother a call made to 911 had failed. The mother called 911 as she left her job and raced back to the Kentucky residence.
Taute said Wiley didn't become a suspect until after completion of an autopsy on Jan. 23, 2018.
Barnard asked Taute several questions about Wiley's demeanor during the Jan. 20, 2018 interview. Taute said Wiley had no problem understanding any of his questions, and that he "cried two or three times" during the interview. Wiley told Taute he noticed the child's chest was not moving with any breaths. He also noticed she was turning "a gray pale color" and not responding to any kind of stimulus showing she was conscious.
"I felt he was able to elaborate," Taute said. "He just did not simply reply with 'yes or no' responses. He was elaborate with details in regard to my questions."
Barnard asked Taute about a break in the interrogation when Wiley went into the parking garage to smoke a cigarette. Taute said he asked if Wiley would consent to having an extraction completed on his phone. Wiley asked how long would it take, and Taute told him "at least two to three days at the minimum."
"(Wiley) said he didn't want to lose his phone, but he also said that he wanted to comply," Taute testified.
A similar motion in this case was heard on Sept. 23, 2021. Judge Bob Adrian denied the motion made by Ryan Parker, Wiley's attorney at the time. Assistant state's attorney Josh Jones was the prosecutor at the time.
Atterberry began presiding over the case in February 2022 after Chief Circuit Judge Frank McCartney removed Adrian from the case and all felony criminal cases. Adrian made a controversial ruling regarding a criminal sexual assault case in January, leading to McCartney's decision.
Parker then accepted a job as an assistant state's attorney in Adams County on June 21. Atterberry ruled July 6 the Adams County State's Attorney's office could no longer participate in Wiley's prosecution.
Barnard filed a motion on Nov. 14 to admit evidence of three prior incidents of domestic violence by Wiley. However, when Atterberry asked him about it at the beginning of Wednesday's hearing, Barnard recommended the court take it under advisement.
"I think it would not be possible for the court to rule on it until we get to trial, based on the evidence presented at that time," Barnard said.
Miss Clipping Out Stories to Save for Later?
Click the Purchase Story button below to order a print of this story. We will print it for you on matte photo paper to keep forever.