Jury deliberating in first-degree murder trial; Barnard says Wiley, doctor met at 'the intersection of deceit and desperation'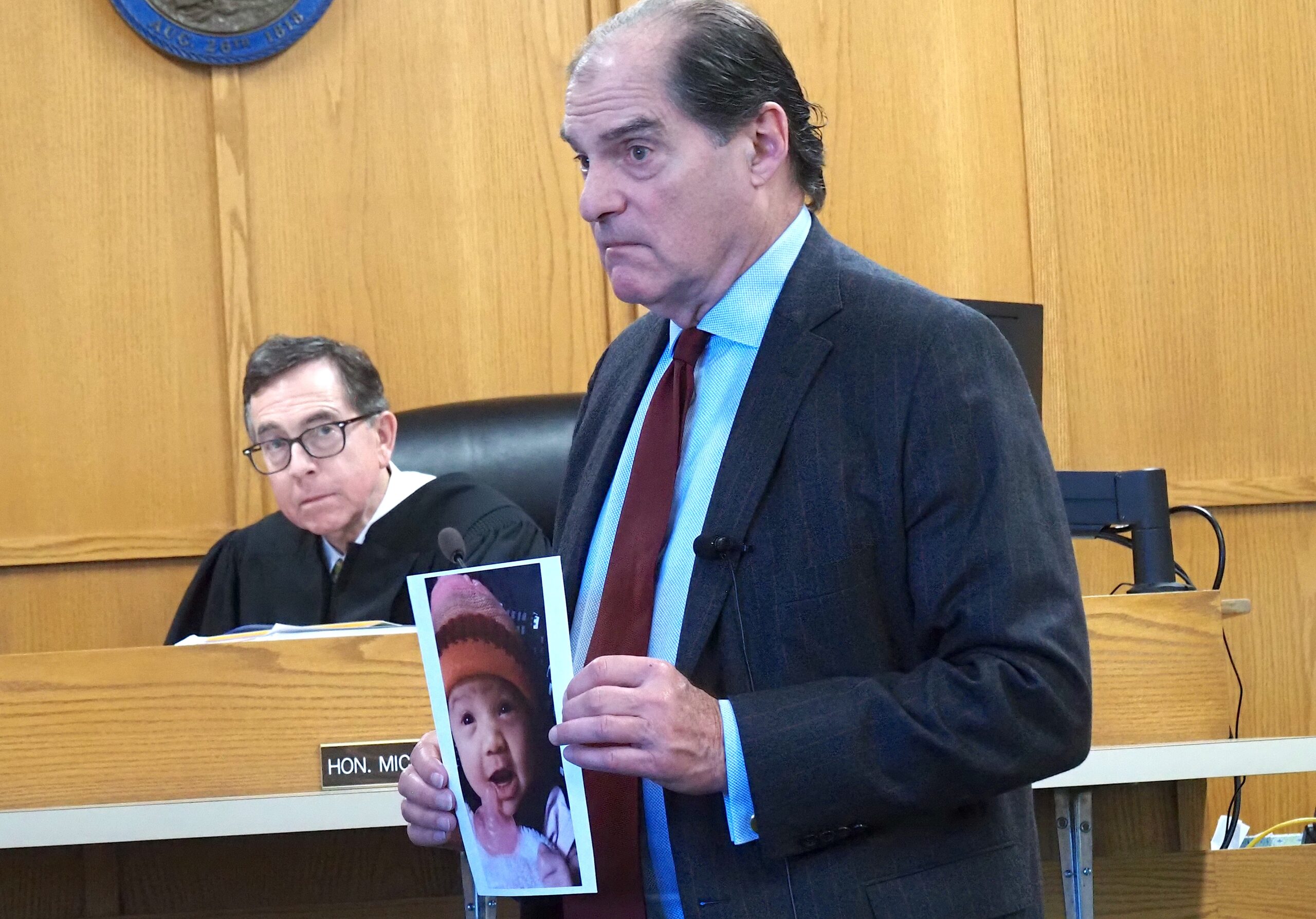 QUINCY — After dismissing the medical theories of Dr. Jane Turner as "a house of cards" and saying Travis Wiley belonged on the cover of "Bad Luck Magazine" if his story was to be believed, Special Prosecutor Jon Barnard showed a photo of Airyana Hoffman to an Adams County jury.
"She will not see a birthday or her graduation," he said. "Let's not compound that with junk."
Barnard asked the nine-woman, three-man jury to return a verdict if guilty — "for the sake of evidence, for the sake of justice, for the sake of Airyana" — in Wiley's first-degree murder trial Friday morning in Adams County Circuit Court.
Wiley, 35, is accused of shaking Airyana on Jan. 20, 2018. She died two days later at SSM Health Cardinal Glennon Children's Hospital in St. Louis. Wiley was arrested June 20, 2018. He remains in the Adams County Jail on a $5 million bond. A minimum sentence for first-degree murder is 20 years in the Illinois Department of Corrections, with a maximum sentence of 60 years.
Judge Michael Atterberry handed the case to the jury at 11:02 a.m.
Barnard began his closing statement by saying, "It's hard to decide which is sillier — the notion that phones do things by themselves, or an infant can be suffering from pneumonia without displaying the slightest of symptoms." He said Wiley and Turner met "at the intersection of deceit and desperation."

'Only Wiley knows when he shook that baby'
Barnard first targeted Wiley's story. He said Wiley had been up all night, with 900 website clicks from his cellphone between midnight and 10:30 a.m. on Jan. 20. Barnard said Wiley took a nap, but it wasn't at 1:30 p.m. as he claimed. Instead, Barnard said Wiley's phone went silent at 11:17 a.m. and was silent until 1:30 p.m. The last activity before 11:17 a.m. was Wiley connecting to a news story about a man convicted of murdering a 3-year-old child.
"Only Wiley knows when he shook that baby and effectively killed her," Barnard said.
Barnard said Wiley realized he could no longer ignore Airyana's condition at about 2:30 p.m. He made seven phone calls in seven minutes, and "it was clear he knew something was wrong," Barnard said. "But (calling) 911 was not his first move."
Wiley contacted Christina Engle, Airyana's mother, at her job at a local fast-food restaurant. When she raced home, Engle discovered Wiley in the street, smoking a cigarette.
"What does that tell us?" Barnard said.
'Phones do things by themselves all the time'
A conversation between Alyssa Donnelly and Wiley in May 2018
"What would be the most unlikely thing that an innocent person would say when asked about this horrific tragedy?" Barnard asked.
He then offered multiple choices for the answer.
"I want to help all I can."
"I feel so bad for the family."
"I need to help the police sort this out."
"I've got to get out of this town. Where I'm going, there's no extradition?"
Barnard repeated his question, knowing Wiley made the last comment during that recording.
Barnard then referred to an interview by Det. Kevin Taute with the Quincy Police Department on June 30, 2018. When Taute confronted Wiley about his phone activity — the phone history showed nine website contacts and three text messages — between 1:30 p.m. and 2:30 p.m., Wiley said, "Phones do things all by themselves all the time."
"No, they don't," Barnard said.
Taute pressed Wiley two more times on other facts. Wiley repeats his statement about phones.
"We've got to ask ourselves. That's a bad collection of coincidences," Barnard said. "If those are coincidences, then Wiley needed to be on the January 2018 cover of Bad Luck Magazine and get a bronze statue in the Bad Luck Hall of Fame."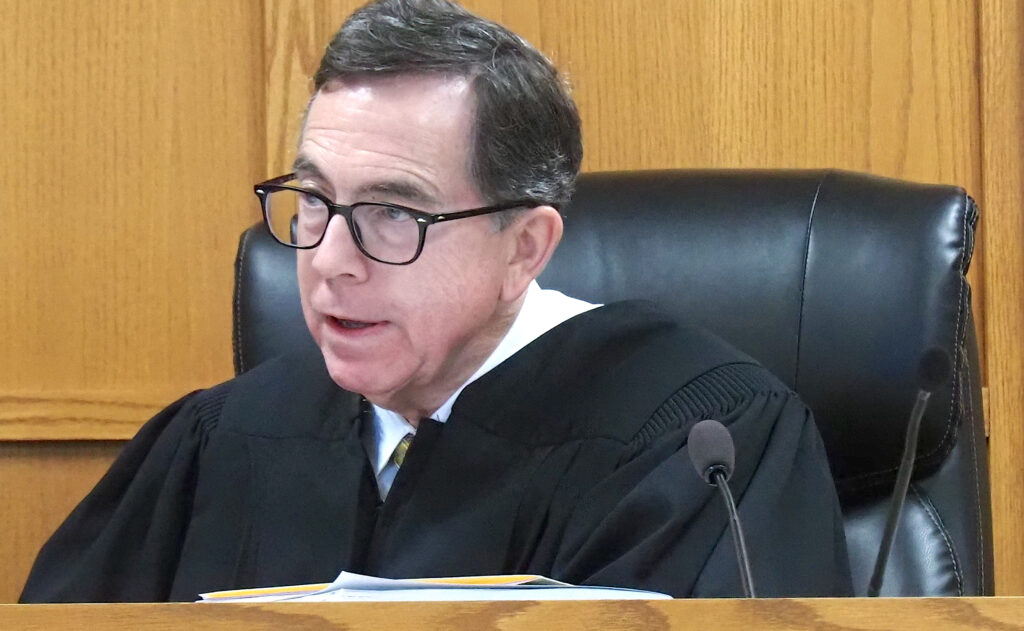 'The only place you'll see those kind of gymnastics are in the Olympics'
Barnard then turned to Turner, who he said "struggled mightily" to avoid answering a series of simple questions. 
"I'm not sure she ever answered a question without an editorial," he said. "The gymnastics she went through to avoid answering a question … the only place you'll see those kind of gymnastics are in the Olympics."
Barnard said kids from all over the Midwest see all kinds of specialists at Cardinal Glennon Children's Hospital in St. Louis, where Airyana died. He said no evidence of sepsis was in the Cardinal Glennon report. 
He said Dr. Peter Williams, a forensic pathologist who performed Airyana's autopsy, said her lymph nodes would be swollen and large if there was an infection. 
"What did he see? Zip," Barnard said.
Barnard reminded the jury about the consensus statement published in 2018 and supported by the Society for Pediatric Radiology, the American Society of Pediatric Neuroradiology and the American Academy of Pediatrics, about abusive head trauma. He said each of those associations came together to remind fellow practitioners that abusive head trauma is real.
"The defense will argue that shaking cannot cause serious injury," Barnard said. "It was as if they were warning us about people like Jane Turner." 
Barnard says cash is 'lubricant' for Turner's conclusions
He said cash is the "lubricant" for her conclusions. He previously noted she earned more than $22,000 in a similar case in Quincy and more than $12,000 in the Wiley case for her work.
"As long as there are abusers who kill and injure their children, there will be Jane Turner," Barnard said. "She's poised to parachute in, offer up her opinion, scoop up her cash and head off to the next courthouse."
Barnard said Turner would tell someone that if a person was shot and killed died that they died from lead poisoning.
He spoke about the jury instruction about the believability of witnesses, which he calls "the Jane Turner instruction," and noted the reasonableness of a person's testimony.
"Infection, anyone? Pneumonia, anyone?" he asked.
He said three pathologists who testified for the prosecution — Williams, Dr. Channing Petrak from Peoria and Dr. Juliette Scantleberry from St. Louis — concluded that their diagnosis for Airyana's death was "not a close call."
Barnard said he learned about Turner and her mindset during her testimony.
"She does not believe that shaking can cause injury or death to a defenseless infant," he said. "She's swimming upstream against a massive mainstream of specialists who say her opinion is bunk."
Barnard concluded by saying, "If it looks like a duck, and it walks like a duck, and it quacks like a duck, it's a duck."
Nelson: Wiley's account of what happened was 'unwavering'
Chief Public Defender Todd Nelson repeated the state's explanation for how Airyana died, saying Wiley was tired and exhausted from being up all night, and because Airyana was crying, he shook her to death. 
"That's the state's theory," he said. "Except they have no evidence to prove that."
Nelson says Wiley was cooperative with the police, handing over a set of keys and his phone. He gave consent for police to search the apartment, and he talked to the police multiple times. Nelson said Wiley's account every time he was asked for it was "unwavering."
Nelson pointed out that in the days before Jan. 20, Engle saw her daughter stop breathing but later downplayed it. He also noted the doctors performing Airyana's autopsy came to their conclusions without seeing any bruising or any cervical spine injury.
He said he asked Scantleberry what the mechanism of Airyana's injury was.
"She said, 'I don't know,'" Nelson said.
He said Scantleberry refused to go so far to make the declaration that Airyana died because of shaking.
Nelson said state did not prove Wiley murdered Airyana
Nelson said Turner believes the medical record in this case was "lacking." He said it contained certain findings, but the lab results to confirm those findings were not included in that record. He said the state could have recalled its experts to explain why Turner's interpretation wasn't correct, but it didn't.
Nelson also said Turner noted pathologists were not part of the consensus statement that Barnard referred to during his prosecution. He concluded by saying Wiley did not murder Airyana, and the state did not prove Wiley murdered Airyana.
'Please, Dr. Turner, do not make Airyana your victim'
In his rebuttal argument, Barnard said that Turner claims the pathologists, Blessing Hospital and Cardinal Glennon all "missed it." He said her "go-to" theory is the progression of CSVT (cerebral venous sinus thrombosis), which occurs when a blood clot forms in the brain's venous sinuses.
Barnard said experts have refuted Turner's theory as "junk science."
As he held a photo of Airyana, Barnard said. "Please, Dr. Turner, do not make Airyana your victim."
He called Turner's theory "the house that Jane built, and it's a house of cards."
Miss Clipping Out Stories to Save for Later?
Click the Purchase Story button below to order a print of this story. We will print it for you on matte photo paper to keep forever.