Lewin still 'looking over everything,' called six-month offer 'kind of unusual'; will give answer today if he is accepting chief of police position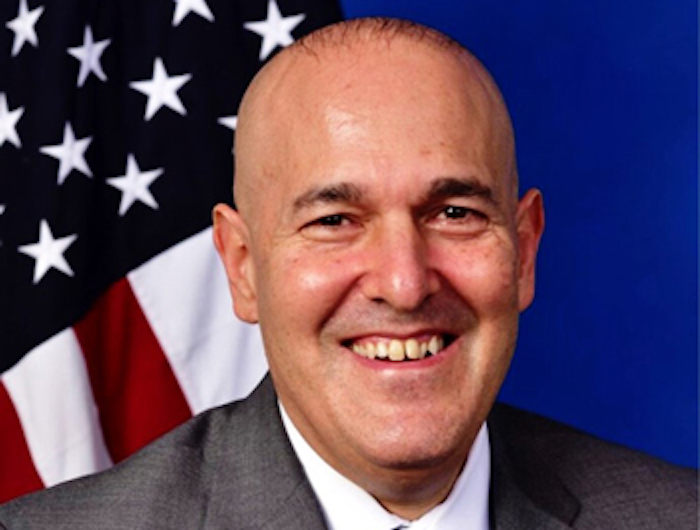 QUINCY — Quincy will learn today if Jonathan Lewin will be the city's next chief of police.
Lewin said during a telephone interview Friday morning that he's "still reviewing some things" but will have a final decision made by the end of the business day as to if he will accept the offer extended to him Monday by the Board of Fire and Police Commissioners.
"I'm just looking over everything," he said. "We had a talk last night, and it's still just looking through everything."
The commissioners' offer to Lewin a six-month probationary appointment is contingent on Lewin completing a background check and a medical screening.
Lewin, 54, called the six-month appointment offer "kind of unusual."
"It's not really a contract. It's just a six-month review period," he said. "Police chief jobs are typically at will. I've had a couple of other offers and a couple other processes I've been through, and this is kind of unique in that respect. So that's one of the issues I'm looking at."
If he accepts the position, he will replace Rob Copley, who is retiring today after 42 years with the Quincy Police Department and 18 as the chief of police.
The Board of Fire and Police Commissioners selected Lewin, a 28-year veteran of the Chicago Police Department, ahead of Shannon Pilkington, deputy chief of operations with the Quincy Police Department, and Adam Yates, deputy chief of administrative services with the Quincy Police Department. Yates will be the interim chief starting Saturday.
Lewin called interview process 'very thorough'
The three candidates went through in a two-day interview process last week. They met with staff and took part in a community forum on Thursday. The fire and police commissioners, as well as a five-person stakeholder group, interviewed the candidates on Friday.
"The process to me was very thorough," Lewin said. "I've been through a couple of others, and this definitely had the most community involvement, which I think is great. I thought the panels were really effective. The assessment center was thorough."
Lewin retired from the Chicago Police Department in January 2020. He has worked since May 2020 as the public safety advisor for Illinois and Michigan for the First Responder Network, a federal agency under the U.S. Department of Commerce in Reston, Va. He works with public safety to learn about best practices and helps promote the use of advanced communications tools to improve outcomes. Lewin works remotely from his Chicago home.
"There's a lot of travel involved, and Chicago is a great place to be based for travel," Lewin said. "I think I've been on probably at least 10 trips in the last six or seven months. It's just a lot of a lot of moving around.
"The central component of (the job) is engagement with other law enforcement agencies, to help them identify and implement best practices around technology to educate them about what FirstNet is and what it can do for them. I'm also involved in national committees like the International Association of Chiefs of Police. I just presented at their mid-year policy conference in Orlando, and the theme of that conference was building trust — which is a critical need across the country and in every law enforcement agency, regardless of jurisdiction."
Immediate assessment of agency planned in first three months
Lewin said he would do an immediate assessment of the agency in his first three months on the job.
"Being an outsider, it does give you a brand new perspective," he said. "You're not biased. I don't know anybody in the city. I didn't know anybody before I started this process, which can be good and bad. It's mostly good, because you are just completely unbiased. You don't have any preconceived notions.
"I've seen this in other departments, including departments I've worked at, is that they tend to look inside before they look outside. I think that can sometimes work to their detriment. It's sometimes good to look at new ideas and be open to new ways of doing things. So that's what I would bring."
Lewin said he wants to create more transparency about sharing information with the public.
"That could be crime information," he said. "It could be developing internal performance metrics that we share. It could be being transparent about and socializing organizational goals and objectives. One reason to do that is to build trust and to build legitimacy, but it's also to promote collaboration. If the public can see the problems that you're working on, they can get engaged in a way that they couldn't if they didn't know what the problems are."
Chicago native liked what he saw during visit
Lewin grew up in Hyde Park neighborhood on the shore of Lake Michigan, and he now lives in the Lake View neighborhood near Wrigley Field. He went to college at Southern Illinois University in Carbondale. He says he would like to remain in Illinois and liked what he saw in Quincy.
"I was struck by the fact that Quincy had the first publicly funded arts council in the United States," he said. "Being from Chicago, I like culture, and I like having a variety of neighborhoods. The historical architecture is great, and I did get to look at some of that when I was researching Quincy. It's on the river, which I like. I always want to be on the water. I know it's got a lot of nature trails, parks, boating opportunities and biking trails. Those are all huge pluses to me."
Lewin said he's optimistic for the future of the Quincy Police Department and the city — whether or not he is the chief.
"If it doesn't work out, I hope the city does some of the things that we've talked about," he said. "Transparency, building legitimacy, improving officer morale, working to aggressively recruit, coming up with innovative new ways to bring new officers in and also retain existing officers … those are all things that the agency will do no matter what, which is a good thing."
Miss Clipping Out Stories to Save for Later?
Click the Purchase Story button below to order a print of this story. We will print it for you on matte photo paper to keep forever.