Madigan looms large in trial of McClain and three others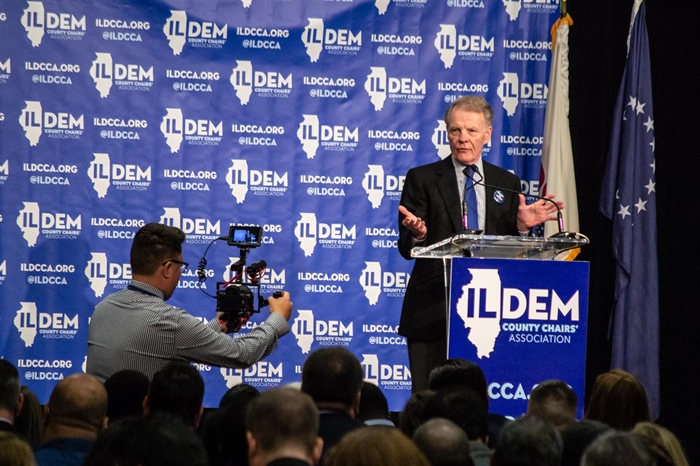 Trial's second day included hours of opening arguments, first witness
CHICAGO – Former Illinois House Speaker Michael Madigan isn't set to go on trial for racketeering and corruption charges until next summer, but his decades of power in Illinois government and politics loomed large Wednesday as opening arguments got underway in a related case.
Madigan's name was uttered hundreds of times as a federal prosecutor laid out the government's case against the former speaker's longtime allies – three ex-lobbyists and a former executive of electric utility Commonwealth Edison – who are alleged to have orchestrated a yearslong bribery scheme to influence the powerful former speaker.
Madigan's many mentions continued as attorneys for the four defendants narrated their clients' version of events, and as the government called its first witness, a former Democratic state representative who served for a decade in the Illinois House under Madigan.
For most of the last three years, Madigan has also been known by a different name given to him by the feds in charging documents: "Public Official A." And as Public Official A, prosecutors allege Madigan was the central figure in ComEd's eight-year effort to curry favor with the speaker, trading jobs and contracts at the utility for Madigan's political allies in exchange for lucrative legislative wins.
Madigan's longtime close friend and ComEd lobbyist Mike McClain, his co-defendants and fellow former lobbyists Jay Doherty and John Hooker, along with ex-ComEd CEO Anne Pramaggiore, maintain their actions on behalf of the utility were merely part of perfectly legal, business-as-usual lobbying efforts.
McClain's attorney, Patrick Cotter, accused the government of carrying out "an exceptionally goal-driven investigation," focused on the outset to "find something to get to" Madigan.
"This investigation was about him," Cotter said. "And that zealousness – what I would characterize as overzealousness – led the government to see what they wanted to see…everything begins to look like a crime."
Over the next six to eight weeks, jurors will hear from approximately 70 witnesses, and hear more than 100 recordings from wiretapped phone calls and secretly taped meetings, prosecutors said Wednesday. Both the government and defense attorneys previewed how they would use those recordings to prove their arguments and mentioned a few key witnesses they're eager for the jury to hear.
Also on Wednesday, jurors became familiar with the faces of central figures in the case, including Madigan and the defendants, all pulled from their driver's license pictures kept on file with the Secretary of State.
McClain's attorney jokingly declared the public display of the typically unflattering photos as among the many "hard consequences" of getting charged with a federal crime.
"I mean those photos, holy cats," Cotter said. "That's a real penalty."
Bribes or 'real-world' lobbying?
In the summer of 2020, ComEd entered into a deferred prosecution agreement with the government. It allowed the utility to avoid direct charges if it paid a $200 million fine and cooperated with the feds' investigation of the alleged bribery scheme. But the jury won't be told of that deal during the trial in order to not bias their judgment of defendants' actions.
Instead, prosecutors must prove their case from the ground up. In the government's opening statement Wednesday morning, Assistant U.S. Attorney Sarah Streicker characterized the case as open and shut.
"It's just that simple," Streicker said repeatedly, parroting McClain's own words from a recording made on his wiretapped cell phone in the course of the government's investigation.
"Madigan wanted, defendants gave and defendants got," Streicker said, summing up the feds' theory.
Beginning in 2011, ComEd successfully pushed through a trio of major legislation. First up was the utility's so-called Smart Grid law that established what would prove to be lucrative "formula rates," the profits from which ComEd used to update its aging electricity delivery infrastructure.
Then in 2013, ComEd went back to Springfield with another legislative proposal after the Illinois Commerce Commission proved a roadblock in fully implementing the Smart Grid law. Then-Gov. Pat Quinn vetoed both of those measures, but the Democratically controlled legislature overrode his veto both times.
And in 2016, ComEd and parent company Exelon pushed for the Future Energy Jobs Act, which provided state subsidies to Exelon in order to keep two of the company's nuclear power plants open.
Streicker tied the passage of those major pieces of legislation to the timing of key ComEd contracts for Madigan's political allies.
From 2011 to 2018, four of those allies received lobbying subcontracts through defendant Doherty, who had long lobbied for ComEd before the Chicago City Council and in Cook County. They included former Chicago Aldermen Frank Olivo of the city's 13th Ward and Mike Zalewski Sr. of the 23rd Ward. Those districts made up much of Madigan's state legislative district on Chicago's southwest side. The other contract recipients were Ed Moody and Ray Nice, two of Madigan's top precinct captains for the 13th Ward where he still serves as Democratic Committeeman in the local party.
Those subcontracts were worth between $4,500 and $5,000 each month, but the feds allege the four did "little to no work" for that money.
Additionally, Streicker cited as a key part of the alleged bribe a 2011-era ComEd contract for the law firm of longtime Madigan ally Victor Reyes, which McClain intervened to have renewed, as well as directives for the utility's intern program to always set aside 10 spots for young people from the 13th ward.
Madigan's nearly two-year push for business executive Juan Ochoa to be placed on ComEd's board of directors – the eventual 2019 appointment itself a favor to another politician – is also part of prosecutors' central theory of the bribe.
But defense attorneys had alternative explanations for what the government deemed "corrupt acts."
"Mike (McClain) and these other defendants – they live in the real world, not the world of the government's theory," Cotter said. "The government's dark, dark theory where everything is explained by a few jobs."
Anne Pramaggiore's attorney, Scott Lassar, sought to prove his client couldn't have been engaged in bribing Madigan, as she never had confidence any of the ComEd-pushed legislation would pass. She knew, Lassar said, Madigan was never a fan of utilities, and so ComEd's legislative strategy was not to influence Madigan but to "box him in" by lobbying rank-and-file members of the General Assembly.
In order to do that, ComEd invested millions of dollars for dozens of both in-house and contract lobbyists. Lassar said that all that work doesn't square with the government's theory that the utility "had Mike Madigan in their pocket."
"Did Anne forget that she was bribing Madigan and forget to ask for help?" Lassar quipped.
The defense also defended ComEd's key legislative wins, saying they weren't just good for ComEd's bottom line, but also good for ComEd customers, who have seen fewer power outages after the Smart Grid upgrades took the utility's electricity infrastructure from one of the nation's least reliable to a model.
Hooker's attorney, Jacqueline Jacobson, used some of her opening statement to go after government cooperator Fidel Marquez, who had been ComEd's senior vice president of external and governmental affairs – the same job Hooker held prior to his retirement to contract lobbying in 2011. In that job, both Marquez and Hooker before him were tasked with overseeing the dozens of lobbyists employed by and contracted with the utility.
After federal agents approached Marquez in early 2019 with some preliminary evidence they had found when looking into lobbying subcontracts under Doherty, Marquez agreed to cooperate and wear a wire, which continued for months. But Jacobson said Marquez took the government's deal after learning he could face years in prison "even though he didn't think he'd done anything illegal."
"Marquez took the sure thing, the get-out-of-jail-free card," Jacobson said. "Marquez is a man who lies to benefit himself."
Doherty's attorney, Gabrielle Sansonetti, took that theory further, acknowledging to the jury that "there should've been more oversight" on the lobbying subcontracts – not from Doherty himself, but ComEd.
"The one guy responsible for all this oversight? You might have already guessed: Fidel Marquez," Sansonetti said, claiming that when the feds discovered Marquez failed to do his oversight job, "he passed the buck, he became an informant."
But the government's opening arguments – and their initial questioning of former State Rep. Carol Sente, D-Vernon Hills – sought to illustrate for the jury the amount of power Madigan wielded, not just as speaker of the Illinois House, but also as chair of the Democratic Party of Illinois and a prolific fundraiser for Democrats.
"In short, if Madigan wanted to stop a piece of legislation, he could kill it in any number of ways," Streicker said. "At the same time…he controlled the purse strings for Democrats. They needed him to get elected and get re-elected…He held enormous power over the other legislators."
As for McClain, Streicker called him a "double agent" on behalf of both ComEd and Madigan, who infamously did not own a cell phone or use email.
"When you heard something from McClain, you know it came from Madigan," Streicker said.
The trial is scheduled to continue with questioning of Sente at 10 a.m. Thursday.
Capitol News Illinois is a nonprofit, nonpartisan news service covering state government. It is distributed to more than 400 newspapers statewide, as well as hundreds of radio and TV stations. It is funded primarily by the Illinois Press Foundation and the Robert R. McCormick Foundation. Muddy River News LLC contributes to and supports their mission.
Miss Clipping Out Stories to Save for Later?
Click the Purchase Story button below to order a print of this story. We will print it for you on matte photo paper to keep forever.