Minnesota man coaching gymnastics in West Virginia charged in Adams County with four sexual assault felonies with children under age 13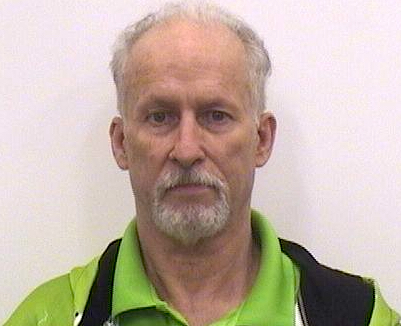 QUINCY — A gymnastics coach from West Virginia facing four charges of predatory criminal sexual assault of a child under the age of 13 in Adams County made his first appearance Wednesday in Adams County Circuit Court with his attorney, Drew Schnack.
Leonard Johnson, 63, of Rochester, Minn., was lodged in the Adams County Jail on July 11. His bond has been set at $750,000.
Johnson had been charged in Marion County (Mo.) Circuit Court with statutory sodomy in the first degree with a person under 12 years of age, as well as child molestation in the second degree.
A probable cause statement from the Hannibal (Mo.) Police Department was filed Aug. 17, 2020, against Johnson in Marion County. The parents of two alleged victims approached Hannibal police on May 29, 2020, to report Johnson for molestation. Johnson "had been staying with them off and on since March due to COVID, and he had taken (two alleged victims) to stay in a hotel on more than one occasion," the statement read.
One of the alleged victims said during a forensic interview that she touched and licked Leonard's penis at night at her family's residence in Hannibal when they were watching movies in the living room.
The statement gave a timeline between March 22, 2020, and May 5, 2020, for potential offenses.
A Nov. 23, 2020 story in the Mountain Messenger, a weekly newspaper in Lewisburg, W.Va., said Johnson was taken into custody in Fairlea, W.Va., on Nov. 11, 2020, by officers with the Greenbrier County Sheriff's Office and the West Virginia State Police after receiving a warrant from Missouri.
Johnson was working for Southern Elite Gymnastics in Lewisburg at the time of his arrest.
He was arraigned in March 2021 in Marion County. The case was moved to Monroe County in April 2021 on a change of venue request by Johnson's attorney, Fredrich Cruse.
Johnson was charged in December 2020 for his offenses in Adams County, which reportedly happened on May 19, 2020.
"(Johnson) was charged here and in Marion County for similar incidents, but some had occurred (in Quincy) and some were in Missouri," said Laura Keck, assistant state's attorney in Adams County. "The case in Missouri was being done first because he was over there, and we actually couldn't bring him across state lines until their case was done."
The case in Monroe County was dismissed earlier this month. Keck said Johnson waived extradition and immediately was brought to Adams County.
A charging document filed in Adams County says Johnson is accused of placing his penis in the mouth and touching the mouth of one child with his penis and having two other children touch his penis for the purpose of sexual arousal.
Predatory criminal sexual assault of a child is a Class X felony in Illinois. The sentencing range is between six and 60 years.
Johnson also faces a charge of aggravated criminal sexual abuse, a Class 2 felony, and a charge of sexual exploitation of a child, a Class 4 felony. He is accused of touching the unclothed back of a child for the purpose of sexual arousal, as well as engaging in the act of sexual penetration of a child in the presence of another child under the age of 13.
Neither Keck nor Luke Bryant, prosecuting attorney in Marion County, say they have information indicating that Johnson was working for a local gymnastics team in Adams County or Marion County at the time of his crimes.
A status hearing was scheduled for Aug. 9.
EDITOR'S NOTE: Luke Bryant, prosecuting attorney for Marion County, provided to Muddy River News a redacted version of the probable cause statement in Leonard Johnson's case from the Hannibal Police Department. Because of a ruling made by the Missouri Supreme Court, Bryant asked for Muddy River News to print the following disclaimer:
"All individuals are innocent until proven guilty in a court of law."
Miss Clipping Out Stories to Save for Later?
Click the Purchase Story button below to order a print of this story. We will print it for you on matte photo paper to keep forever.