Newly created Adams County Court Help Center gives people assistance in civil cases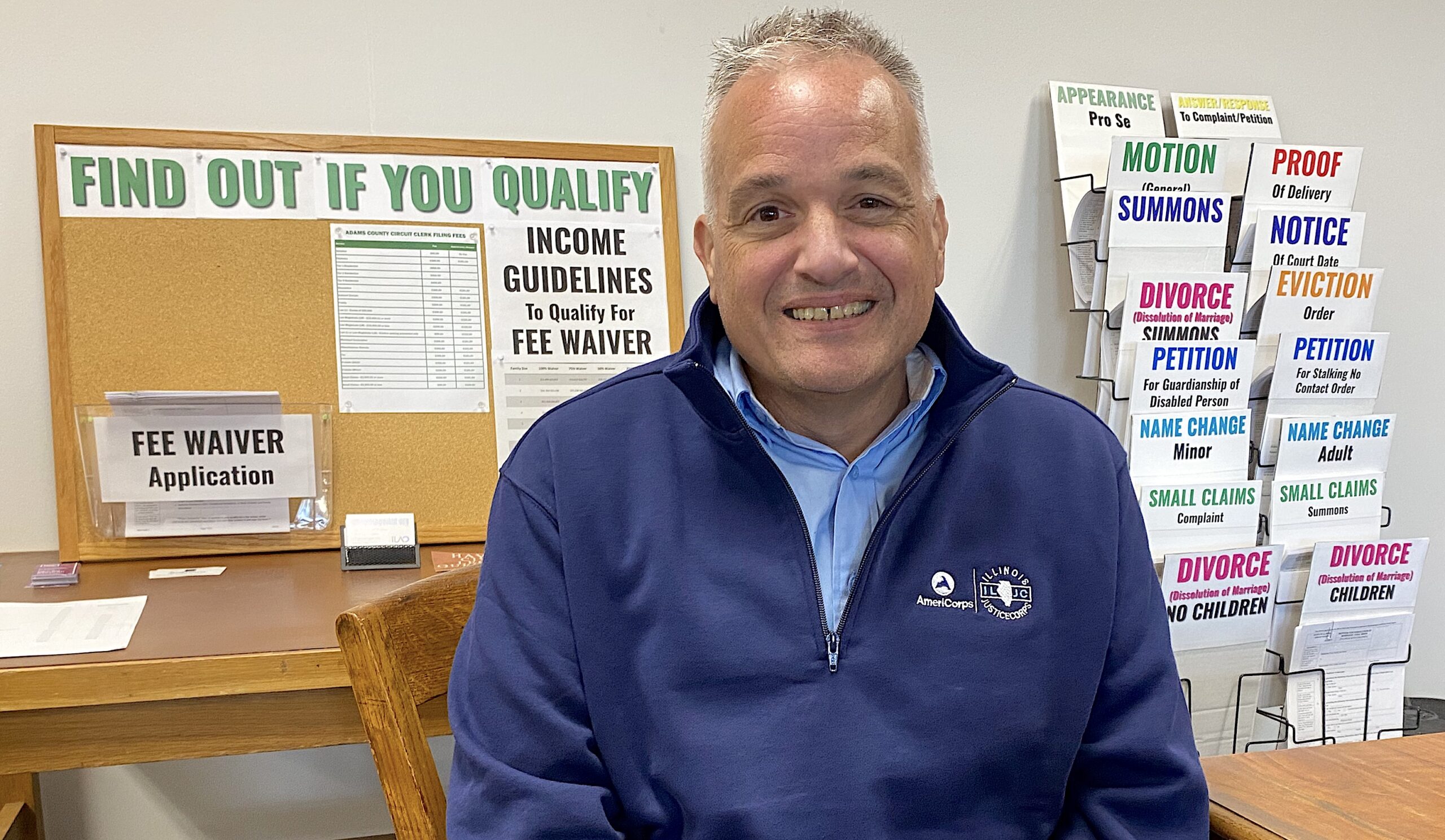 QUINCY — Need help with forms to file an order of protection or to file for divorce? Not sure how to respond to an eviction complaint?
Visit the Adams County Court Help Center.
Illinois JusticeCorps created the center, and Bill Twaddle mans it from 8:30 a.m. to 4:30 p.m. Monday through Friday to assist self-represented litigants. Volunteers are trained and supported to provide legal information and procedural guidance, as well as connect self-represented litigants with legal aid services and self-help resources.
Twaddle's office is in the Law Library on the west end of the second floor of the Adams County Courthouse at Fifth and Vermont. Much of Twaddle's work is helping people with civil cases, and he can't give legal advice.
"There are a lot of economically underprivileged people in this area, so a lot of people have few options for civil court cases," Twaddle said.
"If someone is economically underprivileged, you can ask for and have appointed to you a public defender in a criminal case. In civil cases, that's not the case. Because of laws in the state of Illinois, the clerk and the judges can't give really too much assistance. I'm included in that. I can't give advice because I'm not an attorney. But I have been trained with forms, and there are a lot of forms with legal process."
Twaddle says he's helped more with evictions than anything else in his first six weeks on the job.
"A lot of times, someone gets a summons for an eviction and doesn't understand the process of what they need to do," he said. "I just explain to them the options they have available. An appearance in court is sufficient for your appearance. You don't necessarily have to file an answer to the complaint. If you have information that doesn't correspond with what the landlord has provided, you can certainly dispute that with an answer."
Twaddle says his role is to take pressure off the Adams County Circuit Clerk's office and the county judges.
"People in the clerk's office would normally have to stop what they're doing, go to the counter and help someone in a limited capacity," he said. "I can understand it would be a little bit more of a patient environment (on the second floor). I'm not on the clock, so to speak. A lot of what they do (in the clerk's office) involves filing paperwork expediently because something needs to get to court."
The Illinois Bar Foundation administers the program in partnership with the Chicago Bar Foundation and with additional support from the Illinois Supreme Court Commission on Access to Justice. The Illinois JusticeCorps has established similar help centers in 17 locations throughout Illinois. Quincy, Salem, Springfield and Murphysboro are the newest centers.
"A lot of folks I deal with don't have money," Twaddle said. "They don't have a computer or a scanner, so they can come here."
In some instances, Twaddle is learning along with the people he's helping.
"I'm helping someone right now with an adoption, and you think it would be an easy process because the father is unfit," he said. "The mother has been remarried and wants to adopt the kids from her previous marriage. I'm sure the father has no problem with it, but we just can't get a hold of him. I'm collecting the possible forms she may need, because honestly, sometimes I tell people, 'I don't know.'"
Twaddle also said the people he helps also have online options.
"A lot of people who come in here, well, no one's ever left here disappointed," he said. "That's because I try to give people as much pertinent information as I can. Navigating the legal system is not an easy task, but I would say that probably 90 percent of the questions that people have asked me can find the answers online. You just need to know where to go to find it.
"I give people information. I give people options."
Land of Lincoln Legal Aid offers free civil legal services to low-income people and senior citizens in 65 counties in central and southern Illinois. Land of Lincoln's Quincy office is at 926 Broadway Suite C. Call (217) 617-4300 for more information.
Miss Clipping Out Stories to Save for Later?
Click the Purchase Story button below to order a print of this story. We will print it for you on matte photo paper to keep forever.