'Now I can be a leader in different ways': Elbe announces plan to step down as JWCC president on Dec. 31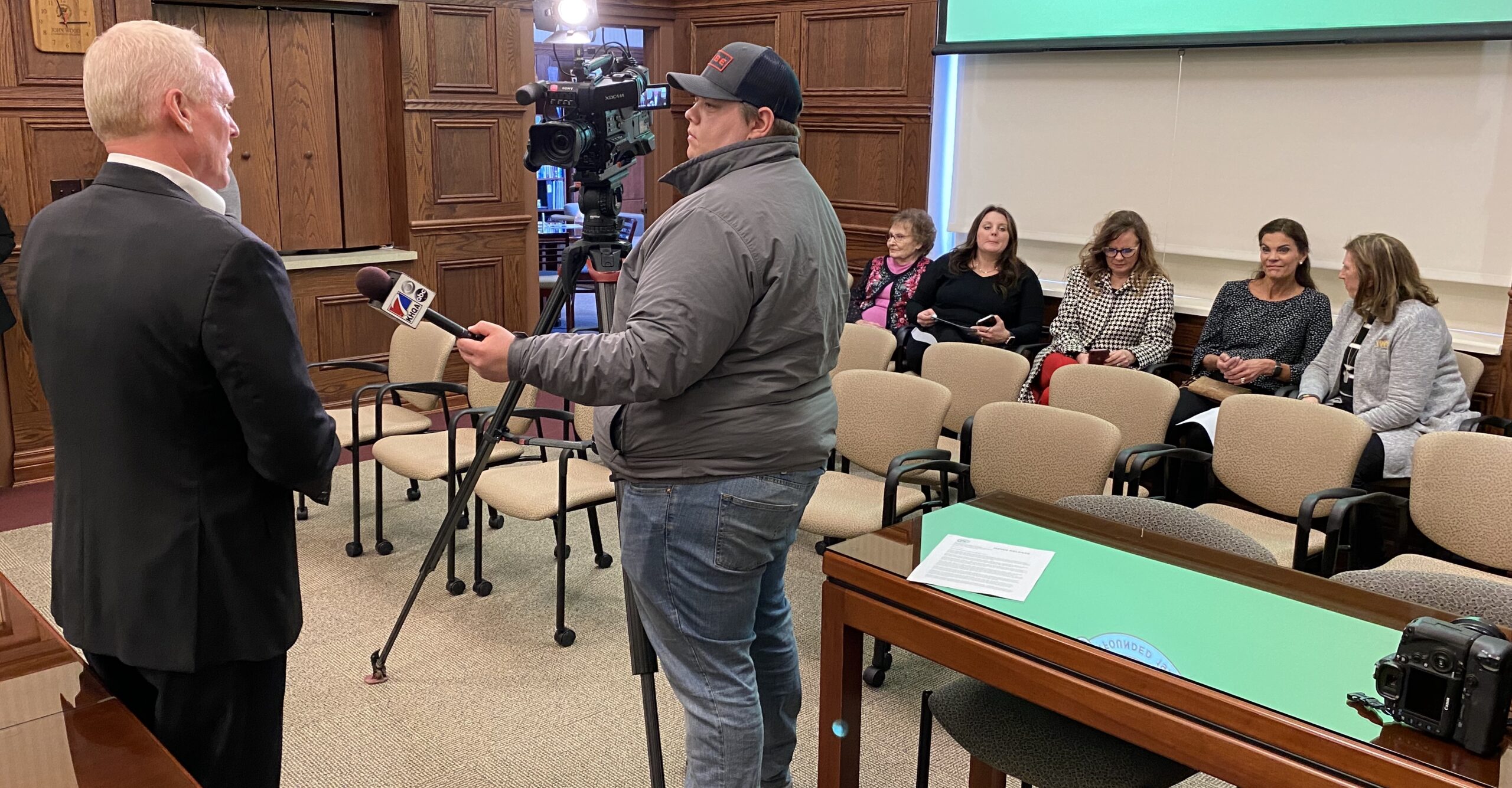 QUINCY — Michael Elbe couldn't help himself, turning to his athletic roots to explain what it's going to be like to step down the president of John Wood Community College on Dec. 31.
"I'm going to miss the people, and I'm going to miss the relationships," he said after a press conference Thursday afternoon. "I'm going to miss being out front. Let's face it. I was the quarterback, I was the point guard, I was the catcher, I was the coach. Everything I've ever done since I've been 10 years old, I've been in the middle, the leader.
"Now I can be a leader in different ways. I can do different things to be a leader. It's just finding those new ways."
Elbe, 57, announced his decision at a staff and faculty meeting earlier in the day. He said his immediate plans are to travel with his wife, Gerri. He believes announcing his decision in March gives school officials plenty of time to establish a timeline to find his replacement.
"I get three to five invitations to apply for president's positions every week, through phone calls or emails," Elbe said. "There are 48 community colleges in the state of Illinois, and they have a seniority ranking every year. In eight years, I've gone from 48th to the 12th-longest serving community college president in the state. These jobs, the life of them, are about four to six years.
"I say that because our board needs that time. We don't want to feel pressed to have to make a decision. A lot of institutions, organizations and businesses don't do a very good job of succession planning. When there's not focus on strategic succession planning, what you find is a slippage of operations or leadership or advancement of the college. That's what I don't want."
Board chair says first move is to identify independent search firm
Diane Ary, chairman of the JWCC Board of Trustees, said Elbe's decision is "bittersweet." She also said the college is being left in good hands.
"Mike's position was as a strategic leader … as the board, we take this responsibility very seriously," she said. "We certainly congratulate Mike. He's done so much for the college in eight-plus years. The list of his accomplishments, awards and honors are huge. He's a team player. His people respect him."
Ary said the first move for the board is to identify an independent firm to coordinate the search.
John Wood Community College named Elbe its sixth president on Feb. 19, 2014, and he assumed his new post on April 1, 2014. He had served as the college's vice president for student services for two years. He succeeded John Letts, who had served as president since January 2012. Elbe, a native of Camp Point, was one of four finalists who emerged from a nationwide search that drew 45 candidates from 26 states.
His first appointment at JWCC was in 1990 when he was hired as the first basketball coach, as well as the director of student life and athletics to build a student life and athletic program at the college.
Fischer: Elbe had way of building teams, building trust
Board member Larry Fischer, who worked for JWCC as vice president for instruction for seven years and director of agricultural programs for nearly 26 years, remembers watching Elbe as a basketball player at Quincy College in the mid-1980s. Fischer also was on the committee that helped Elbe develop the athletic program at JWCC.
"He had some very strong integrity then. He had a way of building teams and a way of building trust," he said. "I saw that not directly working with him, but from a distance. So, I was very comfortable and really kind of led the charge to hire him initially.
"Then he applied to be president. There was some hesitation because of him not having that background experience. But I told of a few examples that I saw of how he stood out very tall when he was a coach as having the integrity to build trust and so forth. He has a method. His methodology is having people around him who are very competent.
"Keep hope alive. That's what you have to do as a leader."
Building athletic program was 'pretty rewarding experience'
In addition to his administrative roles at JWCC, Elbe coached the school's men's basketball team for 13 seasons, compiling a 246-165 record. He led two teams to top-seven finishes in the National Junior College Athletic Association national tournament.
He said Thursday the development of the athletic program is one of his proudest accomplishments.
"To take an athletic program that didn't have colors, didn't have a mascot, didn't know what sports were going to be played, to take it literally from scratch to where when I passed it off to Brad (Hoyt) … wow, that was pretty rewarding experience, especially when people didn't think you'd ever be successful," Elbe said.
"You could not have convinced me in the '90s we would ever have a gym. You couldn't convince me that we would have had the college we have today. There were some pretty humble beginnings for this college. We weren't always publicly accepted."
Among Elbe's accomplishments as president were:
Creating a strategic planning model for the college;
Working with the Orr Corporation to expand the partnership with the University of Illinois, leading to a $2 million capital campaign to raise private funding for an agricultural education center in Baylis;
Helping the college's foundation to secure assets above the $3 million mark;
Overseeing a $6.25 million expansion of the Workplace Development Center, 4220 Koch's Lane;
Seeing the college earn a No. 1 ranking in online learning among all Illinois community colleges in March 2019, according to the SR Education Group of Kirkland, Wash.
Elbe proud of creation of Southeast Education Center
However, he said he was particularly proud of the creation of Southeast Education Center in Pittsfield. JWCC has had a presence in Pittsfield since 1979, but the college announced in 2017 it was signing a 10-year lease on a building in the Pittsfield Industrial Park. The refurbished property now offers fiber optic high-speed internet and upgraded laboratory space for certified nursing assistant and pre-requisite nursing courses.
"I was the third president to stand in front of about 35 community leaders at a focus event, and they looked at me like, yeah, we've heard this before," Elbe said. "Once we finally partnered with Steve Brink and Richie Allen on that facility and we signed the lease and the board signed it, people started to change. Then we raised $225,000 in Pike County to support that center. That was one of my significant wins within the first three years."
Elbe said the most difficult parts of his tenure came at the end — dealing with the pandemic — and the beginning, when he dealt with budget impasses in his first two years.
"Our state funding started at 33 percent, and about the time (he took over as president), it was at 15 percent," he said. "Then it went down to 3 percent, and we had to reduce our expenditures by $2.1 million in my first two years."
Elbe: 'I'm always going to work'
Elbe was named JWCC's Professional Staff Member of the Year in 1996. He received the President's Appreciation Award in 2009.
He also has been active professionally and in the community. Elbe has served as the president of the United Way of Adams County and recently retired as a member of the United Way board. Elbe recently was chairman of the board for the Great River Economic Development Foundation when it selected Kyle Moore as its president in 2021. He also was chairman of the Quincy Area Chamber of Commerce.
Elbe was named the recipient of the Joe Bonansinga Community Service Award in 2018. He was the recipient of the Phi Theta Kappa Honor Society's Shirley B. Gordon Award of Distinction in 2017 and 2018, the Quincy Chamber of Commerce Diversity & Inclusion Community Champion in 2019 and the Thomas A. Oakley Award for Economic Innovation by GREDF in 2021.
Elbe and his wife, Gerri, have three children and two grandchildren.
"I don't like the 'R' word yet," Elbe said. "It's more like transitioning. I have a lot of things I want to do, so I'm going to just take some time. But I'm always going to work. I'm wired to work. Always have been, always will be. But I'm ready to do some different things before I make any kind of full-time thought of work. I'm doing this to have some time for my wife and do some things we want to do."
JOHN WOOD COMMUNITY COLLEGE PRESIDENTS
2014-22: Michael Elbe
2012-14: John Letts
2008-11: Thomas Klincar
1997-2008: William Simpson
1988-96: Robert Keys
1975-87: Paul Heath
Miss Clipping Out Stories to Save for Later?
Click the Purchase Story button below to order a print of this story. We will print it for you on matte photo paper to keep forever.