Palmyra man enters Alford plea, receives 25-year sentence in connection with death of Palmyra woman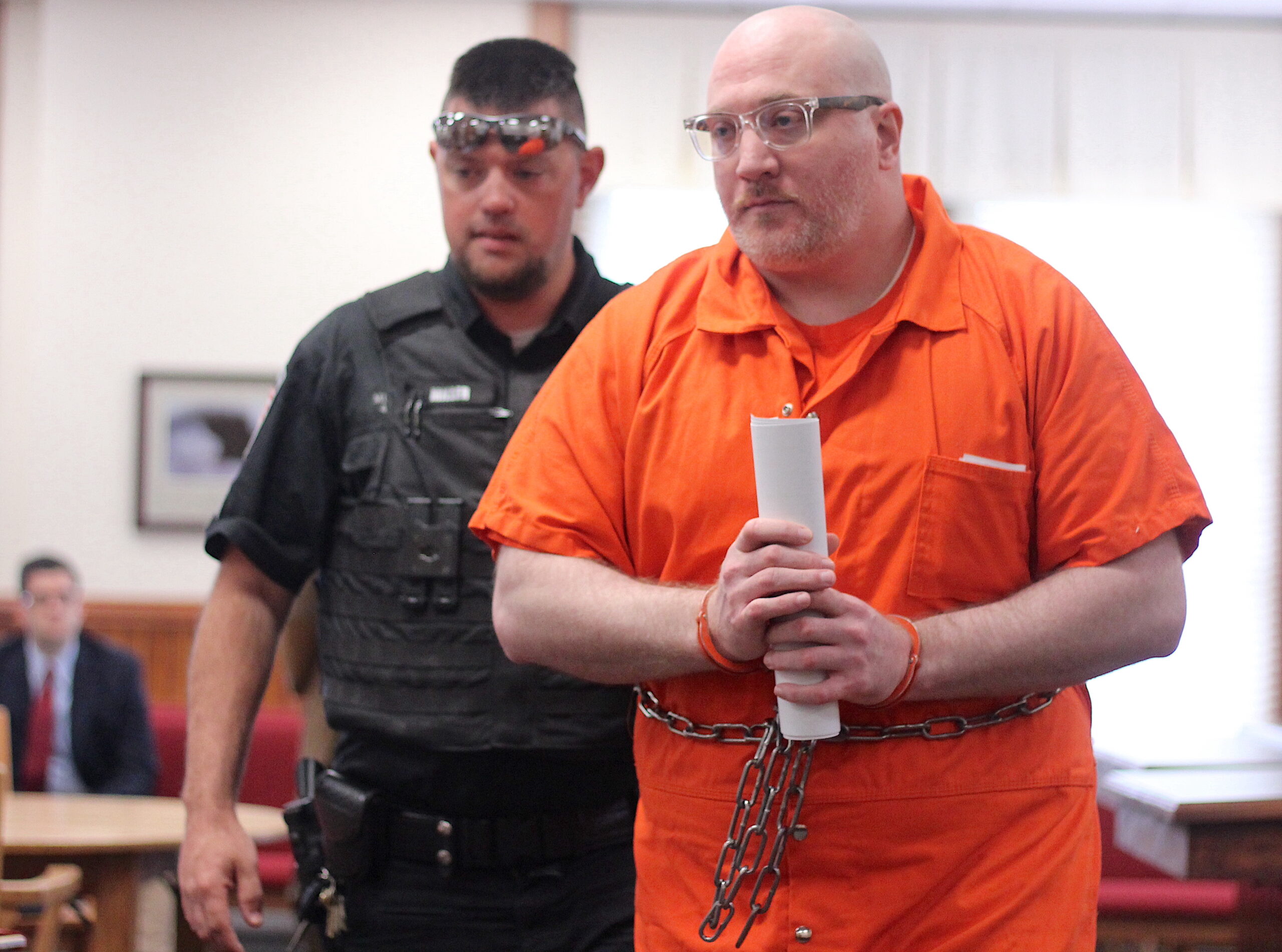 QUINCY — A Palmyra man facing charges of first-degree murder in September 2021 received a 25-year sentence after entering an Alford plea on Thursday morning to an amended charge of voluntary manslaughter.
Raymond D. Gum, 36, appeared in Shelby County Circuit Court with public defender Austin Smith during a hearing before Judge Frederick Tucker.
Gum was charged with first-degree murder, armed criminal action and unlawful possession of a firearm in connection with the death of Crystal Cooper outside her home in the 100 block of E. Jefferson in Palmyra. Gum and Cooper reportedly were in a relationship at the time. Cooper was found dead Sept. 3, 2021.
Gum agreed to enter the Alford plea in exchange for an amended charge of voluntary manslaughter, a Class B felony; armed criminal action, an unclassified felony; and unlawful possession of a firearm, a Class D felony. The first-degree murder charge was dropped.
Tucker gave Gum 15 years in Missouri Corrections for manslaughter, 5 years for armed criminal action, and 5 years for unlawful firearm possession. Gum will serve the sentences consecutively.
By entering the Alford plea, Gum maintains his innocence but agreed the state had enough evidence to prove him guilty.
"Austin and I have been discussing this case for the past two years," Marion County Prosecuting Attorney Luke Bryant said after the hearing. "We really delved through it to see what the facts and the evidence were and weighing those against how the law reads.
"I was extremely confident that if this had gone to jury trial, I could get a conviction on the voluntary manslaughter charge, which is why we went ahead with that plea. An average sentence in the state for something like this is 25 years, and he accepted that bar."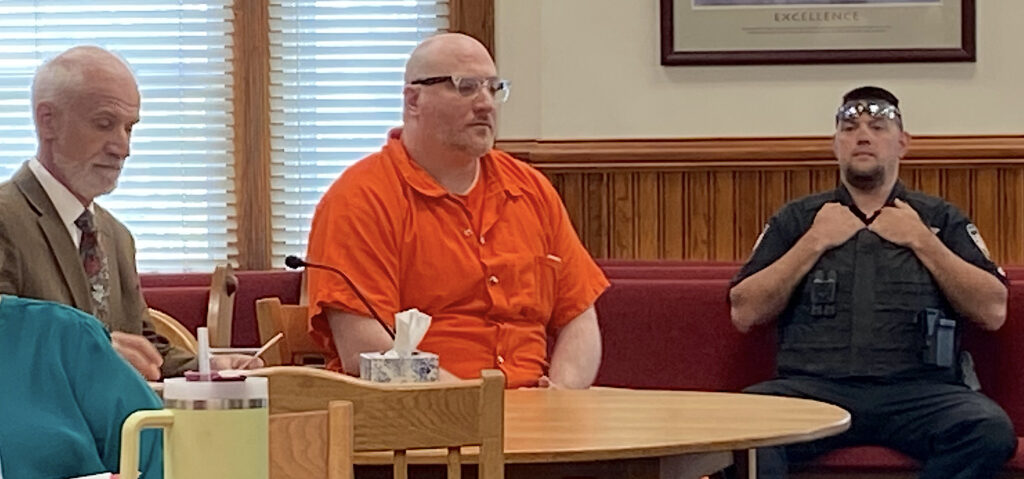 After Gum told Tucker he would accept the Alford plea, Bryant read the evidence of the case.
He said Cooper was shot in the head and found dead in a tan 2005 Buick LeSabre at her home in the 100 block of Jefferson in Palmyra on Sept. 3, 2021. A 9-millimeter shell casing was found inside her vehicle. Cellphone records revealed Gum's phone location being near the crime scene.
Gum and Cooper were known to have been in a relationship, but they had a history of domestic violence. Investigators learned Gum was the suspect in Cooper's death. Cellphone records showed Gum traveled to Illinois immediately after the shooting.
Gum's vehicle was found in a remote location near Petersburg, about 25 miles northwest of Springfield, Ill., on the night of Sept. 3. The Menard County Sheriff's Office confirmed Gum was in Menard County on Friday morning and stayed there until his arrest. Gum was arrested at 12:23 p.m. Sept. 4 in the 300 block of E. Liberty in Petersburg. He was armed.
Bryant said Gum was interviewed at the Menard County Jail in Petersburg on Sept. 4. He said he obtained the handgun a couple of months earlier for protection from a man.
Gum said he bought a six pack of Michelob Ultra and two Mike's Hard Lemonades on his way visit Cooper. She met him outside her house, and they drank the Michelob Ultras and the Mike's Hard Lemonades. They eventually sat in her vehicle and talked.
Gum said he received a text message from a married woman from Petersburg. Cooper was not pleased. Gum denied wanting to have any relationship with the woman from Petersburg, but the conversation got heated. Gum said he brought bullets for Cooper's newly purchased 9-millimeter handgun.
Cooper wanted to work on their friendship, Gum said, which he thought was OK. Gum said Cooper then told him the reason she had bought a handgun was to shoot him. He pulled the handgun from his waistband, set it on the dashboard and told her to do it. Gum said Cooper picked up the handgun with her right hand and looked at it while having a "loose grip." He said her finger was not on the trigger, and he was not in fear of his life.
Gum said Cooper then brought the handgun down. He grabbed the handgun with both of his hands over Cooper's right hand. Gum said he then pulled the handgun toward himself, rotated the handgun towards Cooper and squeezed the trigger as it went off.
A first-degree murder charge in Missouri is a Class A felony, which if found guilty is punishable by death or imprisonment for life without eligibility for probation or parole.
"The Supreme Court has said (in North Carolina v. Alford) that if an individual or defendant is unable or unwilling — in this case, we believe (Gum was) unable due to the alcohol consumption that evening — to enter the factual basis, (an Alford plea) operates the same as a no contest," Smith said.
"We acknowledged the evidence was substantial (and) understand there's a high likelihood he'd be found guilty by a jury. What the maximum range of punishment was on the original (first-degree murder) charge and what the amended (manslaughter) charge with the plea offer was offered, so we took it."
Bryant thanked the Division of Drug and Crime Control with the Missouri State Highway Patrol, the Palmyra Police Department, the Marion County Sheriff's Department and the Menards County Sheriff's Department.
The case was moved to Shelby County on a change of venue request by Gum in January 2022.
Miss Clipping Out Stories to Save for Later?
Click the Purchase Story button below to order a print of this story. We will print it for you on matte photo paper to keep forever.