Park Board members working with Blessing, churches, other organizations to reinvigorate Penny Lewis Community Court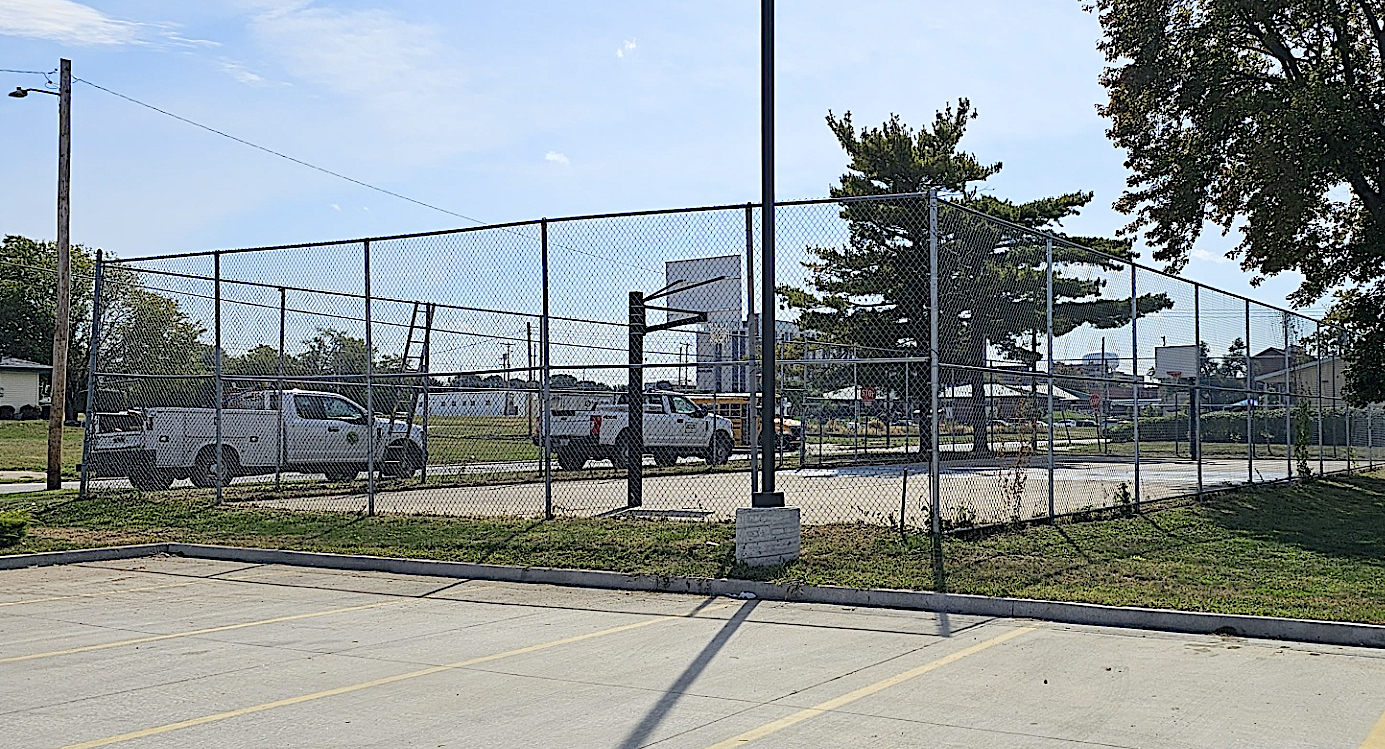 QUINCY — A Friday night cookout could be the catalyst for more community involvement in revitalizing a basketball court in the northwest section of the city.
Hamburgers, hot dogs and other refreshments will be available from 5-7 p.m. at the Penny Lewis Community Court, 818 N. Eighth. Mark Philpot, one of the organizers, hopes the event is the start of helping eradicate what he calls a "recreational desert" in Quincy.
Philpot and Jarid Jones, vice president and president of the Quincy Park Board, connected with Brinshor Development, the new proprietors of the Capt. Frederick Ball Apartments, and Blessing Hospital's Diversity, Equity, Inclusion and Belonging committee. Philpot is a psychiatric technician for the child and adolescent services unit at Blessing Hospital.
"We knew that the funding to create new parks from scratch would be difficult," Philpot said. "In an effort to exhibit fiscal responsibility, we decided to try and cultivate opportunities from existing landmarks."
Philpot, Jones, Brinshor and the Blessing Hospital committee recently met with representatives from Bella Ease, Bethel AME Church, First Baptist Church and Together with Tri State Veterans. The Park District will be providing "in-kind contributions" in the form of light landscaping around the court. Blessing Hospital, Bethel AME and First Baptist will provide volunteers, and Together with Tri State Veterans contributed $1,500.
The basketball court is named after Penny Lewis, a former standout basketball player who went on to coach the women's basketball team at Quincy University. She also was active in the community, serving one time as the director of the Redmon-Lee Center. She died in 2001 while hiking in Mount Zion National Park in Utah. The court was dedicated in her honor in 2002.
"Many a Quincy athlete received their start on that court," Philpot said. "It was a chance to show your mettle, as well as serving as a neighborhood safe place.
"Jarid, myself and some other key people came together to kind of brainstorm this, but this is much bigger than me or anybody. It's about a community. If we're going to talk about what the end goal is, we need to get the community involved. It would be highly presumptuous of me to just say, 'We should want to come up with X number of dollars.' Let's dream together as a community to revitalize it."
Friday's event also will be a chance to reposition the original plaque that was a part of the Frederick Ball Apartments when they dedicated in September 1943.
"(The plaque) had been lost for some time during the refurbishing (of the apartments)," Philpot said. "Brinshor wanted to kind of give homage to that and restore it to its earlier luster. They're just celebrating the fact they found it and that it's available, and that kind coincides with the revitalization of the basketball court."
Philpot would like to see benches and possibly a playground added to the area around the basketball court. He hopes to speak with some people who recently acquired used school playground equipment.
He said the Park District has a minimal impact in the northwest part of the city. Other than a small playground at Seventh and Elm, the closest Park District-maintained property is Berrian Park at 14th and Chestnut.
"This is not a necessarily a Park District project," Philpot said. "This is the Park District taking the initiative and saying, 'Listen, we're going to bring community partners to the table and do some good for the community without having to have our name emblazoned across it.'
"It's kind of an untapped land. Short of trying to dig out some ground and create a whole brand new park, we decided to make an imprint on something that's currently existing. That's more cost effective."
Miss Clipping Out Stories to Save for Later?
Click the Purchase Story button below to order a print of this story. We will print it for you on matte photo paper to keep forever.