Perry father and son duo are flying high after bringing home aviation award for remodeled plane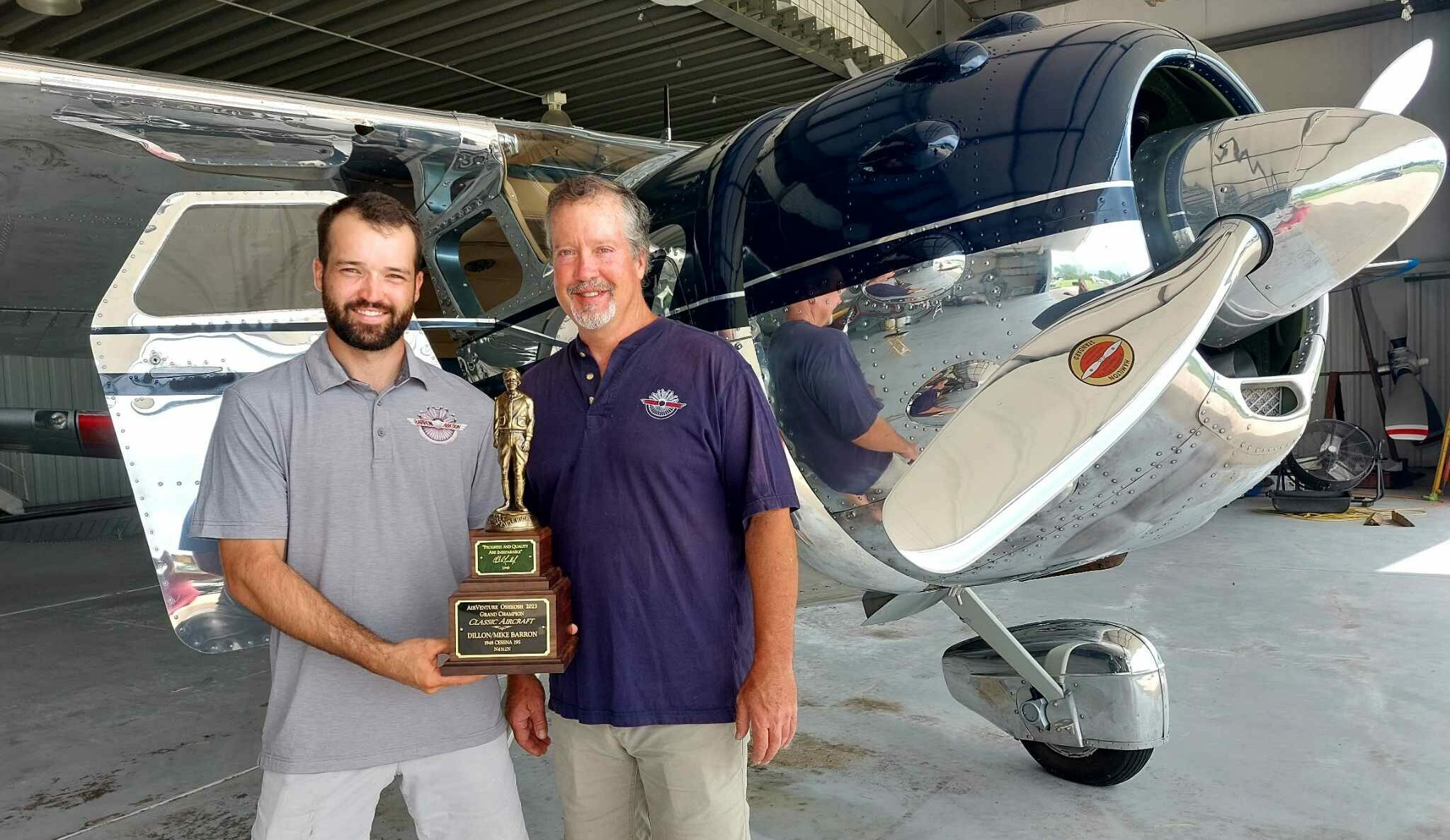 PERRY, Mo.— Mike Barron was first in a cockpit at about two weeks old, flying with his parents, both pilots.
A few years later, Mike was the kid down in the tail of the plane working for 75 cents an hour. "I was cheap labor but to get paid anything to clean the gear on the racing planes–I was in the big leagues," he said.
More years went by, and Mike grew up tinkering and restoring planes and flying with his father.
Then one morning, Mike slowly opened his eyes.
"Up!" his young son Dillon exclaimed when he saw Mike was awake. When Dillon first began saying it, Mike couldn't figure out if Dillon meant he wanted him to get out of bed, pick him up, or go do something.
Mike, along with his wife who is also a pilot, finally realized Dillon wanted to do something–he wanted to go "Up!" into the sky.
"It meant 'Let's go up for an airplane ride,'" Dillon said. "It's kind of the same thing as Dad. From a very young age, I was helping at the shop and cleaning stuff, and we would go to places all over."
Dillon could barely see out of the windshield when he started helping Mike fly planes. He worked with Mike in the hangar built on the family farm in 1994, where Mike went from tinkering with his dad to developing a successful aviation business.
Three generations have contributed to the 40-year legacy at Barron Aviation, located at 30530 Route Y outside of Perry, Mo, a premier shop for vintage aircraft repair and restoration.
The business goes beyond restoring and building planes. The tagline on their website says "Preserving the 'Best of the Classics.'"
Last month, Mike and Dillon were recognized on a world-wide scale at the AirVenture competition in Oshkosh, WI.
The Airventure competition has been sponsored by the Experimental Aircraft Association (EAA) for 70 years. The event grew from fewer than 150 registered airplanes in 1953 to world-wide registrations of around 14,000 airplanes in 2023. Visit their website to learn more about AirVenture.
Mike and Dillon won the AirVenture Oshkosh Grand Champion Classic Aircraft award through the Vintage Aircraft Association (VAA) for their restored 1948 Cessna 195.
"It is a world event for general aviation, and it's a fantastic event," Dillon said. "To see 14,000 airplanes all in one spot at the same time–it's hard to imagine until you see it."
Mike and Dillon decided while at Airventure last year to restore a plane to its original design as a celebration of Mike's retirement and Dillon taking over the aviation business. Not only was it a role switch in the business, but in their restoration, too.
In 2014, the pair won the same award at the Airventure competition for a restored Cessna 170, but the project was a learning venture for Dillon, who was then a teenager.
This time, Mike and Dillon were equal partners in restoring the 195. In fact, Mike said he learned a few things along the way himself.
"On this project, Dillon had as much input as I did, and he taught me as much on this one as I taught him," he said and then chuckled. "It doesn't count, though, because I won't remember it."
When asked how long he owned the Cessna 195 before restoring it, Mike smiled again.
"Several people asked me at Oshkosh where I got this airplane and how long I had it. The answer to both questions is: I don't know," he said.
They specialize in Cessna 195s. This particular–and now award-winning–1948 model was already on their property when Dillon noticed it. Ninety-eight percent of the aircraft was broken down and was reworked or replaced.
Mike and Dillon estimated the full restore took approximately 5,000 hours of labor.
"The reason I say that is I wouldn't know where to start the clock. I don't know when I bought the airplane. Some of the metalwork and so forth was done several years ago," Mike said. "But we did the bulk of it in the last year, as a father-son project."
Mike was collecting parts for the plane for 28 years without realizing it.
From childhood, Dillon recalls the cabinet upstairs in the hangar as completely off-limits. It was where Mike collected old-new stock, which are old parts no one bought off shelves. Mike purchased these old, never-used parts still in their wrapping and stored them in the cabinet.
"Everybody knew there was a death penalty associated with touching the cabinet. Nobody touches the cabinet," Mike commented.
When the day came for Dillon and Mike to open the cabinet, it was like Christmas as they pulled items out.
"Actually, it was like Christmas when you're older and buy stuff ahead and stick it under the bed. When it's time to wrap everything, you drag it back out and you're like, 'Wow. That's cool! I forgot all about that,'" Mike said. "It felt like that."
From brand new Cessna trim strips that went inside the interior and more, Mike said the list goes on and on of old, new parts found to restore the Cessna 195 to its exact original state.
"There are more new parts in that 195 right now than any Cessna on the planet, I guarantee it," Mike said, adding the plane is original right down to its cigarette lighter.
"No one ever even looks at it for the competition, but I made one judge look," he said. "I pulled it out and said, "Look at this. I spent three hours restoring this cigarette lighter. Look at it!'"
Dillon said he and his dad work well together because they agree on the quality of the work.
"The desire for quality is there. We can both agree on how well something should be done," Dillon said. "We want it to be better than good enough and that's what we both agree on."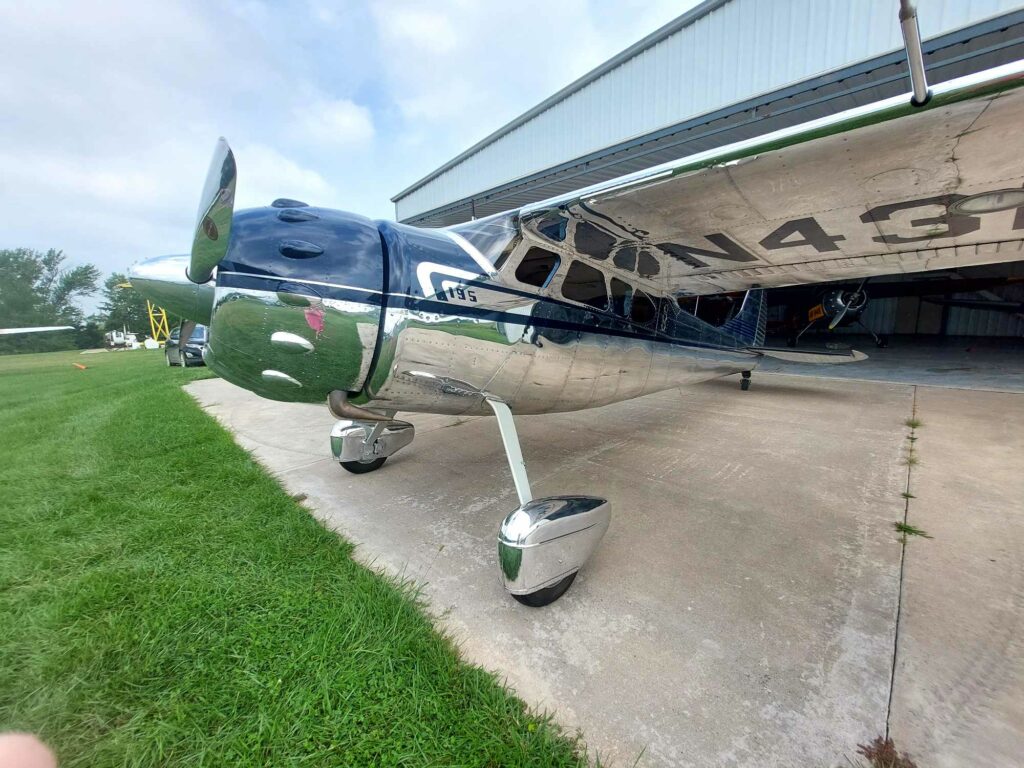 See more photos of the Barron's award-winning airplane here.
Miss Clipping Out Stories to Save for Later?
Click the Purchase Story button below to order a print of this story. We will print it for you on matte photo paper to keep forever.