Police detective details Tim Bliefnick cooperation during investigation, explains lack of home surveillance video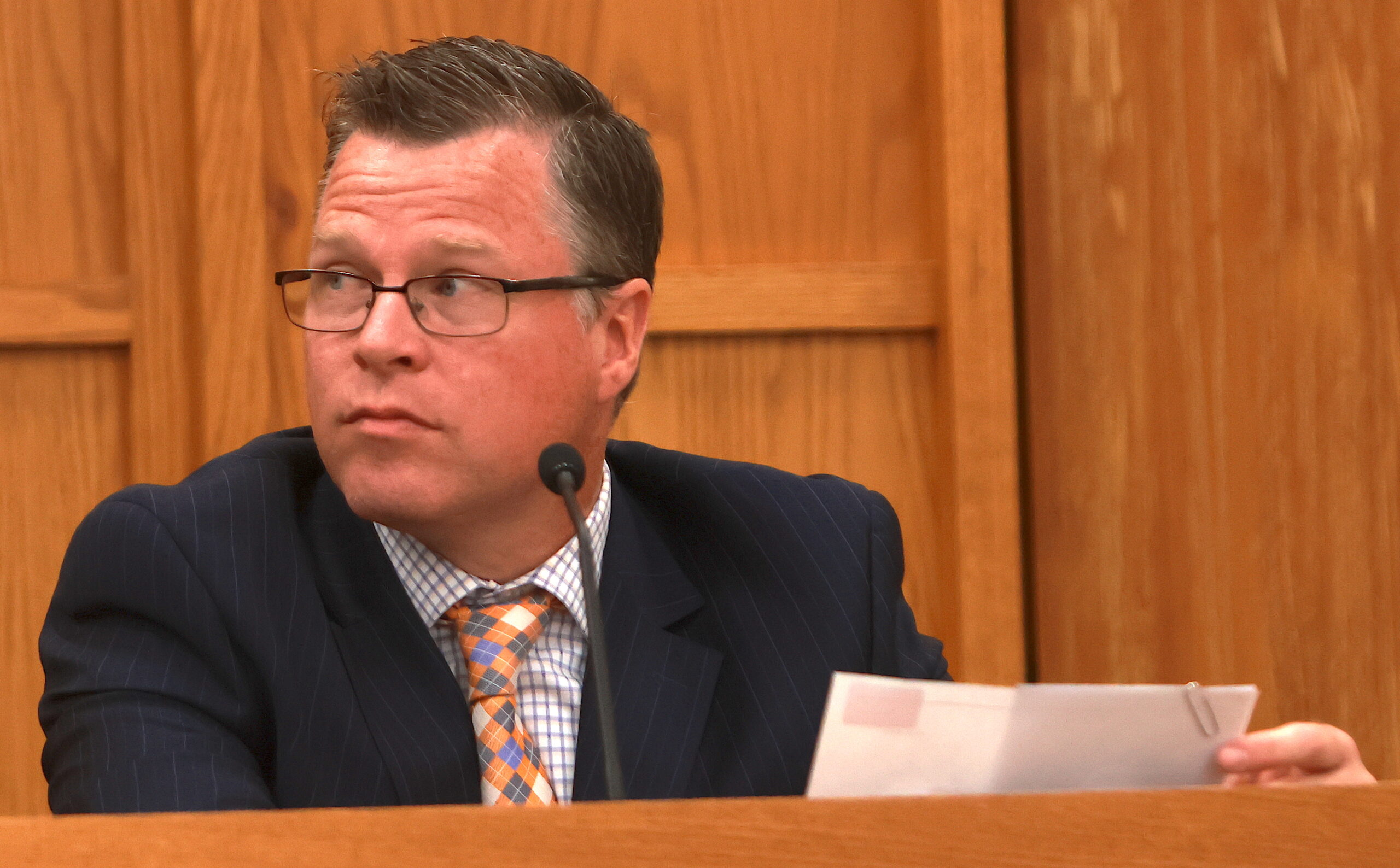 QUINCY — A Quincy Police Department detective said Tim Bliefnick cooperated with investigators on the night of Feb. 23, shortly after his wife was found dead in her home.
Tim Bliefnick is on trial this week in Adams County Circuit Court. He is accused of shooting Becky Bliefnick multiple times at her Kentucky Road home on Feb. 23. He was arrested on March 13 and later charged with two counts of first-degree murder and one count of home invasion. He remains in the Adams County Jail without bond.
Sgt. James Brown, a detective with the Quincy Police Department, testified Wednesday afternoon. He said he was at Tim's house on Hampshire Street for approximately two hours on the night of Feb. 23.
During cross-examination from attorney Casey Schnack, Brown said he was at Tim's house on Feb. 23 for approximately two hours. He said he did not offer gunshot residue testing. Brown explained he was only there "to assist as needed."
Brown said he was present when Tim arranged for someone to pick up his children that night. He said Tim shared information about two possible passcodes to his garage. 
Brown also was present when QPD officers conducted a traffic stop at 20th and Hampshire on the morning of March 1. During the search, Brown said Tim told him where two keys were, as well as an activation card, for the gun safe in his bedroom. He said Tim also informed him about a broken shotgun in the basement with a live round in it, as well as two possible passcodes for his garage.
"When asked about where his cellphone was that day, he told you where it was, and it was where he said it was. Correct?" Schnack said.
Brown said yes.
Brown answered questions earlier from Assistant State's Attorney Laura Keck about search warrants for various electronic devices related to the case. He said no video surveillance from Becky's home was available, because she didn't pay for a subscription on her Ring camera to allow for video recording. Brown said Tim also did not have video surveillance at his residence on Hampshire.
An Amazon device in Becky's home also did not contain audio files relevant to the investigation.
Phone records from AT&T showed Tim made a call to St. Peter School at 11:51 a.m. Feb. 23, lasting 53 seconds. Another call was made from the phone of Bill Postle (Becky's father) to Tim's phone at 3:06 p.m. the same day, with no information available about if the call was answered. Bill Postle made another call to Tim at 4:14 p.m., and they conversed for 2 minutes and 57 seconds.
Brown also testified Becky bought an ADT home security system in February 2021, but it lacked video surveillance capabilities. However, the system did include sensors that sent data to the main control system. The ADT system registered an alert at 1:12 a.m. Feb. 23, indicating the front door had been opened. Fourteen minutes later. ADT recorded that the front door remained open. The system alerted that the garage door was opened at 3:27 p.m. when Bill Postle arrived.
The detective reviewed Becky's Facebook page. He also explained that AT&T often can provide cellular information as to the location of a caller. However, AT&T could not provide assistance in determining the geolocation of Becky's calls.
"If you're wanting to look to see if somebody was going from town to town, or the extreme north end of town to the south end of town, then it would have been useful," Brown explained. "But in this case, it was not."
During the March 1 traffic stop, Brown also said he collected a WHOOP fitness device, a wearable tracker with built-in sensors to monitor a wide range of metrics. The tracker is designed to be worn at all times.
Kelly Lepley testimony
The first witness of the afternoon session was Kelly Lepley, who said she moved to Quincy in 2021. She said she lived in an upstairs apartment on Hampshire, next door to Tim's residence, for approximately one year. Lepley said she was employed at Quincy Medical Group, and she recently moved to Pennsylvania.
She said when she first met Tim, it was simply as a neighbor.
"How long did it take from when you first met him to when that relationship changed?" Assistant State's Attorney Josh Jones asked.
"Approximately six months," Lepley said.
Lepley then admitted she became involved in a consensual sexual relationship with Tim. He sent her a text message on the afternoon of Feb. 22 that read, "I'm here so alone. Kids are in school. So come on over." Lepley eventually arrived at Tim's home around 1:15 p.m.
"What was the purpose of you going over?" Jones asked.
"Sex," Lepley said.
After their rendezvous, Lepley left his home.
Lepley confirmed during questioning by Schnack she never visited Tim's house when the children were present. Tim also never visited her residence while leaving his children home alone.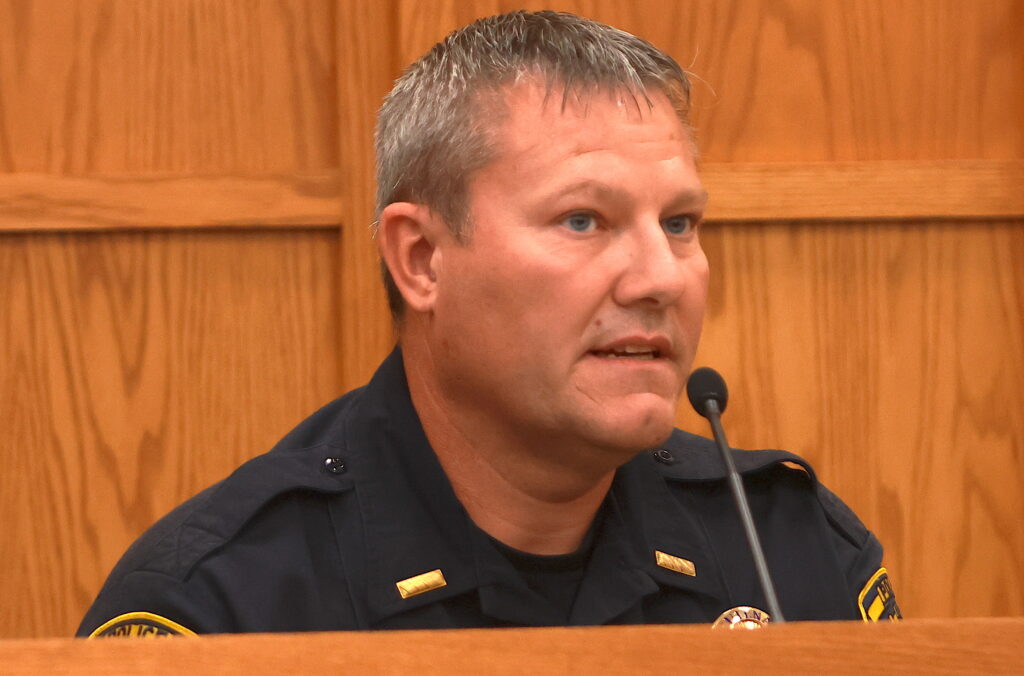 Amanda Keck and Shannon Pilkington testimony
The afternoon concluded with testimony from Amanda Keck, records supervisor at the Quincy Police Department (and no relation to Laura Keck), and Shannon Pilkington, a lieutenant for the Quincy Police Department.
Amanda Keck said a phone call received at the police department around 9:30 a.m. Feb. 10 was answered by a receptionist on a speakerphone. The person making the call identified himself as Tim Bliefnick.
"He said he had a gun he needed to return to his ex-wife," Keck said. "He said he did not want to give it to that crazy bitch."
Keck transferred the call to Pilkington, the watch commander at the time.
"(Tim) said he had a court order to give his soon-to-be ex-wife a gun," Pilkington said.
During the conversation, Pilkington said Tim described the divorce as "brutal and contentious."
"Did he tell you why, under the court order, he felt like he needed to provide the gun?" Keck asked.
"She had proof that she had a gun taken out of a gun safe," Pilkington replied.
"Did he tell you why he was asking the police department to be involved in this return of that firearm?" Jones asked.
"He did not want to do a face-to-face handing over the gun to her because he did not feel safe," Pilkington replied.
Jones asked if Tim said he was scared of what she might do if he met with her face-to-face. Pilkington said yes. He also said he told Tim it wasn't feasible for the police department to be involved in the return.
EDITOR'S NOTE: Details provided about passcodes provided by Tim Bliefnick to James Brown has been corrected from a previous version of this story.
Miss Clipping Out Stories to Save for Later?
Click the Purchase Story button below to order a print of this story. We will print it for you on matte photo paper to keep forever.