Police officer testifies about discrepancies between Wiley statement, cellphone extraction data
QUINCY — Travis Wiley told first responders he fell asleep for 45 to 60 minutes in Christina Engle's apartment on Jan. 20, 2018, only to awake to see her 2-month-old daughter, Airyana Hoffman, unresponsive.
Testimony about the extraction of data from Wiley's cellphone may have shown he wasn't truthful about what he did that afternoon.
Testimony from Sgt. Nick Eddy with the Quincy Police Department, along with testimony about Airyana's autopsy by two St. Louis area forensic pathologists, were the focus of the second day of Wiley's first-degree murder trial on Wednesday in Adams County Circuit Court.
Wiley, 35, is accused of shaking Airyana on Jan. 20, 2018, and she died two days later at SSM Health Cardinal Glennon Children's Hospital in St. Louis. Wiley was arrested June 20, 2018, and remains in the Adams County Jail on a $5 million bond. If he's found guilty, a minimum sentence for first-degree murder would be 20 years in the Illinois Department of Corrections, with a maximum sentence of 60 years.
Testimony is scheduled to resume at 9 a.m. Thursday. Before Judge Michael Atterberry dismissed the jury on Wednesday, Barnard said his last witness — Dr. Channing Petrak, a pediatrician from Peoria — will testify Thursday morning. Nelson's only likely witness, Dr. Jane Turner of St. Louis, will likely testify Thursday afternoon. Closing arguments are expected to begin on Friday.
Eddy testified he uses technology from Cellebrite, a digital forensics company, to perform data extraction. Eddy said Det. Kevin Taute with the Quincy Police Department asked him on Jan. 23 to extract data from a black LG phone belonging to Wiley.
Nelson objected to the admittance of the Cellebrite reports as "hearsay," but Atterberry overruled and admitted them as exceptions to the hearsay rule. Eddy testified the extraction showed 918 Internet contacts were initiated from a Chrome browser from 11:20 p.m. on Jan. 19 through 10:05 a.m. on Jan. 20.
After 11:17 a.m. Jan. 20, Eddy said the next activity on the phone (other than missed phone calls) was at 1:32 p.m. — a gap of 2 hours and 15 minutes. Eddy clicked on the last web search at 11:17 a.m. to discover a news website. The URL took him to a report about a man convicted of a homicide of a 3-year-old child.
From 1:32 p.m. through 2:14 p.m. on Jan. 20, Eddy said the phone history showed nine website contacts and three text messages — two incoming, one outgoing. Beginning at 2:31 p.m., two calls were made to Christina Engle, three to Melissa Oenning and one to the fast-food restaurant Engle worked at.
The Adams County Ambulance Service was called at 2:38 p.m. Two more calls were made to the restaurant before the first outgoing call to 911 at 2:40 p.m.
After Barnard concluded his questioning. Nelson asked about two web events happening two seconds apart on the phone. Eddy said it appeared to be the same website, and the website could have refreshed, but he was not for sure.
Nelson then asked about a conversation Eddy had with Engle, who told him about an incident when Airyana stopped breathing. Engle said she had an older child who had sleep apnea, and she may have "freaked out" but admitted to Eddy she may have overreacted about the incident with Airyana.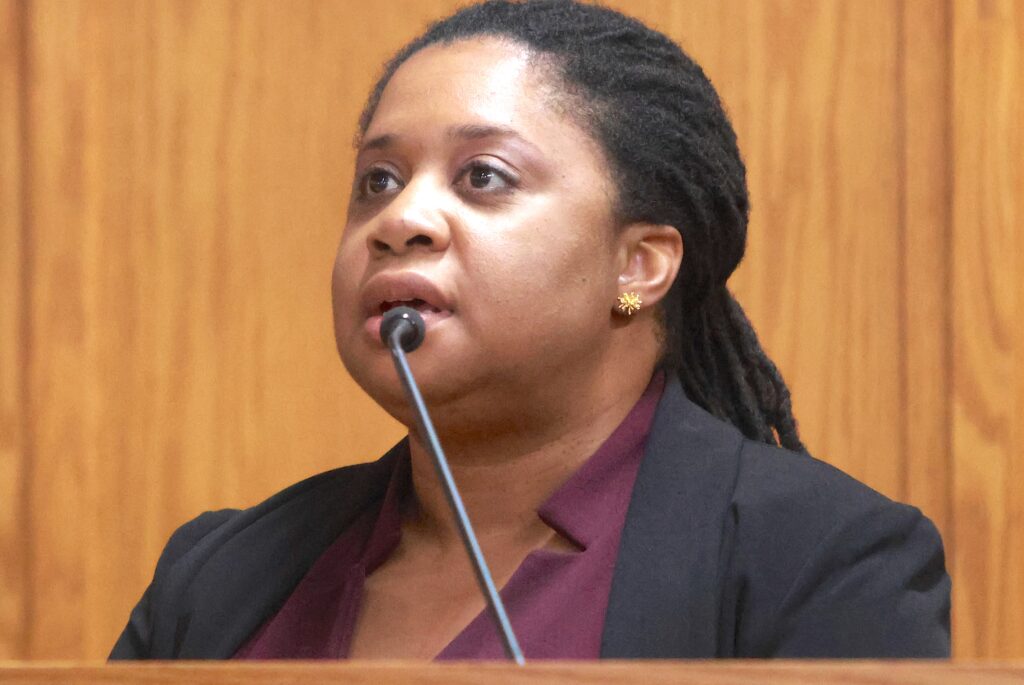 Dr. Juliette Scantleberry, an assistant medical examiner in Memphis, Tennessee, was called to the stand by Barnard to open the afternoon session. She explained how a pathologist determines the cause and manner of death — the circumstances around the reason a person dies. She said she removes all organs and bodily fluid in an autopsy.
Scantleberry said she was working for the St. Louis City Medical Examiner when Airyana's autopsy was conducted by Dr. Peter Williams. She said Williams did the hands-on work during the procedure.
Scantleberry noted no significant injuries to the exterior of Airyana's body. However, she noted hemorrhaging in the skull and around her head. By the end of the autopsy, Scantleberry said the findings inside the skull were "concerning."
Scantleberry said she received microscopic slides on tests done on the brain and eyes a few weeks later. She explained each of the pathologic findings which centered on hemorrhaging in the brain, along with injuries to the eyes. She said the deciding factor was the diffuse axonal injury found in the white matter of the brain.
Barnard showed five photographs to Scantleberry taken during Airyana's autopsy. Part of Airyana's head is shown in one, and a darker part of her skull was determined to be hemorrhaging, Scantleberry said. The next photo showed the skull cap removed. Hemorrhaging was shown under the dura in both hemispheres of the brain.
Another photo showed the skull without the brain, and blood was diffused throughout the brain. Another photograph showed blood around the optic nerve in Airyana's left eye. On its own, the bleeding wasn't particularly significant, but combined with what she found in the brain, Scantleberry thought it was telling.
She said the final report was submitted in late May or early June. She and Williams concluded the cause of death was "closed head injury," no information indicated accidental trauma and the manner of death was homicide.
"Knowing that (Airyana) can't do this to herself, it probably was enhanced by another person," Scantleberry said.
Barnard asked about the possibility of a stroke in a 2-month-old child. Scantleberry said she considered the possibility of an ischemic stroke. However, she ruled out a stroke because of the other injuries indicating trauma.
Nelson asked for other reasons that could cause hemorrhaging. Scantleberry said it could be a fall or sepsis. She said she saw nothing indicating sepsis caused the baby's death. She said she would not go so far to making the declaration that Airyana was shaken, but she said the trauma "could have been the result" of the shaking of a baby.
Williams was next on the stand and testified to many of the same observations made by Scantleberry. He said his first finding of something of concern was when he noticed internal bleeding inside the scalp.
Williams points out subdural hemorrhaging and sub-arachnoid hemorrhaging in a photo showing Airyana's brain.
"Some catastrophic event has taken place," he said. "It's pretty severe."
When shown the inside of the skull, showing more hemorrhaging, Williams said, "There was a definite injury to the dura."
He said he saw no evidence of any kind of infection or any other type of trauma. He said all organs, the heart and the anatomy were normal.
Shown a list of the pathological findings made during the autopsy, Williams said some findings could be found in non-trauma settings, but the combination of all the findings led him and Scantleberry to believe abusive head trauma had occurred. Barnard asked Williams about the possibility of a stroke. He said an ischemic stroke would not cause bleeding in both hemispheres of the brain, so he ruled out that possibility.
Williams described an acceleration-deceleration injury as the brain moving inside the skull. He said the weight of the brain in an infant is about 25 percent of the whole body, compared to eight percent of an adult.
Nelson asks Williams if he considered other possibilities for the cause of Airyana's death. Williams said he considered asphyxiation and a drug overdose. He did not consider sepsis. Williams explained the shaking of Airyana didn't have to be violent or extensive, but it was significant enough to cause the hemorrhaging.
Barnard asked Scantleberry and Williams if they were being paid to testify on Wednesday or if they would better off financially because of the findings they made. They said no. 
Taute was called back to the stand. Referring to a court-authorized recording of a person believed to be Wiley, Barnard asked Taute if he had enough in-person conversations and phone conversations with Wiley to recognize his voice. He said yes.
Nelson previously objected to the authenticity of the recording, and Atterberry overruled. Taute said the other party in the conversation was Alyssa Donnelly. He testified Donnelly asked, "Is the only thing holding you here your pending case?" Wiley replied, "This is not holding me here. Where I am going, there is no extradition."
Taute testified Wiley said later in the recorded conversation, "I have to get out of this town. I'm not worried about going to jail. Where I am going, there is no extradition." 
Nelson asked when Taute heard this recording. He said it was on May 22, 2018.
Miss Clipping Out Stories to Save for Later?
Click the Purchase Story button below to order a print of this story. We will print it for you on matte photo paper to keep forever.