Portable electronic devices now allowed — with limitations — in Adams County Courthouse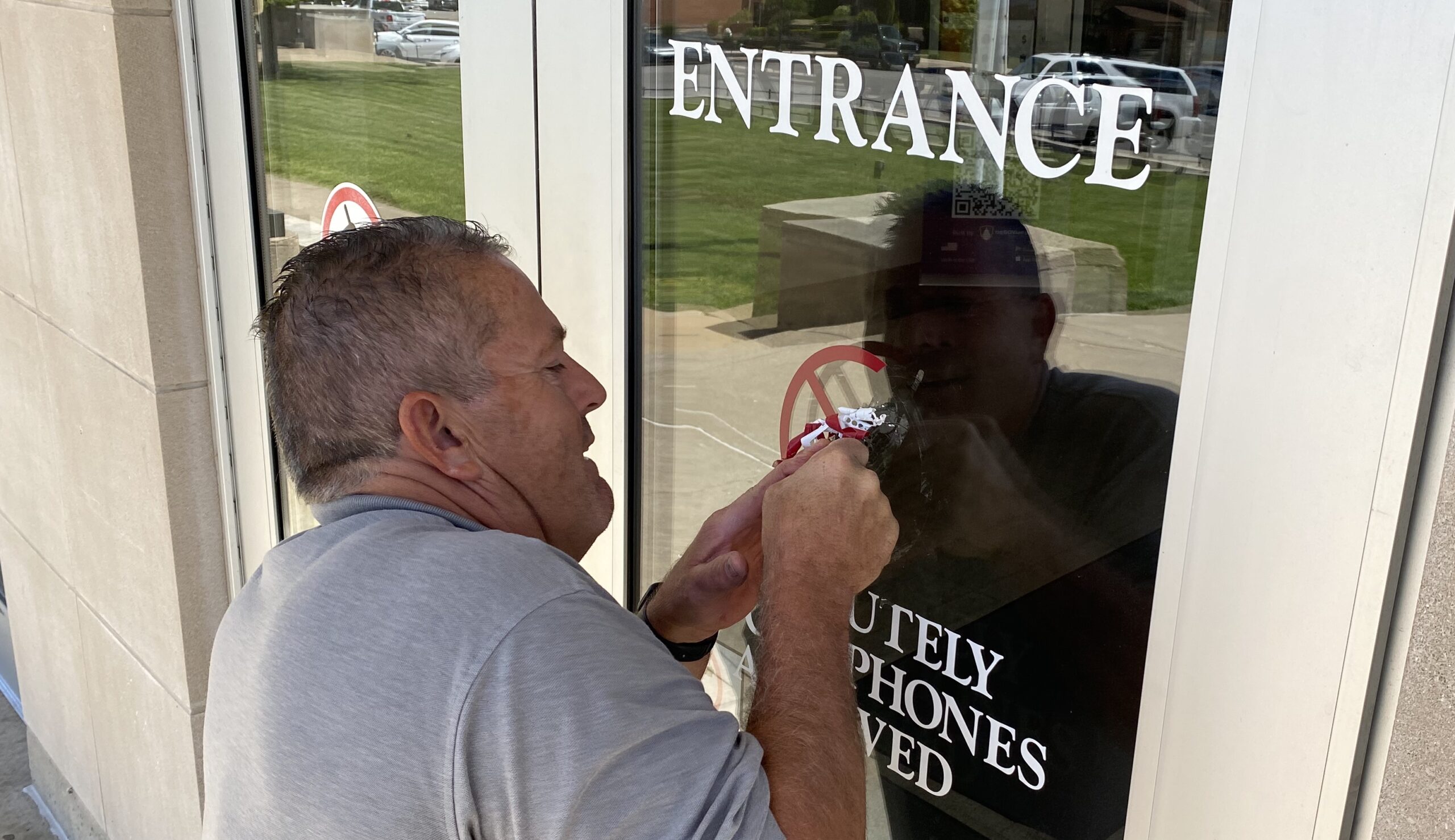 QUINCY — Adams County Circuit Judge Scott Larson signed an order Thursday immediately allowing portable electronic devices in the Adams County Courthouse.
However, using those devices in the courthouse will have limitations.
The order limits visitors to using portable electronic devices in the common areas of the courthouse, such as lobbies and hallways, for email, telephone, text messaging and web browsing. Further restrictions, such as restricting mobile telephone conversations to designated areas, may be imposed to maintain "safety, security, proper behavior, order and the administration of justice."
The order says portable electronic devices must be always in a silent mode, disabling or silencing ring tones and other sounds produced by the devices.
The order defines portable electronic devices as
A transportable computer of any size, including a tablet, notebook and laptop;
A cellular telephone;
A smartphone, such as iPhones, Android devices and other mobile telephones that perform many of the functions of a computer, or other wireless telephone;
A personal digital assistant;
Electronic calendars;
E-book readers;
Devices that wirelessly connect to and pair with computers and smartphones to transmit data, such as smart watches, earpieces, headphones and fitness trackers;
Electronic monitoring devices;
Any other similar devices that provide Internet access.
Court visitors must power off all portable electronic devices before entering a courtroom. The presiding judge must give written authorization for photography, video recording, audio recording, video transmission or communication of information using any form of media inside a courtroom.
Participants in cases, such as attorneys, self-represented litigants, court personnel and witnesses, can use a portable electronic device inside a courtroom to check e-mail and calendar, perform case-related legal research, retrieve or store information, access data and present case-related information. The device may not emit a sound while in use, and it can't be audibly or visually distracting.
"This administrative order is intended to improve access to justice and judicial efficiency by establishing known and consistent processes and procedures," the order reads. "Moreover, without portable electronic devices, court uses may be prevented from seeking assistance, particularly if they rely on such devices to assist with a disability or language translation.
"Appropriate use of portable electronic devices within the courthouse will allow attorneys, parties, self-represented litigants, witnesses and court personnel to access information for presentation to the court. It allows people to transact other necessary court-related and personal business. Inappropriate use of portable electronic devices may be a danger, cause distractions and demean the order and processes of the court."
Chad Downs, court security supervisor in the courthouse, said clarification of the courthouse policy became necessary after an incident in the courthouse earlier this week.
"An individual barged in here with his cellphone, recording everything," Downs said. "He went into the state's attorney's office, recorded the probation department, stuck his phone inside one of the courtrooms and recorded all of this. He was very belligerent, cursing at all the officers and threatening the officers."
The video recording was posted on YouTube, but it has subsequently been removed.
Asked why the individual was shooting the video, Downs said, "Freedom of speech. That's his whole thing. He believes this is a public area, and he can do what he wants. He cannot."
The order says courthouse officers may remove anyone using a portable electronic device in violation of the order from the courthouse, found in contempt of court and be subject to other sanctions and penalties. Courthouse officers may confiscate the devices.
"We will have lockers set up, and if you're abusing (the use of a portable electronic device), you're going to be told to take it to the locker," Downs said.
Downs said signs with information about the order will be posted at the courthouse entrance, outside each courtroom and in the circuit clerk's office.
Enforcing the new order adds an extra responsibility to the bailiffs in each courtroom.
"We've been down this road before," Downs said. "Years ago, when the phones were allowed (in the Adams County Courthouse), phones weren't as advanced as they are today. But we've dealt with phones ringing in the courtroom and people taking pictures and people recording in the courtroom before."
Miss Clipping Out Stories to Save for Later?
Click the Purchase Story button below to order a print of this story. We will print it for you on matte photo paper to keep forever.