Power line burial project along riverfront 'on hold' as Riverfront Corporation waits for answers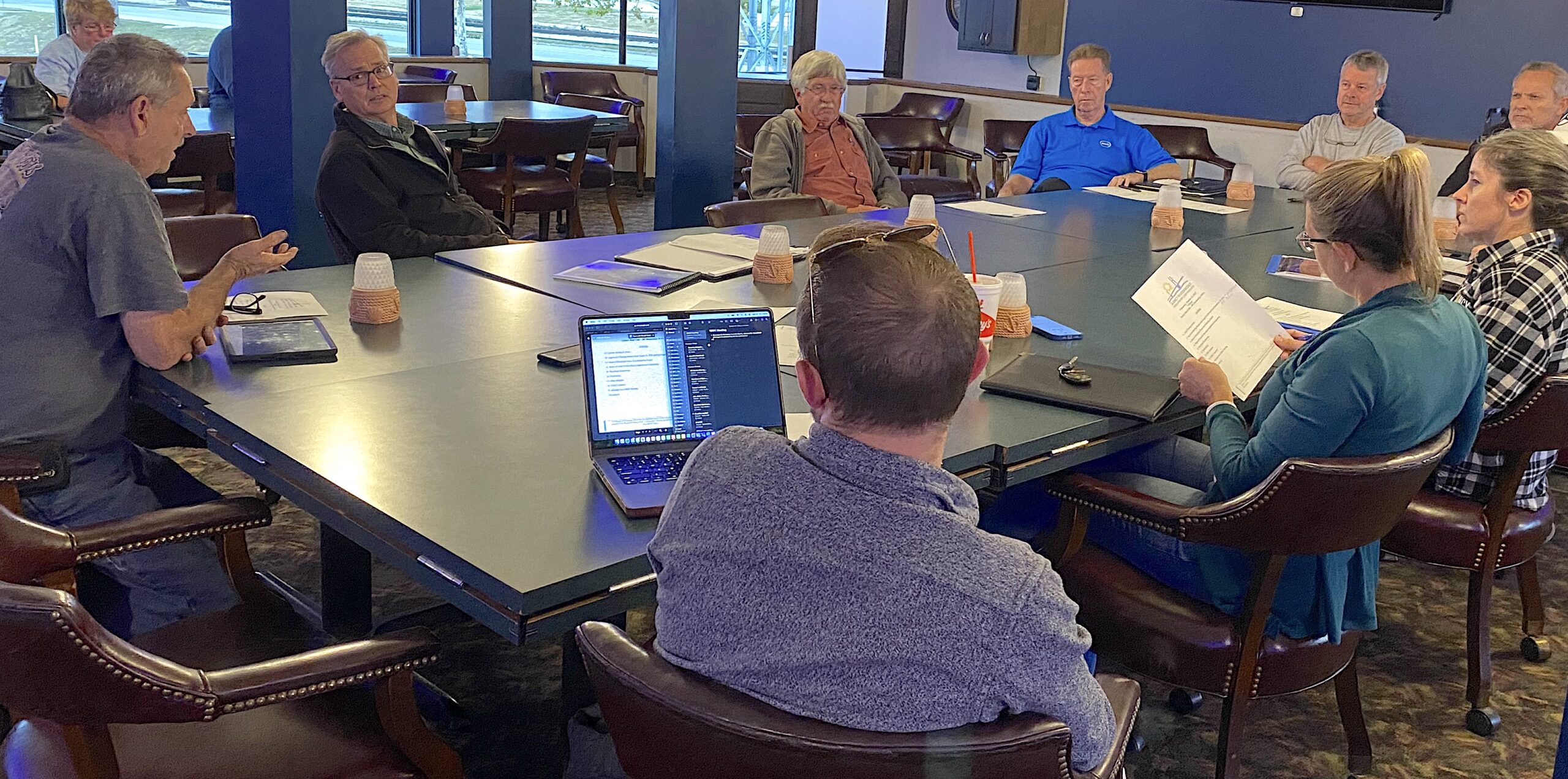 QUINCY — Chairman Tieraney Craig says the Quincy Riverfront Development Corporation's plan to bury power lines along the riverfront is officially "on hold."
The corporation, which met Wednesday at the Quincy Boat Club, continues to wait to see if three taxing bodies — the Quincy City Council, the Adams County Board and the Quincy Park Board — will commit additional funds to the project. Corporation members believe the $1.18 powerline burial project, which calls for the lines to be buried in Clat Adams Bicentennial Park starting at about 400 feet north of Broadway south to Hampshire, needs to be finished first before any other riverfront projects are started.
The Adams County Board tabled a decision at its October meeting to commit $350,000 — an additional $150,000 on top of the $200,000 in American Rescue Plan Act dollars the board had previously committed — toward the project. Finance Committee Chairman Bret Austin said the county's contribution would be contingent on all three of the taxing bodies involved in the Riverfront Development Corporation putting in the same $350,000.
Corporation members asked the Quincy Park Board on Oct. 11 for a donation of $350,000. Commissioners countered with a possible donation of Clat Adams Park — to the city or to the corporation. However, any donation of land or money made to the riverfront development project was tabled as well.
A formal presentation has not yet been made to the city of Quincy, which has committed $200,000 in TIF dollars — money already collected from other taxing districts — and has been asked to give an additional $150,000. However, Chuck Bevelheimer, director of planning, and Alderman Dave Bauer (D-2) said the city doesn't have enough money to give a full $350,000 this year and that any more money would have to come out of future budgets.
"If you can get the County Board in favor of it, and you got private donations, and you come and explain that to the City Council, that's a stronger selling point," Bauer said.
Rick Ehrhart told the corporation he had recently secured a $50,000 anonymous private donation. The corporation has $18,780 in total donations as of Wednesday. Members also talked about raising enough money to hire a professional fundraiser for around $40,000.
The construction bid for the project is good through the end of the year.
"We need to hear from the Park District to see if they want to donate land, donate money, see where they want to go from here," said Tieraney Craig, chairman of the riverfront development corporation, after the meeting.
She called the Park District's proposed donation of Clat Adams Park an "interesting proposition."
"It surprises me from the Park District that this isn't their showcase," corporation member Mike Mahair said.
"Were they serious about donating (the park) and staying out of (the corporation)?" corporation member Dave Bellis asked.
"People (on the Park Board) have had plenty of time to be a partner," said corporation member Jarid Jones, who also is the president of the Park Board. "And that never happened. So I think maybe this is the best way to say, 'Here's how we can contribute.'"
"From a city standpoint, we're open to sitting down with the Park District over whatever that transaction would be," Mayor Mike Troup said. "I can't say that the council would be willing to accept, but I think we have to have the conversation. We're definitely open to having those conversations.
Having more donations from private investors will help convince the three governing bodies to make their contributions, Troup said.
"Without any private investment, I'm not sure you're going to get it approved by the city council," Troup said. "We've been clear. The three government groups are not going to fund this thing. We've got to have private investment, and if we don't have adequate private investment coming in for this, (the three governing bodies) aren't going to ante up more dollars."
With a deadline looming on the construction bid, Craig said getting the finances in place is like putting together a big puzzle.
"It has been rough, but I feel like we're moving," she said. "I do feel like all the Park Board members wanted to move in one direction or another, and it sounds like the county does too. All bodies are moving. What that looks like in the end, I'm still not sure."
Miss Clipping Out Stories to Save for Later?
Click the Purchase Story button below to order a print of this story. We will print it for you on matte photo paper to keep forever.