Prisoner in Adams County Jail now facing felony charge after failed escape Sunday night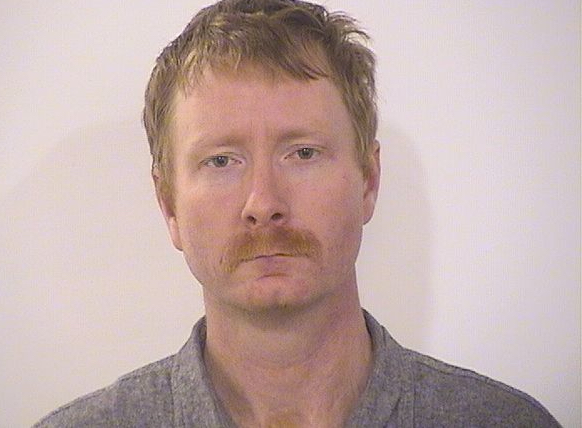 QUINCY — A prisoner in the Adams County Jail has been charged with attempted escape after failing in a Sunday night venture.
Ian Havermale, 36, has been charged with escape of a felon from a penal institution and criminal damage less than $10,000 to government property, both Class 3 felonies. Public Defender Shelby Hoiness has been entered as Havermale's counsel. Judge Tad Brenner set his bond at $150,000 on Monday and set a preliminary hearing for Monday, Feb. 6.
Havermale was lodged in the Adams County Jail on Jan. 23 on a charge of aggravated battery in a public place, a Class 3 felony.
Adams County Sheriff Tony Grootens said the attempted escape happened at approximately 10 p.m. Sunday during lockdown. Wearing nothing but a pair of shorts, Havermale climbed on a railing on the top floor of his pod, then used his fingernails to climb up the windows that were 25 feet off the ground.
"He's hanging on by nothing," Grootens said. "He ended up pushing one of the ceiling tiles up, grabbed on and pulled himself up."
Grootens said once Havermale climbed into the ceiling, he climbed through a maintenance hole into another room that has pipes for hot and cold water.
"I don't know how the hell he did it, but he did," Grootens said.
Once Havermale was in the pipe room, he slid down the pipes and got to the ground, then walked out the door into the hallway.
"Once he's in the hallway, he's contained," Grootens said. "He couldn't go back into the cellblock area. He can't get anywhere."
Two guards with tasers found Havermale on camera and apprehended him in the hallway. Grootens said Havermale was unaccounted for "maybe two minutes."
"When they pulled out their tasers, he just gave up," Grootens said.
Grootens said his staff is reviewing what happened, and he believes "several modifications" will be made soon.
"The two windows (Havermale) was able to climb up, I want to put Plexiglas across them so there's no way he can climb up to the ceiling," Grootens said.
Grootens said ceiling tiles throughout the building that are only 10-12 feet off the ground are screwed in and can't be moved. However, the ceiling tiles that are 30-plus feet off the ground are like tiles found in most homes that can be pushed up. That, he said, will be addressed.
He also said he wants the upper tier of the jail to be manned every hour every day. A lack of manpower made that impossible on Sunday.
"So now what we're doing, and we're in the process of doing, is for the control room, we're going to hire civilians," Grootens said. "It's a very tight, secure area, and they can operate the cameras and the door locks. That will free up more corrections officers so we can man that area properly to where we can see everything going on 24/7."
Figuring out what the prisoners might be thinking keeps Grootens on his toes.
"They sit down there all day, and all they have to do is think about (escaping) all day long," he said. "How in the heck can I get out of here? But we did things right. I'm pretty happy with how it turned out. There are some personnel things we have to look at adjusting."
Miss Clipping Out Stories to Save for Later?
Click the Purchase Story button below to order a print of this story. We will print it for you on matte photo paper to keep forever.