Proposed carbon dioxide pipeline going through west-central Illinois topic of Thursday meeting in Carthage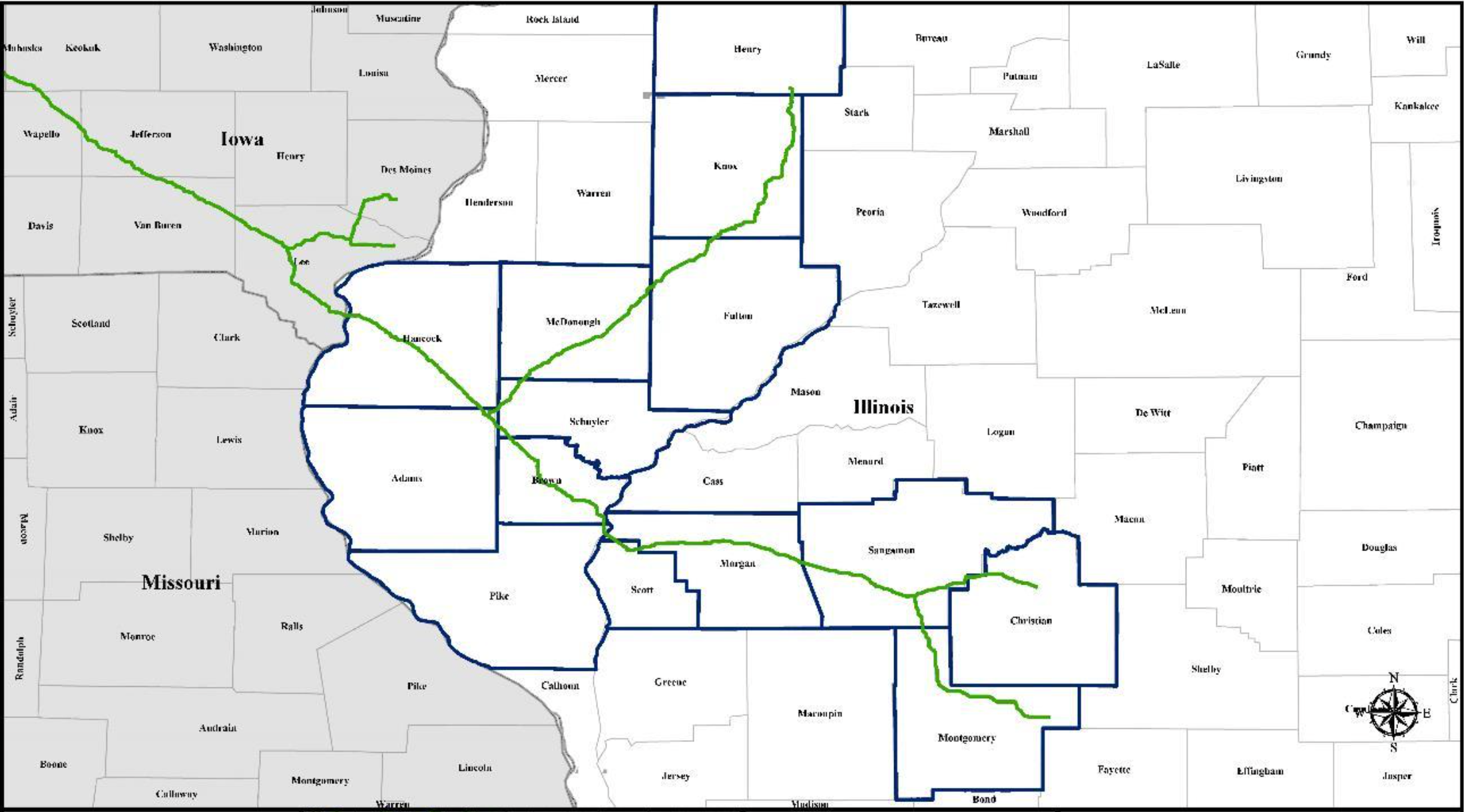 CARTHAGE, Ill. — Property rights and a proposed pipeline that will transport carbon dioxide through six Midwestern states will be the topic of a meeting of the Free Soil Coalition at 6 p.m. Thursday, Sept. 28, at Lake Hill Winery in Carthage.
Trent Loos, a Nebraska-based agriculture advocate and radio personality who grew up in Adams County, is the executive director of the Free Soil Coalition and plans to speak Thursday in Carthage. He has spoken in 42 states in the past 24 months against the 1,350-mile plus, $3.4 billion pipeline, which seeks to remove carbon emissions from the atmosphere and store them underground.
Navigator CO2 Ventures, a subsidiary of Texas-based Navigator Energy Services, has filed a route for its Heartland Greenway carbon dioxide pipeline with the Illinois Commerce Commission. The proposed pipeline route goes through 13 Illinois counties, including Hancock, Adams, Brown, Pike and McDonough.
Heartland Greenway has partnered with 20 or more ethanol and fertilizer plants in the Midwest where carbon dioxide emissions result from their production process. The carbon dioxide will be compressed, filtered and cooled, transitioning it from a gas to a liquid. The pipelines will transport carbon dioxide liquid across South Dakota, Nebraska, Minnesota, Iowa and Illinois to injection sites in Christian County and Montgomery County, south and east of Springfield.
The carbon dioxide would then be pumped 6,000 feet underground, where it would mineralize into a solid.
Navigator has previously said construction would start in the second quarter of 2024, with phased-in service launching in the first quarter of 2025.
Navigator proposes to install approximately 250 miles of pipeline in Illinois in two segments — a portion of the Trunkline and the Galva lateral.
The Trunkline is 20-inch outside diameter pipeline that continues from Iowa into Illinois from a point near Hamilton in Hancock County and extending southeasterly for approximately 151 miles to a point near Taylorville, where it will connect with the proposed permanent and secure underground sequestration site.
The Galva lateral is a six-inch outside diameter pipeline that originates from an ethanol facility near Galva in southeast Henry County and extends south-southwest for approximately 99 miles. It terminates in northeast Adams County at an interconnection point with the proposed Trunkline.
Navigator's pipeline isn't the only similar project proposed in the Midwest. Wolf Carbon Solutions also plans to sink carbon dioxide underground in Illinois. Summit Carbon Solutions proposes capturing carbon dioxide from ethanol plants in Iowa, Minnesota, Nebraska and South Dakota and injecting it underground in North Dakota.
Supporters say the pipelines will create economic opportunities for farmers. They are praised as a green solution to comply with President Joe Biden's long-term net-zero carbon emission goal.
Loos says the issue at hand is he believes three companies are trying to monopolize the next generation of jet fuel.
"They're doing it in the name of trying to sequester or entomb (carbon dioxide) to protect the climate," Loos said. "That's a blatant lie.
"You take carbon dioxide, blend it with hydrogen and you have jet fuel. The U.S. Air Force is currently flying jets with it. The problem is when you don't handle carbon dioxide correctly in the atmosphere and bury it underneath some lakes, if there's a leak and the hydrogen in water mixes with carbon dioxide, you get an explosion."
Navigator projects its pipeline will collect, transport and store up to 15 million metric tons of carbon dioxide annually when it is fully implemented.
"I have a major problem with that, because every bit of science says that's stupid," Loos said. "That leads to a volcano or an earthquake. If they really wanted to make jet fuel, then what you do is set up a green hydrogen, methanol production facility at the ethanol plant. Don't put the carbon dioxide in the pipeline. Make it right there at the place."
Sarah Nardi of National Public Radio recently reported that companies are targeting the state because of a 60,000-square-mile basin known as the Mount Simon Sandstone. Sallie Greenberg, a principal research scientist with the Illinois Geological Survey, says it is ideal for carbon storage.
The bottom of the Illinois basin is lined with layers of rock that Greenberg compares to a seven-layer salad. The bottom layer is composed of highly permeable sandstone and eventually capped by an impermeable layer of shale. It makes Illinois "highly suitable" for the geologic storage of carbon dioxide, Greenberg said.
Many opponents have cited safety concerns stemming from the rupture of a carbon dioxide pipeline in Satartia, Miss., in 2020. More than 30,000 barrels of carbon dioxide were leaked. No one died, but 45 people sought medical attention.
Loos says Navigator CO2 Ventures will take land for private use by enforcing eminent domain.
"How do we continue to stand up for our property rights?" he said. "At every turn, our property and our ability to use our property as we see is eroding. How do we at the county level protect ourselves? We've relied on Springfield, Jefferson City or Washington, D.C. We now have to focus on what the Constitution tells us — protect ourselves at the local level. (Thursday's meeting is) going to be all about empowering counties to do a great job standing up for the citizens of the county."
Loos says he isn't against the use of carbon dioxide for jet fuel.
"I'm opposed to using 100 percent taxpayer subsidies to make it, and I'm opposed to anybody losing property rights to make it happen," he said.
Loos says none of the proposed carbon dioxide pipelines in the six-state region (Illinois, Iowa, Minnesota, North Dakota, South Dakota and Nebraska) have been permitted, and five denials have been issued.
"This is not the time to relax or even breathe easier in the fight against the dangerous carbon dioxide pipelines proposed the heartland of food production," Loos said.
Miss Clipping Out Stories to Save for Later?
Click the Purchase Story button below to order a print of this story. We will print it for you on matte photo paper to keep forever.