QPD officer says mayor lied about why secondary insurance policy was canceled; aldermen to vote on investigation next week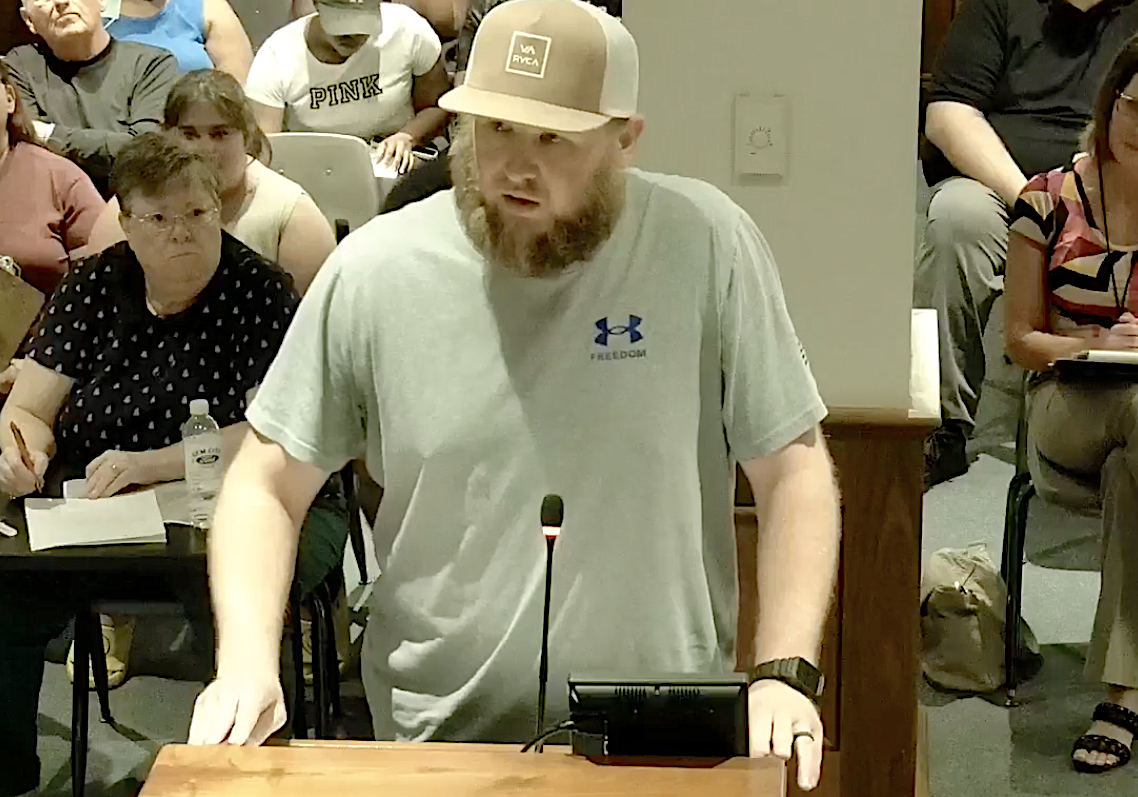 QUINCY — A Quincy Police Department officer told the Quincy City Council on Monday night that employees have been lied to about the recent cancellation of secondary insurance.
Inspector Patrick Hollensteiner said aldermen had learned in an email last week from Quincy Mayor Mike Troup that the city no longer has insurance through American Public Life, based out of Flowood, Miss. He said Jim Baxter with Coalition Healthcare took out the insurance for an entire year, but he claimed city employees were never aware of APL.
"Coalition Healthcare is not a registered insurance company. Jim Baxter is not a registered insurance agent," Hollensteiner said. "When we started to throw a fuss about it, we got pushback at an insurance committee meeting. I addressed the mayor and asked him if he would reject any proposals that included Jim Baxter for insurance. Still to this day, he would not give a direct answer. In fact, I believe … he told me that Jim Baxter was going to save us money."
Hollensteiner then addressed the email from Troup about why APL is no longer covering city employees.
"(Troup) blamed it on the president change at APLs headquarters, and although there is a new president at APL, that's not the reason," he said. "This entire time we've been battling with our insurance problems, the mayor has pushed it off on QMG and Blessing Hospital for not paying bills. This time he pushed it off on APL. Unfortunately, we can show that's not the case."
Hollensteiner said he called APL on Monday and spoke with a supervisor and customer service representative about his account. He said he was told his account expired in January 2023, and the account for his wife, Jessica (also a QPD employee) expired in January 2022.
"I asked them why my insurance coverage was dropped," Hollensteiner said. "They told me that Jim Baxter called in July and requested refunds and termination of our policies. That is contrary to what Mr. Troup is telling you that the president had to change the policies. Because I knew I'd come up here and say this, and Mr. Troup would probably fire back and say that's not true, I called (3rd Ward alderman) Kelly Mays and put her on a three-way phone call (with APL).
"The mayor just said in (Monday night's) Personnel Committee (meeting) that APL cannot handle the claims and canceled. That is not true. I'm asking you guys to make a motion to formulate some type of game plan to get separate counsel to investigate the insurance for all this going on."
"We already kind of knew (about APL). They were just confirming it," Mays said of Monday's call. "We were just curious. Who knows if this person knew what they were talking about? But for sure, there's definitely more we need to look into."
Adam Gibson, a QPD officer and supervisor chapter chair of the PB&PA Unit 12, emailed alderman Saturday informing them several city employees have called APL to learn about coverage.
"Myself included, (we) have been told we have not been covered by APL since Jan. 1, 2022," he wrote. "As a representative of the (police) union, we have already heard that the mayor has said that APL has dropped the city coverage as a result of a Department of Insurance complaint made by employees of the police department. This once again would not be a true statement from the mayor. That complaint was filed earlier this year or late last year, long after we were apparently dropped by APL."
APL is a gap insurance provider, but Troup and Robert Megee, president of the Police Benevolent and Protective Association Labor Unit 12, provided after Monday's meeting different definitions of what gap they believe APL covers.
"It's secondary coverage," Troup said. "Blue Cross Blue Shield is still the primary insurance, but we had a higher deductible, so this APL was to cover the difference from the $1,000 until the Blue Cross insurance would kick in. No one's hurt by this. We're still committed for what we say you got. The employee has a $1,000 deductible. This is how it's going to go. We're keeping everybody under that plan."
Megee said APL did not provide coverage for city employees.
"APL's coverage is a stop loss for Coalition Health and Jim Baxter," he said. "If 10 Quincy Police officers had a heart attack tomorrow, and he doesn't have enough money in his funds to pay all those (claims), APL was insurance for him. They would cover that gap. City employees were paying for his premium on that."
The amount of money refunded by APL to city employees was not discussed during Monday's meeting, but Megee said he believed that figure was $677,000. He said the PB&PA Unit 12 filed a grievance against the city last week because it was not informed of changes in its insurance plan within 60 days.
"We try to call ABL every once in a while to see if there's any new changes that we don't know about," Megee said. "We called them one time and asked them if we were supposed to have insurance cards from them. They said, 'Oh, no. Jim Baxter signed you guys up and said you guys don't get insurance cards.' So we called them a week and a half ago, and they said, Well, you guys don't have accounts for this anymore. You're expired.'"
Megee said APL sent the reimbursement check for Quincy employees to an address in Elmhurst for a company owned by Baxter.
"And it's not a bank," Megee said. "It's, as far as I know, a vacant building."

Alderman Mike Farha, R-4, asked Troup for a response after Hollensteiner was finished.
"I mean, we've been asking for the better part of two years," Farha asked. "Is there something wrong with the insurance? We're assured constantly that it is fixed. I'm curious as to why APL canceled our insurance. Do you have any comment about that?"
"We went through Personnel Committee just before this one, and I shared the information that I was given," Troup said. "I have learned more information from the members of the police union who were attending that meeting, and we're going to follow up with. We're going to get Lonnie (Dunn, corporation counsel) and myself and probably Bruce (Alford, assistant corporation counsel) to contact APL and find out more about the information."
Farha asked why the city wasn't notified when the APL insurance was dropped. Troup said Coalition established an escrow account when it started working with the city.
"They had money that would be transferred from the city to Coalition. They set up that escrow account at the bank of the address of where the check was mailed to," he said. "We found out that the city had no check signing authority for that account, so we said, 'You have to take the name off or close that account.'"
At the end of the meeting, Farha asked if the Adams County State's Attorney's office could investigate or do an audit.
"It's been going on too long," he said. "There's no excuse. We didn't seem to have a problem spending $25,000 investigating people in the police department. I don't see why we should have a problem with this."
Eventually, aldermen voted to have a line item added to the agenda for the Sept. 5 City Council meeting to vote on an investigation.
After the meeting, Troup called the situation "frustrating."
"Tonight, I heard different stories," he said. "Instead of calling us and saying, 'Hey, we think this this and this, check this out,' everybody's trying to do their own investigation. Then they don't tell us and try to surprise us at a meeting. I can't blame them for doing that, but if we want to get something improved, we need to work together.
"Do we have to do extra steps now? We're figuring out what are those steps. Outside of a paycheck, the next most important thing for any employee in any organization is health insurance, and no one's without insurance."
Miss Clipping Out Stories to Save for Later?
Click the Purchase Story button below to order a print of this story. We will print it for you on matte photo paper to keep forever.