Quincy Police Department looking to add more volunteers to auxiliary police force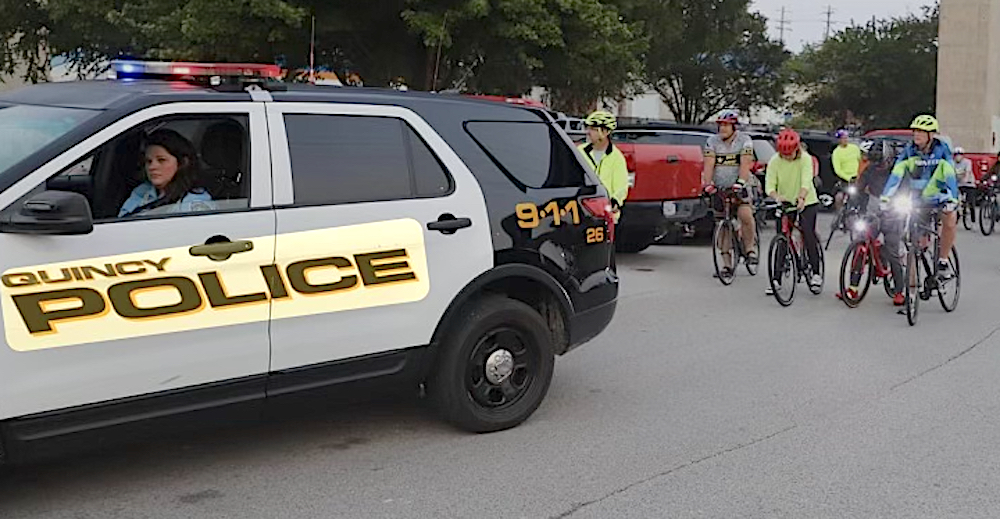 QUINCY — Allie Jarvis has been involved with law enforcement — as a jailer, as a dispatcher and a jail nurse — since she was 17 years old.
Now that she's a full-time nurse, she's still volunteering with the Quincy Auxiliary Police.
"The way I look at it, law enforcement gets a bad rap," she said. "You know always hear about bad officers, the bad apples. I wanted to get out there and show people that law enforcement is good. I wanted my children to see that.
"Law enforcement is not bad. If you need something, they're there for you. I like being busy. I like being out with the community. People might see me at work or they might see me doing a detail and come to the realization that we're one and the same."
The Quincy Auxiliary Police, however, is undermanned these days. Adam Yates, chief of the Quincy Police Department, says the auxiliary is allotted to have 15 people, but today it only has seven volunteers.
The auxiliary police unit is tasked with protecting the public during parades, runs and special events such as Fourth of July celebrations and the Knights of Columbus barbecue. Auxiliary police officers also assist with traffic control assignments, vacation checks and extra patrols.
"Someone could go up to a uniformed person and ask questions, ask for help, whatever it may be," Yates said. "They're also trained to do what we call community service officer work. They can get a squad car on their own, drive around the city, tag abandoned vehicles, write parking tickets, respond to traffic crashes and assist with traffic direction. They might respond to a crime scene and help with privacy and security while the officers are processing the scene.
"There's just a number of different things they're trained to do by city ordinance that alleviate some of that work from the patrol officers."
Yates recently spoke to the Quincy City Council to let them know about the decline in auxiliary police officers.
"Generally we can staff most events, but we had a situation come up where we had two runs in the same day, both requiring numerous street closures or intersection closures," he said. "And to be quite honest, we just didn't have enough people to staff it. It doesn't mean that the events can't go on. We're going to ask event volunteers to put the barricades up, and we will assist as much as we can, but it's going to be very difficult for us going forward."
Applicants must be a high school graduate and at least 18 years old. They must have a valid driver's license and must pass a background check before they will begin training. Interested people can download an application on the Quincy Police Department's website or contact Sgt. Adam Gibson at 217-228-4470.
"They're not armed, but they are given training and equipment like pepper spray and handcuffs in case they find themselves in a situation, because they are uniformed in a police vehicle," Yates said. "Sometimes are mistaken for police officers and have to deal with certain situations, but it's primarily they just enhance public safety."
Yates said most people who volunteer already have a career and don't want to be a full-time officer. However, he said his career in law enforcement began with the auxiliary police.
Jarvis has volunteered for five years. As a lieutenant, she helps plan the details for events when auxiliary police officers are needed. She said she usually averages volunteering between 40 and 50 hours per month.
"If you're retired and just looking for volunteer stuff to do, this might be perfect," she said. "We have older people on the unit and people who are wondering if they might turn it into a career.
"It just makes me feel good that I am doing something for my community and making it a safer place. I want my children to grow up in Quincy, because I know the officers and I know the kind of community that we have."
Miss Clipping Out Stories to Save for Later?
Click the Purchase Story button below to order a print of this story. We will print it for you on matte photo paper to keep forever.