Quincy woman creates support group after surviving complications from emergency C-section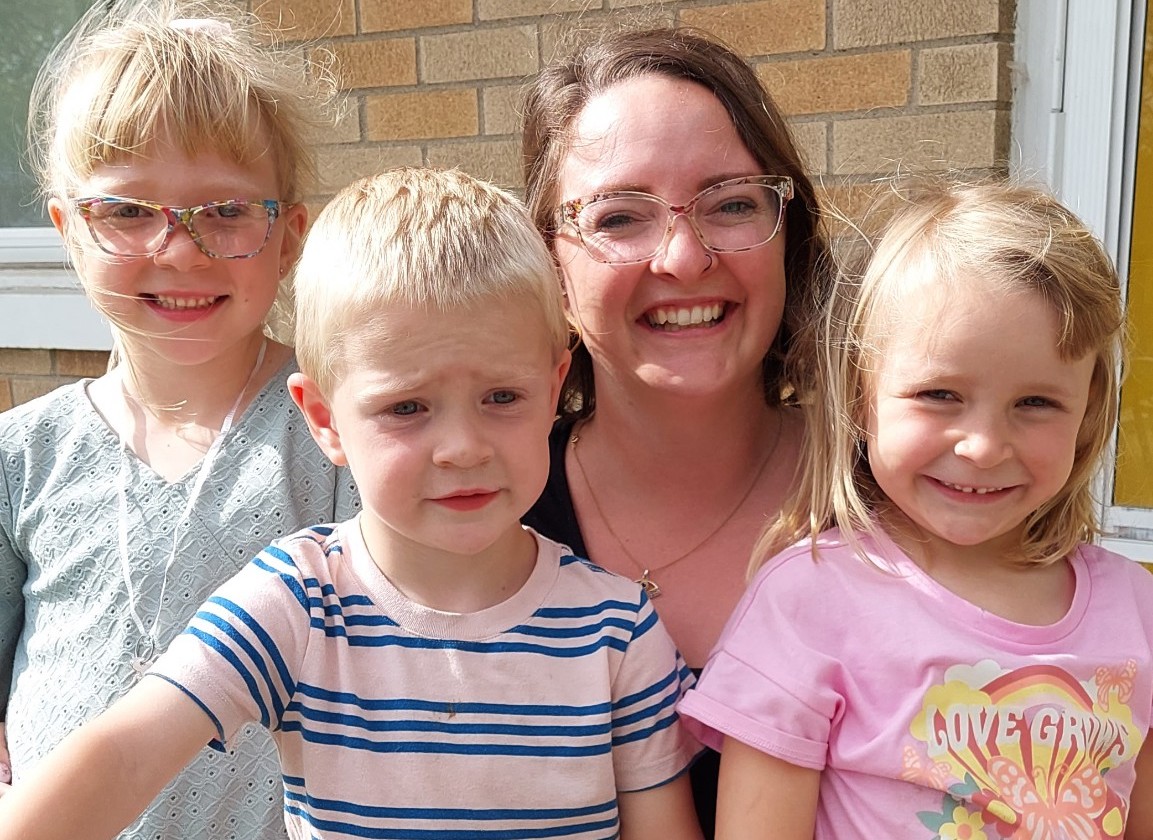 QUINCY — A Quincy woman who survived a 2 ½-year medical nightmare has created a support group to help all women deal with life's challenges.
Kaleidoscope meets on the second Wednesday and fourth Monday of each month at 7 p.m. in Luther Memorial Church, 1210 Jersey. Group founder Kala Breder created the group in October after the birth of her third child in July 2020 by an emergency cesarean section.
Breder says the only requirement to attend is being a woman.
"So much of the healing process, I just had to kind of do on my own," she said. "I've gone through those really lows of feeling like I don't have anybody around. Being able to open the horizons a little bit and see there are people I just need to reach out to and ask for help, that's how I can help. I've been at the really lows and I've been at the really highs, and I think I can just connect with women."
Breder was 28 years old when her son was born at 33 weeks. The birth went fine, but multiple medical complications followed.
"(Doctors) discovered I had been bleeding internally for an unknown amount of time. I had to go back and have an emergency hysterectomy," she said. "But at that point, I was in what's called DIC (disseminated intravascular coagulation). Basically, your body stops making blood products. My body stopped clotting."
Breder received 32 units of blood, then was transferred by an ambulance to St. Louis. She stayed in the hospital for a week. She couldn't get around without a walker, had a collapsed lung and could barely lift her five-pound baby.
"I ended up tearing my ACL (in her knee) the following summer. My muscles didn't get strengthened up appropriately," she said.
She had both ovaries removed, then was diagnosed with endometriosis — an often-painful disorder in which tissue similar to the tissue that normally lines the inside of a woman's uterus grows outside her uterus.
She had five surgeries in all, then needed extensive physical therapy and treatment for post-traumatic stress disorder.
"The hardest part of it for me was that when I was released (from the hospital), everyone was saying I was fine, so I was like, 'OK, I'm fine,'" Breder said. "I thought I could jump in and do everything that I did before and take care of everybody, but I wasn't fine. My needs got pushed way back until it got to the point where my body was screaming, 'You need to get help.'
"I never made contact with a therapist. I came home and kind of, sort of, got with somebody, but it just didn't flow. It didn't feel like it was helping me at all, so I just stopped. I felt lonely because I had no one to talk to about it."
Breder's 4-year-old daughter eventually was treated for post-traumatic anxiety for a year. After her daughter's release, Breder underwent therapy for PTSD for a short period of time.
"Between then, I had searched and searched and searched for support groups for women who have any sort of birth trauma or just women who had gone through something that I had gone through," she said. "I couldn't find anything. Finally in January (2023), I really felt like I was back to normal."
Breder created Kaleidoscope for women who believe sharing with other women the challenges she is facing in her life would help. Conversation topics in recent meetings have been childhood traumas among the attendees, work-related challenges, and issues with spouses and children.
"We do a little journaling and talking, trying to support each other through life as a woman," she said. "It's just women supporting women."
Breder, a stay-at-home mother of three children under the age of seven, recently became a certified life coach. The name of the group reflects her love of butterflies and her vision for the group.
"Kaleidoscope is what a group of butterflies is called," Kala said. "I thought that name was perfect because when a group of butterflies gathers, it's such a beautiful thing. A group of women coming together and supporting each other can also be a really beautiful thing."
Women interested in the Kaleidoscope Women's Support Group can message Breder on the group's Facebook page.
Miss Clipping Out Stories to Save for Later?
Click the Purchase Story button below to order a print of this story. We will print it for you on matte photo paper to keep forever.