Residency requirements for QPD officers extended to 40 miles from City Hall, including Missouri and Iowa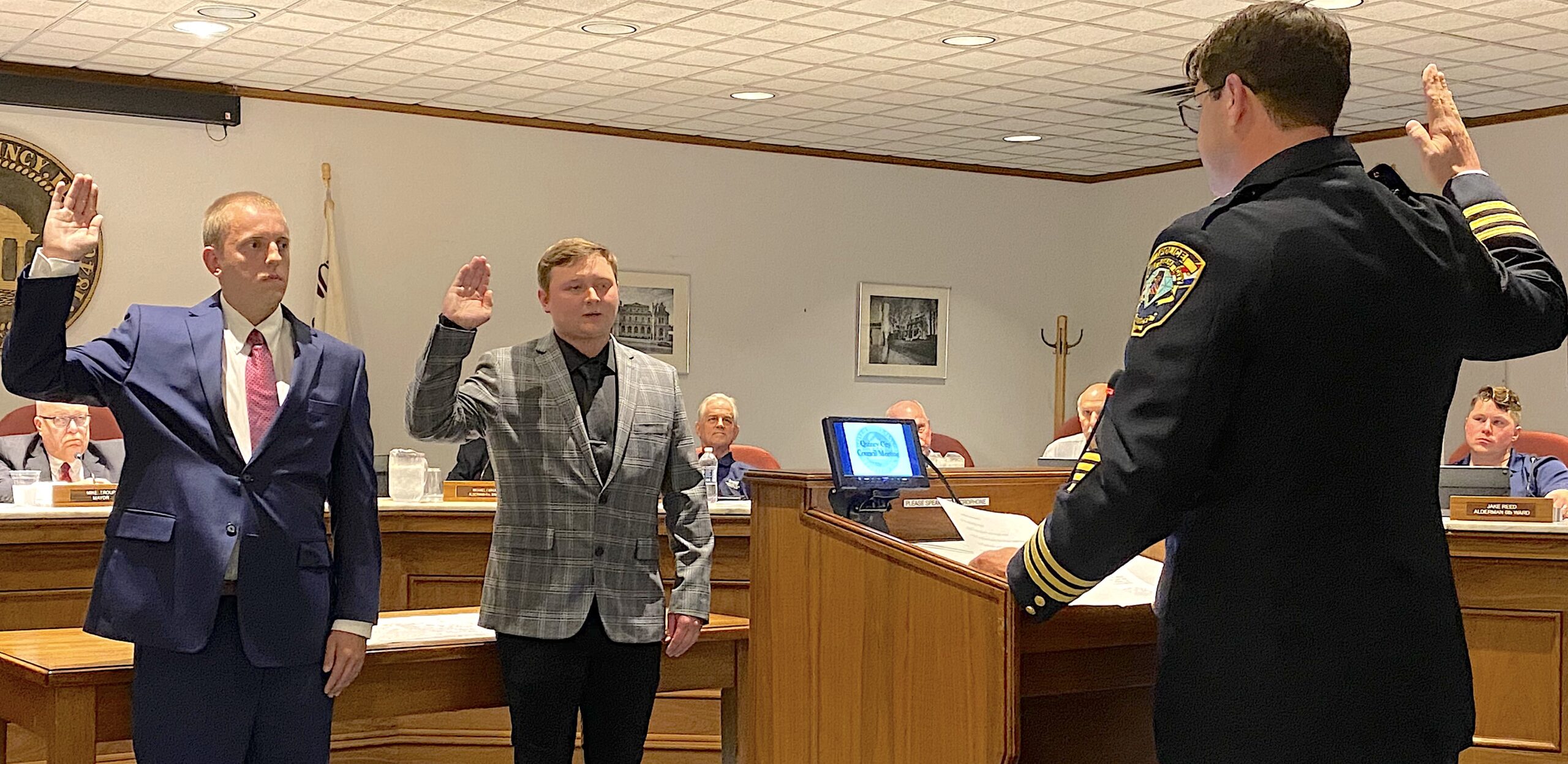 QUINCY — After nearly 45 minutes of debate, the Quincy City Council voted Monday night to approve a resolution that relaxes and extended residency requirements for officers with the Quincy Police Department.
The Police Benevolent and Protective Association Unit 12, which represents the officers and supervisors with the Quincy Police Department, and the City of Quincy have a collective bargaining agreement dated May 1, 2018, through April 30, 2021. The text of the residency provision states employees must reside within the boundaries of Adams County.
At stake Monday was a memorandum of understanding proposal that changed the residency requirement to:
"Employees covered by this agreement shall reside within 40 miles from City Hall. This boundary extends into Missouri and Iowa and does not require residency in Illinois only. Newly hired officers who are not Illinois residents and do not become Illinois residents must remain employed by the city for no less than five years. Any new hire who violates this requirement must reimburse the City of Quincy their basic training costs."
The police union and the city are awaiting an interest arbitration decision later this month from arbitrator Michael Wojcik of Sugar Grove. However, the issue of residency was not an open issue for interest arbitration.
The vote was 8-6. Voting in favor of the resolution were Greg Fletcher (R-1), Eric Entrup (R-1), Jeff Bergman (R-2), Brianna Rivera (R-3), Kelly Mays (R-3), Mike Farha (R-4), Richie Reis (D-6) and Jake Reed (R-6). Voting against the resolution were Dave Bauer (D-2), Tony Sassen (R-4), Mike Rein (R-5), Glen Ebbing (R-5), Ben Uzelac (D-7) and Jack Holtschlag (D-7).
Adam Yates, chief of the Quincy Police Department, thought the vote was an indication from the City Council that it supports the police department.
"I'm not opposed to residency. It's a way for us to work through our manpower issues, and I think our manpower issues are going to continue well into the future," Yates said after the meeting. "This is a mechanism that is going to help us going forward.
"I know there are a lot of questions and comments and disagreements in terms of negotiating and the contract and what it means for the future and how you go about doing it. But I know the City Council has spoken. For me, if it's going to help retain good officers, that's it. That's what we need if it's going to help us recruit qualified officers."
At the beginning of Monday's meeting, Yates swore in two new officers — Justin Laaker and Gabriel VanderMaiden — who will begin their training at Sauk Valley Community College. The addition of those two officers brings the total of QPD officers to 72 — one short of being fully staffed. Yates said it typically takes new officers eight to nine months of training to go from being hired to going solo on the job.
He says the department typically has anywhere from 10 to 15 going through the training process, either at the training academy or in field training. Those 10 to 15 officers do not count as manpower. Yates said lateral transfers (from officers with experience in other departments) typically only need about five months to get up to speed.
"I looked at residency as a way, especially with the issues we have been dealing with, to start helping our ability to draw experienced lateral transfer police officers to the city of Quincy," he said. "I say that because the (Illinois) State Police have been using us as a farm club for decades. We get officers trained up and then get three or four or five years of experience, and then (ISP) comes in and offers them more money and reduced academy and things like that. It's been used against us for a long time."
Jeff Mays, director of administrative services, said the aldermen approved what he called "a flawed resolution." Both Rein and Corporation Counsel Lonnie Dunn expressed concerns about how the resolution was worded regarding non-Illinois residents.
"There truly are language problems with that resolution that favors those folks who come in from outside versus the vast majority of folks who come in from Adams County," he said.
Mays also said the resolution upsets the balance at future bargaining tables. He believed the residency negotiation should have remained between the city and union.
"I cannot recall, and I asked folks who have been around a long time, when something like this has come to the council directly," he said. "It's a balance that has been tilted against management by repeated federal and state laws and federal and state court decisions over a long period of time. How do we go in and negotiate on behalf of (the city) and on behalf of the taxpayers to be sure that we understand the issues that are presented on both sides?"
Several aldermen spoke about the issue. Bergman appeared to have the most passionate stance.
"We should not go into a contract negotiation and have to bargain this issue with the mindset that we want to get something back to give the police officers the ability to live within a 40-mile radius of QPD," he said. "We're giving them a better work-life balance. Hopefully they enjoy their job a little bit more. Hopefully we have better retention with our police officers, which will save the taxpayers in the long term for hiring and training costs.
"At the end of the day, I don't care where our employees live as long as it does not affect their ability to get to work on time and perform their job duties adequately. A fully trained happy police officer who enjoys his job and wants to come to work every day and stay here long term is a benefit to the citizens of Quincy."
Miss Clipping Out Stories to Save for Later?
Click the Purchase Story button below to order a print of this story. We will print it for you on matte photo paper to keep forever.