Rise in cancelled flights, decline in passengers forces Southern Airways to alter weekly flight schedule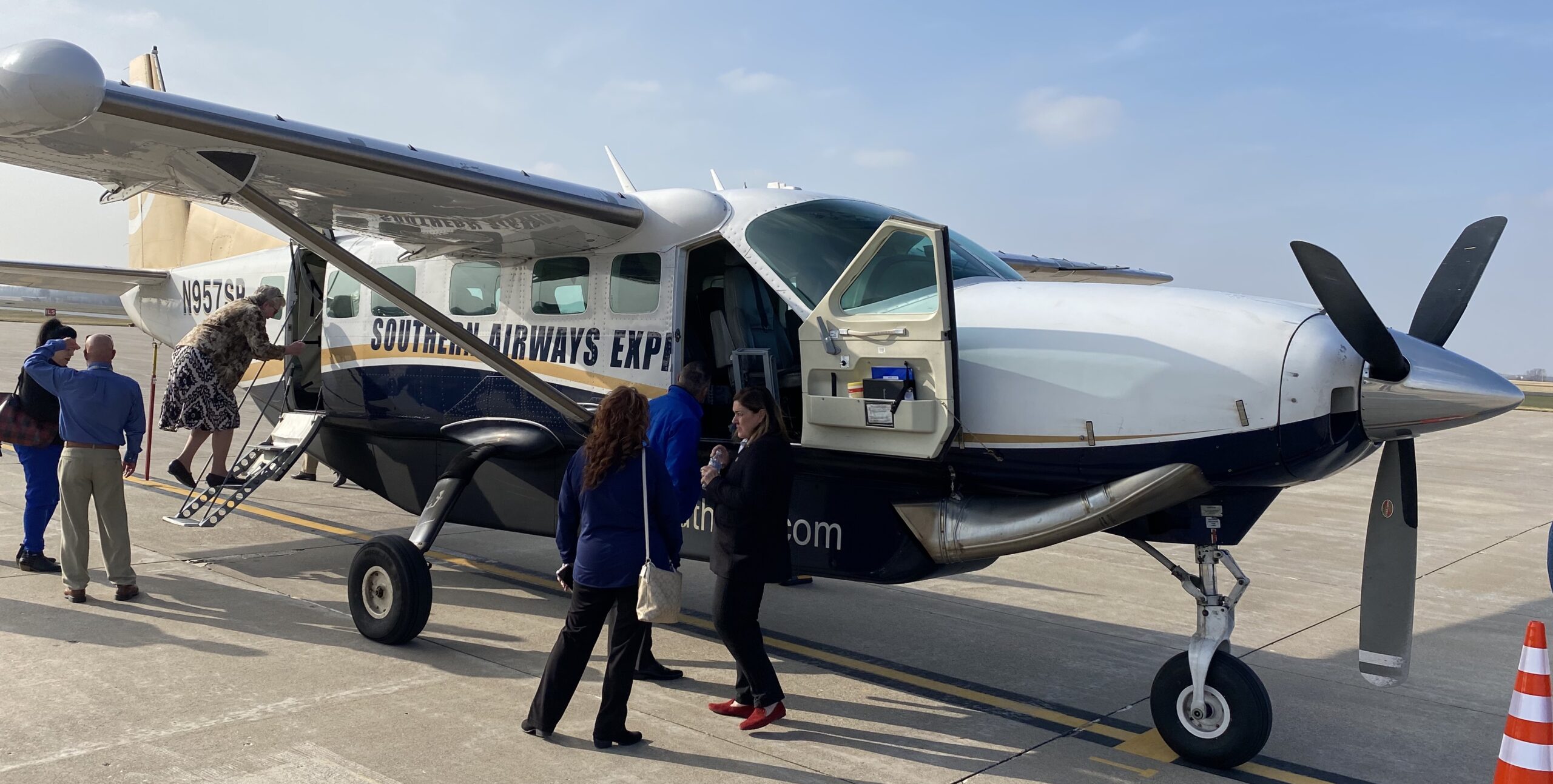 QUINCY — Mark Cestari provided plenty of reasons why the number of flights and number of passengers at Quincy Regional Airport are down.
A pilot shortage. A supply chain problem with acquisition of parts, leading to a lack of planes. Escalating operating costs.
"I've been doing this for 25 years, including 9-11. This is the most severe disruption of our industry ever," said Cestari, chief commercial officer for Florida-based Southern Airways Express, which began providing essential air service at Quincy Regional Airport on Dec. 1.
Those disruptions mean the numbers for Southern Airways in its first year in Quincy, provided by Quincy Regional Airport Director Chuck Miller, have been below expectations.
During Southern Airways' first month in Quincy, Cestari said the airline's goal is to complete 99.3 percent of its flights, which it has accomplished for the past two years. However, nearly 15 percent of scheduled flights (153 out of 1,039) out of Quincy have been cancelled since Jan. 1. More than 36 percent of cancelled flights were for reasons other than weather.
"We're not up to our usual performance rate," Cestari said. "We opened in 11 new cities last year when we were in an aggressive growth mode. This year we've added no new cities, because we have been working hard to do the best we can to provide the best service we can in the markets that we're in."
He said Southern Airways' controllable completion rate — the number of flights that take off as scheduled — was better than 98 percent for many years. That percentage is slipping in 2023 into the low 80s, "which just isn't acceptable," Cestari said.
"Then couple that with disruptions at the big airlines," he said. "We partner with American and United at (O'Hare International Airport in) Chicago. We feed them a lot of passengers, but they're having their own cancellations and plane disruptions. We may get somebody to Chicago on time, but their United flight is canceled, or their American flight is four hours late or whatever. You've got a combination of factors that we're dealing with, and we've got a team of people who work full time on mitigation when we have a disrupted flight."
The number of passengers on the completed flights are falling short of goals as well. The Quincy airport has a goal of 833 passengers a month that would allow it to reach 10,000 passengers for the year, enabling it to receive a $1 million federal grant.
However, the Quincy airport hasn't surpassed 530 passengers in a month since Southern Airways started providing essential air service. Last year's passenger count was 4,789, less than half of the yearly goal. The passenger count of 3,474 through the first nine months of this year is behind last year's pace.
The last time the number of passengers out of Quincy topped 10,000 was in 2019, when 10,033 flew when Massachusetts-based Cape Air was the EAS provider.
Cape Air gave notice in May 2022 of its intention to end passenger service in Quincy because of a shortage of pilots. In its last month of operation in Quincy, Cape Air flew 24 flights.
"Cape Air left a horrible taste in my mouth," Miller said. "Cape Air essentially quit flying two months before they left here. The first week, Southern was here, the first week of December, they flew more flights than Cape Air did the entire month of November."
"We did inherit a very disgruntled passenger base that has had a worse time with pilots than we have," Cestari said. "They pulled out of quite a few cities, including Burlington (Iowa) right up the road, and we've come in to keep the cities on the map.
"But it takes time to build that customer confidence. I've been doing this for 10 years for Southern, and we've moved in where airlines have gone out of business. We've moved in where the customer base is saying, 'I'm never flying out of that airport again.' Over time, we have been able to restore confidence."
Cestari believes building a reliable schedule will help restore confidence. For now, that also means an adjusted flight schedule.
Southern Airways originally offered 18 flights each week from Quincy to both O'Hare and Lambert international Airport in St. Louis. However, the adjusted flight schedule to St. Louis has two flights each weekday, one on Saturday and two on Sunday for a total of 13. The schedule to Chicago has three flights each weekday, two on Saturday and three on Sunday for 20.
"We had to make a hard decision to pull back the number of scheduled flights and fly them more reliably," Cestari said. "We made a decision in conjunction with the mayor (Mike Troup) and with Chuck, and it has improved reliability.
"There are so many people making connections. They need to get there to get on their next flight, so it's a temporary shift that we made. We will go back to the full schedule, hopefully by the spring. We have an order for quite a few new aircraft coming in the second quarter of 2024, and that should take some of the pressure off this."
The percentage of canceled flights from Quincy was 16.5 percent from January to July (135 missed flights out of 817). That percentage dropped to 8 percent in August and September (18 missed flights out of 222).
The number of passengers also is slowly climbing when compared to 2022 numbers when Cape Air was the essential air service provider. Southern Airways had lower numbers than Cape Air from January to June, but surpassed them in July, August and September.
"We can't hit 833 (passengers a month) with a reduced schedule, but I think we'll be able to recover by the early spring," Cestari said. "Based on what I saw this summer, if we were flying a full schedule, we would have been killing it and far exceeding the 833 a month. I'm confident we will make those 10,000 enplanements this next fiscal year."
Cestari mentioned that Southern Airways now has its own flight training center in Dubois, Pa., instead of using an external flight simulator school.
"We're manufacturing one new pilot a day, which doesn't sound like a lot. For a small company like ours, that is really allowing us to stay ahead of most of the other airlines in terms of pilots," he said.
Cestari said Southern Airways is committed to Quincy, and he believes Quincy is committed to Southern.
"It's very difficult to make money in this environment, because you're constantly having to cancel flights," he said. "You lose revenue when the passengers end up driving instead. That's not good for the passenger, and it's not good for us, but we're managing and making some schedule adjustments.
"Quincy is a great market. It's a great city, and it's much bigger than a lot of the EAS markets we fly to. We've made a corporate commitment this year that we're not abandoning any cities. If we were to leave Quincy, the airport falls off the map."
Miss Clipping Out Stories to Save for Later?
Click the Purchase Story button below to order a print of this story. We will print it for you on matte photo paper to keep forever.