Sale of bicycle collection leads to $40,000 donation for development of Bill Klingner Trail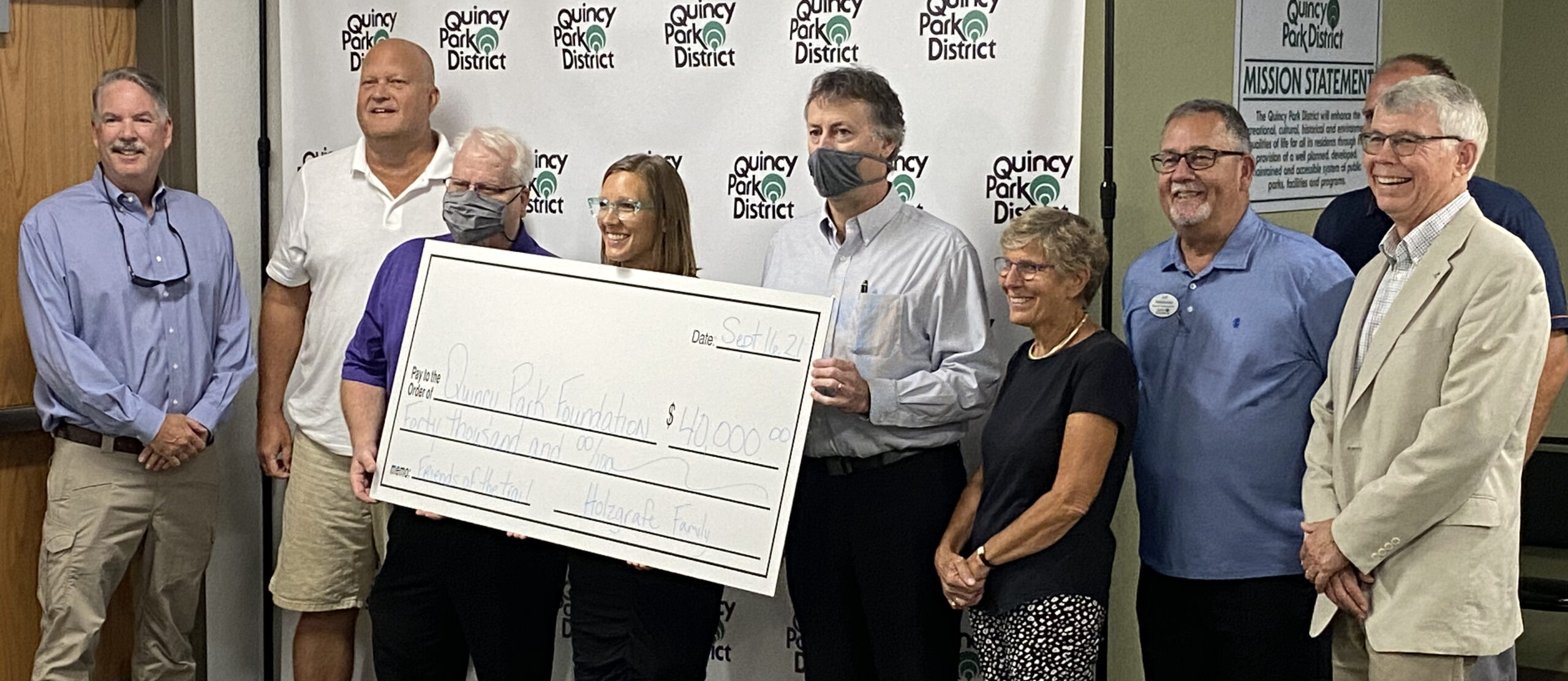 QUINCY — Donnie Weinberg's passion for bicycling now will help future bicyclists in Quincy.
Family members sold about 60 of Weinberg's bicycles after his death in May 2016, and on Thursday, the family used those proceeds to make a $40,000 donation to the Quincy Park District Foundation.
Rome Frericks, executive director for the Quincy Park District, said $15,000 will be used for a future memorial garden, benches, a bicycle repair station and a tree area for shade along the Bill Klingner Trail. The other $25,000 will go to future development of the trail.
President Chris Blakeman says the Quincy Park District Foundation, an all-volunteer organization, has about $350,000 designated for parks and activities within the Park District. It was created in 1996 to accept donations, both monetary and land, to help create the Cedar Creek Linear Parkway, now known at the Bill Klingner Trail. It has helped fund about $2.5 million in other Park District projects.
"The foundation just helps hold property, helps hold assets and helps hold money," Blakeman said. "We invest that, and then as the various groups need the money, we draw it out.
"A donation likes this helps us get more visibility in the community for the foundation. We're just trying to be good stewards of the community's money. Some people prefer to donate money to a foundation versus a public entity. When we ask for grant money, they'd rather give it to a foundation. It's just the way the world works these days."
Approximately 60 bicycles were sold
Heidi Holzgrafe, Weinberg's niece, was joined at a Thursday morning press conference by her mother, Gingie Holzgrafe (Weinberg's sister), and her father, Gerald Holzgrafe. She said Weinberg routinely participated in trail and charity rides each year, and from 2014 until his death, he bought several used titanium road bike frames. He had about 75 bicycles in storage, and after family members kept some for their own, approximately 60 were sold.
"They weren't all road bikes. They weren't all hybrid bikes," Heidi said. "There were some what I would call travel bikes that were in suitcases. When he would go on vacation, he packed a suitcase with his bike and would take it with him.
"There were a few collector bikes. We had some old Schwinn reproductions. We had a really cool 1904 bike that had a crankshaft on it and an oil drive system. I'm not super familiar with bikes, but that one is was pretty spectacular. He had some bikes with the big wheel in the front and a small wheel in the back (called a penny farthing). There may have been about 10 of those that would be considered historical, but most of them were functional."
Future work on trail must wait until bond is paid off
Heidi said her mother came up with the idea of donating the money to the foundation. She shared on Facebook about the sale of the bicycles, and bike clubs from throughout the nation responded.
"There was no way we're all going to ride 75 bicycles, so selling them became option one," she said. "Mom felt because of Donnie's love of cycling, let's do something special. Let's make our mark. This is a donation for something. The Klingner Trail really seems like a worthy cause for a donation from the sales of bicycles."
Future expansion of the trail likely would extend south from Bob Bangert Park to Lincoln Park. Construction costs for the proposed extension were estimated last year at $3.6 million. Frericks said any work on that portion of trail will be delayed until the $2.3 million bond the district sold in 2019 for trail construction is paid off in 2023.
"Trail construction is a tax increase," Frericks said. "So what we're trying to do is get the last two segments paid off, then create another segment. That way people don't see the jumps in taxes. We're just trying to keep that consistent while maintaining the trail system and everything else.
Miss Clipping Out Stories to Save for Later?
Click the Purchase Story button below to order a print of this story. We will print it for you on matte photo paper to keep forever.