Sexual assault trial placed on May docket; Yohn promises motions for change of venue, dismissal of case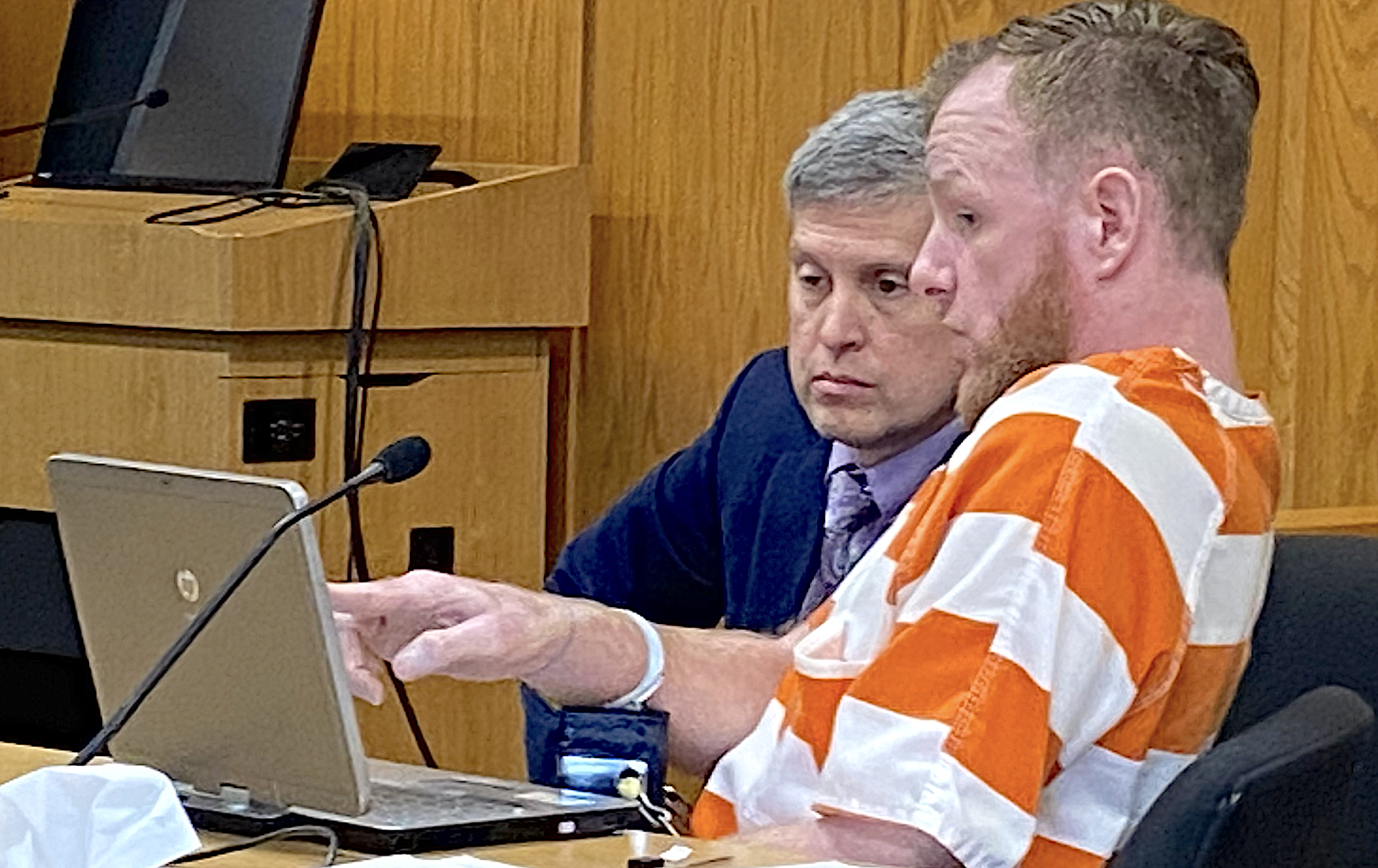 QUINCY — Judge Roger Thomson put the trial for Bradley Yohn, a Springfield man defending himself in a November 2021 sexual assault case, on the May 8 jury docket — 545 days after Yohn allegedly committed the crime.
Yohn, however, told Thomson at the conclusion of Thursday afternoon's motion hearing in Adams County Circuit Court that he plans to make motions for a change of venue and to dismiss the case before another motion hearing is held April 12.
Bradley Yohn, 35, is defending himself against charges of home invasion, aggravated kidnapping, aggravated vehicular hijacking and aggravated criminal sexual assault with a weapon. He allegedly committed the crimes on Nov. 9, 2021, at the home of Christina "Tina" Schmitt.
Much of Thursday's hearing centered around motions filed March 2. One motion was for Yohn to receive copies of transcripts from 22 hearings regarding this case. Yohn claimed in his other motion he had not received a "full and complete" file from the Adams County Circuit Clerk's office despite making the request on May 18, 2022. He said he had received a log of documents that should have been made available to him.
"You highlight on the docket what you don't have, and I will direct the clerk to provide you with copies or verify that they have previously given you copies," Thomson said. "I want you to have copies that you're entitled to, but I'm not going to burden the clerk with continuing to copy their files and provide you with those copies."
"Could I get a highlighter?" Yohn asked.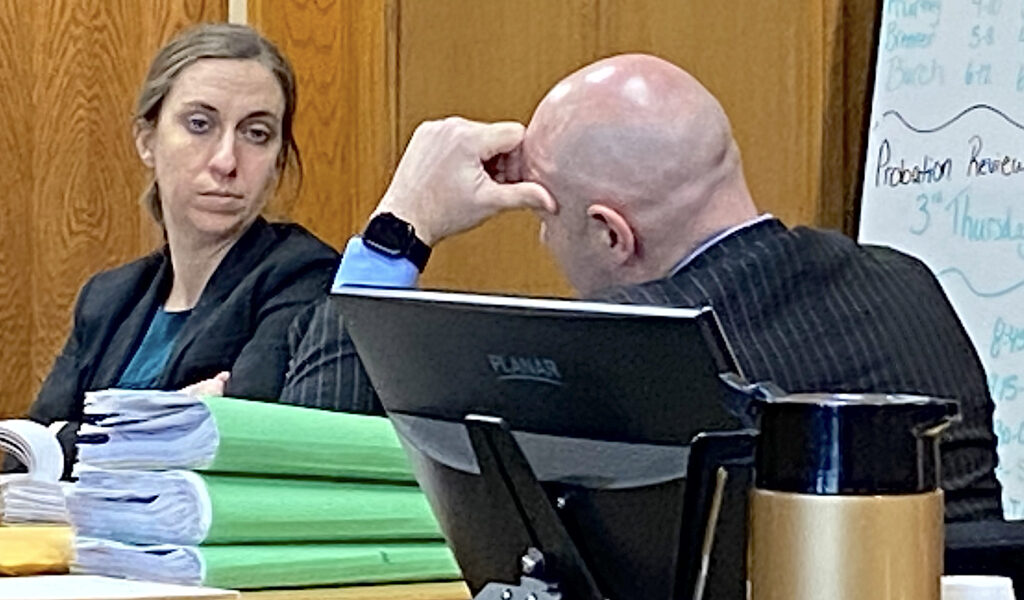 Jones believes Yohn is 'trying to delay the proceedings'
Thomson then asked Assistant State's Attorney Josh Jones for a response to Yohn's request.
"I'm curious why we're waiting until March 2 to ask for these things," Jones said. "The fact is this case have been set for trial multiple times. At a certain point, the people can only conclude the defendant is trying to delay the proceedings.
"It's going to take significant time for the court reporters to prepare those transcripts. A lot of these hearings were lengthy and included rambling responses. I'm not sure how long it will take them to do that. I'm not sure the cost of county which of course, is an important concern that the court should be concerned about is the length of time and the timing of this motion."
"It's not a delay, your honor," Yohn said. "I would have much rather been in a regular general population and had access to legal options that I could utilize to get out here quicker. I actually would have been out of here a long time ago."
Yohn then complained about a court reporter not being in the courtroom — a complaint he has made several times in the past. Thomson assured him court reporter Tracy Grott was listening to the proceedings via Zoom.
"Could I please see her myself?" Yohn asked.
Thomson turned his computer screen to Yohn.
"Appreciate it," Yohn said.
"Now that problem's solved," Thomson said.
Yohn claims documents, videos, audios have been 'doctored'
Yohn then debated a motion filed Feb. 21 claiming discrepancies in the copies of several documents, videos and audios he received as discovery. He claimed seconds from the copy of one audio were missing, while another five-plus minutes were clipped from another audio.
"These statements, as a whole, are very inconsistent with each other," Yohn said. "They do not amount anywhere close to what is stated in medical statements. … These statements are doctored, and they are doctored for reasons unknown to the defendant and probably yourself. They simply do not add up to an error of a device malfunction. Devices do not malfunction this bad, especially not three different devices. That is inexcusable."
Yohn then played a recording of a statement given by Schmitt. Thomson asked him to stop when members of Schmitt's family were immediately upset and left the courtroom.
Yohn also claimed deputies from the Adams County sheriff's Department allowed people to walk through the crime scene for near 2½ hours on Nov. 9.
"Proper procedure and federal due process have been 'ir-repair-ably' violated," Yohn said. "To force this into trial would be a violation to life, liberty and freedom of one's justice. It would be a travesty of justice. It would be an injustice, depriving one of a fair trial, and it would be a show of horrible ethics of any law system. The damage here is 'ir-repair-able,' and it cannot be fixed."
Yohn files 17 motions to be heard April 12
Yohn then debated how the date of a copied computer file doesn't change the creation date of the file, adding more to his claim that documents were manipulated.
Thomson ordered Jones to make available to Yohn the original copies of digital files he has.
"It's the best the state can do so," the judge said. "Mr. Yohn, I don't put much weight into your argument, but you're certainly welcome to raise that on cross examination during a trial. I would simply note that I'm looking at a computer that tells me it's 2:29 p.m. I'm looking at an audio recording device that tells me it's 2:21 p.m. I look at the clock in the back of the courtroom, and it tells me it's 2:30 p.m.
"What time it really is, I couldn't tell you, but they're all electronic devices."
Yohn told Thomson he had given 17 motions to special counsel Todd Nelson from the Adams County Public Defender's office to deliver to the courthouse, but Nelson gave them back, saying he wouldn't file them.
"You have them with you?" Thomson said.
When Yohn said he did, bailiff Donnie Hammer took the motions to Thomson, who then handed them to the clerk.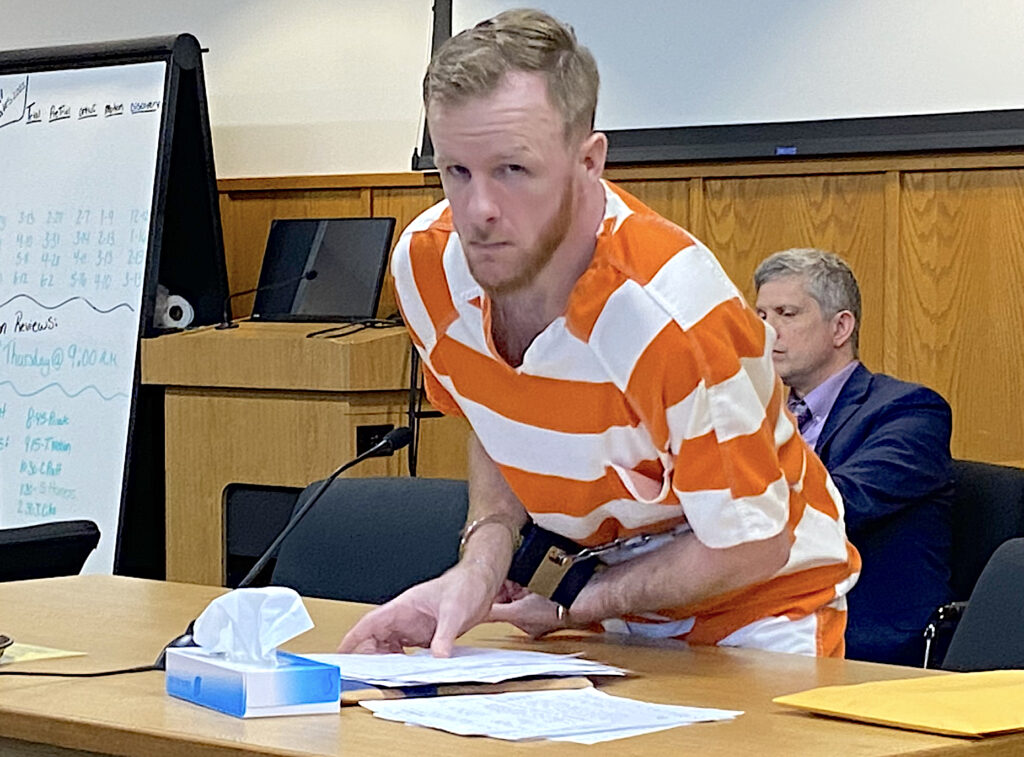 Yohn: 'I'm a very loving and caring person'
Yohn concluded by asking if a "black box" attached to the handcuffs and chains he wore in the courtroom could be removed to make it easier for him to handle paperwork during a hearing.
"I'm not a harmful or threatening person," he said. "I'm very humble and respectful. Most of the corrections officers have figured it out by now. I'm no threat to anybody."
Thomson said the decision on the black box was made by Adams County Sheriff Tony Grootens.
"Could somebody be reasonable and talk to the sheriff? Maybe Mr. (Chad) Downs here," Yohn said.
"Nope. Not my decision," said Downs, a bailiff.
"I'm not a threat," Yohn concluded. "This is unrealistic. As you see, you have the media right here (taking pictures), making me look like the worst guy in the world. I'm a very loving and caring person."
Thomson instructed Yohn to have all motions submitted before April 5 so they could be heard April 12.
Yohn could be sentenced to serve between six and 30 years in the Illinois Department of Corrections if he's found guilty of any Class X felony.
Yohn remains in the Adams County Jail on a $15 million bond, believed to be the largest ever set in Adams County.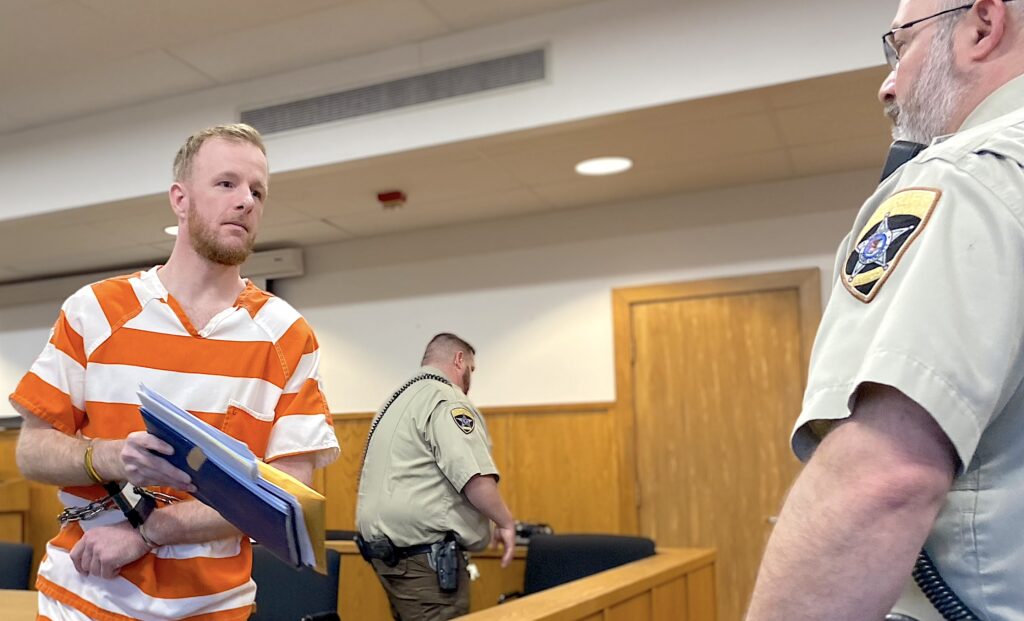 Miss Clipping Out Stories to Save for Later?
Click the Purchase Story button below to order a print of this story. We will print it for you on matte photo paper to keep forever.