Six local volunteers inducted into Missouri 4-H Hall of Fame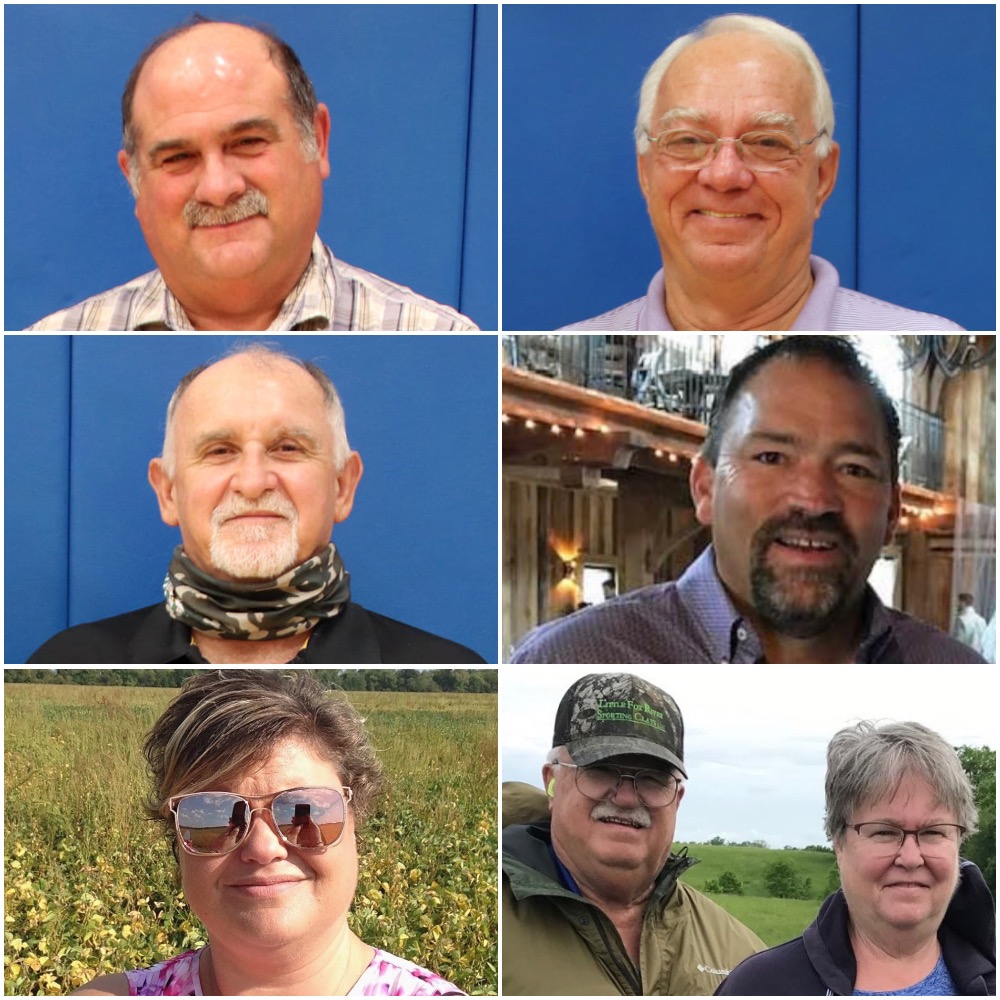 SEDALIA, Mo. — "Making the best better" for generations of Missouri 4-H club members, 44 volunteers joined the Missouri 4-H Hall of Fame on Aug. 21 at State Fair Community College in Sedalia.
Local people recognized were Heather Thomas from Knox County, DeWayne Selway from Clark County, Tim Coy from Clark County, Rusty Rothweiler from Marion County, Joe Henry Bruch Jr. from Pike County and Dave and Lu Koch from Scotland County.
The Missouri 4-H Foundation recognizes individuals who have created a legacy of service to 4-H by honoring them with membership in the Missouri 4-H Hall of Fame.
"The 4-H program would not be possible without our dedicated volunteers," said Rachel Augustine, director of the Missouri 4-H Foundation. "They are the backbone of 4-H, supporting and nurturing thousands of young people every year. We are proud to recognize these dedicated people who have helped shape 4-H history."
Thomas has served Knox County 4-H for more than 20 years as a project leader for cake decorating, foods, arts and crafts, and other homemaking projects. She has served on the Knox County Fair Board and the 4-H Council and has helped plan several events including Royalty Teas and Achievement Days and served as superintendent of the Art Hall at the fair. 
Selway has served Clark County 4-H as the beef and sheep project leader for 23 years. He also served as the Linn County beef superintendent for 21 years. Throughout this time, Selway has helped 4-H members learn how to groom, feed, care for and show their livestock. He has sold livestock to 4-H members at market price, often helping youth select their animals and has assisted with beef weigh-ins at the fair. Selway's efforts have helped to shape future opportunities for youth livestock exhibitors in Clark County.
Coy has been instilling a love of the outdoors in Lewis County 4-H members for 32 years. He began as a 4-H archery leader and transitioned to hunting and outdoor skills, leading many teams to the National 4-H Shooting Sports Championships. In 2016, Coy began leading the hunting and outdoor skills project at the national level, while continuing to serve Lewis County 4-H members, many of whom have gone on to compete at the national level.
Rothweiler has served Marion County 4-H for 48 years, including more than 25 years as the beef and swine project leader for the Stone 4-H Club. For many years, he assisted with beef weigh-ins at the Marion County Fair, served as the swine superintendent, the livestock sale director, and helped renovate the Marion County fairgrounds.
Bruch has dedicated more than half of his life to 4-H. For more than 31 years, he has served Pike County 4-H as a shooting sports project leader at the club and county level. In 1990, he organized the Northeast region's first "Spring Bang," a silhouette competition which continued for 15 years. He organized similar matches for Pike County youth and served as a coach for the state smallbore rifle shoot. Bruch has served on the State 4-H Shooting Sports Committee as the chief range officer for the smallbore rifle range, and he currently serves as the chief range officer for the National 4-H Shooting Sports Competition in Grand Island, Neb.
The Kochs have served Scotland County 4-H for 20 years as shooting sports project leaders. Dave serves as a shotgun instructor teaching trap, skeet, and sporting clays. He is particularly good at teaching gun safety at every practice so that it becomes second nature for 4-H members. Lu works behind the scenes maintaining records, managing score logs, ammunition logs and keeping parents up to date with information about practices and competitions.
Inductees from 35 counties established a legacy totaling 1,101 years of service to 4-H. Missouri 4-H friends and family members attended the 15th annual event, sponsored by FCS Financial and the Missouri State Fair in partnership with the Missouri 4-H Foundation.
"We are eternally grateful to the more than 7,000 volunteers who provide mentorship and guidance to our youth, helping them become leaders and responsible adults," said Lupita Fabregas, director of the University of Missouri Extension 4-H Center for Youth Development. "Now, more than ever, we must celebrate and thank them for the years of service they have dedicated to educating young people. Year after year, our volunteers — like the ones we celebrate today — continue to demonstrate the true meaning of devotion, compassion and commitment, helping us build a better future for the next generation of Missourians."
Miss Clipping Out Stories to Save for Later?
Click the Purchase Story button below to order a print of this story. We will print it for you on matte photo paper to keep forever.