Special prosecutor says baby's death in 2018 first-degree murder case caused by abusive head trauma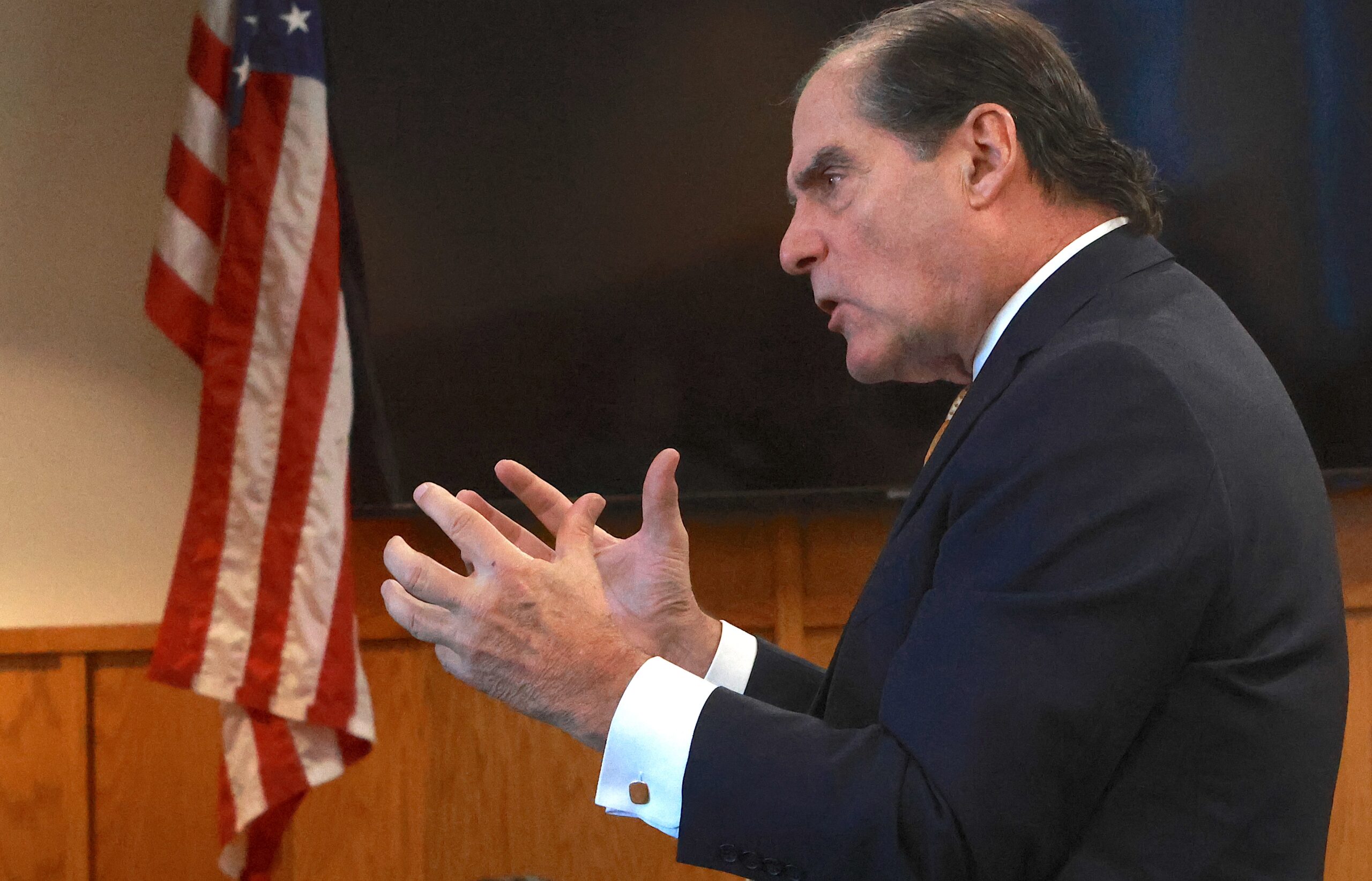 QUINCY — Special Prosecutor Jon Barnard told an Adams County jury that medical experts will tell them during the first-degree murder trial of Travis Wiley the death of 2-month-old Airyana Hoffman was caused by abusive head trauma.
Barnard gave his opening statement Tuesday morning during the second day of the trial in Adams County Circuit Court.
Wiley, 35, is accused of shaking Airyana on Jan. 20, 2018, and she died two days later at SSM Health Cardinal Glennon Children's Hospital in St. Louis. Wiley was arrested June 20, 2018, and remains in the Adams County Jail on a $5 million bond. If he's found guilty, a minimum sentence for first-degree murder would be 20 years in the Illinois Department of Corrections, with a maximum sentence of 60 years.
Testimony is scheduled to resume at 9 a.m. Wednesday. After Judge Michael Atterberry dismissed the jury on Tuesday, Barnard said he believes he will rest his case around noon on Thursday. Nelson said he likely will conclude his defense on Thursday as well. Closing arguments could happen on Friday.
Barnard described to the jury of nine women and three men the circumstances that led to emergency medical personnel arriving at the apartment of Airyana's mother, Christine Engle, on the afternoon of Jan. 20, 2018.
Airyana was first taken to Blessing Hospital in Quincy, then to Cardinal Glennon Children's Hospital in St. Louis, where doctors first learned of possible brain damage. After two days of neurological examinations, Barnard said it was clear Airyana was brain dead. She was baptized and life support was discontinued.
Answers began to emerge after an autopsy by pathologists with the St. Louis City Medical Examiner's Office, who discovered a subdural hemorrhage. Barnard said the pathologists determined Airyana died because of trauma, and the cause of death was determined to be a closed head injury. The manner of death was determined to be homicide.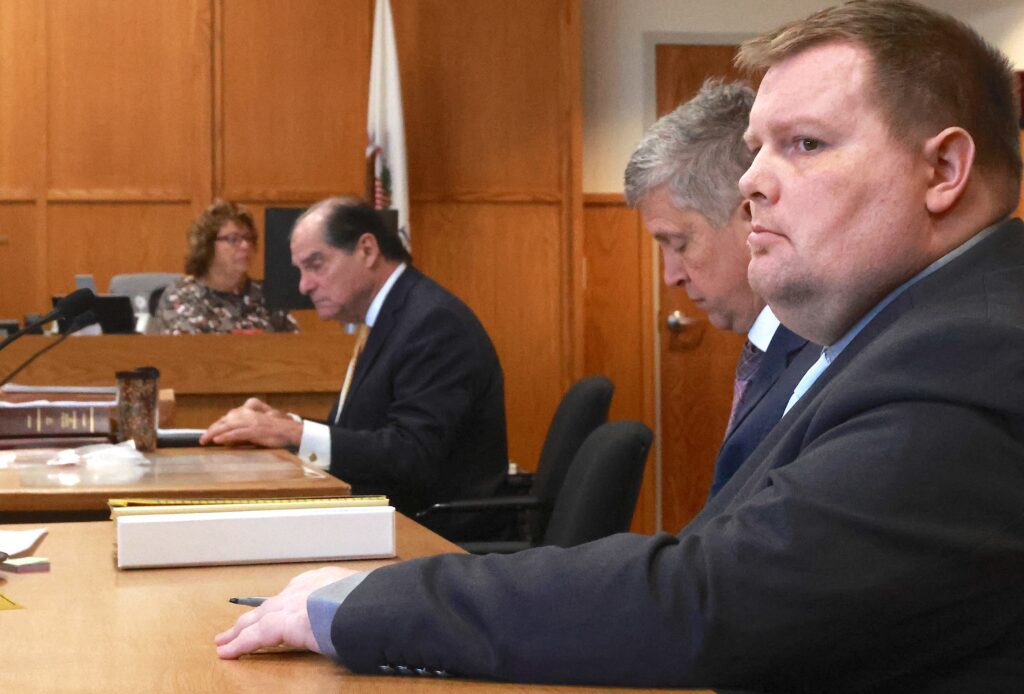 When Barnard said that to the jury, Wiley quietly shook his head.
Barnard said Dr. Channing Petrak, a pediatrician from Peoria, will testify Airyana died of abusive head trauma, which can be caused by striking a child, strangulation or "a number of things."
"Shaking a baby," Barnard said.
He said the injuries pointed toward a shaking of Airyana. He said when a baby is violently shaken, the brain crashes into the inside of the skull. Bleeding was discovered in the dura space (between skull and brain) around Airyana's brain. Barnard also said the optic nerve was damaged in Airyana's brain, causing bleeding.
Barnard said Wiley told first responders that he fell asleep in the apartment on Jan. 20, only to wake up to see Airyana unresponsive.
However, Barnard said Kevin Taute with the Quincy Police Department took Wiley's phone and Sgt. Nick Eddy extracted data that showed in the 70 minutes before Wiley called 911, 13 Internet connections were made on his phone. There also were two incoming calls and one outgoing text on the phone.
The phone data extraction also showed Wiley also clicked on a news website for a story about someone who killed a 3-year-old child.
Barnard also said on May 22, 2018, Taute got a court-authorized audio recording. Alyssa Donnelly, who worked at a convenience store with Wiley, wore a device for the recording, when she discussed with Wiley what happened to Airyana.
At one point in the recording, Wiley was asked what was keeping him in Quincy.
"I'm not going to stick around. Where I'm going, there's no extradition," Wiley said. "I've got to get out of this town."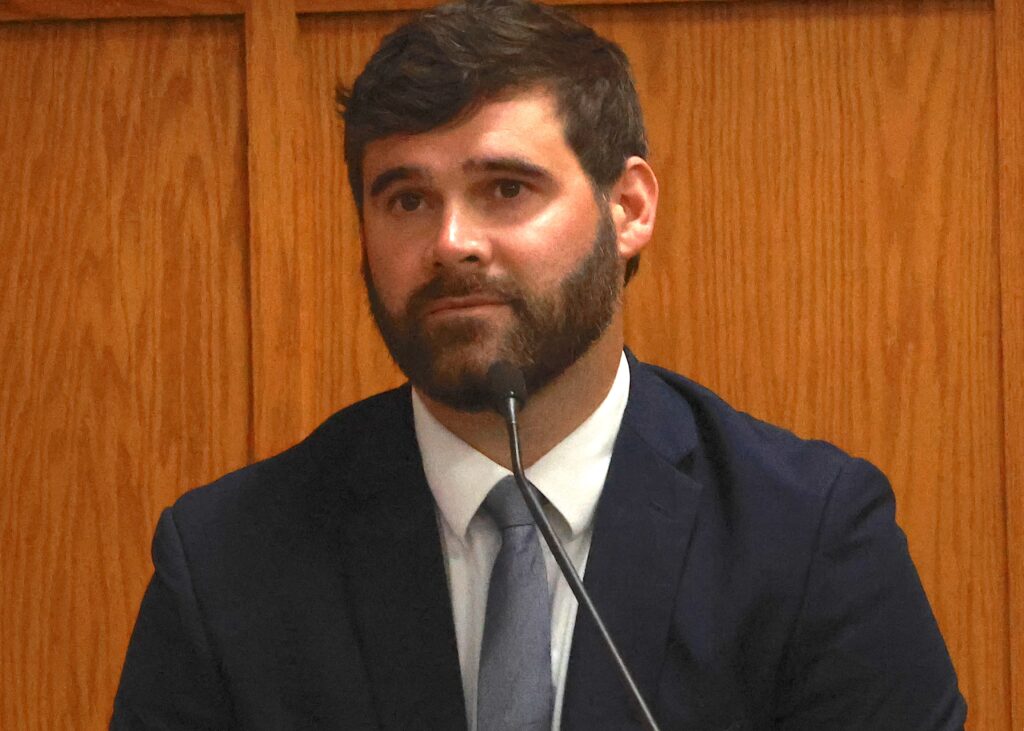 When Wiley was arrested on June 30, 2018, Taute interviewed him again. Wiley repeats his story, saying Airyana was "completely normal." Taute then confronted him with data from the phone.
"Phones do stuff on their own all the time," Wiley replied.
Barnard said Taute told Wiley he didn't believe Wiley was sleeping in the apartment before Airyana was discovered unresponsive. Wiley responded with the same comment about phones. Taute asked about the Internet story Wiley clicked on. Wiley responded with the same comment a third time.
Barnard said Dr. Jane Turner will testify on Wiley's behalf. She owns Virchow Consulting Services, which does medical consultations for a fee. Barnard said Turner will say Airyana died because of pneumonia, which caused sepsis, which caused a clotting disorder, which caused CVST (cerebral venous sinus thrombosis), which caused a stroke that led to her death.
"Airyana Hoffman died at the hands of the defendant," Barnard said. "No less than three specialists will tell you the same. … I'm going to ask you make a verdict in the form of guilty."
Chief Public Defender Todd Nelson said in his opening statement that Wiley was cooperative with police and Airyana suffered no external injuries.
"That is very significant," he said.
Nelson said Turner will say Airyana died of natural causes and that studies done on Airyana were incomplete or lacking information.
Andrew Abbott, a Quincy police officer at the time, arrived at Engle's apartment on the afternoon of Jan. 20. He said Engel was holding the baby, but she was placed om the grass so he could check for a pulse.
"I remember her lips were blue … she was just lifeless," he said.
Abbott said he didn't find a pulse, and Airyana was not breathing. He performed CPR on her until a firefighter from the Quincy Fire Department arrived on the scene, but he said the infant's condition never changed.
Abbott said Wiley told him after he called Engle that he also performed CPR.
"Did he show you how?" Barnard asked.
"He did not," Abbott replied.
Jessica Hollensteiner, a detective with the Quincy Police Department, responded to an ambulance call that day. She said she put Engle in contact with medical personnel so she could be with her daughter. She also met with Wiley, who said he placed Airyana down for a nap and then fell asleep on the couch near her. When he woke up, the child was blue.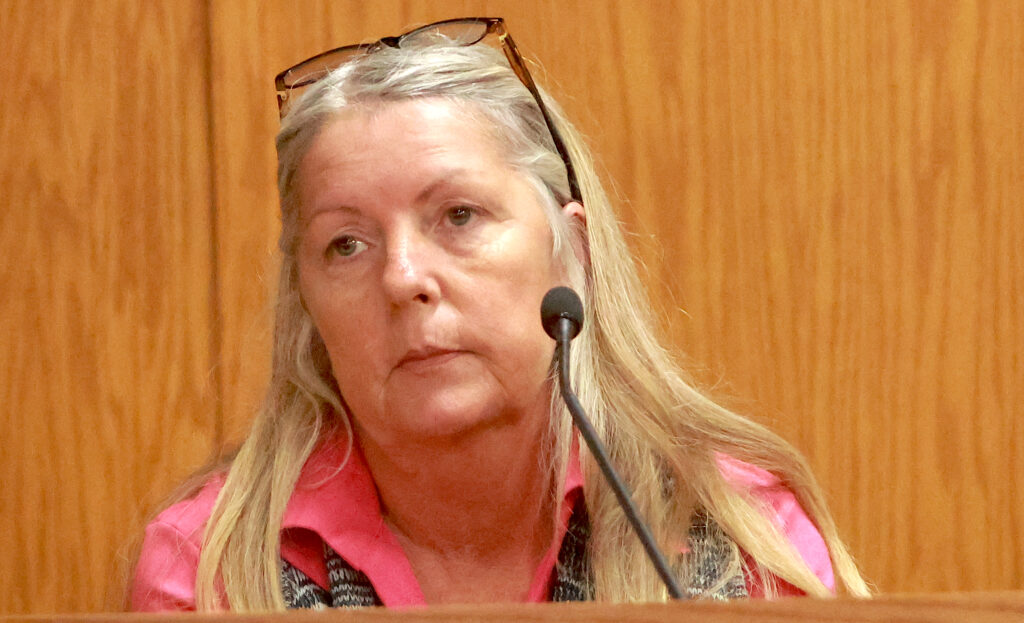 Linette Richards from Durham, Mo., Engle's mother, said she would watch Airyana approximately two times a week. Barnard asked if she saw any health or developmental problems in Airyana. Richards said no.
"Just your average baby," she said. "The last day I saw her, she was teething, and she was making all these bubbles."
She took care of Airyana for several hours on Jan. 19, taking her first to Hannibal and then to Durham. "Health-wise, she appeared fine," Richards said.
Jerry Richards, the father of Christina Engle, said he had held Airyana several times during her short life and was "fine."
"They get to that age and there's a twinkle in their eye. They recognize you," he said. "There was never any indication of anything wrong."
On the day of Jan. 19, 2018, he said he remembered holding Airyana. "She was a typical bubble-blowing kid that she was," he said. "She wasn't fussy at all from the time I saw her."
Taute testified he received a call about a baby in distress at 3:23 p.m. on Jan. 18. He went to the police department first to gather equipment, then went to the emergency room at Blessing Hospital, where he spoke to Engle and Jordan Padgett, Airyana's father. Taute then went to 718 Kentucky and took photographs inside the apartment after receiving consent from Christina.
Barnard asked Taute to unwrap the Rock 'N Play bassinet in which Airyana was found on Jan. 20. As Taute showed the bassinet to the jury, Wiley wiped a tear from his eye. It was the only sign of emotion Wiley showed throughout the day.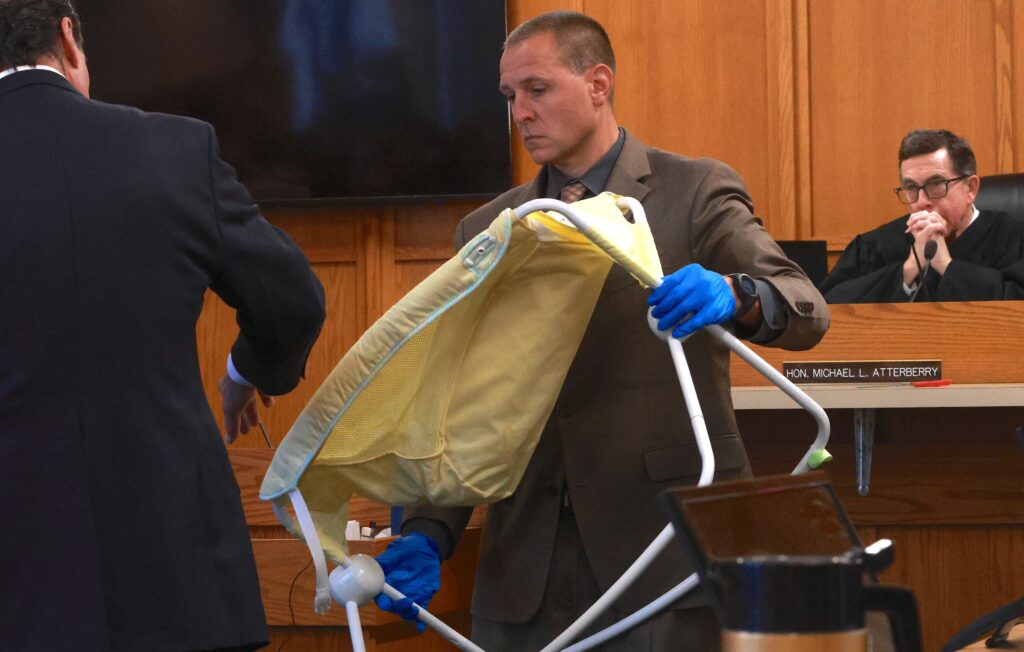 Taute resumed his testimony, saying he went to the Quincy Police Department to meet with Wiley for a formal interview that wanted to be recorded. However, Taute discovered the interview was not properly recorded after the interview was done.
"How did that make you feel?" Barnard asked.
"Not very good," Taute replied.
During Taute's interview, Wiley said he tried to "fight back his panic" and attempted to give Airyana CPR on the bed. He said he was disconnected while attempting to make 911 calls, then called Engle. Taute said the conversation with Wiley took between 60-90 minutes.
After an autopsy at Cardinal Glennon Children's Hospital on Jan. 23, Taute said a cause of death was not determined. Doctors at Cardinal Glennon told him testing was to be done on the ocular/retina area in Airyana's brain before they could make a final decision. Taute said he didn't get those test results until June 2018.
Back from afternoon break. Barnard hands a cellphone to Taute, who is back on the stand and confirms by the evidence markings it is Wiley's phone. He said he couldn't confirm the ID of the phone alone because it's been 5 and a half years.
Barnard asks Taute to look at a transcript of a recorded conversation. Taute and other officers were conducting a surveillance of a residence and they listened to conversations between people discussing Airyana's death.
During cross-examination by Nelson, Taute said Wiley was very upset and crying on Jan. 20. He also said Wiley was cooperative when asked to give up his phone and allow him into the apartment. Taute said the day of the autopsy was when Wiley became the lead suspect when it was determined the baby died of head trauma.
Dr. Antony Wollaston was working in the emergency room at Blessing Hospital when Airyana was brought in. He said the baby had no pulse, no blood pressure and was not breathing upon arrival. Airyana was pale and turning blue as Wollaston intubated her. He said medical personnel finally got a pulse from the child and placed her on a ventilator, but she never regained breathing on her own.
Miss Clipping Out Stories to Save for Later?
Click the Purchase Story button below to order a print of this story. We will print it for you on matte photo paper to keep forever.