State pocket billiards championships will bring more than 800 competitors to Oakley-Lindsay Center in mid-April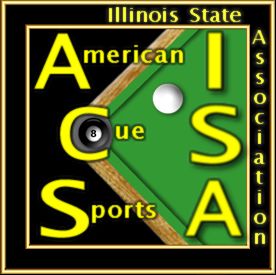 QUINCY — The 25th annual Illinois State Pocket Billiards Championships will attract more than 800 pool sharks from across the state to Quincy from April 13-17.
The event, sponsored by the American Cue Sports Illinois State Association, will be at the Oakley-Lindsay Civic Center, 300 Civic Center Plaza. Players certified by American Cue Sports leagues will take part in various singles and team tournaments during the five-day event.
Cecil Messer, events chair for the Illinois State Association, said he narrowed his list of potential sites for this year's event from 12 to four. He then visited each finalist before choosing Quincy.
"A lot of event sites just do not have the wherewithal to hold such a large event," Messer said. "I came away from Quincy as the one who wanted it the most. Actually I had one offer that was a little better financially. We've never been to the southwest area of the state. We've moved around for 25 years. It's mainly been more focused in the center and east part of the state, and of course north. This gives us a new territory to explore as well."
Last year's tournament was in Decatur. Messer said other previous southern tournament sites were Champaign and Danville.
Organizer says participants should fill up at least three hotels
The Atrium Hotel on Third, across the street from the civic center, is a sponsor of the event. Messer believes participants will fill up the Atrium, the Quality Inn and Suites, 225 S. Fourth, and the Town & Country Inn & Suites, 110 N. 54th.
"(Messer) contacted me and then flew down to check out Quincy," said Holly Cain, director of the Quincy Convention and Visitors Bureau. "There were 30 or 31 checkpoints that we had to sign off on at the Atrium and the civic center. He loved the lighting in the civic center. That was a big selling point for him to consider us."
Cain said she used a $15,000 grant from the Bring Events To Quincy grant program to lure American Cue Sports to Quincy. BET on Q provides financial support for local events, reducing the financial risk event organizers take on when they plan for a small or large-scale event, be it new or existing. The city of Quincy is investing a portion of the revenue from the one percent food/beverage tax it collects into the BET on Q program.
"We got assistance (with the BET on Q program) so we're not maxing out my little budget here," Cain said. "It helps offset those startup costs. It doesn't scare organizers who are wondering, 'Can I do this? Will we be in the hole if it doesn't work out?' We really wouldn't have been in the playing field had we not had the BET on Q money."
"(Holly) worked hard to get me down there," Messer said. "I came down there with my eyes wide open, because I had not visited Quincy before. She toured me around and showed me everything. It was fantastic hospitality."
Most players coming to Quincy will be amateurs
Play will begin April 13 with a scotch doubles seniors tournament and an open 9-ball tournament. Both tournaments continue on April 14, and an 8-ball singles event starts that day and continues through April 15. Team play also begins April 15 and runs through April 17. A junior 9-ball singles event is set for April 16-17.
"You'll see players who are just the everyday amateur player," Messer said. "They actually come out of weekly leagues, just like you would for bowling or an auxiliary basketball league.
"You're going to see the beginning players, the average players who take up the most part, and you're going to see a handful of excellent players for whom their next step would be a pro. That's about two percent of our players."
Winners in Quincy can advance to the American Cue Sports national event in May at the Tropicana Hotel in Las Vegas.
Players interested in participating can become sanctioned by playing in an American Cue Sports sanctioned league in Illinois and paying a $15 fee. The only event in which a non-sanctioned player can take part in Quincy is the 9-ball tournament.
Spectators can attend for free during event
Tom Rossman, also known as "Dr. Cue," will be in attendance, displaying the skills of trick-shot shooting with world-class ability in pocketing multiple combinations. He will demonstrate the winning shots that propelled him to TV stardom and two world championships, with afternoon and evening demonstrations each day but Sunday. He may choose a few lucky players to play challenge matches, as well as learn and receive tips, tricks and bank shots.
Messer said MPA Table Service of Minnesota will provide approximately 120 pool tables. The Quincy Area Convention and Visitors Bureau will sponsor event awards. Tournament direction will be provided by the Greater Midwest Poolplayers Association.
Spectators are welcome to attend for free during any of the five days.
The event also features an expo for cue sticks and accessories. Commemorative shirts will be for sale. A professional massage therapist will be onsite, and no appointments are necessary.
Call Messer at 219-465-8101 for more information.
Miss Clipping Out Stories to Save for Later?
Click the Purchase Story button below to order a print of this story. We will print it for you on matte photo paper to keep forever.