Swearing-in of two more officers leaves Quincy Police Department with only two positions to fill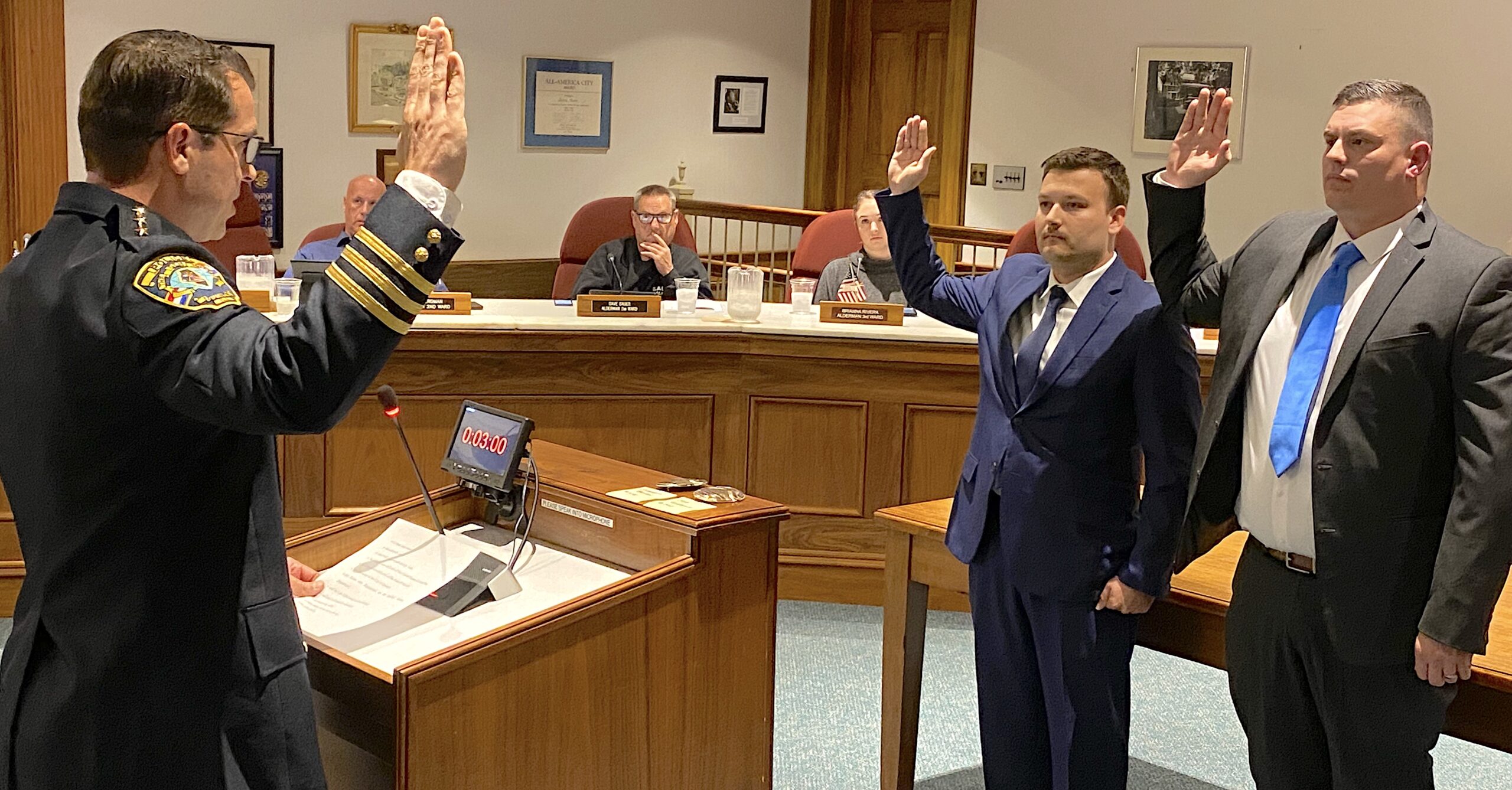 QUINCY — The swearing in of two more officers for the Quincy Police Department was the highlight of a brief Quincy City Council meeting on Monday night.
Joseph Hoebing and Jarrett Bryson were introduced to the small crowd in City Council chambers by Barry Cheyne, chairman of the Fire and Police Commission, then sworn in by Adam Yates, chief of the Quincy Police Department.
Both Hoebing and Bryson are making lateral transfers to the Quincy Police Department, but neither are taking advantage of the recently expanded residency requirements that extend 40 miles from Quincy.
Hoebing, a 2003 Quincy High School graduate, comes to QPD after two years with the Hannibal (Mo.) Police Department. Bryson, a 2017 Quincy Notre Dame graduate, comes to QPD after more than four years with the Palmyra (Mo.) Police Department.
Both new officers will enter a field training program to receive police department certification.
All but two of the Quincy Police Department's 73 staff positions have been filled, but 12 officers are still in training.
During the public forum at the beginning of the meeting, Brennan Hills informed aldermen about a home in Quincy he claims had 16 code violations during an inspection. Hills said the landlord has been ordered to appear in court four times for refusing to fix violations, but the landlord — who Hills did not identify — has only showed once. He said a recent hearing in October was pushed back to November.
"Why is this landlord able to walk away with no penalty?" Hills said. "This certainly does nothing to deter bad landlords from allowing their rental units to deteriorate. He's refused to fix a single code violation to anyone's knowledge.
"I'll leave you with a question. What single mom with two kids living paycheck to paycheck and facing eviction would be given the same leniency? Or is there a severe imbalance of power in our current very flawed system?"
Corporation Counsel Bruce Alford said the city has an order preventing the landlord from renting the unit, as well as an additional unit, until they meet code.
"(Hills is) correct that we have not heard back from the landlord that he has fixed stuff," Alford said. "Our biggest concern from the city is making sure we don't have people living in substandard housing. We'd like to see him get it fixed, but he chooses not to fix stuff. He can't rent it at this point."
Alford said the landlord must show cause at the November why he hasn't fixed the unit.
Alderman Greg Fletcher (R-1) asked why a bench warrant isn't issued for landlords who "blow off the legal system."
"That's why we entered the show cause order the last time," Alford replied. "If he doesn't show up this next time, potentially that would be one of the things a court can do. That's the option we asked for at this next court hearing if they don't show."
"Something would tell me if you put a couple of them in jail for a while, others might take notice," Fletcher said.
"If the court were to put him in jail, the court's going to have to set a purge condition which most likely will be the payment of some amount of money," Alford said. "I suspect he will be out quickly."
In other action, aldermen:
Heard from Clif Weisinger with the High Twelve that an estimated 2,500 people visited the Tuskegee Airman exhibit at Quincy Regional Airport earlier this month.
Heard from Holly Cain with the Quincy Area Convention and Visitors Bureau that the economic impact of tourism was up 17 percent over 2022.
Gave permission to conduct a raffle to the Quincy University Mart Heinen Club from Oct. 18 through Feb. 18, and to Blessing Health System from Oct. 17 through Oct. 16, 2024.
Approved Mayor Mike Troup's appointment of Alderman Jack Holtschlag (D-7) to the Central Business District Revolving Loan Fund Committee.
Approved $8,100 of lodging expenses for Deputy Chief Mike Tyler to attend the School of Police Staff and Command Course by Northwestern University at the Clay County Sheriff's Department in Liberty, Mo.
Approved a $1,266,305 bid from Diamond Construction Co. for the 2023 alley and capital improvement project, which includes asphalt paving on 34 alleys and three streets throughout the city.
Approved a health insurance plan from Blue Cross Blue Shield of Illinois, brokered by Gallagher Insurance, for 2024.
Approved a dental insurance plan from Standard, brokered by Gallagher Insurance, for 2024.
Approved an ordinance amending the 2023-24 fiscal year budget to allocate $40,000 to the Bridge Lighting fund because several light fixtures need to be replaced on Bayview Bridge, and increase the Recycle/Contracted Services line item by $165,000 because the Recycling Division is experiencing higher than expected volume and contractual hauling.
Miss Clipping Out Stories to Save for Later?
Click the Purchase Story button below to order a print of this story. We will print it for you on matte photo paper to keep forever.