Text from Becky Bliefnick to sister: 'If something ever happens to me, make sure the No. 1 person of interest is Tim'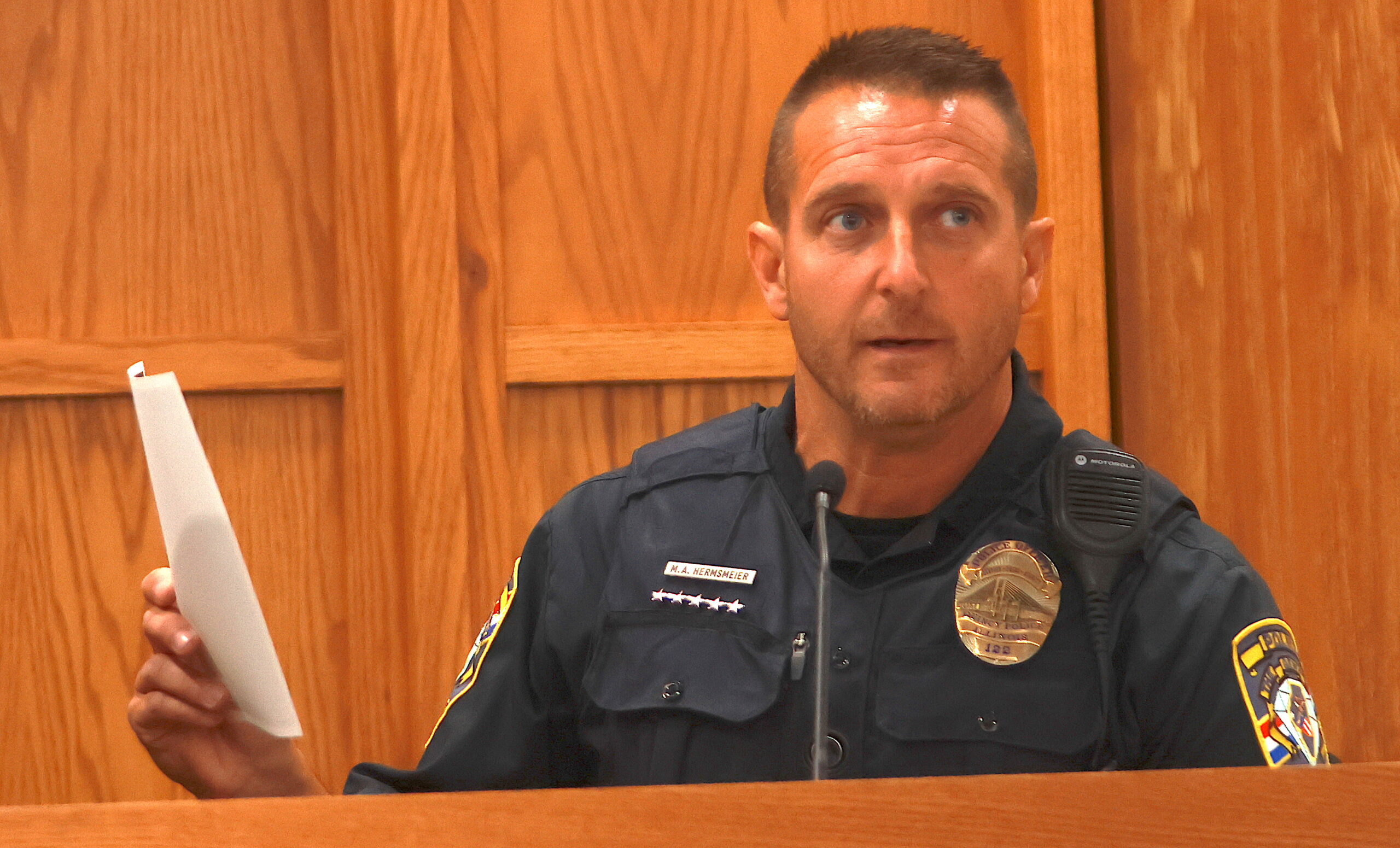 QUINCY — The sister of Becky Bliefnick testified on Tuesday afternoon that Becky sent her a text in 2021, telling her that "if something ever happens to me, make sure the No. 1 person of interest is Tim."
Tim Bliefnick, Becky's estranged husband, is on trial this week in Adams County Circuit Court for the Feb. 23 murder of Becky in her home on Kentucky Road. Four witnesses were called by the prosecution to testify Tuesday afternoon. The trial expected to resume at 9 a.m. Wednesday.
Sarah Reilly of Irvington, N.Y., Becky's oldest sister, testified for approximately 20 minutes. She said her sister occasionally posted on Facebook stories and photos about her job as a nurse, but the primary focus of her Facebook page were the three boys she had with Tim. Reilly said she communicated with her sister on a regular basis.
"Many texts and frequent phone calls," she testified.
Assistant State's Attorney Laura Keck then read a text that Becky sent her sister on Sept. 4, 2021. The text read:
"If something ever happens to me, please make sure the No. 1 person of interest is Tim, because that is who would do something to me. I'm putting this in writing because I'm fearful that he will somehow harm me, come after me or will try to do something to me that takes away from the kids or the kids away from me. He already has lied multiple times to paint himself as a victim and me as the perpetrator when it is absolutely the other way around. No, I have not sent this to Mom and Dad, because I don't want them to be out of their mind with worry."
Reilly described how her sister had met Tim at Quincy University. They moved to Chicago early in their relationship, then moved to Fort Wayne, Ind., where they were married on Nov. 8, 2009. Reilly said Becky and Tim moved back to Quincy shortly after their son, now 12 years old, was born.
Reilly said Becky told her "seven or eight months" before Tim actually filed for divorce that she expected him to file sometime in 2020.
"She had spoken with me on many occasions about the impending divorce," Reilly said. "She had requested for a long time before that they go to marriage counseling, that they try to mend their relationship for the sake of the kids. Her goal was that they stayed together as a united family for the boys. But she knew that Tim had mentioned to her that he was planning on filing for divorce. It just took a long time for him to actually do so."
Reilly said she was in a salon while on vacation in Florida when she received a call from her mother, Bernie Postle. She let the call go to her voicemail because she knew she would be finished in 10 minutes.
Reilly's daughter called shortly after and told her mother, "You need to call Grandma. She's crying."
"When I called, my mom picked up right away, and all she said was, 'Becky's dead. Becky's dead. We don't know anything, but Becky's dead."
Reilly said she reached out to Ted Johnson, who she said talked every day "multiple times a day" with her sister and might know what happened to her.
Keck asked if she remembered Becky describing any fights with Johnson. Reilly said Becky once told her she was upset because she didn't know if Johnson "valued their relationship" as much as she did at that time.
"That was their only disagreement," Reilly said.
Tim's attorney, Casey Schnack, asked for Reilly to describe her sister. She replied that Becky was an "alpha female" and "strong willed."
"I don't know what she would be willing to put up with in any given situation," Reilly said.
Reilly testified she never witnessed firsthand any physical altercations between Tim and Becky.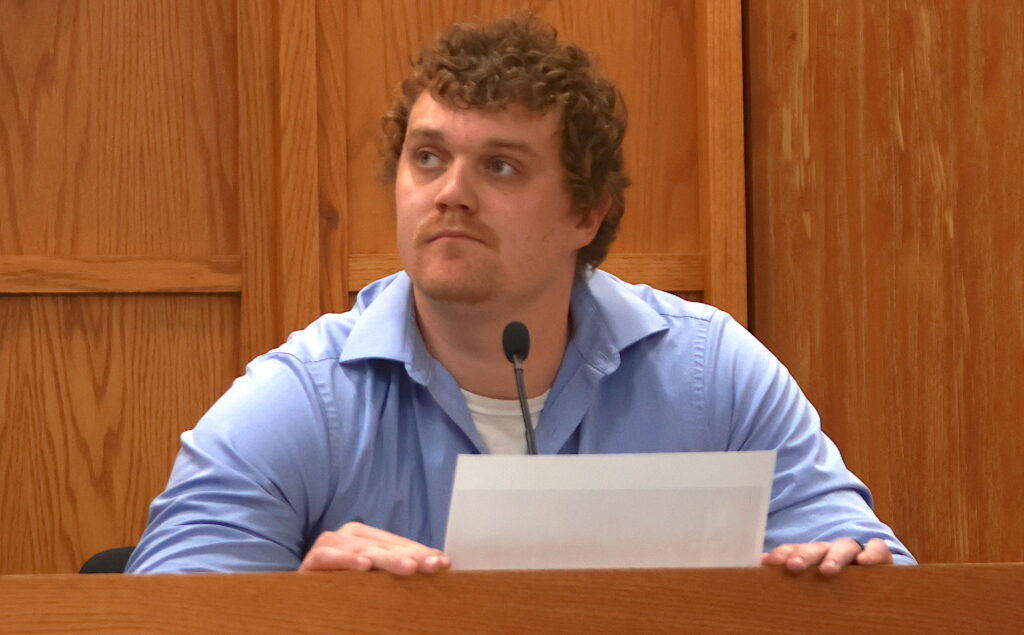 Taylor Heimann testimony
The first witness Tuesday afternoon was Taylor Heimann, who lived next door to Becky on Kentucky Road. Heimann testified he has recording devices at his home on southeast side. The cameras detect motion and contact Heimann on his phone. The cameras record for seven seconds. He said the sensitivity on the cameras were set at 7 on a 0-to-12 scale, meaning someone walking on Becky's property would not trigger the cameras.
Heimann said he received an alert on his phone that the driveway cameras detected motion outside his home as 12:37 a.m. on Feb. 14. He said he received two alerts on his phone on Feb. 22. The first recording was at 1:05 a.m., and the second was at 1:53 a.m. He saw a person on the driveway in each video recording, but the person in each of the videos could not be identified.
Heimann said there were no issues with prowlers in the neighborhood before Feb. 14 or since Becky Bliefnick's death. He later told Schnack he installed the cameras because his wife's vehicle had been broken into.
Matt Hermsmeier testimony
Matt Hermsmeier, a patrol officer for 25 years with the Quincy Police Department, also testified Tuesday. He said he received a call around 3:30 p.m. on Feb. 23 to assist with a death investigation on Kentucky Road. He was told a family member had found another family member deceased, and he was told it was a possible suicide.
He arrived at 3:33 p.m., went up the stairs into the home and up to the second floor. He saw six or seven shell casings on the floor.
"Why did (seeing the shell casings) mean to you that it might not be a suicide?" Jones asked.
"Suicides are typically one shot," Hermsmeier replied.
The officer said the door to the bedroom and the wooden frame were damaged. Asked if it appeared the door had been broken into, kicked or pushed in, Hermsmeier said yes. He also said a cellphone was found on the ground behind the bedroom door.
Hermsmeier was shown photos of a broken window in a second upstairs bedroom, as well as a photo of a shoe imprint on the carpet in that bedroom.
He said when he entered the bathroom, he saw Becky laying on her back on the floor. He noticed several small pieces of plastic around her body. He also noticed Becky was wearing pants with no material in the crotch area. He said the pants didn't appear to be torn or ripped.
"Are there seams on those pants to show that those pants were designed to be crotchless?" Jones asked. Hermsmeier said yes.
The pants were part of a medical device used following her surgical procedure. They provide support during the healing process and are left open in order for the recovering person to more easily use the bathroom.
During Schnack's cross examination, Hermsmeier said he was in the Kentucky Road home for approximately six hours that day. He said he contacted Sgt. Nathan Elbus and asked him to notify the police department's investigation unit. He testified approximately a dozen police officers were at the home throughout the day.
Miss Clipping Out Stories to Save for Later?
Click the Purchase Story button below to order a print of this story. We will print it for you on matte photo paper to keep forever.