'The court did not appreciate the significance of the injuries': Judge admits error, increases bond from $2,000 to $20,000 in battery case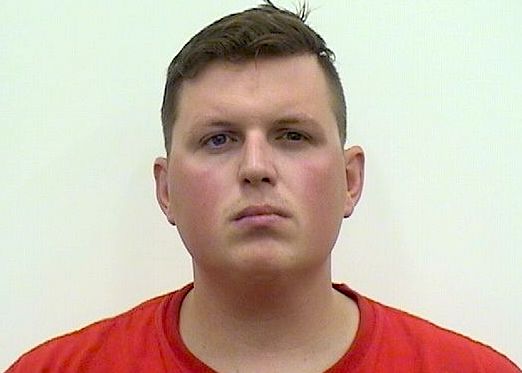 QUINCY — Admitting "the court undoubtedly erred" Monday when setting bond in a battery case, Judge Tad Brenner increased Andrew Campbell's bond to $20,000 during a motion hearing Thursday afternoon in Adams County Circuit Court.
Campbell, who voluntarily appeared in court with public defender Christopher Pratt, was taken from the courtroom in handcuffs by four bailiffs and taken to the Adams County Jail. Campbell later was released after posting $2,000 — 10 percent of his bond.
Campbell, 34, was charged Monday with three counts of aggravated battery, all Class 3 felonies. Charging documents filed in Adams County Circuit Court allege Campbell punched Emily L. Mathews on July 22 while in the parking lot of Texas Roadhouse, 5120 Broadway, and grabbed and twisted Linda S. Mathews by the wrist and twisted her arm.
Brenner set bond at $2,000 when Campbell made his first appearance on July 25, meaning he could post $200 to be released. The Adams County State's Attorney's office filed Tuesday an emergency motion for bond to be reconsidered.
Assistant state's attorney Ryan Parker said Brenner "failed to properly consider certain statutory factors, namely the nature of the offense charged, aggravated battery." Parker also said Brenner failed to consider Campbell's prior criminal history. Campbell received an 18-month sentence of probation for threatening a public official in 2019, as well as series of traffic violations and five orders of protection against him since 2007.
Parker also said Linda Mathews has a sprained wrist, and Emily Mathews has a broken vertebrae in her neck and a fractured orbital bone in her face. He asked for Campbell's bond to be set at $100,000 — the same request he made Monday.
Pratt said he was "somewhat confused" by the state's motion and noted the "scarcity of both arguments and actual evidence" presented on Monday. He said Parker's motion simply recounted the arguments that were presented to Brenner during Campbell's first appearance.
"Unlike the people who post on social media, the court is well aware of all the statutory factors," Pratt said. "Now the state simply says, 'Well, the court screwed up.' I don't know why the state would want to bring this back to the same court and say the exact same information that this court heard and considered when setting this bond.
"There's nothing that has happened. There's nothing new that has been brought to the table."
Clearly agitated, Pratt said granting the motion would be "a terrible precedent."
"The court will be flooded with other motions on cases where it has already considered all of the evidence and all of the arguments," he said.
Brenner said he had re-reviewed the pre-trial bond report and noted that it said "there were no visible injuries" for either woman, and there was no indication that medical personnel was called or that either person sought medical attention. Pratt argued that those issues were specifically discussed on Monday.
"The court does not recall the nature and extent of the injuries being argued a certain way," Brenner replied. "This is a far more serious situation than what the court initially perceived. The court apologizes for its lack of perception. The court did not appreciate the significance of the injuries."
As well as increasing Campbell's bond, Brenner instructed him to make an appointment with a doctor at a Veterans Administration hospital.
"Mr. Campbell is a disabled veteran who is suffering from PTSD," the judge said. "I have now observed Mr. Campbell in court twice, and he has been emotional — educated but very, very nervous, at least demonstrating that perhaps another visit to a doctor is necessary."
Brenner ordered Campbell to give up his FOID card and any firearms he owned. He also must stay at least 1,000 feet away from Emily Mathews and Linda Mathews.
Miss Clipping Out Stories to Save for Later?
Click the Purchase Story button below to order a print of this story. We will print it for you on matte photo paper to keep forever.