The St. Francis School fire of 1899: Quincy was prosperous, growing and looking forward to Christmas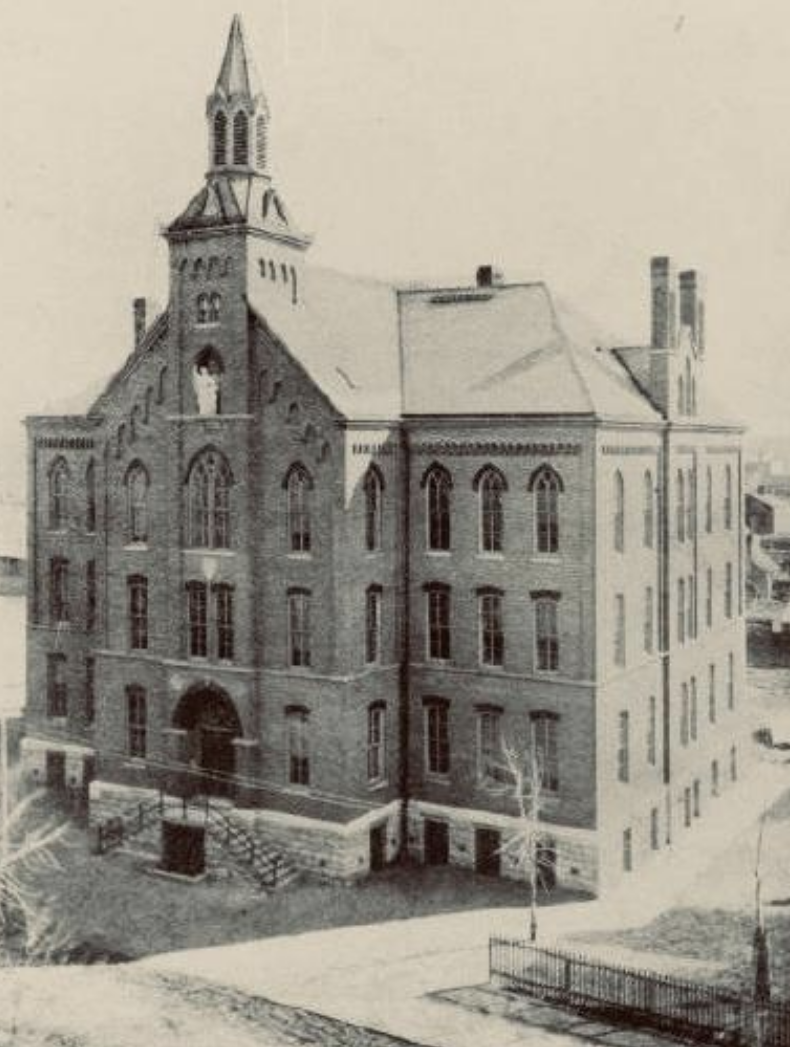 (This is the first of six stories about the St. Francis School fire in December 1899, when 12 girls burned to death in one of saddest chapters of the Quincy community's history.)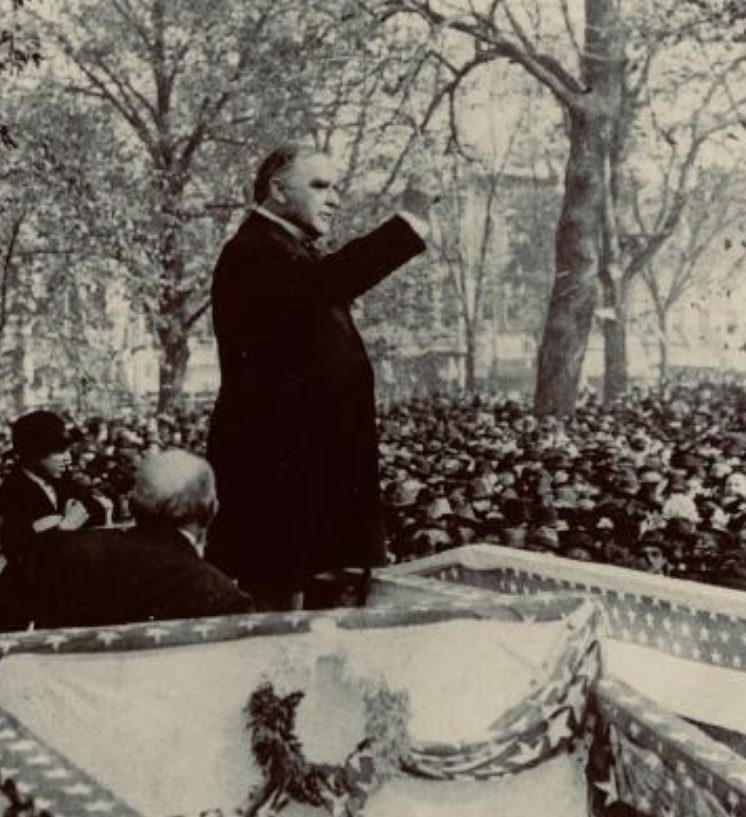 This story takes place 122 years ago, on Dec. 22, 1899. The event, which people still remember more than a century later, took place in St. Francis School. It did not take place in the school building of today but in a school built in 1892 on the south side of Vine Street, which became College Avenue and is now closed off.
St. Francis School was a handsome, three-story brick building of Gothic design, finished with yellow pine and oak. It cost $25,000, quite a sum of money in those days. Its tower stood 120 feet high. Just below it in a recessed enclave stood a beautiful white marble statue of an angel, with her hand raised in a blessing to those who entered its doors. It was purchased for a little less than $90 with donations from the school children.
Four classrooms were on the first floor, and four were on the second floor, along with cloak rooms and smaller rooms for the faculty. The entire third story of the building was the large St. Francis Hall, which was used for meetings and entertainments. It seated between 600 and 700 people.
At the east end of the hall was the stage – a wondrous stage measuring 26 feet wide and 20 feet deep. It was completely equipped with scenery and set pieces bought in Kansas City for around $300. There was even a curtain with a Venetian scene on it. At the side of the stage were two dressing rooms that were entered by a narrow passageway with seven steps leading up. The parish was proud of this lovely hall, and it was used frequently for entertainments by student and community groups.
The St. Francis School just described was torn down in 1946 to make way for newer facilities. That's just one of many things that have changed since 1899, so let's begin our story with a short walk through Quincy at the turn of that past century.
Quincy was a prosperous, bustling, growing town of 42,000 people in 1899. It was the third largest city in Illinois by population. It was second in wealth and second in manufacturing importance.  Its importance was confirmed by a visit from then-President William McKinley in October that year.
The biggest manufacturers were the stove foundries, with 650 employees and an annual payroll of $468,000 – huge for the times. There were flour mills, sawmills, breweries, brick and paper and furniture and lime factories, bakers and confectioners, tobacco factories, cigar makers, Coopers, saddlery and harness businesses, carriage and wagon factories and a plow factory. The Knapheide Manufacturing Company had just celebrated a half-century of success.
A magnificent bridge, a mile and a quarter long, spanned the Mississippi River and connected Illinois with Missouri. Eight different railroads connected the city with the eastern seaboard and points north, west and south. New St. Louis monthly magazine said, "Quincy has a worldwide reputation for the great number as well as the size and beauty of her churches." There were more than 40 at the tum of the century, representing every religious denomination. Among them was St. Francis Solanus Church.
If you walked down any street in Quincy, you would surely see names like Bickhaus and Miller and Schmidt and Blomer and Wolf and Middendorf. German immigrants – first, second and third generation – made up a large portion of the population. The first German settler arrived in 1829, and when Father A. F. Brickwedde arrived in 1837 -– speaking only German and no English – Quincy became the site of the first German Catholic church on the entire Mississippi River.
Because of this, the German population of Quincy grew by leaps and bounds. The immigrants crossed the ocean in search of a new life and ready to work hard. When they got to New Orleans and heard about the town up the Mississippi where a German priest said Mass in German, they flocked to Quincy. In 1899, Mass was still said in German at St. Francis.
If you were Christmas shopping in 1899, you might go to A. Doerr's store on the northwest corner of Sixth and Maine to buy a man's overcoat for $4.98 and a boy's suit for $2.65. Sohm, Ricker and Weisenhorn at 520 Maine had men's fancy holiday gifts in sterling silverware. For the women, the W.T. Duker department store at 704 Maine sold ladies' hose for 25 cents and ladies' ribbed wool vests for 59 cents.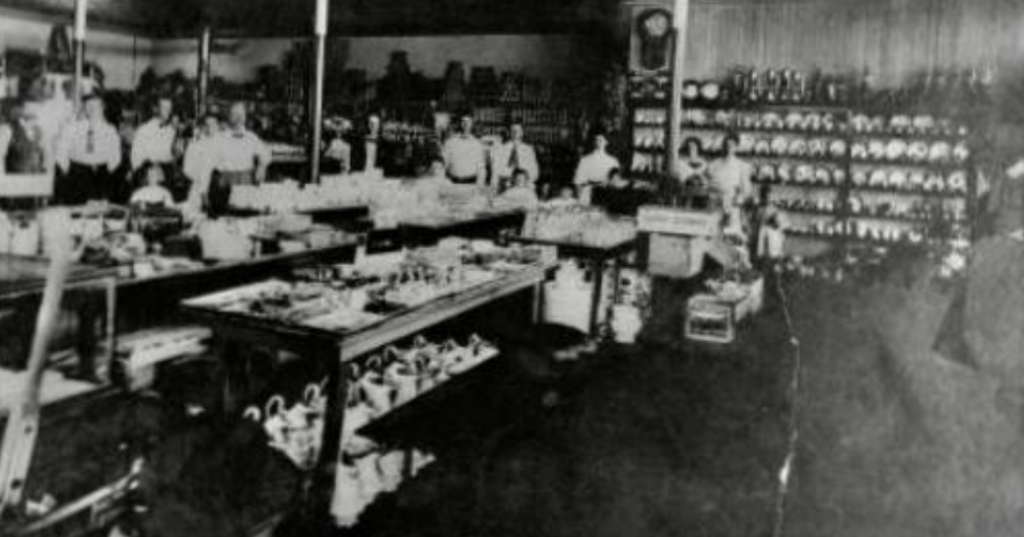 The drugstores were the children's favorite. The Henry Germann Drug Store at 801 State and the Miller and Arthur Drug Store at 502 Maine offered a wide assortment of toys. The Heidbreder Drug Stores on both State and Broadway advertised they were Santa's headquarters. Then, as it does today, the Christmas shopping and advertising opened the day after Thanksgiving. And then, as they do now, merchants tried to undersell each other. The Fox Dry Goods store at 617 Maine had a corset sale at one percent off regular price. Levy's at 407 Hampshire offered 25 percent off any suit for men and boys.
So it was, the Quincy of 1899 — a wonderful and joyous community looking forward to Christmas and activities at their schools.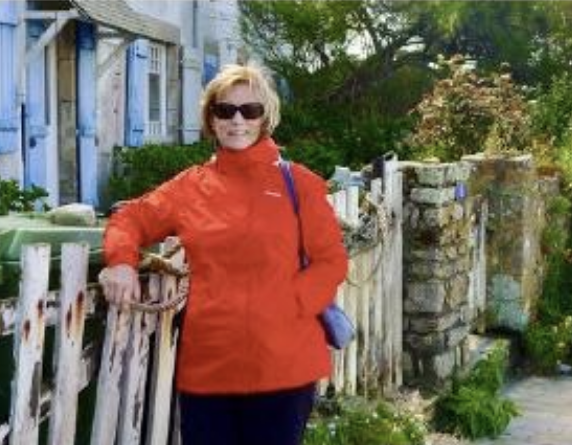 This series is written by Carolyn Freas Rapp and dedicated to her mother-in-law, Lucille Middendorf Rapp, whose father, George Middendorf, was present at the fire. Her relative, Colletta, was one of the girls who died. Ms. Rapp is a writer, storyteller, book lover, traveler and mother of three grown children. She lives with her husband, Michael T. Rapp, in McLean, Va. She also is the author of "Garden Voices: Stories of Women & Their Gardens," published by Water Dance Press.
Copyright © Carolyn Freas Rapp and Muddy River News
Thanks to the Quincy Public Library for allowing use of images from the Quincy Area Historic Photo Collection.
Muddy River News is community journalism. Our Home. Our News. Storytelling is an important part of this. We welcome contributors to share stories and material of interest to the community. Email: news@muddyrivernews.com.
Miss Clipping Out Stories to Save for Later?
Click the Purchase Story button below to order a print of this story. We will print it for you on matte photo paper to keep forever.