'There are things that are difficult to explain to the public': Jones details how McBride plea deal came together
QUINCY — Adams County Assistant State's Attorney Josh Jones said he wished a different action could have been taken rather than to allow Natasha McBride to plead guilty on Thursday afternoon to two counts of driving while license suspended.
He said during a press conference Thursday afternoon in the Adams County Courthouse he believes the action taken is the only one possible under the law.
"(Prosecutors) are ethically required to follow the facts wherever they lead us and to seek justice wherever it can be found," Jones said. "Sometimes that search takes us to places we do not want to go, and it requires us to do things we do not want to do. (There are) things that are difficult to explain to the public and things that we know the public isn't going to be happy about.
"Today is one of those days."
McBride received two three-year sentences, to be served consecutively, in the Illinois Department of Corrections during a sentencing hearing two hours after Jones' press conference.
McBride, 39, of Quincy, ignored a traffic light at Fourth and Broadway at a high rate of speed and crashed into another vehicle in the intersection on Aug. 14, 2020. She was charged with four counts of first-degree murder in connection with the deaths of Jenniffer Hendricks, 54, and her three grandchildren — Dakota Corrick, 6, Archer Corrick, 4, and Ransom Corrick, 21 months, all from Kirksville, Mo.
McBride also was charged with four counts of leaving the scene of a personal injury accident, four counts of reckless homicide and four counts of driving while license revoked.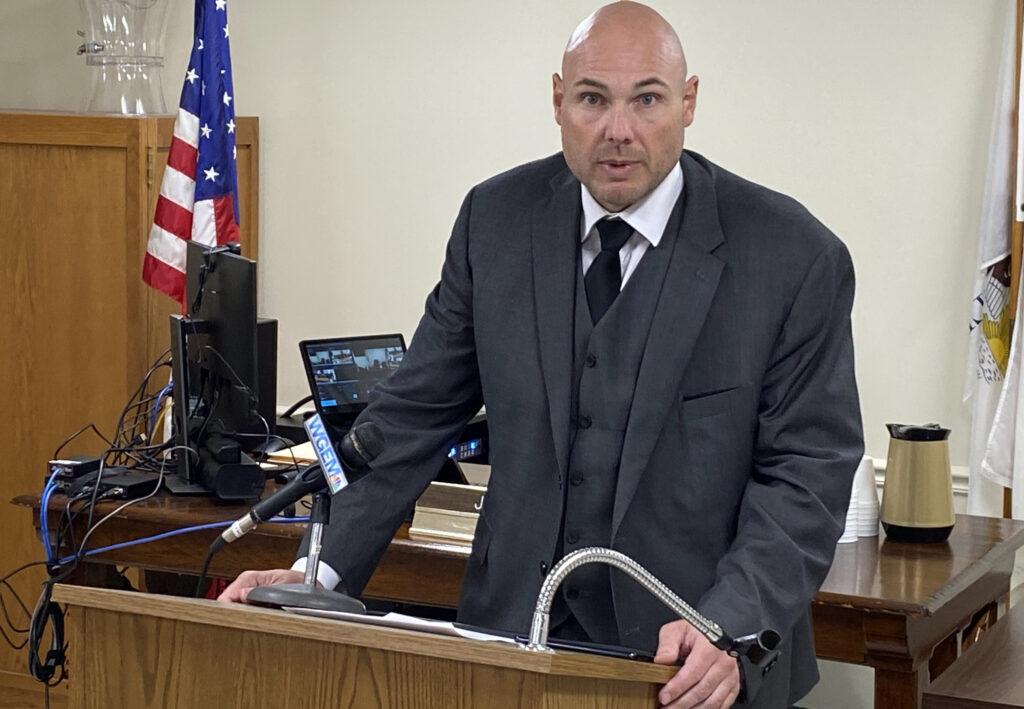 "Our office also learned that immediately before the incident, Miss McBride had made an unsuccessful attempt at ending her own life through the use of a firearm," Jones said during the press conference. "Additionally, after the crash occurred, Miss McBride made several state strange statements indicating that her mental state could possibly be an issue."
Public Defender Todd Nelson asked for McBride to be examined to determine if she was legally sane at the time of the crash.
"Their expert determined that, in his professional opinion, the defendant lacked the capacity to appreciate the criminality of her conduct and thus was not legally responsible for any criminal conduct," Jones said. "Our office obtained our own expert (Dr. Stafford Henry, an addiction psychiatry specialist from Chicago) to examine the defendant on that same issue … and came to the same conclusion that based on the defendant's mental disease, she was unable to appreciate the criminality of her conduct and was not legally responsible for most of the crimes she was accused of committing."
Asked if he considered looking for a third expert, Jones said, "It was not appropriate for us to do that. Our own expert, who we've used in other cases, came to his conclusion. It's an expert we we trust. It's an expert we have faith in."
Jones also said McBride was found fit to stand trial. However, the issue was whether she was legally sane at the time of the crash.
"The experts' opinions were that, because of her mental disease that she suffers from, she was not," Jones said. "There's no dispute about that. Because of that disease, she could not appreciate the criminality of her conduct."
Jones explained that Illinois law does not allow for individuals declared legally insane to be punished. He said the law required McBride to be legally sane for all the crimes she was charged with except for the driving while license revoked charges. The experts' conclusions meant the charges of first-degree murder, leaving the scene of an accident and reckless homicide could not be sustained.
The state filed a 17th count, an aggravated driving under the influence charge, on Jan. 11, 2022. The count alleged McBride operated her vehicle "while under the influence of tetrahydrocannabinol," and two or more people died in the collision. Nelson moved on March 15 to dismiss the 17th count on speedy-trial grounds. McBride had been in custody for more than 500 days by the time the state filed the 17th count.
"At the time of the incident, the lab report we had from Blessing Hospital showed there was nothing in her system," Jones said. "It wasn't until several months later when we got a different lab report from (the University of Illinois-Chicago) that we got a different result that showed there was something in her system. At that point, we had gone beyond 120 days for a speedy trial. We did not believe that was an issue. We believed we still had the ability to add that charge."
Judge Amy Lannerd granted the motion to dismiss the 17th count on April 1, 2022. The Fourth District Appellate Court upheld the ruling in December 2022.
Jones said he consulted with the Corrick and Hendricks families to inform them the first-degree murder charges could not be pursued.
"We understand that this result is beyond frustrating for the family of the victims," he said. "We've met with (Jennifer's husband, Steven) Hendricks, Lucas (Corrick) and Molly (Corrick), the mother and father of the three boys. We've explained to them what will happen today. They understood why we were required to proceed in this fashion and were not happy with the result. They accepted it as the best possible resolution."
Jones said he could have taken the case to trial and laid the facts in the lap of Judge Tad Brenner.
"We could have said, 'We don't want to dismiss the case. We're going to make you find her not guilty,'" Jones said. "That's not ethical. That's not fair to the defendant. That's not fair to the citizens of Adams County. Part of being a prosecutor is standing up and doing the right thing, even when you know, it's going to be not well received. This is the right thing to do.
"Our community may not be pleased with the result, and many people will feel that the defendant has escaped justice and our office has allowed it to happen. While we strongly disagree with such an assessment, we appreciate that such a feeling is understandable. We can only hope that … the citizens of Adams County understand the actions taken today by the Adams County State's Attorney's Office reflect the principles of fairness and justice that every prosecutor is sworn to protect."
Miss Clipping Out Stories to Save for Later?
Click the Purchase Story button below to order a print of this story. We will print it for you on matte photo paper to keep forever.