'There's no wiggle room': Blessing employees must start vaccination process by Dec. 6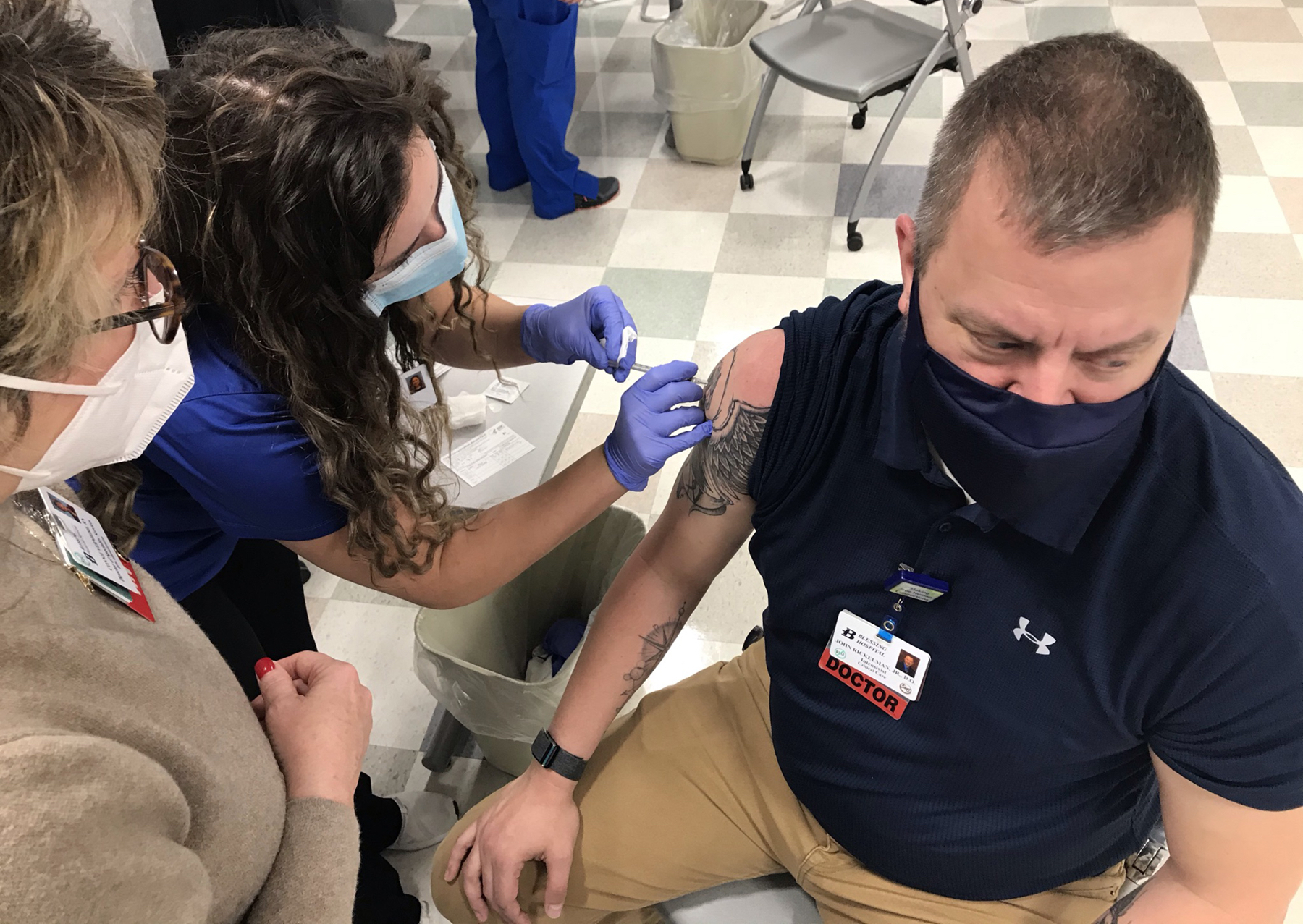 QUINCY — Maureen Kahn, president and CEO of Blessing Health Systems, doesn't want any of her employees to leave.
A recent federal mandate regarding COVID-19 vaccines likely will make that difficult to avoid now.
The Centers for Medicare and Medicaid Services released last week specific health care and business rules to be implemented nationwide. Blessing Health System, which consists of two provider groups, three hospitals, a college of nursing, a network of medical specialty businesses and a charitable foundation, is required to implement the CMS Omnibus COVID-19 Health Care Staff Vaccination Interim Final Rule.
The rule requires people who work in Blessing's health care facilities, except those who work remotely or at most divisions of Denman Services, Inc., to receive either one dose of the Johnson & Johnson vaccine or the first dose of the Pfizer or Moderna vaccine by Dec. 6. Those who receive the Pfizer or Moderna vaccine must receive the second dose by Jan. 4.
The rule does not allow for a COVID-19 rapid or PCR testing option for employees who choose not to vaccinate.
"We received 252 pages of regulations on Friday, and there's no wiggle room," Kahn said. "There's no testing option for healthcare. We have to vaccinate."
Employees received letter about federal mandate Tuesday
Blessing Health System employees were informed of the federal mandate in a letter sent Tuesday.
"Blessing Health System recognizes and respects your rights and appreciates how much you have already adapted during these challenging times," the letter read. "However, as a participant in the federal Medicare program, Blessing is required to comply with the new rules or lose its ability to care for Medicare patients, who comprise a majority of our patient population."
Muddy River News learned a similar letter was sent Tuesday to Quincy Medical Group employees. Kristen Rogers, chief strategy officer for Quincy Medical Group, said in an email Thursday afternoon, "At this time, we are not doing any interviews or providing comment regarding the federal vaccine mandates."
Tad Brenner, a circuit judge in Adams County, called on Sept. 30 for a full hearing on employment claims from suspended and terminated workers from Blessing Health System and Quincy Medical Group who did not want to receive the COVID-19 vaccine or get tested regularly. Brenner later entered an order that added the Illinois governor's office and the Illinois Department of Public Health as "necessary parties" to the legal action.
The hearing Brenner called for was later postponed. He also ruled the employees in question shall have their "employment maintained."
It is unknown how the federal mandate will affect the legal action in Adams County.
Kahn: Other nearby facilities implemented own vaccine mandates
The New York Times reported Thursday that 10 states filed a lawsuit on Wednesday seeking to block the Biden administration's coronavirus vaccine mandate for health care workers. That suit comes on the heels of a court decision on Saturday that temporarily halted the broader U.S. requirement that workers of all large employers be vaccinated or undergo weekly testing.
Wednesday's suit, filed in U.S. District Court in eastern Missouri, claims the CMS rule "threatens with job loss millions of health care workers who risked their lives in the early days of the COVID-19 pandemic to care for strangers and friends in their communities." The 10 states — Alaska, Arkansas, Iowa, Kansas, Missouri, Nebraska, New Hampshire, North Dakota, South Dakota and Wyoming — claim the federal government has overreached its authority to dictate what happens in their states.
The Biden administration last week also mandated large companies to mandate coronavirus vaccinations or start weekly testing of their workers. The new rule, applying to companies with 100 or more employees, is expected to cover 84 million workers — roughly 31 million of whom are unvaccinated. The New York Times reported that attorneys general in at least 24 states have threatened to sue.
Kahn said Blessing has 3,500 full- and part-time employees, and she believes about 60 percent of them are vaccinated. She said many nearby hospital facilities, such as BJC HealthCare and SSM Health in St. Louis and Memorial Health in Springfield, Ill., implemented their own vaccine mandates earlier this year.
"A lot of places around us didn't wait for the government to issue this," Kahn said. "We had tried to take a softer approach with our organization, highly encouraging (vaccination) and letting people make that choice while still protecting everybody who came into the organization by using all the PPE that we had protecting people.
"And now the government has said, 'No, we have enough information. It's time to vaccinate.'"
Kahn hopes to find remote jobs for unvaccinated employees
Unvaccinated employees who choose not to get the vaccine by Dec. 5 may no longer be allowed to work for Blessing Health System after that date. Employees who believe they qualify exemption for religious or medical reasons must file forms with the hospital's human resources department by Nov. 17.
However, Kahn wants to first try to find different jobs for unvaccinated employees.
"(CMS) really wants to make sure anybody who is caring for people in the hospital, anybody who is providing direct or indirect care service, is vaccinated," she said. "They want to stop the spread of all variants, and they believe they have a lot of scientific evidence behind the fact that vaccination (works).
"If somebody gets an exemption for medical or religious reasons, they would have to do a remote job. We have several jobs that can be done remotely — just not a direct care job. We have discharge calling nurses, and we have people who do a lot of phoning to register people. With telehealth, we've expanded into a lot of roles. People are doing a lot more with technology today than we ever did before. We will be looking at what jobs we can expand to remote workers."
Kahn said 27 employees were vaccinated Wednesday.
"We hadn't seen that many people in our employee base get vaccinated in the past three weeks," she said. "I think some people really wanted to wait to see where was it was all going to come down."
Miss Clipping Out Stories to Save for Later?
Click the Purchase Story button below to order a print of this story. We will print it for you on matte photo paper to keep forever.