'This is like a freaking party out here': K of C raffle rolls over for 93rd time as jackpot reaches $121,001
QUINCY — A simple 50-50 raffle — with a big twist — has turned Thursday nights at the Knights of Columbus grounds on South 36th Street into the biggest must-attend party of the spring.
It's guaranteed to last at least one more week.
No one kept attendance figures, but at least a couple thousand people were scattered throughout the property hoping for a chance to win $111,794 in the Knights of Columbus 50/50 Jackpot Raffle.
Dan Brink had the winning PIN number (we'll explain that in a moment), but he drew the wrong number (we'll explain that too) and received only $300. Brink's loss means the K of C should expect another massive crowd next Thursday night when the progressive jackpot reaches $121,001. The person with the winning PIN number will have a one-in-seven chance of winning the jackpot.
The K of C typically is plenty busy on a Thursday night in May with its sand volleyball and men's softball leagues. Two food trucks also were available for everyone in attendance.
"This is like a freaking party out here," said Chuck Venvertloh, a Knights of Columbus member. "It's been really crazy, and now that softball has started, it's super crazy. There's probably more people out here than we have at the barbecue (held in August). The number of people out here is awesome.
"Everybody's having a good time, and they come out for a drink or two. You see a bunch of people you haven't seen for a while. You get new people every week."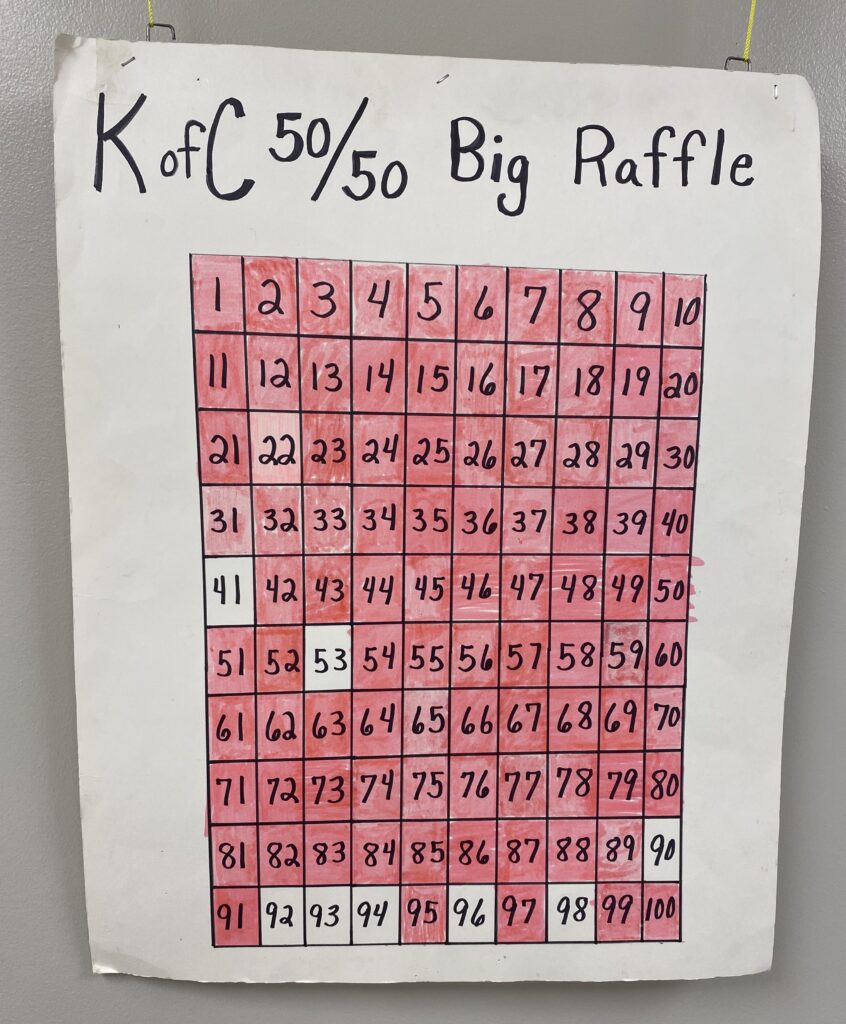 How does the jackpot raffle work?
The Knights of Columbus is global Catholic fraternal service order that limits its membership to practicing Catholic men. Fundraisers organized by Catholic men typically have plenty of beer on tap as well.
Kevin Hollensteiner, a K of C member in Quincy for 50 years, was surrounded by family and plenty of empty beer bottles at his table inside Father McGivney Hall. He said he spends $65 a week on tickets.
"My daughter's playing volleyball right now, and my son's playing softball," he said. "It's fun. We're all here."
How does the jackpot raffle work?
First, anyone can play. You don't have to be a Knights of Columbus member to take part.
Newcomers must first buy a PIN number for $2. Anyone who wants to participate in the "big raffle" must spend $5 on six tickets (tickets are only sold in groups of six). Participants write their PIN number on the back of each ticket, then toss them into the raffle ticket drum. Tickets are not sold until 5:15 p.m. Thursday, and sales end at 7:45 p.m.
The winning PIN number is drawn at 8 p.m. The person with the winning PIN number has five minutes to show up, then chooses a number between 1 and 100 for the chance to win the jackpot. Ninety-nine numbers say "Try Again," but one is the winning jackpot number. No winning jackpot number means the jackpot (minus $300) rolls over to the next week.
(If you're not in attendance, you can still win — but you only receive half of the jackpot if you pick the winning number.)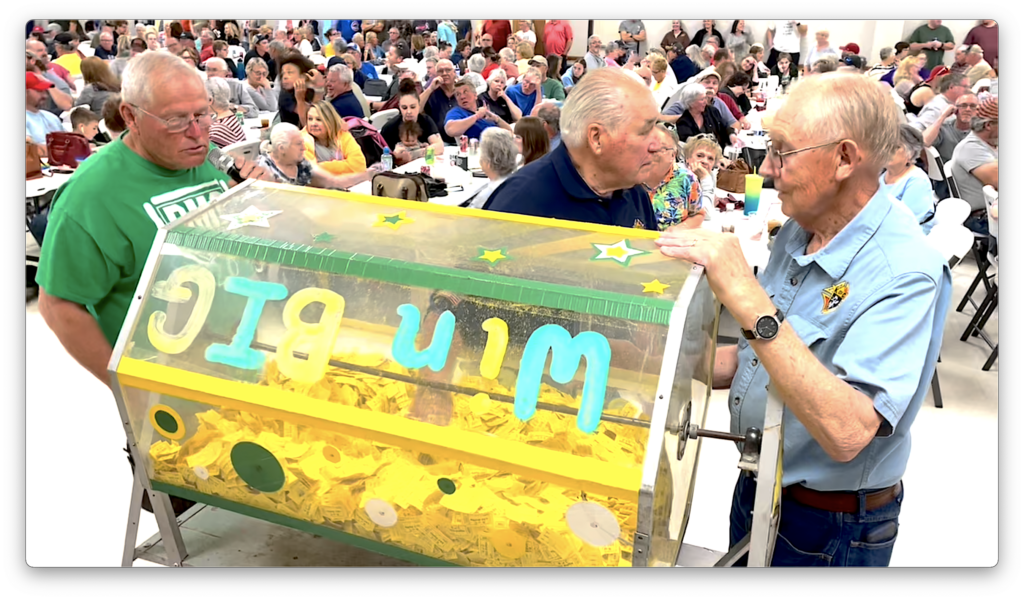 '93 people who are a bunch of damn losers'
No one had chosen eight numbers — 41, 53, 90, 92, 93, 94, 96 and 98 — before Thursday's drawing. Brink selected 90 — the year his daughter Emily was born.
"That's 93 people who, for the lack of a better word, are a bunch of damn losers," raffle co-chairman Bill Anderson said with a laugh.
Seven numbers will be available to choose from next week.
A nine-person committee — Grand Knight Tom Maas, co-chairmen Anderson and John Benz, Matt Schreacke, Tom Grawe, Ed Zanger, John Veith, Terry Obert and Dan Hoffman — is responsible for bringing the idea for the raffle to Quincy. They visited Springfield in 2019 to check into a similar raffle offered by the Knights of Columbus, where a woman won $625,000 in September 2019.
The Quincy raffle started May 10, 2021, with a jackpot prize of $5,000. The first drawing was on May 20, 2021.
"I wanted to see if I could get an insurance policy that would cost not very much, just to take care of us for 10 weeks," Anderson said. "I figured if we made it 10 weeks, we would probably get enough so we wouldn't lose our shirt. But I couldn't get an insurance policy, and we went ahead with the thing.
"Then it was our sincere hope to just make it to the barbecue. So that's May, June, July, August. If we would get some people to buy in, we'll be all right. Now here we are in week 93."
Maas says the Knights of Columbus will use its half of the 50-50 raffle to give money to the four Catholic grade schools and nine Catholic parishes in Adams County.
All money from liquor sales goes to the Columbus Home Association for payroll, utilities, taxes and other expenses for maintaining the 40-acre property.
People arrive at 4 p.m. to get tables for 8 p.m. drawing
People typically are waiting outside the doors to Father McGivney Hall by 4 p.m. to grab a table for the 8 p.m. drawing. Knights of Columbus members sell the tickets, plus help direct the massive parking issues each Thursday. The K of C driving range closes early on Thursday so raffle participants can park on the range.
"We got to 50,000, and that was when we first thought, 'This is big,'" Anderson said. "Then it got up to 70,000. Then you couldn't help but look at it when that thing went over $100,000, and all of us are kind of shaking our head. When we get out here, from the minute the guys start selling the tickets, you're working non-stop until 7:45."
Committee members said 22,458 tickets — 3,743 groups of six — were sold Thursday.
The K of C also offers its "little raffle," a typical 50-50 raffle. However, that raffle has grown so rapidly that the committee is limiting one person's winnings to less than $1,500 (for tax purposes). Thursday's raffle had three people win $1,474 each in the "little raffle."
When the 2019 raffle in Springfield reached the final four numbers, organizers decided the raffle would end by continuing to pick numbers until a winner emerged.
"We, as a committee, have not made that decision," Anderson said. "If we intend to do that, we will tell everyone in attendance we will (keep drawing until a winner is chosen) the following week. We've discussed it, but not at length."
'I'm going to win it again, darling'
Organizers are ready for a winner to finally claim the prize. Maas said he spent more than two hours Wednesday night simply tearing tickets into groups of six.
"You can't tear them fast enough if you tear them on Thursday night," he said.
"When we started out, we would have been happy if we made $5,000 or $10,000," Anderson said. "When it gets to this, most of us are ready to … whew."
But not the participants. A loud cheer erupted in Father McGivney Hall erupted when Brink chose the wrong number.
"I started to figure out how much money I've spent on this," Venvertloh said. "I figured I have more than a grand in this … and then I stopped counting. But I want to win $111,000."
Pam Rein hoped to keep a recent string of good luck going. She made a hole-in-one on Wednesday at Quincy Country Club. She splits $20 in tickets with her brother, Mark Morrison, each week. Both have heard their winning PIN number drawn, but they're part of the group of 93 "losers."
"We've already been here for all of this," Rein said. "We're going to be here until the bitter end."
Tammy Clow won a "little raffle" prize on April 27 but was back for Thursday's raffle.
"Because I'm going to win it again, darling," she said. "If I don't win the little one, I'll win the big one."
Miss Clipping Out Stories to Save for Later?
Click the Purchase Story button below to order a print of this story. We will print it for you on matte photo paper to keep forever.