'This is one of those amazing turnaround stories': In dire financial straits earlier this year, HLGU now in 'much healthier situation'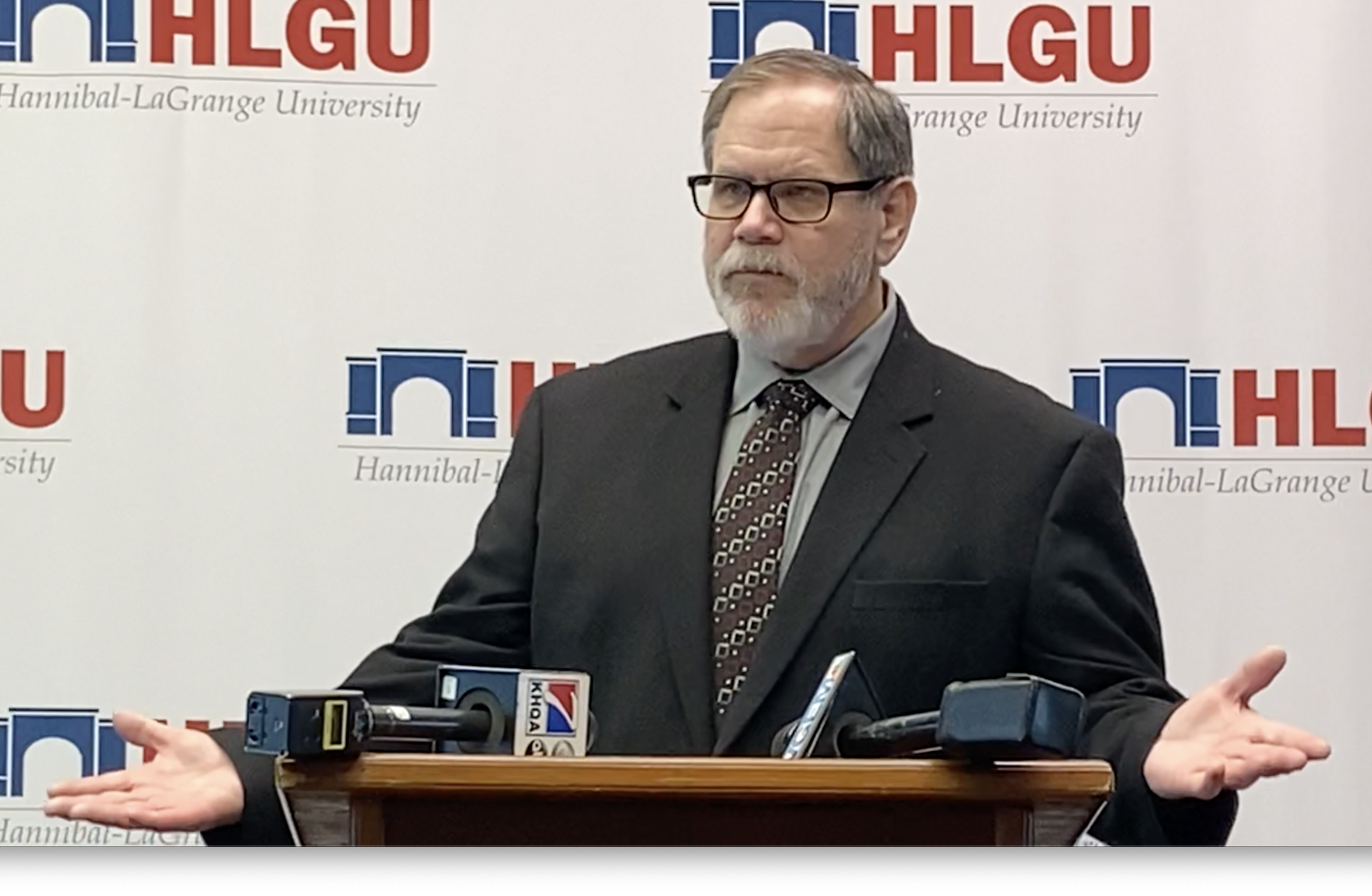 HANNIBAL, Mo. — The implementation of what transitional President Rodney Harrison called an "integrity plan," coupled with increased giving from alumni in the past month, has put Hannibal-LaGrange University on what Harrison believes is a path to "ensure the long-term sustainability" of the school.
Asked how close the university was to shutting the doors earlier this month, Harrison said, "We were there … that it would take a miracle."
Harrison, who continues to serve as president of Baptist Homes & Healthcare Ministries, inherited the job as transitional president on March 8 after Anthony W. Allen resigned as president in January. He met Friday morning with members of the media in the Burt Administration Building to discuss the state of the university. 
A letter from Harrison, posted March 16 on the university's website, said $2.2 million needed to be raised by June 30 to get the school to the next academic year without incurring additional debt. He wrote that the university had made "difficult but necessary decisions, including drastic cuts" to ensure that HLGU stays open.
Harrison also said the school was facing "imminent disaster" during a "solemn assembly" live-streamed event on March 10 that the school billed as a "time of prayer, fasting, petition and abstinence."
Two weeks after that event, Harrison was grinning broadly.
He proclaimed HLGU "is viable, and we are on the path to recovery."
Executive committee, board of trustees learned of financial woes last fall
"We are in a much, much healthier situation than we were just a few weeks ago," he said. "We continue to see God's goodness poured out and the sacrifices being made by the Hannibal-LaGrange team. So, with that, I came in with faith, and we are seeing God faithful."
Harrison said the university's executive committee and board of trustees learned of the financial woes last fall. The pandemic compounded declining enrollment, and fundraising was falling short of expectations. Allen and the board of trustees hired an outside finance firm to investigate the school's troubles.
"Within weeks, the realities masked by the COVID relief funds began to surface," Harrison said. "(Allen) was exceptionally hopeful that our end-of-year fundraising would push the budget back into a right position, but after the Christmas break, it was quite evident that new funds were not forthcoming, and many of the anticipated donations were not going to materialize."
Board Chairman Mark Anderson created a task force to study the university's fiscal condition. In the meantime, Allen resigned and two board members also stepped down. Harrison said spring enrollment, now at 780 students, didn't meet expectations.
"The university was not in a position to pay vendors and service providers," Harrison said. "There was no money left."
'Austerity measures' needed to reduce spending and debt
Harrison said he was part of a team that guided Midwestern Baptist Theological Seminary in Kansas City out of a similar crisis 10 years ago.
"As an accreditation peer reviewer, I have worked with many institutions over the years facing financial crisis," he said. "The most frequent response is to raise more money and increase our enrollment.
"However, most of those schools ultimately fail. Depending on more donations or ever-increasing enrollment is generally not a sustainable plan. Our response to this crisis has been to implement scalable business models that will allow the university to thrive in the changing landscape of higher education."
Harrison said the university's integrity plan called for "austerity measures" to reduce spending and debt.
He said half of all unrestricted gifts to the university will pay down past due invoices. The goal is to get everything up to date by the end of the academic year.
"As smaller bills are being paid off, we are applying the remainder to larger accounts," Harrison said. "We are committed to restoring the trust of our faithful partners in this community. We are thankful during this time for their patience."
Giving has gone from $2,800 per week to about $90,000 per week
Harrison said weekly giving to the university was averaging about $2,800 before the "solemn assembly" on March 10. He said that figure since has increased to about $90,000 per week. A special fundraising campaign targeting alumni is starting, and the school also is working with the Missouri Baptist Convention on a similar project.
"Our goal is to bring all accounts current and incur no additional debt," Harrison said.
Harrison also said the university reduced payroll by 25 percent. He is accepting no pay as president. Two top-ranking academic officials, who Harrison did not name, have taken 60 percent reductions in pay through the end of the academic year. He said the pay of one of the school's vice presidents, also unnamed, was cut in half.
All full-time employees and faculty are transitioning to a four-day work week. The university has suspended all contributions to the 403(b) retirement plans for its employees. Some faculty members with high salaries have resigned, and volunteers and alumni are filling vacant teaching positions.
"We have had organizations that have said, 'We would love to hire some of your people who have gone to a four-day work week. We'll put them to work one day a week,' " Harrison said.
Streamlined curriculum will help nearly double average class size
Adjunct faculty members now will be paid based on the number of students in class rather than on a per class basis.
Harrison also said the board has approved a balanced budget for the 2022-23 school year that will address a streamlined curriculum that increases the average class size from the current number of eight students to 15 students. He said that move ensures the school will offer no academic programs that do not have a positive return.
"In one of our majors, we have five different elective courses in one discipline," he said. "If you were, let's say, a nursing student or a business student or an education student, you all took a different elective. Yet it all could have been covered by one course — professional ethics. So instead of having five ethics classes with three, four, six, seven students, why don't we have one professional ethics class … and have 20 or 30 students in that class?
"This is the type of consolidation and revamping of our curriculum that we've engaged."
Most significant savings will come from curriculum changes
Harrison said the curriculum changes will be where the university sees its most significant savings.
"We acknowledged (during the solemn assembly) that we had not lived up to our stated values of institutional integrity," Harrison said. "We also understood that there were those who had forgotten that this is a sacred trust, not only for Missouri Baptist but for the community and for the region, and for our students and alumni."
Harrison outlined a plan in his March 16 letter that said the highest priority was the immediate debt reduction of $690,000. The school then needed to raise an additional $1.51 million by June 30.
"That is the date that would allow us to get (all debts) all caught up to date," he said. "If we don't meet that goal, that means we're going to have to extend that (debt) over a longer period of time.
"I am very pleased to say that many of our vendors, some who have not been paid since November, at least I know that checks have gone out to everybody as we are now in the integrity plan. So far, the giving is right at where we were anticipating. We are really hopeful that will come in, but if not, it means that we will continue to have outstanding balances, and we will have to continue the austerity measures longer than what we would like to."
Harrison: School was 'slow adopter' of alternatives to learning
When asked how the financial problems developed at the university, Harrison thought the school was a "slow adopter" of online or hybrid alternatives to learning.
"We're excited that we're going to be launching … about seven or eight more programs fully online," he said. "But let me tell you, we've been late to the table at that. Part of it is because being rural, we're a little bit slower to make those adjustments. We've not adjusted to the delivery systems that provide the convenience.
"Another major challenge is that we've had only two revenue streams — the fall semester and spring semester. Our whole model has been driven by a very traditional college university model of a robust fall semester, new students coming in, and then hopefully, you'll get a few more that will come in the spring. We are now changing that to where we will have at least eight entry points (to a semester). We're implementing a far more robust summer schedule.
"We're moving to what I'd call a state-of-the-art or best-practices model of higher education delivery."
Bank helping refinance some of school's debt
Harrison said the university is working with a local bank to refinance some of the school's debt. The board of trustees will meet Monday to vote on selling property it no longer uses.
"And we have had some, I'm going to call them miracles," he said. "We had one organization that covered $65,000 of benefits and just said, 'We're going to cover all the benefits for a month.' Bang. OK, that's money that we don't have to pay.
"We have adopted a business model and a budget for next year that is sustainable. We've actually budgeted for a new president, for salaries and for what I call realistic enrollment targets."
'This is one of those amazing turnaround stories'
Harrison believes the school now is "on the right path."
"We hired an outside accounting firm to oversee that transition after our chief financial officer had resigned because of health reasons," he said. "I will be very frank. Their original recommendation was, 'Y'all need to just shut down.' It was pretty dire.
"The gentleman who has been leading that … is going to be donating a kidney to a friend, so he's going to be stepping down. But his words to me on the phone were, 'You're going to make it.'
"This is one of those amazing turnaround stories. We are going to make it. It required immediate cuts, immediate austerity and having a business model. I have no hesitancy to give a very positive report that the health of Hannibal-LaGrange University is improving daily.
"The question is: Is the university secure enough? Where I would send my child? And the answer is yes. The greatest place to learn is a place where God is at work. This is the kind of place I want to send my children, my grandchildren."
Miss Clipping Out Stories to Save for Later?
Click the Purchase Story button below to order a print of this story. We will print it for you on matte photo paper to keep forever.