'This just causes me to spend more time here': Texas pastor undeterred in quest to pass ordinance prohibiting abortions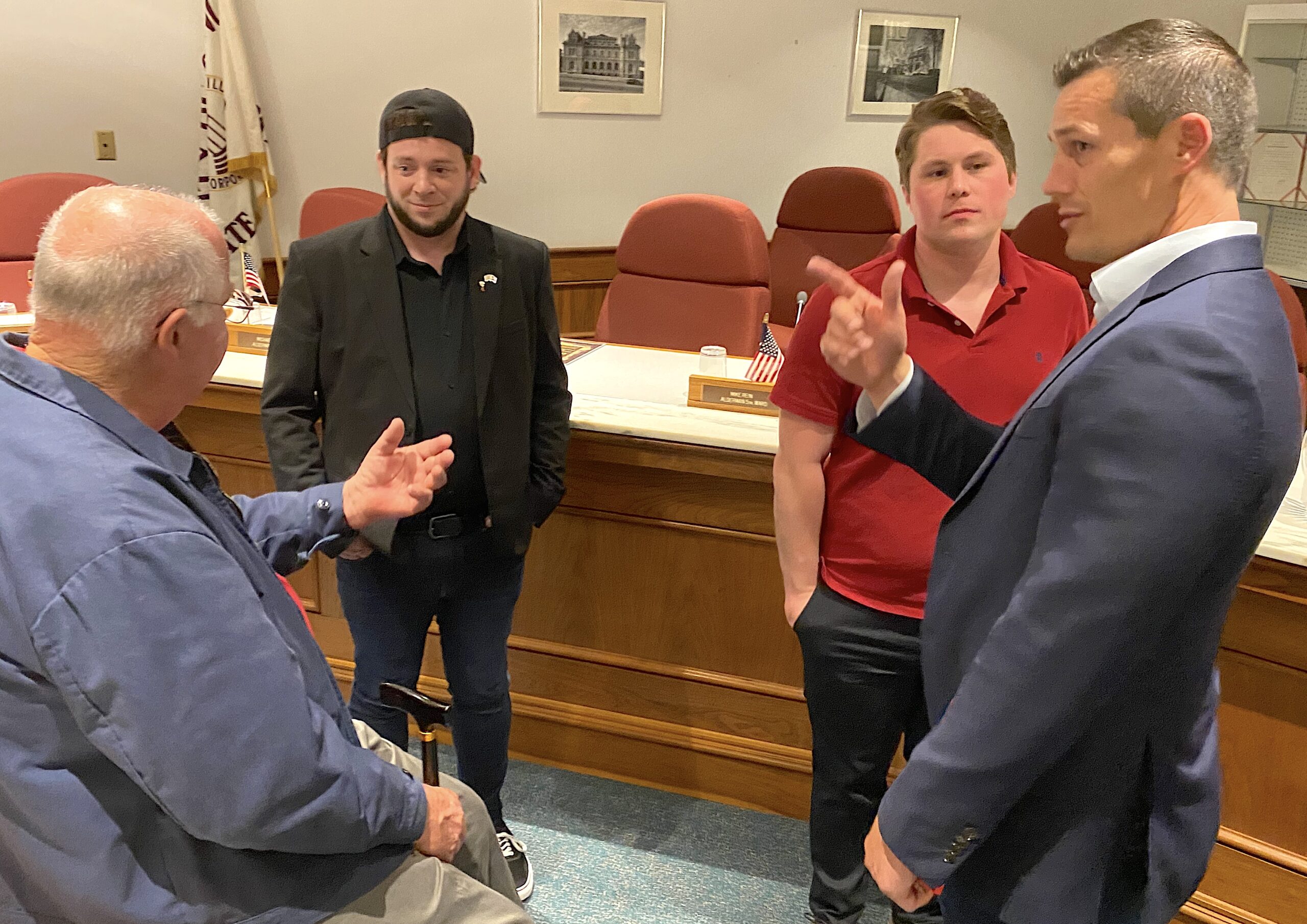 QUINCY — Moments after the ordinance requiring compliance with federal abortion laws was voted down 7-5 Tuesday night by Quincy City Council, Mark Lee Dickson had quietly worked his way to the front of City Council chambers to visit with supporters.
The message from the pastor and anti-abortion advocate from east Texas was: We're just getting started.
"Odessa, Texas, at one point, did not have the votes to pass an ordinance," Dickson said. "Odessa is a city about 130,000 people, and what happened is (the failure to pass the ordinance) really riled up the community. They got the people elected who were in favor of the sanctuary city for the unborn ordinance, and they ended up passing it with a 5-1 majority."
City council members in Odessa first voted down the sanctuary city ordinance in January 2021. The mayor tried unsuccessfully in August 2021 to get council members to approve a special citywide election on the matter. However, two newly elected Republican councilmen made the difference in the November 2022 vote to make Odessa a sanctuary city.
"Some people here think I'm going away," Dickson said. "No, this just causes me to spend more time here, because we never give up. This community is a pro-life community, and we're going to keep on fighting."
The sanctuary city ordinance in Quincy attracted an overflow crowd that filled City Council chambers and spilled into the lobby. Voting against the ordinance were Greg Fletcher (R-1), Jeff Bergman (R-2), Dave Bauer (D-2), Breanna Rivera (R-3), Richie Reis (D-6), Ben Uzelac (D-7) and Jack Holtschlag (D-7). Voting in favor of the ordinance were Eric Entrup (R-1), Kelly Mays (R-3), Mike Farha (R-4), Glen Ebbing (R-5) and Jake Reed (R-6). Tony Sassen (R-4) and Mike Rein (R-5) were absent.
Reed, who made the motion to put the ordinance up for a vote at the Oct. 2 City Council meeting, was seated for his first term as an alderman on May 2. Dickson made his first appearance in Quincy on June 9, talking about the proposed ordinance in Father McGivney Hall at the Knights of Columbus.
"We're going to continue to fight for the unborn in Quincy," Reed said. "We won't let that stop us. I believe that the Right to Life community will come out, and we will have some decision making to do come 2025, just based off some of the opinions here."
Reed was quoted in a story about Tuesday's City Council meeting written by Dickson for Live Action News, a pro-life news and commentary website.
"There is, of course, disappointment that comes after (Tuesday) night's meeting, but that sentiment does not fall on the pro-life community," Reed said. "(Supporters) came out in droves to support the unborn and are to be congratulated on their courage and resolve. The feeling of disappointment collapses on those members of the council who purport to be pro-life while siding exactly with the party of death.
"Gov. (JB) Pritzker is smiling at their decision today. We know where they stand. They cannot hide behind their words because their actions speak volumes. A change is coming in 2025, and there is a multitude behind the effort. The fight has just begun."
An overflow crowd Tuesday night spilled into the City Hall lobby and outside in the parking lot. Fifty-six people signed up to speak during the public forum portion of the meeting. Muddy River News counted 29 people spoke against the ordinance and 27 people spoke in favor.
"You look across the audience, and there were a whole lot of (pro-life) people in support who wore red and didn't speak," Dickson said. "Look at what happened. You had a lot of Republicans vote against Illinois Right to Life, against Students for Life for America, against Alveda King (founder of Speak for Life). They took a position that doesn't truly represent the conservative beliefs that they claim.
"There was a lot of misinformation … that could have been addressed had I been allowed to speak."
Dickson did not sign up before the City Council meeting to speak during the public forum. Reed asked if Dickson could be allowed to speak as aldermen debated the issue, but that request was denied.
"Instead of signing up, I was told I would be called up," Dickson said. "Of course, that didn't happen. Here I am — the expert, witness and co-author of the ordinance. I could have answered every single one of (the City Council's) questions.
"The abortion industry is going to see Quincy as a favorable spot for them. They've got a favorable council. They're going to see that this is a good place to expand. And so extremely disappointing is the message it sends to young women in this community, because it sends a very pro-abortion message."
Dickson said he believes federal law trumps state law, and the Reproductive Health Act — passed by the Illinois General Assembly in 2019 — must work within the confines of the Comstock Act, a federal law which limits access to abortion and contraception drugs sent by mail.
"With this vote, the City Council decided they weren't going to comply and a pass an ordinance complying with federal statutes that they have an obligation to uphold," he said. "Is the Reproductive Health Act in violation of federal law? If it is, then that's a problem. What we're saying in the ordinance is that it's clear the Reproductive Health Act cannot secure a right to violate the Comstock Act."
One of the speakers during Tuesday night's public forum was Jesse Sullivan of Petersburg, who finished second to Darren Bailey in the Republican primary for governor in November 2022. He called abortion the preeminent issue of the day facing Americans.
"If you think about when we meet our maker, he's going to ask us, 'What did you do for the least among us?'" Sullivan said. "At this moment, millions of children are being killed. If you don't stand up and fight against that, you are on the losing side of history. You are on the wrong side of Jesus Christ, our Creator."
Sullivan said he was discouraged after his statewide campaign, believing he was "stuck in the abortion destination capital of the Midwest." He said he thought he needed to be in Quincy to support the ordinance.
"I hear these aldermen who claim to be pro-life. They use the words of pro-life," Sullivan said. "Now with this city-level ordinance, you actually have to stand up and do something about it. The cowardice you see of people who say 'No, I'm pro-life' … No, you stood on the wrong side of history. You're going to be judged for that, and I pray for their souls.
"Other people who claim to be pro-life and are sitting on city councils across southern Illinois should tremble in fear. They're going to be put on notice that the pro-life community is not going to sit back and allow them to claim to be pro-life without actually doing something about it for those in need."
Miss Clipping Out Stories to Save for Later?
Click the Purchase Story button below to order a print of this story. We will print it for you on matte photo paper to keep forever.