'Tim could snap at any moment': Witnesses give details about conversations with Becky Bliefnick about fears of divorce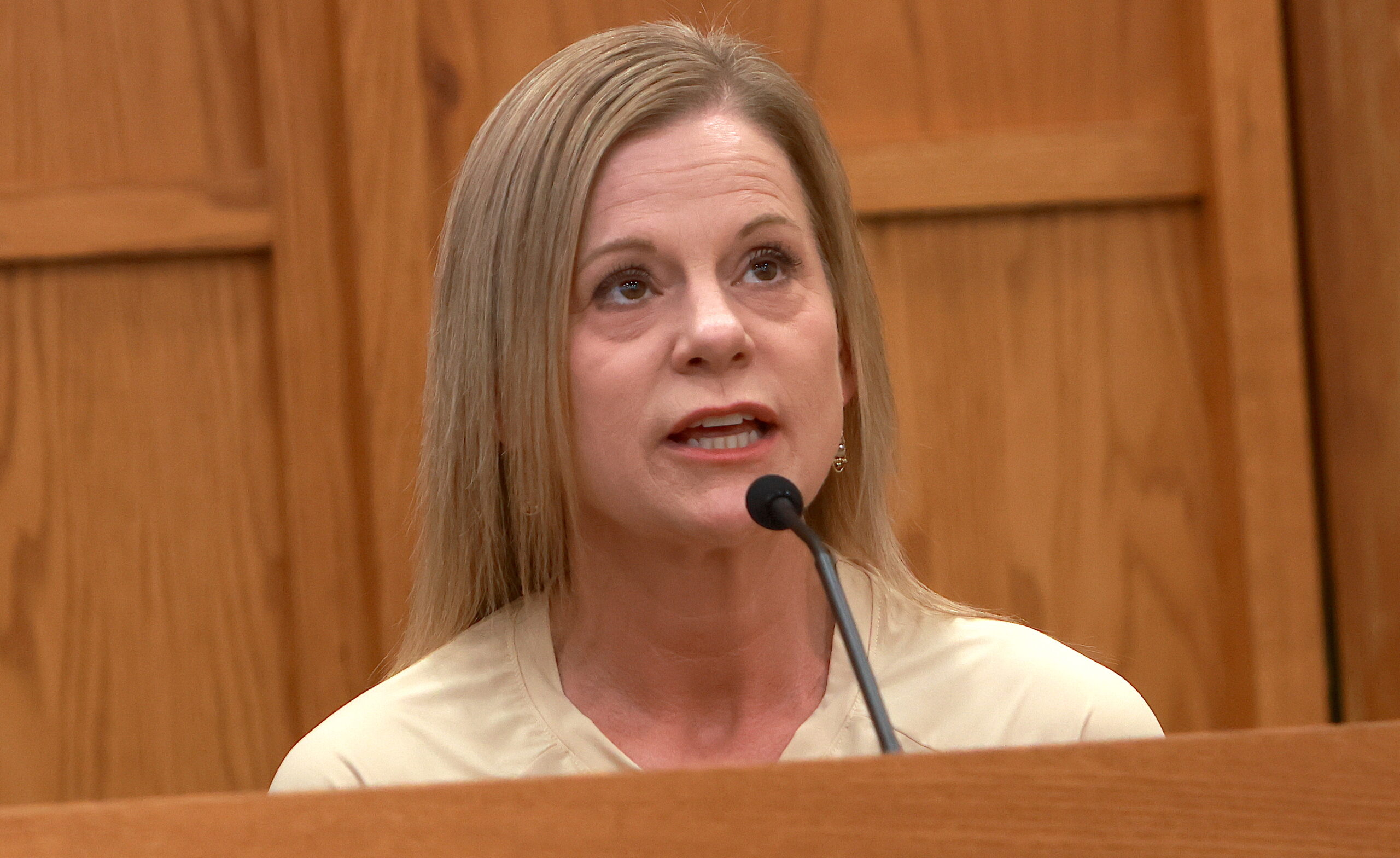 QUINCY — Adams County Assistant State's Attorneys Josh Jones and Laura Keck paraded a series of witnesses Wednesday afternoon before the jury in the Tim Bliefnick murder trial.
Each of them said Bliefnick's estranged wife, Becky, had reached out to talk and text about her fears and concerns as the couple went through a contentious divorce.
Tim Bliefnick is on trial this week in Adams County Circuit Court. He is accused of shooting Becky Bliefnick multiple times at her Kentucky Road home on Feb. 23. He was arrested on March 13 and later charged with two counts of first-degree murder and one count of home invasion. He remains in the Adams County Jail without bond.
Nine witnesses were called by the prosecution to testify Wednesday afternoon. The trial will resume at 9 a.m. Thursday.
Five of Wednesday afternoon's witnesses were friends or co-workers of Becky's.
Christine Moore testimony
Christine Moore, who has lived in Quincy for 16 years, testified she received text messages from Becky on May 7, 2021 about Tim's behavior. Becky wrote to her:
"He has screamed in my face, shoved me in front of the kids, and has thrown objects across the room where the kids and I were standing. He punched a hole in the wall. If things really don't go his way, I feel he can be very unstable and unpredictable. And the thought has gone through my mind on if I may need a restraining order. I'm definitely changing the locks as soon as I can."
Becky later texted Moore again. She said, "The only way to ensure all three (children) choose him over me is to eliminate me as a choice."
During cross-examination, Moore said she and her husband had met with Tim and Becky socially. She said Tim was a coach on her son's football team last fall. She told attorney Casey Schnack she did not assist Becky in obtaining a restraining order or provide any other form of assistance.
Nicole Bateman testimony
Becky's childhood friend, Nicole Bateman, was next. Bateman now lives in Decatur but originally is from Quincy, where she lived until she was 20 years old. She said she knew Becky for 35 years, and they regularly communicated by text or phone conversations.
Becky told Bateman during a text exchange on May 9, 2021, that Tim told Becky if she "outed his dad, (Tim's father Ray) would probably have to move, and then he would kill himself."
She later wrote to Bateman, "And yes, I absolutely worry he will try to take the kids sometime, especially if I get awarded the custody I want. He will be pissed, and he will do whatever he feels like doing."
Becky texted Bateman on Sept. 8, 2021, informing her a friend and co-worker from the Blessing Hospital emergency room was murdered by her ex-partner. Becky said the incident caused her to experience a panic attack. She said she thought "Tim is going to come after me and do the same if he continues to not get his way."
"If he's crazy enough to file this OOP (order of protection) and make all this crap up and blame it on me, what else is he willing to do?" Becky wrote. "But I told my lawyer, I either want an OOP for myself and the kids or at least make a statement in court and on the record that I am scared of what he might do. His erratic behavior and constant lies facilitate the need for protection, on top of the fact that he has all our guns and ammunition, including mine."
Bateman admitted to Schnack she did not reach out to the police or Becky's parents regarding the messages she received. When Jones asked if she wished she had done so, Bateman replied yes.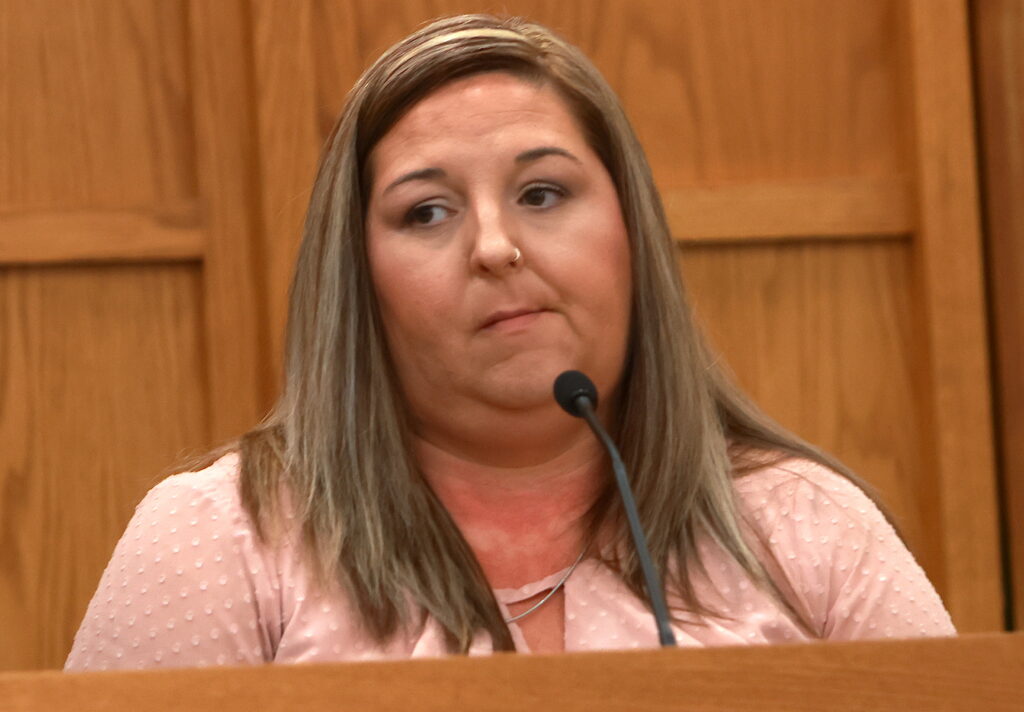 Amber Wittler testimony
Amber Wittler, a surgical assistant at Blessing Hospital, testified she first met Becky in 2016. They were students at John Wood Community College. They later worked together at Blessing Hospital. She said Becky talked with her "a lot of times" when they would see each other in passing at the hospital.
Keck asked Wittler about a conversation in late 2021 when Becky said she wanted to change the locks, "but Tim wouldn't let her."
"Did she also tell you in that conversation that if anything ever happens to me, it was him?" Keck asked.
Wittler said yes.
Becky Spotts testimony
Becky Spotts, a speech language pathologist at Blessing Hospital, testified she also knew Becky through CrossFit, a strength and conditioning facility. Spotts said she had several exchanges with Becky on Facebook.
Jones asked Spotts about messages received from Becky on June 4, 2021. Becky wrote: "I'm wanting to never have my children around them alone ever again." Spotts said it was clear Becky was referring to Ray Bliefnick.
Becky also wrote, "It has gotten to the point that I even hate going to work for fear he will secretly take off with the kids, and I won't see them for a long time."
Another text that day from Becky said, "I truly believe Tim has serious mental health problems and is becoming more vengeful and unpredictable. And it scares me. But I'm scared to even try to get an order of protection, because it will piss (Tim) off and he will try to punish me somehow. I don't think an order of protection will be issued, because they will say his violent outbursts have not been egregious enough, and incidents have been stretched out over too long of a period.
"Temporary custody has not even been set yet, because we haven't been to court. I don't even have exclusive possession of our house, so I can't even legally keep him away from me or the kids. Plus, if I ask for an order protection, I won't be able to come see my children in his house anymore, and he may cut off their communication with me while they are there. And that scares me too."
Spotts told Schnack she communicated with Becky through Facebook because she had lost her phone number. Spotts said everything about the divorce was "unsettling," and once the divorce started, she became closer to Becky. She said she knew Tim when she was at CrossFit, but she didn't meet with him socially.
Melissa Young testimony
Melissa Young, a nurse who job-shadowed Becky for a period at Blessing Hospital, testified about an encounter with Becky on Jan. 5, 2023 at TJ Maxx. She said Becky appeared "mentally and physically exhausted, nothing like I used to see her. She was really in hopes of getting the divorce over and stuff."
Young then said Becky felt Tim could "snap at any moment." She also learned Becky thought Tim was hiding money. She showed Young screenshots on her phone showing how she found out about the money. Young also said Becky told her that Tim had said, "You'll be dead before you have any of my money."
During cross-examination, Young told Schnack she hadn't seen Becky in three years before their meeting at TJ Maxx.
"You had not seen Becky for three years prior to 2023. Then she unloads on you in the middle of a TJ Maxx about your divorce?" Schnack asked.
When Young said yes, Schnack said, "You didn't find that odd?"
Young replied, "I did find it odd. She asked for prayers."
Miss Clipping Out Stories to Save for Later?
Click the Purchase Story button below to order a print of this story. We will print it for you on matte photo paper to keep forever.