Trial date for Adrian before Illinois Courts Commission to be selected in March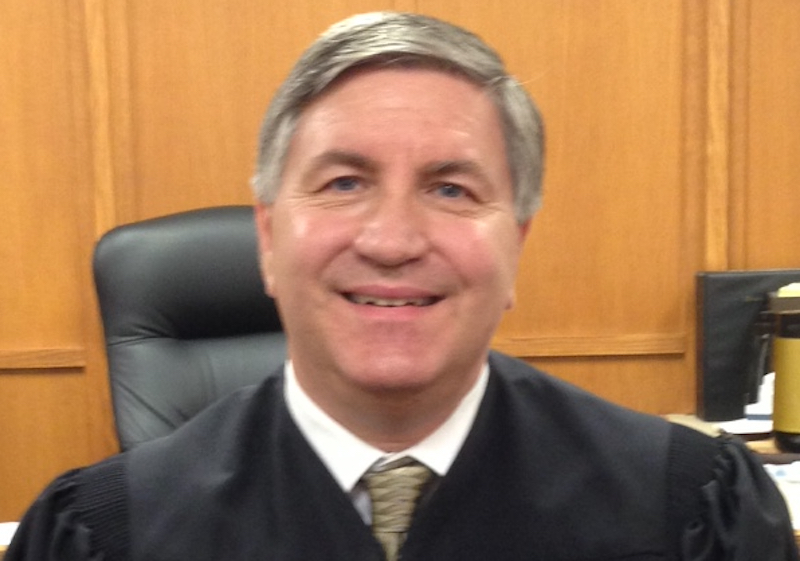 QUINCY — Attorneys on both sides were asking Thursday morning to set a November trial date for Eighth Judicial Circuit Judge Robert Adrian before the Illinois Courts Commission. However, the meeting coordinator was a little leery about waiting that long.
Attorneys for Adrian and the Illinois Judicial Inquiry Board met for a public video pre-hearing conference. Amanda Hamilton represented Daniel Konicek, a Geneva attorney who is Adrian's counsel. Cook County prosecutor Mike Deno, executive director and general counsel for the Judicial Inquiry Board, also attended the meeting, which was coordinated by Cook County Circuit Court Judge Lewis Nixon.
Adrian found Drew Clinton, 18, guilty of felony criminal sexual assault following a three-day bench trial in October 2021. Then on Jan. 3, 2022, Adrian vacated Clinton's conviction, resulting in Clinton being released from the Adams County Jail. The Illinois Judicial Inquiry Board filed a complaint on June 17, 2022 against Adrian. The JIB determines if a complaint made against an active Illinois court judge should be closed or investigated, and whether a reasonable basis exists to file a public complaint against a judge with the Courts Commission.
Both Deno and Hamilton said they had talked before the video conference, and neither believed they needed further discovery in the case. Both wanted to schedule a hearing date.
"The only issue in terms of the hearing date would be coordinating everyone's schedules, which when you have a whole bunch of attorneys and judges, I know can be somewhat problematic," Hamilton said.
Nixon suggested a date in April, because Scott Neville, chairman of the Illinois Courts Commission, is busy in March and May hearing Illinois Supreme Court matters.
Hamilton said April was not good for her. She and Deno were looking at dates during the first two weeks of November. Both thought the trial would last no longer than three days.
"The first two weeks of November work for Mr. Konicek and for Judge Adrian and his trial schedule," Hamilton said. "I believe the witnesses were mostly available, as long as we're getting everything done before Thanksgiving."
Nixon was concerned about waiting that long.
"I don't know what they're going to say about waiting until November," Nixon said. "I know Justice Neville was kind of … well, he wasn't insistent, but he let me know that we need to get moving. So I will raise this (with the commission), and at the next month status hearing, I will let you know the response, and then we will go from there."
Nixon later said, "When I discuss (a November trial) with the chairman, he's going to say, 'What?' When you go to court and the judge says, 'When are we going to go to trial?' and you say, 'I won't be ready for seven, eight months' … if they're like me, they kind of put their glasses over their nose and say, 'What?'"
Nixon, Hamilton and Deno also met briefly in a private video session to discuss scheduling issues.
Nixon then set March 9 for pre-hearing conference. A hearing date is expected to be set on that date.
Nixon also asked Hamilton and Deno if they have held discussions regarding a resolution — short of a trial.
"There's been no discussions in regard to that," Hamilton said.
"We're ready to proceed to a hearing unless they need to discuss something," Deno said.
Adrian testified under oath before the Judicial Inquiry Board in April. The JIB's complaint said Adrian explained his decision to reverse his finding of guilt in the sexual assault case was based upon the evidence and his conclusion that the prosecution had not proved beyond reasonable doubt that the victim could not give consent.
Adrian also allegedly testified that his reversal was not an effort to "thwart the law." The JIB alleged in its complaint that this testimony was false, and Adrian knew it was false when he made the statements.
The Chicago Daily Law Bulletin reported Adrian allegedly violated several rules of the Code of Judicial Conduct, including Rules 61, 62 and 63.
Rule 61 states, "A judge should uphold the integrity and independence of the judiciary."
Rule 62 states, "A judge should avoid impropriety and the appearance of impropriety in all the judge's activities."
Rule 63 states, "A judge should perform the duties of judicial office impartially and diligently."
The members of the Judicial Inquiry Board are three lawyers, two judges and four people who are not lawyers.
The Illinois Courts Commission hears the evidence against a judge at a public hearing and decides whether the allegations of the complaint were proved by clear and convincing evidence. After a public hearing, the commission can reprimand, censure, suspend without pay or remove the judge from office.
During post-trial motions at the beginning of Clinton's sentencing hearing, Adrian acknowledged he was required to impose a mandatory jail sentence. The statute under which Clinton was convicted required a minimum four-year sentence in the Department of Corrections.
However, Adrian said refused to impose the jail sentence.
"… This happened when this teenager … was two weeks past 18 years old," Adrian said, according to transcripts provided by Kim Cottrell, a court reporter for Adams County. "He has no prior record, none whatsoever. By law, the court is supposed to sentence this young man to the Department of Corrections. This court will not do that. That is not just. There is no way for what happened in this case that this teenager should go to the Department of Corrections. I will not do that."
Adrian then threw out the conviction.
Pittsfield judge Frank McCartney, chief judge for the Eighth Judicial Circuit, signed an administrative order Jan. 13, 2022 detailing changes in Adrian's duties. McCartney removed Adrian from presiding over criminal cases and assigned him preside over small claims, legal matters and probate dockets.
McCartney reinstated Adrian to his former duties with the felony criminal court on Jan. 1, 2023.
Miss Clipping Out Stories to Save for Later?
Click the Purchase Story button below to order a print of this story. We will print it for you on matte photo paper to keep forever.