Troup casts deciding vote as curbside recycling will be eliminated; Quincy man commits to transporting recyclables to city bins for elderly, disabled
QUINCY — After more than a year of study, review, concern and debate, an ordinance to eliminate the city's curbside recycling program came down to one vote.
After City Clerk Laura Oakman announced aldermen voted 7-7 on the issue during Monday night's Quincy City Council meeting, Quincy Mayor Mike Troup quickly cast the deciding vote, saying, "I will vote in favor of this motion."
Before Troup cast his vote, some people in the audience in City Council chambers clapped. After Troup cast his vote, some people in the audience started murmuring, with one person saying, "He said he cared about recycling."
When Troup said, "The ordinance is adopted," a different group of people clapped while several people in favor of curbside recycling eventually walked out.
Chapter 34.02 under the city codebook says the mayor shall not vote on any ordinance, resolution or motion except in three instances — one of which is when the vote of the aldermen has resulted in a tie.
The adoption of the ordinance means Quincyans won't see a $5 charge on their water bills if they elected to have city crews pick up recycling at the end of their driveway. Instead, they can deliver recyclable materials like paper, plastic, cardboard, glass and aluminum to one of three yet-to-be announced locations and put them in bins at no charge.
March 1 is the projected start date for the program.
The city will avoid buying three new recycling trucks that would have cost approximately $1 million. The city also will reassign four employees now dedicated to the recycling program to other departments at Central Services.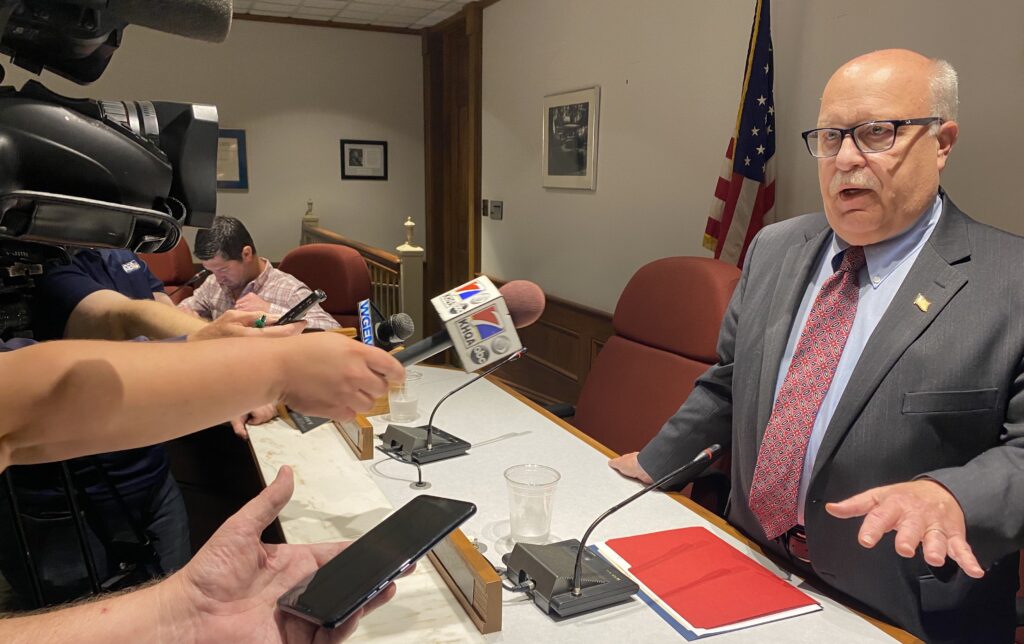 Troup: 'I'm comfortable with that decision'
Voting in favor of eliminating curbside recycling were Greg Fletcher (R-1), Eric Entrup (R-1), Jeff Bergman (R-2), Mike Rein (R-5), John Mast (R-5), Richie Reis (D-6) and Jack Holtschlag (D-7). Voting against the proposed ordinance were Dave Bauer (D-2), Kelly Mays (R-3), Parker Freiburg (R-3), Mike Farha (R-4), Tony Sassen (R-4), Patty Maples (D-6) and Ben Uzelac (D-7).
Troup said he thought it was only the second time he needed to vote during his time as mayor. He knew the vote would be close, but he wasn't sure if his vote would be necessary.
"I'm comfortable with that decision," he said. "I think with the benefits that the city will end up getting, I do believe it's the right thing. I do think the tonnage that the city will be collecting in recycled materials will actually go up."
Troup said he has recycled since the city made the program available, and he's been paying the monthly $5 fee.
"I notice a lot of my neighbors don't," he said after the meeting. "I asked why, and (neighbors say), 'Well, why would I pay again?' and 'Not all the recyclable materials go to recycling. Some of it goes to the landfill.' You actually pay more when recycled materials end up going to the landfill versus if I put it in my trash to start with. But they still take the glass (to bins at the County Market at 48th and Broadway to be recycled).
"So they don't want to pay the $5 on the water bill, but they don't mind paying a couple of dollars for gas to go take glass there. OK. We'll see, in fact, what happens here the next few months once we implement the bin system."
'Faith by itself without works is dead'
Six people spoke to aldermen during the public forum at the beginning of the meeting. Four of them spoke in opposition of the ordinance, with one asking for aldermen to table it. However. two spoke in favor of the ordinance.
"I believe this service would result in an increase in the number of households that would recycle and therefore decrease the amount of recyclables going into the trash," Steve Kennedy said. "This proposal would also be much more cost effective for the city. I want to urge the alderpersons to vote in favor of this fiscally sound proposal."
Jake Reed went a step further.
To continue the curbside program, he said the city would need to raise the $5 recycling fee and go to bi-weekly pickup to prevent future financial loss, which Reed said would cause a further drop in participation.
"A change to the program is necessary, and the proposed new plan is excellent," he said. "These concerns will be alleviated."
Reed then addressed people unable to pay an increased fee, disabled people, the elderly and people without transportation.
"I'm here to make a commitment to you the best I can," he said. "As the Bible states, 'Faith by itself without works is dead.' If this resolution is passed, I will transport your recyclables to the bins free of charge. I can't help everyone, but I will help all I can."
Reed hopes other people will volunteer
Reed, who works weekends at Dot Foods in Mount Sterling, said the best way to contact him is by email at dadanddorothydogood@gmail.com. After the meeting, he said he hopes other people will volunteer.
"I'm off Monday through Thursday," he said. "When I'm watching my 1-year-old daughter, she and I will go around. I've got a pickup truck, and I'm going to try to go around to, and hopefully people contact me, and help as many people as I can. I wouldn't ask the government to do anything that I also was not willing to do myself.
"I saw a lot of people who were on the opposite side of (the proposal). They kept complaining about not being able to have the curbside, but no one I saw speak offered … to do anything themselves, and I don't like that outlook on life, to continually just ask the government to do something but not put yourself out there to help out the community yourself."
Troup appreciated Reed's offer.
"You can tell he's serious. I appreciate that," the mayor said. "It's nice to show up at a meeting and give input and (be) helpful. He wants to recycle and is willing to help some people if they can't get (recyclable material) to the bins. We need some more people like that. We need to get that back in our community."
Troup also said city officials have talked with Steinkamp Hauling about allowing private curbside recycling service.
"We try not to interfere with commercial businesses and give everybody an equal, level playing field," Troup said. "Steinkamp has made a contact with (director of public works Jeffrey) Conte to indicate they're willing and interested. They wanted to know if they could buy a vehicle. Well, we aren't going to need them."
Bergman, Farha debate each side of issue
Bergman and Farha had an exchange near the end of the meeting during which they explained their upcoming votes.
"I don't think you can put a dollar value on the potential for an increase as far as infrastructure needs to be attained and taking care of going forward," Bergman said. "We're having more staff at Central Services. We've been undermanned the seven years I've been here, and this is a huge step towards helping with that problem. … This will put four guys on the street doing physical work on the street where people can tangibly see results."
"It's just common sense," Farha said. "The schools teach recycling. They teach green. This is not green. … We've been at war with garbage and recycling, and this is the first step in the process of getting rid of it. We have been cannibalizing Central Services. If you think getting rid of recycling is going to do anything but continue the process, you're wrong. It's a commitment that needs to start here. We need to fund it. We can spend like drunken sailors on all kinds of things, but the question is, 'Is this essential?' I'm positive garbage is essential, and it looks like to the rest of the state of Illinois it's essential to recycle."
"All I can do is try to help every citizen in the city of Quincy have an opportunity for recycling," Bergman replied. "Right now, not every one of them have that. That is what the hope is, and that is what the goal is in my mind, to help every everybody have the opportunity to recycle and put more manpower in Central Services and receive more improvements in the streets for the taxpayers. It is an inconvenience for some people, and I apologize for that. But in the grand scheme, this is a bigger benefit to more people throughout the city."
Troup said he hopes to reveal next month the three locations for recycling bins.
Miss Clipping Out Stories to Save for Later?
Click the Purchase Story button below to order a print of this story. We will print it for you on matte photo paper to keep forever.