Troup wants to discuss elimination of one deputy chief with new police chief; Cheyne says salary won't affect commissioners' selection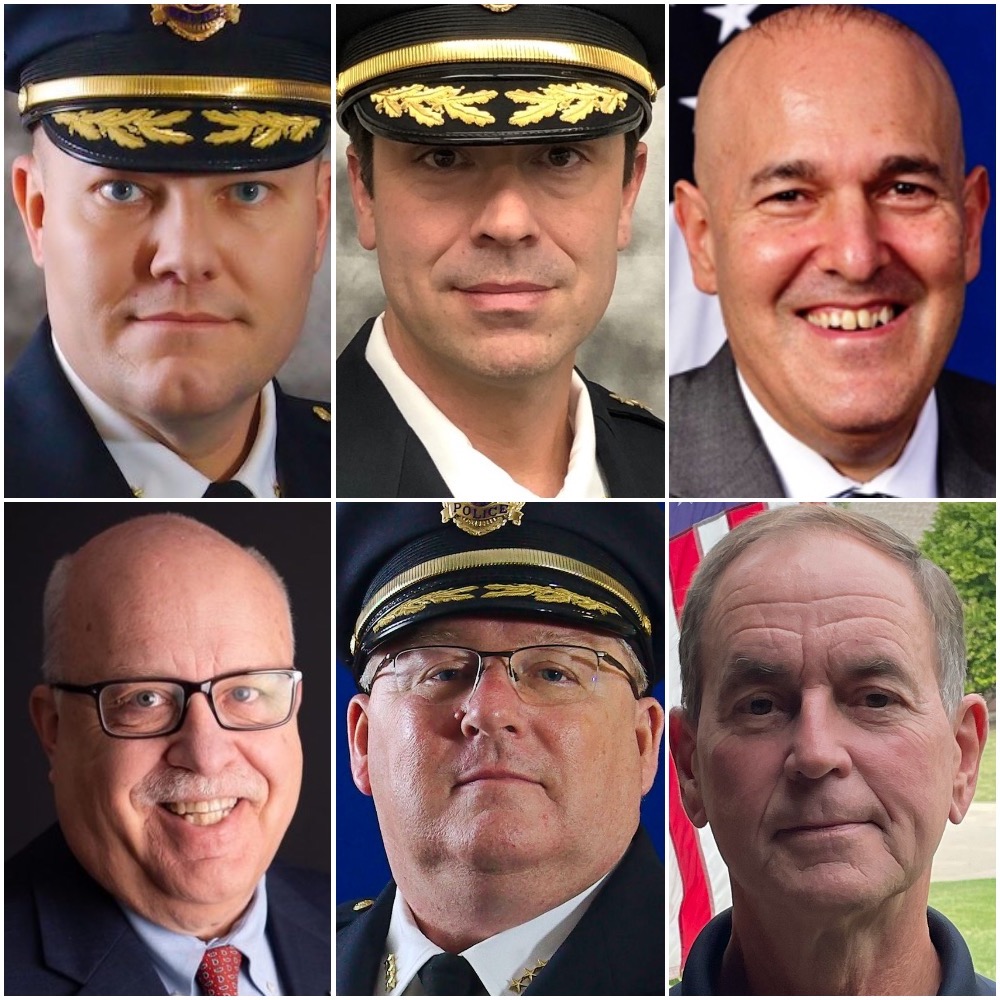 QUINCY — Quincy Mayor Mike Troup would like to discuss with the city's new police chief, who is scheduled to be selected during the first week of May, about changes he would like to see at the top of the Quincy Police Department's organizational chart.
Three finalists to replace Chief Rob Copley were selected after a two-month search by the Board of Fire and Police Commissioners on April 9. They are:
Shannon Pilkington, deputy chief of operations with the QPD. He has been a member of the department since October 1999;
Adam Yates, deputy chief of administrative services with the QPD. He has been a member of the department since September 1999;
Jonathan Lewin, a 28-year veteran of the Chicago Police Department. He retired in January 2020. He has worked since May 2020 as the public safety advisor for the First Responder Network, a federal agency under the U.S. Department of Commerce in Reston, Va.
Pilkington has been a deputy chief since August 2015 and now is the deputy chief of operations. His main job is to oversee patrol and investigation officers. Yates has been the deputy chief of administrative services since November 2019. His main job is handling the department's budget.
The two deputy chiefs are appointed by the chief of police with the approval of the Fire and Police Commission.
Troup calls current police structure is 'top heavy'
Troup questions the need for two deputy chiefs. He believes the current police structure is a "top heavy issue."
"Whoever gets selected (will be asked), 'What are your plans to streamline and put your blueprint together that makes sense?' " he said. "As an example, do we need a trained uniformed officer to be in charge of the budget? I don't know of any business that has tried to recruit our (police) budget officer because they have great financial capability."
Troup wants the new chief to evaluate each position in the department to determine which job duties could be handled by civilians.
"I guess I look at it a little bit different," he said. "I've been trying to work with Chief Copley on this. (During a Monday meeting in City Council chambers when aldermen reviewed the city's proposed 2022-23 budget,) he said like eight to 10 years ago, they took a look at what they could do to have civilian people their job, and I said, that's fine. But I think we could take the job duties and responsibilities of the deputy chief of administration and say, 'What do we need to have a uniformed officer do? And what can we have a civilian or a non-uniformed person do?' I'd like to do that with all of the job duties.
"If we can hire civilians to do a job, they're going to be less expensive than what we're paying a uniformed officer to do the job. The pension will be a fraction of going with an IMRF benefit versus the police pension. Chief Copley, hey, look, he's been (the police chief) 17, 18 years, and says, 'I've done that already.' OK, you didn't want to do it again.
"To me, the new chief is going to have to do that."
Finalists will go through two days worth of interviews April 28-29
Copley doesn't disagree with Troup's suggestion.
"That's definitely something that should be looked at," he said. "I would have no concern if I was staying around for a few more years to look at that. You've got to make sure that you're doing things in the most efficient and effective way.
"What a lot of people don't realize the need for a sworn officer in those positions is the institutional knowledge. A civilian, especially one you hire right off the street to start doing that, won't have the institutional knowledge of how the police department works or have the mindset of a sworn officer. I realized that eventually can be overcome, but that's part of the thinking."
The three finalists will take part in a city orientation, a working luncheon and a community forum on April 28. They will have interviews on April 29 with a group of local stakeholders in the morning and the commissioners in the afternoon.
The stakeholder group is composed of Troup, 5th Ward Alderman Mike Rein, 7th Ward Alderman Jack Holtschlag, Angela Caldwell, director of workforce development for the Great River Economic Development Foundation, and Jim Rubottom, vice president of human resources at Knapheide Manufacturing.
Barry Cheyne, one of the three fire and police commissioners, believes the new chief will be hired by May 2.
Cheyne: 'I'm not going to discuss salaries'
The advertised position lists the pay scale between $95,000 and $105,000. Figures from the comptroller's office in City Hall show Copley earned $113,982 for the 2021 fiscal year. Pilkington earned $109,778 last year, and Yates earned $106,972.
However, the base salary for both deputy chiefs was $104,551. Copley's base salary was $108,600. The figures from the comptroller's office also include such things as sick-time buyback and a clothing allowance, which does not count toward an officer's pension.
In theory, Pilkington and Yates already are less than $500 apiece from the top of the advertised pay scale for the new chief.
"(The new chief's salary) has to be negotiated with the right people," Cheyne said. "That's the range we set, and certainly it's open to negotiation. (The commissioners are) one entity that would have an opinion, and we'll just leave it at that. The official job offer, like all city jobs, is made through human resources. This one will be no different."
He said a candidate's current salary will not be taken into consideration when the commissioners — Cheyne, Steve Meckes and Mike McLaughlin — make their choice for the new police chief.
"We don't care how much money they make now or what they've ever made in the past. We're just looking at qualifications," Cheyne said. "I'm not going to discuss salaries. I just won't. It's not in our purview."
If aldermen approve the police department's $15 million proposed budget for 2022-23, Troup doesn't believe going over the advertised pay scale will be a problem.
"If (the budgets) gets approved as presented, which I don't expect that it wouldn't, there's enough money in $15 million to tweak (the chief's salary)," he said. "We've got room to maneuver."
Comparing Similar-Sized Police Department Around Illinois
| | | | | |
| --- | --- | --- | --- | --- |
| City | Sworn officers | Chief salary | Deputy chiefs | Deputy chief salaries |
| Carbondale (pop. 25,597) | 60 | $112,424 | 1 | $93,035 |
| Alton (pop. 26,640) | 62 | $114,563 | 1 | $107,509 |
| Galesburg (pop. 30,689) | 51 | $124,776 | 1 | $109,228 |
| Danville (pop. 31,246) | 70 | $130,050 | 2 | $102,766 |
| Pekin (pop. 32,846) | 55 | $125,887 | 2 | $115,757 |
| Quincy (pop. 39,463) | 73 | $108,600 | 2 | $104,551 |
| Belleville (pop. 41,585) | 75 | $133,182 | 1 | $127,129 |
| Urbana (pop. 42,718) | 59 | $138,003 | 1 | $119,993 |
| DeKalb (pop. 42,908) | 65 | $153,750 | 1 | $135,300 |
| Normal (pop. 54,891) | 84 | $161,440 | 2 | $130,650 |
Miss Clipping Out Stories to Save for Later?
Click the Purchase Story button below to order a print of this story. We will print it for you on matte photo paper to keep forever.