Trump rally comparable to rock concert: 'Just the excitement alone is amazing'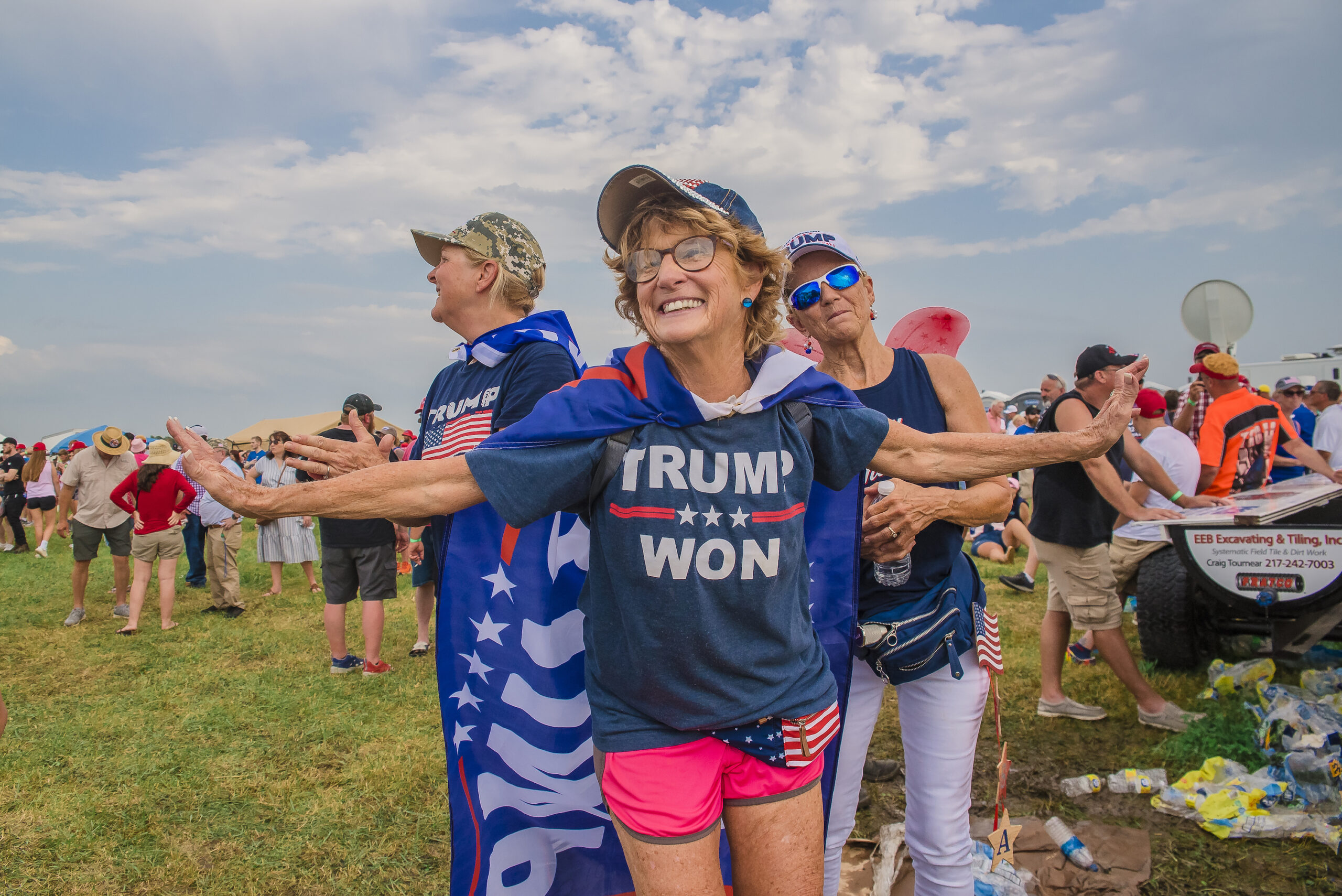 MENDON, Ill. — Mike Teel looked around the Adams County Fairgrounds where the "Save America!" political rally, featuring former president Donald Trump, was unfolding Saturday.
"This is history," Teel said of the event, which had the feel of an outdoor concert with Trump as the headline attraction.
For much of the morning and afternoon, music was blaring, most of it with a rock overtone. Some groups of people were cheering. Others were chanting. Still others were singing patriotic hymns.
Teel attended the rally with fellow Camp Point resident Melanie Duncan. Both likened the thousands in attendance to "proud Americans" who were part of a new "silent majority."
"But silent for how much longer?" Duncan asked. "It's time for the silent majority to become vocal."
A bountiful supply of vendors were peddling all sorts of Trump and patriotic T-shirts, hats and other items. Attendees started arriving well before dawn, and license plates in the parking lots were from at least 23 states.
With offerings like Kid Rock's southern anthem "All Summer Long" providing the backdrop, some of the most notable pro-Trump T-shirts spotted were "Jesus is My Savior, Trump Is My President," "Trump 2024: Save America Again" and "We The People … Are Pissed Off."
Phil Argus traveled from Collinsville to attend the rally. He's a proud member of Trump's emotional fan base.
"Being here is a no-brainer," Argus said. "I love the man. He changed history, our history."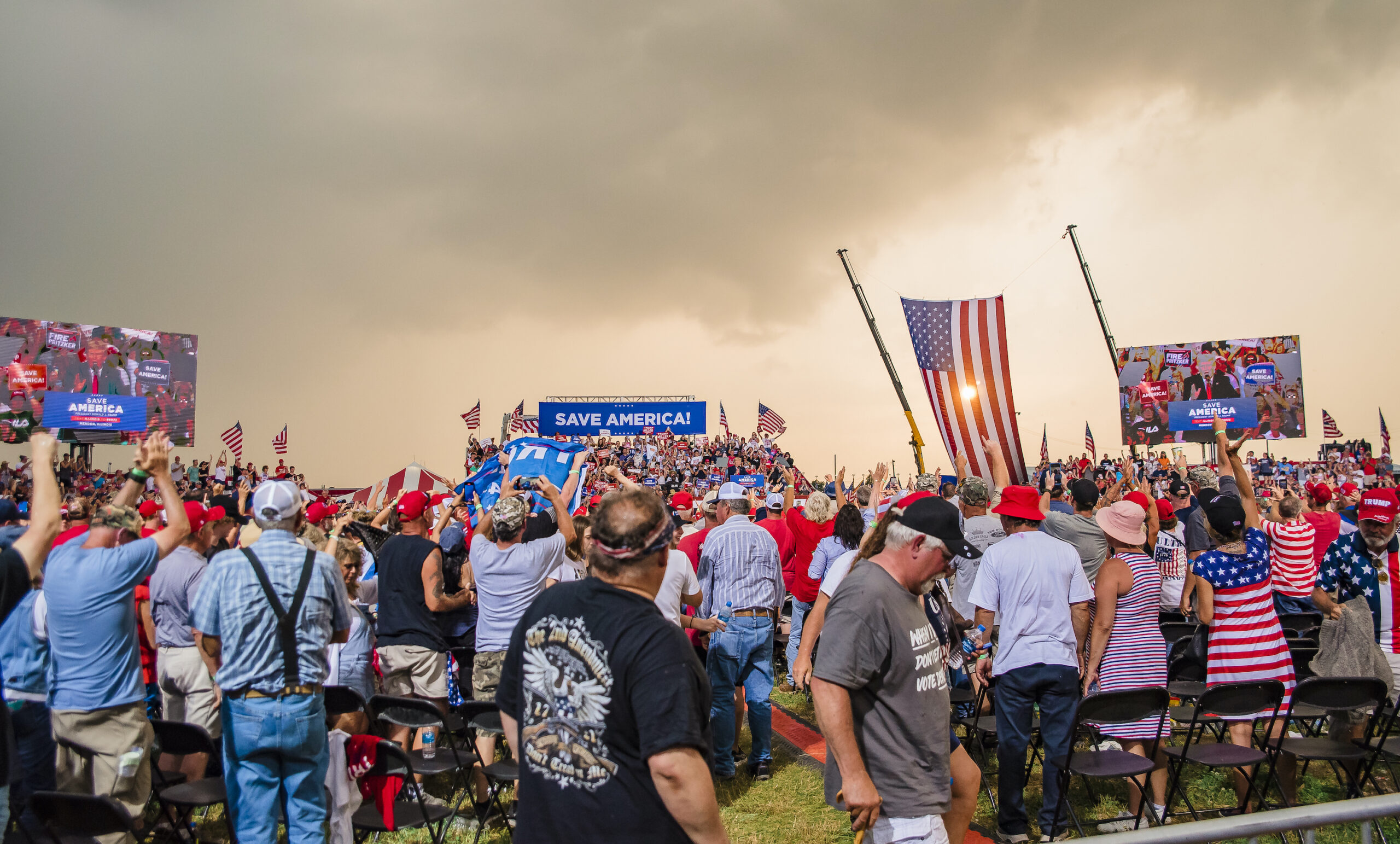 Cory Strubinger of Arnold, Mo., also made the trip because of Trump.
"He's still our president — no doubt," Strubinger said.
Christi Rose of Springfield, Ill., echoed those same thoughts.
"I'm here because of Trump," she said. "Just the excitement alone is amazing."
Tammy Hale of Hull, was not shy about sharing — or expressing — her views.
"I remember when gas was $1.80 a gallon and life was good," Hale said. "Trump's my man."
Michael Gully, president of Gully Trucking in Quincy, was in attendance, complete with a pro-Trump T-shirt and cap. Gully said he "has never seen the country in such a mess" as it is currently, blaming the inflation, high gas prices, etc., on President Joe Biden. Gully said his company's fuel costs have tripled over the last 18 months.
Add Chris Krueger of Jerseyville to the list of Trump supporters. He said a rally of this size and nature makes one point clear.
"People are starting to stand up for what they believe in," Krueger said.
Not everyone in the region was caught up in Saturday's Trumpfest.
Sara Nutt's family owns farmland close to the Adams County Fairgrounds. She did not attend the rally, but was well aware of the event.
"There has been a lot of excitement about this," said Nutt, who lives just south of nearby Mendon.
"I wasn't even aware (Trump) was coming until (Thursday)," said Kim Cookson, an associate at the Casey's General Store In Mendon.
Cookson, who also lives in Mendon, and store manager Jessie Tzeneuraks of Warsaw were on duty at about 5 a.m. Saturday in anticipation of a crush of early morning customers linked to the rally. Tzeneuraks said the store was busier than usual, but nothing the staff could not handle.
Corey Gansz of Mendon also opted not to attend the rally. He said he realized there would be a large crowd but did not consider himself overly political.
"I know a lot of people were excited about it, but … ," he said.
Andrew Fought of Macomb is not a Trump backer, but he wanted to take in the overall experience.
"I'm here to see Trump, but I don't support him," Fought said. "All of this support for Trump is kind of funny."
Hudson Garbett of Good Hope wore a Trump cap and was wrapped in a Trump flag.
"I think (Trump) will be our president again," Garbett said. "He's a good guy. He's so popular."
Some of those in attendance were amazed at the overall spectacle.
"I think people are just thrilled to be here," said Matt Harris of Liberty.
"It's important there is an event like this in our community," said Mark Morrison, also of Liberty.
Jacob Wollbrink of Quincy may have summed up the day best.
"I'm just blown away by this," he said. "There's a lot of people here."
Miss Clipping Out Stories to Save for Later?
Click the Purchase Story button below to order a print of this story. We will print it for you on matte photo paper to keep forever.