Two Missouri store owners say nationwide fireworks shortage isn't slowing business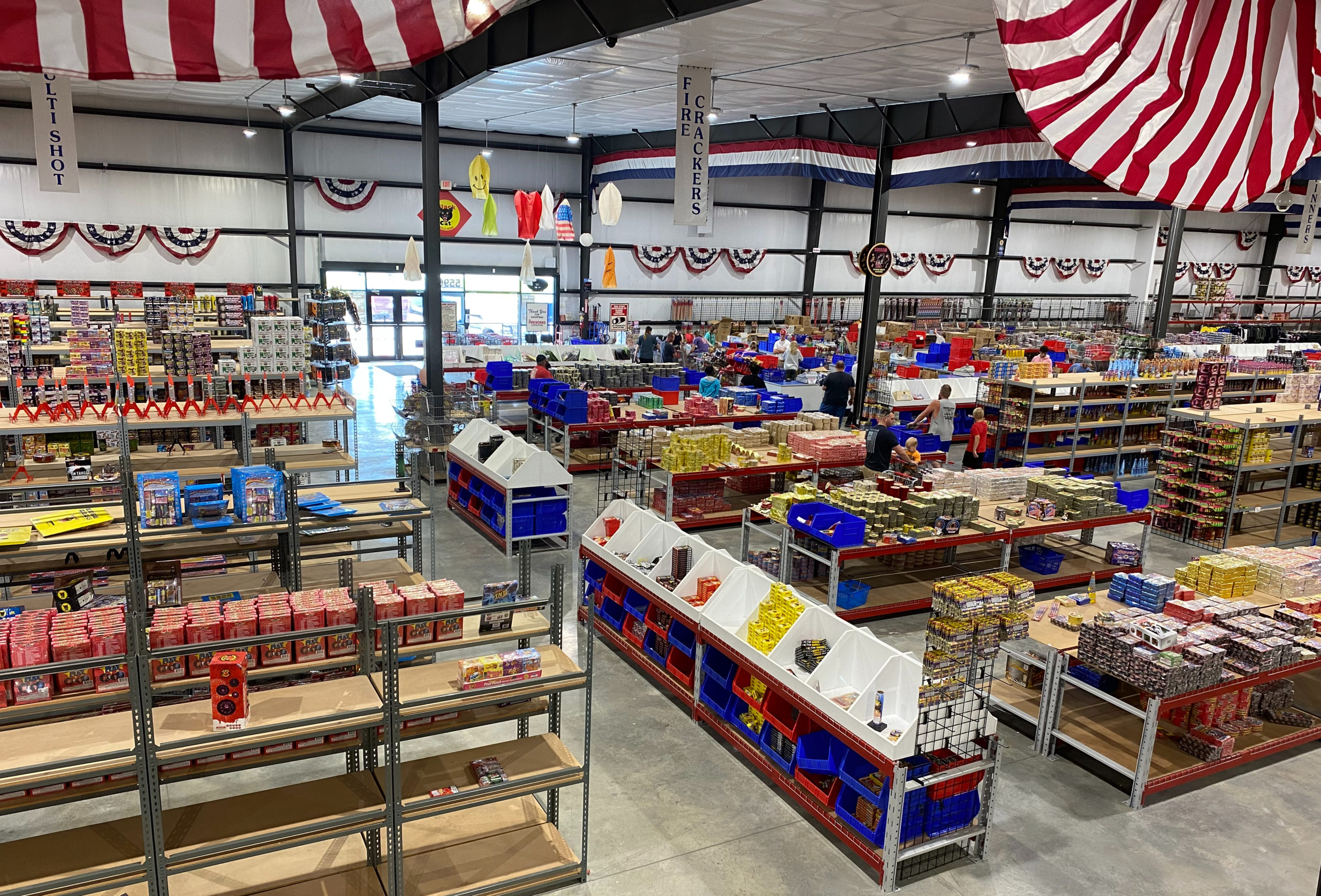 QUINCY — Record-breaking sales in 2020, combined with supply chain problems for getting fireworks out of China this summer, have led to a shortage in fireworks across the United States as the Fourth of July approaches.
However, two businesses in Missouri say they have plenty of fireworks available.
"We're really in pretty good shape," said Tom Marx, owner of the Fireworks Superstore off U.S. 61 just south of Hannibal. "It would take a lot to knock us out of commission."
"I keep inventory all the time." said Dave Smith, owner of Dave's Fireworks Superstore off U.S. 24 in West Quincy, Mo. "A lot of other guys don't do that. They buy with the thinking that they put out everything on the shelf, and when they're sold out, they're sold out. Last year when I was sold out, I just pulled from my inventory."
The U.S. consumer fireworks industry experienced unprecedented sales in 2020, with industry revenues nearly doubling from $1 billion in 2019 to $1.9 billion in 2020, according to a June 28 press release from the American Pyrotechnics Association.
Many fireworks sitting on ships in Pacific Ocean
Those record-breaking sales forced many retailers to exhaust their inventories, and consumer retailers nationwide now are reporting a shortage in inventory because of delays in fireworks manufacturing in China, a shortage of containers in China to load the fireworks on to ocean vessels, limited capacity on ocean vessels to move fireworks and extreme transportation delays with multi-modal shipments.
Marx says delivering a container of fireworks from China to Hannibal used to take 30 days. Today, it's now between 90 and 120 days.
"In my opinion, the ocean freight companies are extortionists," Marx said. "Last year, we paid $11,000 to get a container from China to my back door. Four months ago, it went to $16,500. Three months ago, it went to $21,000. Two months ago, it went to 24,000. I'm not sure what it is today. It might be $26,000.
"There's nothing you can do about it. There's nothing we can do about it. Fireworks are a hazmat type material, so they seem to want to charge more for that risk, compared to a container with a load of paper towels. Freight has gone crazy. Once they start to get that kind of money, and us guys here in the U.S. are paying it, it's going to be hard for them to give it up."
Julie L. Heckman, executive director of the APA, said approximately 30 percent of the consumer fireworks needed for this Independence Day either didn't make it out of China, are sitting on ocean vessels in the Pacific Ocean or they have been sitting at West Coast ports of Los Angeles and Long Beach for two to three months, waiting to be transported by rail.
Marx says other fireworks companies have 400 containers of fireworks sitting on a ship in the ocean, waiting to be unloaded.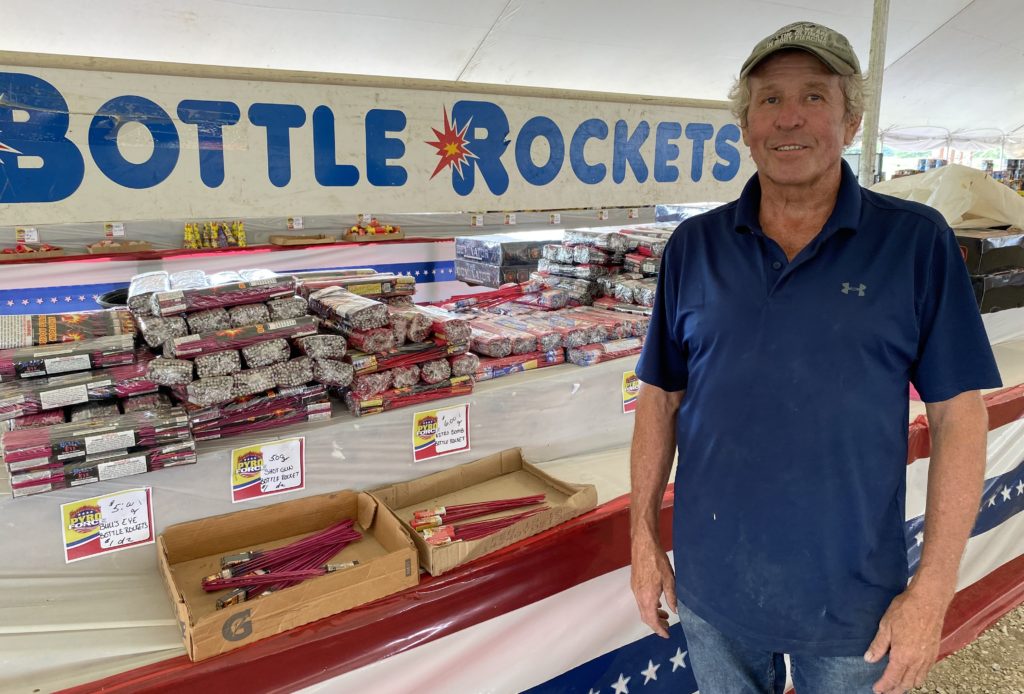 Many stores have had to raise prices 30 percent
"Consumer fireworks, like many household consumer products, are caught in the global supply chain disruption resulting from the pandemic," Heckman said in the release. "Many fireworks importers have reported that the transportation costs associated with importing a container of product has more than doubled. As such, fireworks retailers can't absorb that significant increase on their own, so consumers can expect a little less bang for the buck when purchasing fireworks for their backyard celebrations."
Smith, who has been in the fireworks business for 40 years, says he owns 50 fireworks tent stands across the Midwest. He says finding fireworks hasn't been difficult but absorbing the price increase has.
"The biggest thing is the prices are higher," he said. "Whether it's pandemic politics or whatever it is, it's about 30 percent higher. The people who do this for a couple of weeks each year, they're all having a tougher time because they don't have the product and they don't have a backup. When they do get (the product), it's more expensive."
Marx has been in the fireworks business for 57 years. The Fireworks Superstore building had 30,000 square feet when it was built 14 years ago. Five additions later, the store now has 125,000 square feet. The extra room allowed Marx to have plenty of inventory on hand for last year's remarkable increase in sales.
"We didn't go in and raise our prices to the 2021 price increases. Our customers aren't going to notice that at my store," he said. "There are definitely going to be people who notice it outside of my store.
"For example, an item that we sold last year for maybe $30, maybe the competition outside of our store sold it for $60 to $75. This year, it's going to be $75 to $100 or more. There's just going to be insane prices, and customers are going to see it all these stores all across the U.S. It's going to be a price shock for some of these people."
Weather makes fireworks sales a gamble
Marx says many fireworks retailers in the Midwest visit his store to buy supplies so they have something to sell. He believes the biggest problem at his store is finding enough employees to keep the shelves stocked.
"Some of our shelves were empty a few times last year during the pandemic, but I think everybody was still walking out with a good order," he said.
Smith says the weather and the small window of sales opportunities for fireworks makes it a risky business.
"It's a gamble," he said. "No one cares if it's rainy. No one cares when I lost two big tents a couple of years ago because of storms with 90 miles per hour winds. This isn't an easy business, but so far, business has been alright this summer."
Miss Clipping Out Stories to Save for Later?
Click the Purchase Story button below to order a print of this story. We will print it for you on matte photo paper to keep forever.