Tyler, Wiemelt tabbed as deputy chiefs for Quincy Police Department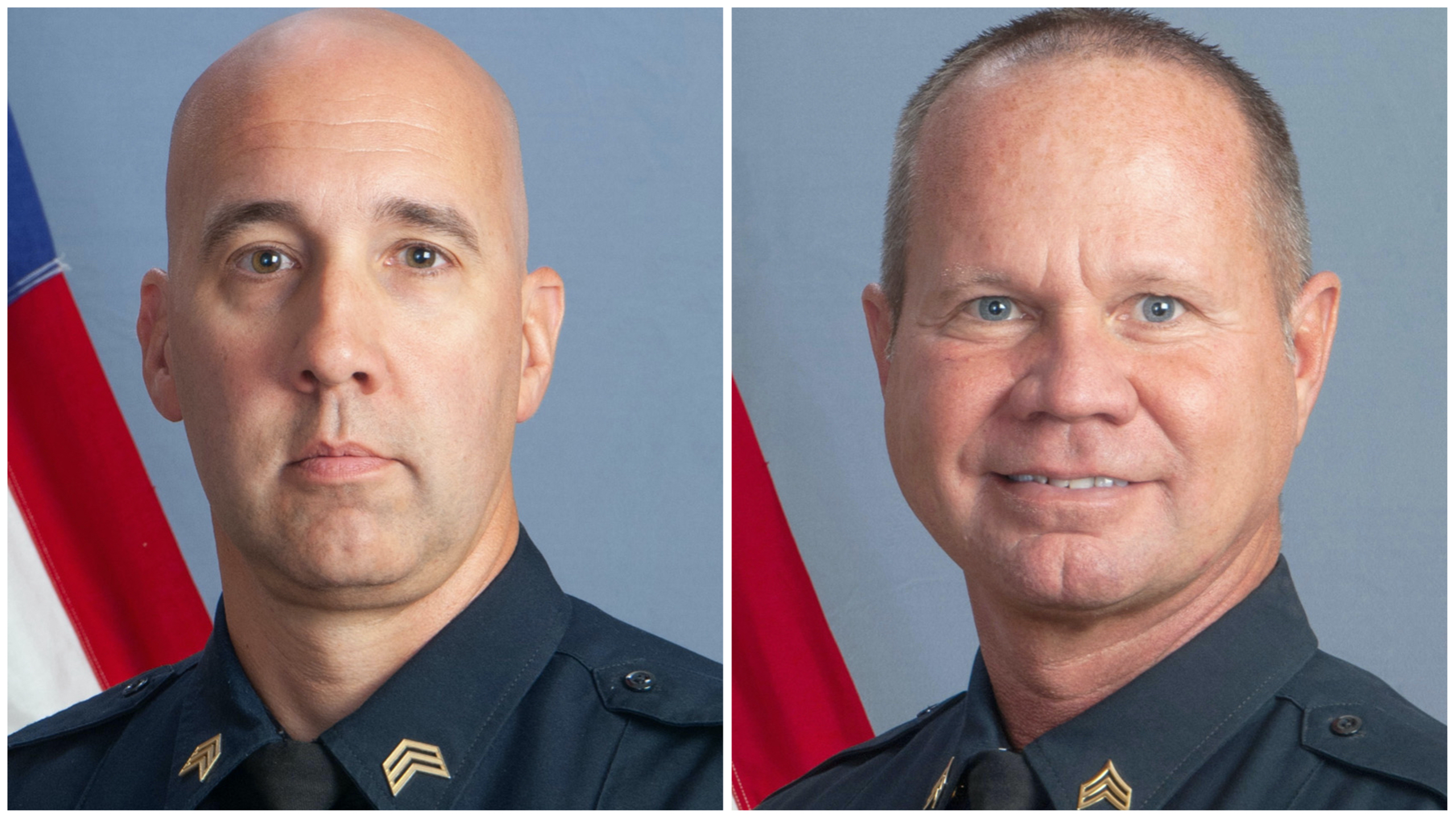 QUINCY — Raymond "Mike" Tyler is the deputy chief of operations for the Quincy Police Department, and Travis Wiemelt is deputy chief of administration. Adam Yates, chief of the Quincy Police Department, announced the appointments Friday morning in an email sent to local media. 
Both deputy chiefs were appointed by Yates and approved Tuesday by the Board of Fire and Police Commissioners on Tuesday. The appointments became effective that day. A formal introduction and swearing-in ceremony is planned for Monday's City Council meeting. 
Quincy Mayor Mike Troup said in April he wanted to talk with the city's new police chief about the possible elimination of the one of the department's deputy chiefs. Yates was hired in June, and after researching a possible restructuring of the department, he was given the OK by Troup to keep the two positions.
"After talking with the mayor, I started doing an in-depth analysis of our department internally and the job descriptions of both deputy chief positions, as well as extensive research into 12 like-sized police departments in central Illinois," Yates said. "I spoke with the mayor a couple of weeks ago on the phone. He agreed we can move forward with filling two deputy chief positions."
Tyler has spent 22 years with QPD
Tyler is a 22-year veteran of the Quincy Police Department, having spent most of his career working in the patrol division. He was a seven-year member of the street crimes unit and served as a canine officer for eight years. He was promoted to patrol sergeant on Sept. 1, 2021.
Tyler is a field training officer, firearms instructor, firearms program coordinator and canine coordinator. He is member of the Emergency Response Team for 17 years and a past union president. Tyler graduated from Western Illinois University with a bachelor's degree in law enforcement justice administration in May 2000.
Tyler and his wife, Jennifer, have been married for 18 years. They have two children.
"Mike and I worked on patrol together years ago for a number of consecutive years," Yates said. "He and I had a very good working relationship. If I had a difficult decision to make, or I had to try to get a different perspective on an issue that we were dealing with, I would very often call my Tyler into the office and explain the situation to him. He would always give me a very direct, very upfront, very honest assessment of the situation and his thoughts on the right path to go for us to be successful. I always respected that. 
"He's the type of individual who is not going to sugarcoat anything. He is going to tell me like it is. He will give me his honest opinion, and I respect that about him."
Wiemelt has spent 20 years with QPD
Wiemelt is a 20-year veteran of the Quincy Police Department. He served two years with the Lewis County (Mo.) Sheriff's Department for two years before joining the QPD. He served eight years as a patrol officer and six years as a criminal detective. He was promoted to patrol sergeant in 2016 and was the administrative services sergeant before this appointment. 
Wiemelt is a field training officer, crisis intervention team officer, less lethal instructor, recruiting officer and arson investigator. He also served on the Illinois Law Enforcement Alarm System mobile field force team for seven years. He graduated with a bachelor's degree in education from Culver-Stockton College and earned a master's degree in administration and leadership from Quincy University in 2001. 
Yates and Wiemelt have been at the police department for several years, but they have worked in different areas.
"What is unique about Travis's career is that he's worked patrol. He's also worked in investigations for a number of years," Yates said. "Travis always has been a very technical, very level-headed type of officer who always makes good decisions. When Travis took over as the administrative services sergeant in 2019 when I was appointed Deputy Chief, he took to that position like a fish to water."
Yates interviewed eight internal applicants
Yates said he asked for letters of interest and resumes from internal candidates interested in either deputy chief position. He conducted interviews with eight applicants during the last two weeks.
The deputy chief of administration is the head of the support service side of the police department, such as civilian employees, animal control or anything not directly related to operational control work for the police pepartment. This person also oversees the department's body camera program, makes sure the vehicles are running and assists with the technology utilized in computers in the police cars. 
The deputy chief of operations is responsible for the police work that goes on. This person is the primary internal affairs investigator for the department.
Shannon Pilkington, who has served as either deputy chief of operations or deputy chief of administration since August 2015, will fill in the administrative services position previously held by Wiemelt. He then will take over as a patrol lieutenant in January.
"I felt that we needed to have change within the police department," Yates said. "That was a very difficult decision for me. I needed to bring in some different ideas, some new perspective. I felt Shannon could better serve the department as a patrol lieutenant."
Number of employees supervised by each chief to change
Yates said he was reorganizing the duties of the deputy chiefs as well. The deputy chief of operations is going to be strictly responsible for the patrol operations. The investigative section and any specialty positions within the police department are going to be moved under the purview of the deputy chief of administration.
Yates said the move balances the personnel numbers for the two chiefs. The deputy chief of operations will supervise roughly 45 employees. The deputy chief of administration will supervise 30 to 35 employees. 
"It gives the deputy chief of operations more time to focus on the day-to-day police work and allows the deputy chief of administration to act more in a support role for everything that goes on in the patrol side of the department," Yates said.
Miss Clipping Out Stories to Save for Later?
Click the Purchase Story button below to order a print of this story. We will print it for you on matte photo paper to keep forever.