Undeterred by Illinois Supreme Court ruling, 'Stand With Cammy' organizers hold second protest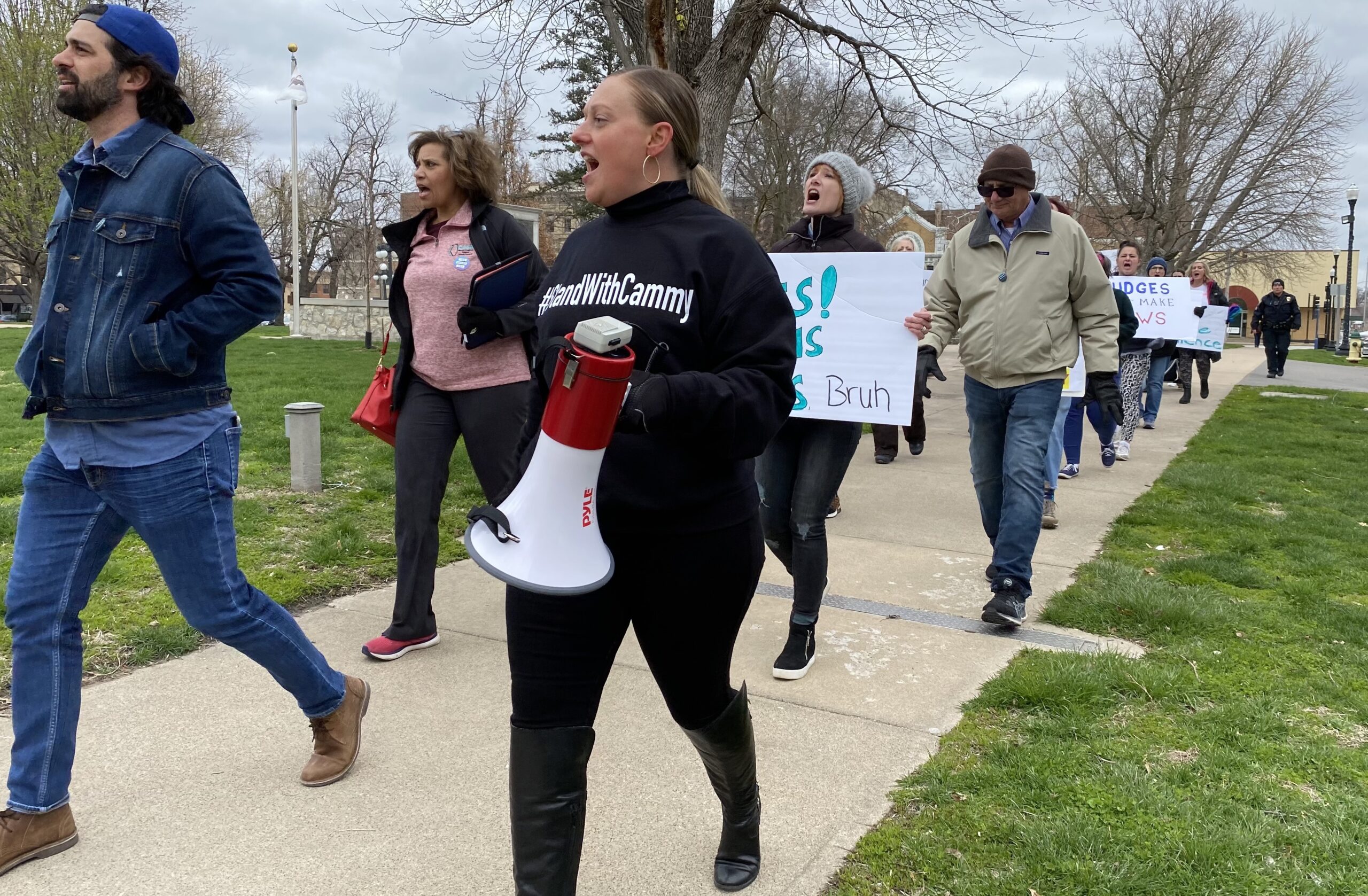 QUINCY — The Illinois Supreme Court's recent decision to reject the re-sentencing of a local criminal sexual assault case hasn't deterred a local grassroots organization.
"Stand With Cammy" held a peaceful protest during the noon hour Thursday in downtown Quincy in support of Cameron Vaughan. The Quincy teenager spoke out against Drew Clinton, who was found guilty of criminal sexual assault in October, then saw his conviction overturned in January by Adams County Circuit Court Judge Robert Adrian.
About 50 participants started the rally in Washington Park, walking to the Adams County Courthouse and returning to the park. They carried signs and chanted "Stand With Cammy," "Rapists Go to Jail" and "No Faith in Adrian."
A similar protest was held Feb. 12 as participants walked around Washington Park.
Illinois Attorney General Kwame Raoul filed a mandamus complaint and a motion for supervisory order on Feb. 10. He asked the Illinois Supreme Court to direct Adrian to sentence Clinton "in accordance with state law."
However, on March 3, the Illinois Supreme Court rejected the re-sentencing. Justices said the double jeopardy clause prohibits further prosecution "even where an acquittal is based on an egregiously erroneous foundation."
A request by Clinton for expungement was held Wednesday in Adams County Circuit Court. A motion hearing is set for Aug. 4. A first-time offender of a prior criminal conviction can ask for records of that earlier process be expunged (sealed or destroyed), making the records nonexistent or unavailable to the general public.
"(The Supreme Court ruling) was disappointing, and we don't approve of the expungement," Megan Duesterhaus-AuBuchon, executive director of the Quincy Area Network Against Domestic Abuse (QUANADA), said after Thursday's protest. "We don't approve the fact that Adrian is still on the bench and hasn't resigned.
"It's important that the community and the people involved realize that (the protest in) January was not a one-off. We're going keep showing up, keep being loud and keep being as annoying as possible until we feel like we're being listened to."
Participating in the protest was Carrie Ward, chief executive officer of the Springfield-based Illinois Coalition Against Sexual Assault. She was invited to attend by members of the "Stand With Cammy" group.
"They wanted to affirm there was a broader support for Cammy beyond the Quincy area community," Ward said. "Their intent is to provide every necessary step they can to get justice for Cammy. That might be not retaining Adrian (as a judge) or trying to pursue some type of penalty or sanction. Their effort is to try to make sure this kind of injustice can't happen again."
Ward said her impression of the group's organizers was that they were "extremely motivated," even after the Supreme Court ruling.
"They are outraged by what happened, considering there is a mandatory minimum (four-year) sentence for the conviction," she said. "The judge veered away from that and reversed his own verdict. That seems like it was an effort to avoid what was intended in law as a penalty for sexual assault. (The protest group doesn't) want to see that ever happen again.
"I admire the efforts of the committee to say, you know, maybe we're at a roadblock right now. That doesn't have to be the end of the rope."
Duesterhaus said she believes people in Quincy are listening to the group's plea.
"I'm concerned that if nothing changes in this case, and the defendant is just allowed to continue to go free, that means any other judge in Illinois can pretty much do the same thing and usurp the legislature's authority by not following minimum sentencing," she said. "That puts us in a very dangerous position for survivors (of sexual assault).
"It's not an option to just say, 'Oh, well. We tried.' Something has to happen, whether that be through Adrian resigning or the judicial inquiry board issuing some kind of sanctions or we get the legislature to pass some new, stricter laws on what judges can or cannot do. But what's happening right now just can't continue."
Vaughan, who turned 17 last week, and her father, Scott Vaughan, were expected to attend the protest but could not because of a family emergency.
Miss Clipping Out Stories to Save for Later?
Click the Purchase Story button below to order a print of this story. We will print it for you on matte photo paper to keep forever.