'We heard someone screaming 'Help!": Quincy Police investigates call of shots fired on Jefferson between 11th, 12th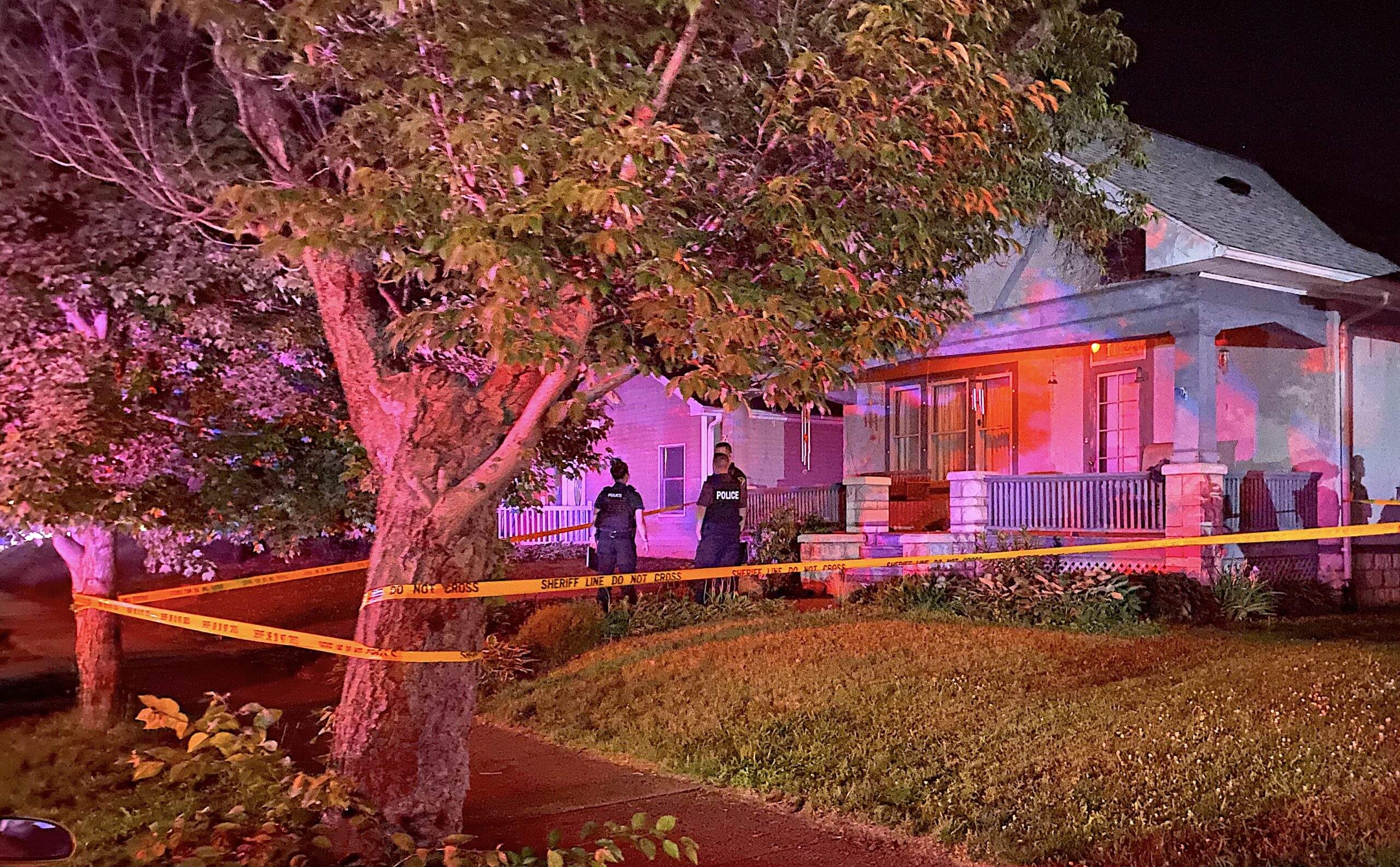 QUINCY — The Quincy Police Department responded Wednesday night to a call of shots fired on Jefferson Street between 11th and 12th Street moments after an alleged altercation in the LaGondola Spaghetti House parking lot.
Sgt. Nick Hiland said officers responded to a call around 10:15 p.m. Upon arrival, officers found a shooting victim at 1110 Jefferson. She was subsequently transported to Blessing Hospital for medical treatment before being taken to a Springfield hospital via AirEvac.
Tomeka Reinberg, who lives three houses west of 1110 Jefferson, said she was inside her home with her dog, Kellz, watching television with her fiance when she heard three "pops" outside.
"Once I heard the shots, I had my dog and just dropped to the ground," Reinberg said. "It was out of human instinct. Now, it feels ridiculous. You heard it, and it sounds like it was right outside your door. I just started screaming, 'Someone was shot!'
"We heard someone screaming 'Help!' So, human nature, literally all of (the people in) these four houses, everybody ran outside. With it being so dark, we can't see. We all had our flashlights to help them."
Reinberg said she made it to a tree in front of 1110 Jefferson and saw a woman on the ground. She believed the woman was sitting outside her home on a swing with another man before she was shot.
"I was shaking her to keep her awake," she said. "All I know is that she was shot twice. Everybody was putting towels on her, and everything was lit up, because blood was everywhere. … Everybody was just screaming, and then everybody was just putting towels on her and just trying to help her and keep her awake. We just kept telling her to breathe, breathe."
She said officers arrived quickly.
The police cordoned off the home at 1110 Jefferson and the south parking lot at LaGondola Spaghetti House with police tape.
Asked about what happened at LaGondola, Hiland said, "That's what we're trying to piece together. It's too early to say if there's two different (crime) scenes. Right now, just for the purposes of preserving evidence, we have obviously this location taped off, and you guys can see that we have that (LaGondola) location taped off as well. We're just trying to figure out what transpired here tonight."
After the police arrived to attend to the woman who was shot, Reinberg said a neighbor told her about the altercation at LaGondola.
"Apparently a car just drove off," she said. "When they drove off they went (west) down Jefferson, and then that's when the shots were fired."
Hiland said he expected the investigation to continue long into the night.
"We could be here for several hours processing," he said. "We're looking for any physical evidence that we can find. We're looking for any electronic evidence that we find. Even if the public thinks something is minor, it's not a big deal to us. Always give us a call. Let us try to come out and talk with them and then decide on whether or not it's relevant or not.
"Security footage is always huge for us, especially helping us figure out what's going on. (Officers will be) interviewing as many people as we can to to figure out what happened."
Reinberg was scared to go to bed Wednesday night.
"We lived on Second and Chestnut, and we moved from that neighborhood for my kids to have a better living environment," she said. "Nothing happens over here. For this to happen here. I'm scared. That could have been any of us. I mean, they're on a porch. The lamp on my porch is right there, and that could have been me.
"I'm scared. Shaken. I want to throw up. I just can't believe this happens in this neighborhood. I've never seen anyone get pulled over in this neighborhood. There are so many kids who live in every house. It could have been a kid. I pray for this lady that she'll be OK, and that justice will be served."
Miss Clipping Out Stories to Save for Later?
Click the Purchase Story button below to order a print of this story. We will print it for you on matte photo paper to keep forever.