'We're at the very beginning': City officials looking at feasibility of creating youth sports facility to address lack of gym space, increase tourism
QUINCY — The profitability and popularity of youth sporting events in Quincy has prompted city officials to begin looking at the possibility of expanding the Oakley-Lindsay Center or building a nearby facility.
Quincy Mayor Mike Troup and Chuck Bevelheimer, director of planning and development, have recently met with representatives with the Quincy Park District, the Kroc Center, the Quincy Racquet Club, the YMCA, Quincy University and John Wood Community College to learn about the demand in their facilities and how it affects the programming in their membership base.
Troup wants a facility between 60,000 and 80,000 square feet with multiple hardwood courts under one roof to be built.
"We're at the very beginning," Troup said. "We've talked to different groups, and so far, it's been received extremely well. It's been confirmed by a lot of people who have athletic facilities that there's absolutely a need in our community for more gym space. Now, we have to figure out how large and what sports.
"We've got to start diving into the attention to details. We need to see who really wants to take the lead on this. Nobody's hired any architects to design anything. We really need further study."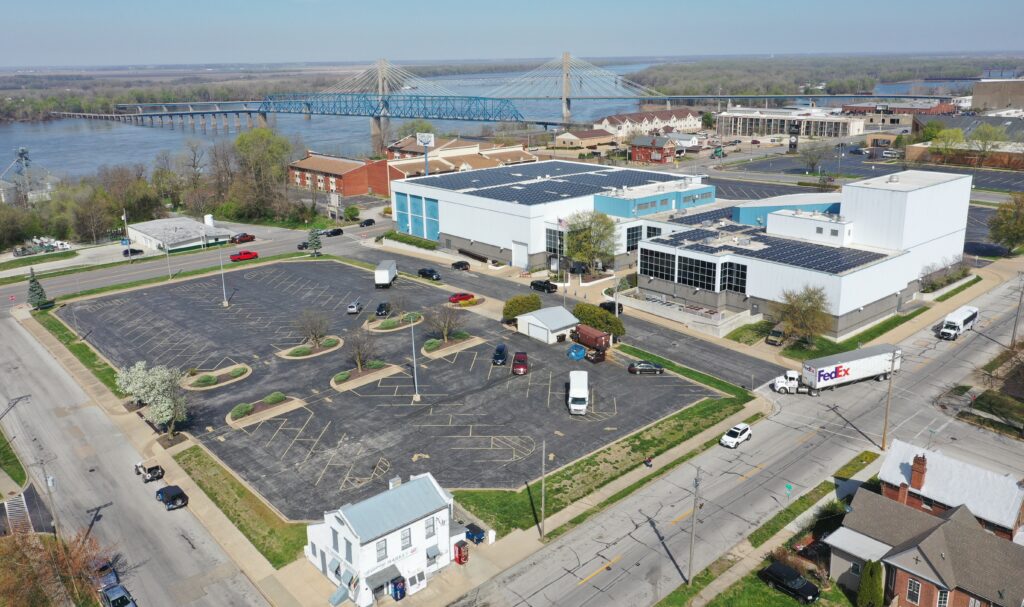 Hoops Midwest couldn't find enough gym space
Bevelheimer said the conversation about the expansion of youth sports programming started during the Hoops Midwest basketball tournaments this winter. Games were played at Quincy University's Health and Fitness Center, but the number of teams was limited to 40.
"They couldn't expand their programming or their event because of gym space," Bevelheimer said. "We're just trying to figure out where the bottleneck is in the programming of gym space."
That lack of space frustrated Holly Cain, executive director of the Quincy Area Convention & Visitors Bureau. She and Chris Landwehr, executive director of the Oakley-Lindsay Center, recently met with Bevelheimer and Troup.
"We were kind of tossing things around because I had griped at city council meetings," she said. "I'm just being honest here. Hoops Midwest, a brand new tournament for us, stopped taking teams because they couldn't find gym space. I looked for six, seven months to find a gym for them. There's a real need.
"With K&L Arena being sold, we lost indoor soccer. We know the impact and the power of sports. We've all had kids and traveling sports, and you know what we spend when we travel out of town. (A new facility) would be fantastic for Quincy. Teams are even looking just to have practice facilities."
Cain said the large annual sporting events in Quincy — Hoops Midwest, Q-Town travelling baseball tournaments, the Pepsi Little People's Golf Championships, Fishing for Freedom, the Quincy Shootout and the Illinois State Billiards Tournament — generate about $4.8 million annually, based on each person making an overnight visit in Quincy spending $240 per night.
"The sports traveler spends the most money. They're bringing Grandma, Grandpa, brother and sister," Cain said. "They definitely have a bigger impact then your business or leisure traveler or any other sector of the tourism market."
Burlington building sports complex; Springfield has plans in place for complex
Troup hopes the city can attract even more of those sports tourism dollars.
Other Midwest cities have the same idea.
The Springfield State Journal-Register reported last week plans for the 95-acre Scheels Sports Complex at Legacy Pointe will go before the Springfield City Council this week. The complex just off MacArthur Boulevard near Interstate 72 will include a 150,000-square-foot air structure billed as the biggest sports dome in the world. It will house six full basketball courts and an artificial turf field convertible from a full soccer field to two youth baseball fields.
The complex is expected to host 60- to 100-team tournaments on weekends, generating approximately 250,000 new visitors along with about $30 million annually in new spending, local tourism officials have indicated. The facility is projected to open in 2025.
Ground was broken last June on the FunCity courts complex, a 26,000-square-foot facility in the east parking lot of the FunCity Resort Hotel in Burlington, Iowa. The Burlington Hawk-Eye reported last month the basic shell of the building is complete, and the inner workings are what remain to be finished this fall.
The building will house three collegiate-sized basketball courts that allow for up to six volleyball courts. There also will be a 10,000-square-foot multi-use area that could be used for pickleball courts, wrestling and other activities. The facility is designed to host a wide range of tournaments.
Troup suggests facility to be added on to or built near OLC
Troup has the same vision.
"When the baseball and softball tournaments are at the Park District fields, they start in April and go through June," the mayor said. "Every weekend, the hotels are filled. You've got the Firecracker Classic swim meet, and that takes up every hotel room in Quincy and half of Hannibal's for the week.
"When we talked to the hotel operators over a year ago, they said if you really want to help tourism and fill hotel rooms, we need a sporting complex to have tournaments."
How the facility will be paid for and who will eventually oversee it have not been determined. The Oakley-Lindsay Center certainly will be part of the initial discussions.
"(The OLC does) a great job of bringing in events," Troup said. "When they had the billiards convention, they talked about needing to expand their facility. If they're going to expand it, should we do that as a sports facility so we could put some tournaments on year-round?"
"When you think about the logical cost of operating the facility, it seems like from our perspective — again, this is just an opinion —that adding on to the OLC makes the most logical sense," Bevelheimer said. "You already have existing parking lots already around."
Troup also said the facility also could be in a separate location — but not far from the OLC.
"The more you would separate the buildings, the more challenging it becomes to even have an even bigger event that could use the entire square feet," he said. "Those are all the details that you know, really need to be thought out."
Troup says Park District doesn't want to be involved
Rome Frericks, executive director of the Quincy Park District, told the Park Board at its April meeting last week about his recent meeting with Troup and Bevelheimer. He said he expected to meet with them again "in a couple of weeks."
Commissioner Patty McGlothlin asked, "So they wanted the Park District to see if they were interested in running it?"
"Run it, build it and all that," Frericks replied, who said the conversation lasted 10 minutes.
After the meeting, Frericks told reporters, "They want someone to run it with full-time staff, full-time janitors, scheduling and all that. We don't have the manpower here."
He later said, "I told them I'd be interested in meeting with other individuals to listen."
Troup said he didn't believe the Park District "wants anything to do with a facility like that."
"They like their outside activities, and with a little more than 1,000 acres to maintain, Rome indicated they're fine with what they have. They don't want to take this over," the mayor said. "The best fit that I've been able to see so far is if the Oakley-Lindsay Center wants to take this on as part of their expansion. It's not only expanding the facility, but it also expands the type of events that they can actually hold."
Bevelheimer: How do you finance anything of this nature?
Troup says he is considering creating a committee to have discussions about how to move forward.
"We're not trying to compete with any other private group," he said. "It's clear in the conversations we've had so far that no one's seen this as a competitive project. Now it's a matter of, OK, how do we pay for it? What size is it? We just need to get to the attention of all those details."
Bevelheimer says a methodical discussion is needed before further steps are taken.
"I don't want to jump ahead," he said. "Obviously, funding is a critical element here. How do you finance something of this nature? What does that package look like?
"We have determined there is definitely a need for court space in this town. So how do you develop that? We're not even close to the answer to that question."
Miss Clipping Out Stories to Save for Later?
Click the Purchase Story button below to order a print of this story. We will print it for you on matte photo paper to keep forever.