'Why should a mother have to fight for a dead child?' Quincy woman asks for memorial to stay at 30th and Maine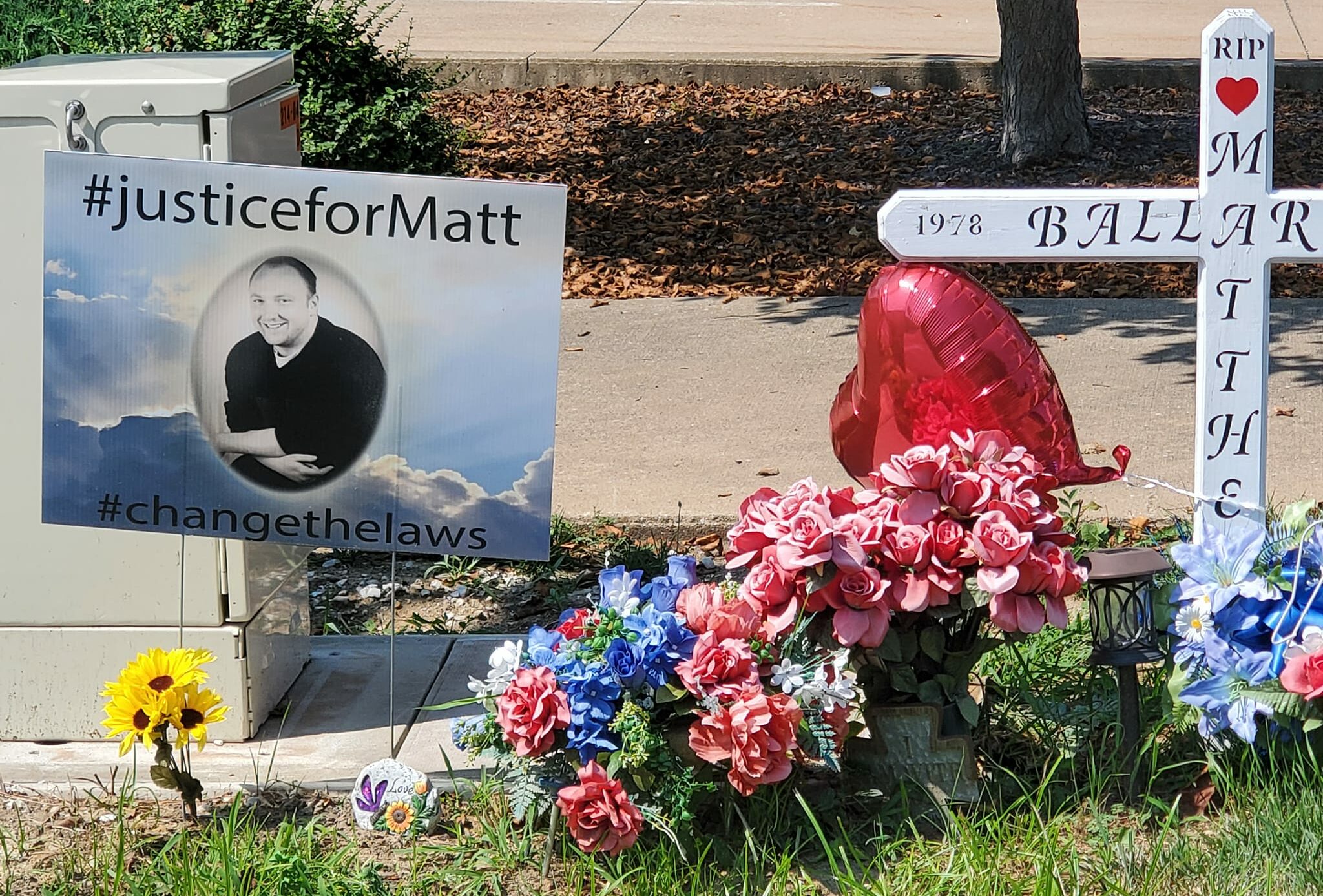 QUINCY — Stacie Sparks says she's received "hundreds" of compliments from Quincy Cleaners customers when she visits the memorial she created two years ago for her son, who died in a car accident at the northeast corner of 30th and Maine.
"Every time I'm out there changing it, somebody stops me and says it's beautiful," Sparks said. "Everybody just loves it, you know? They're all kind and sweet."
However, Sparks tearfully spoke to aldermen at Monday night's Quincy City Council meeting. She said she learned Friday that Ted Awerkamp, owner of Quincy Cleaners at 3001 Maine, had complained about the memorial, and city crews had removed everything from the site.
Awerkamp said in a Tuesday morning interview he sent an email on April 12 to Third Ward aldermen Kelly Mays and Brianna Rivera asking what the city code is for memorials.
"Mays responded and said (the memorial) is in the city right-of-way, and she would speak to the city engineering department," Awerkamp said. "That's all I did. I sent an email. That's the only communication I had with the city. The city code was not explained to me. I still don't know what it is.
"Twenty-four hours or so later, a city truck pulls in, a guy picks all this stuff up and leaves. The next thing I know, it's pitched in the media that I complained."
Sparks hoped to get an answer about what ordinance allowed for her memorial to be removed. She may get an answer as how to put the memorial back in its place at next week's City Council meeting.
Chuck Bevelheimer, director of planning and development, said the city dedicates the area between the street curb and the city sidewalk for traffic control signage and devices.
"Don't place items that can confuse distract motorists," he said after the meeting. "You don't want a distraction for someone going through a busy intersection and (see) items that aren't related to traffic control."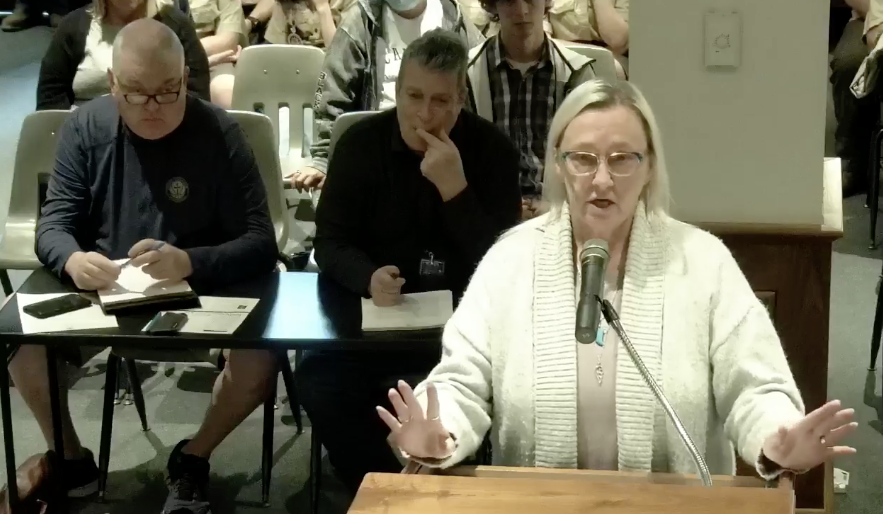 Sparks asked aldermen to consider changing the ordinance.
"I understand that … garage sale signs stay up for months, and it gets out of hand, especially in the summertime with signs," she said. "But for the 11 families I know of who have memorials around town, we're not out to hurt anybody. We're not abusing anybody, and we're definitely not vandalizing anything. We're just putting up memorials for our children. I would think the city would be kind enough to add an ordinance or make an exception to this rule. There's nothing offensive on it. It's just a memorial for our children or our loved ones we lost."
Quincy Mayor Mike Troup suggested Sparks work with Bevelheimer, but she said, "I'm not getting nowhere there." Troup then suggested she talk to her aldermen.
One of them, Mike Farha (R-4), spoke up.
"I'm ready right now to grant permission for you to encumber the right-of-way," he said, getting a second for his motion from Tony Sassen (R-4). Farha later clarified he wanted to allow Sparks to place crosses or photos of her son at the intersection.
(EDITOR'S NOTE: Farha is a 4th Ward alderman, along with Sassen. The border between the 3rd Ward and 4th Ward is Maine Street, and Sparks' memorial is on the northeast corner of the intersection of 30th and Maine — placing it in the 3rd Ward.)
After Sparks tearfully thanked Farha, Bevelheimer approached the microphone.
"You really should think through this," he said. "You're not establishing any standards."
"Before you get started, wait a minute," Farha said. "The Supreme Court allows signs to be placed in people's yards on a property. This is our property, so we can make an exception if we want to. I don't need any lecture from you."
"You ought to establish a size," Bevelheimer replied. "Where are you going with this?"
"This doesn't have to be that complicated," Farha shot back. "This isn't Chicago. We're not the Congress in the United States. The lady is hurting obviously. Give me a break."
Corporation Counsel Bruce Alford suggested placing the issue on next week's agenda for a vote by the entire council.
After the meeting, Bevelheimer said he wants aldermen to decide what is appropriate.
"What I understand is (Sparks wants) to do something permanently with no standards," he said. "I'm saying let's discuss what the conditions are before we just automatically approve this."
Sparks said she created the memorial shortly after her son, Matthew Ballard, died on March 24, 2021. Harrison Hardimon was fleeing law enforcement while under the influence of amphetamines when the 2014 Ford Fusion he was driving collided with a 2006 BMW driven by Ballard, 42, at 30th and Maine. Ballard died at the scene.
Hardimon eventually received a 10-year sentence in the Illinois Department of Corrections.
Sparks said after the meeting she goes to the site of the crash to "talk to my Matthew."
"In my mind, the cemetery is where his broken body is. (30th and Maine) is where he had his last breath," she said. "A lot of families feel that way when they have these memorials. That's where their loved one died. I don't wear out my welcome out there. It's not like I sit on the curb and hold up traffic. I park in the corner (of the Quincy Cleaners parking lot) and just go clean him up and pull the weeds."
Sparks said she never talked with Awerkamp about the memorial. Instead, she said she asked the employees.
"I said, 'Would you guys have a problem with me putting something up here?' And the girls in there were so nice," Sparks said. "I never in a million years thought they would complain. Well, (an employee) called me today and said, 'It was my boss. He was complaining about it one day in the office, and then the next day, it was gone.' It just sickens me."
"One of my employees did not call her. That did not happen," Awerkamp said. "She called one of my employees. None of my employees said I think it's horrible what he did. That did not happen. … I simply asked a question. I'm a little chapped that I'm being framed as the bad guy.
"Look, (Sparks has) the right to complain and ask for a permanent memorial. I get it. I just want to know: What's the timeframe? Is it a year? Is it two years? Is it five years? Is it in perpetuity? That's the city's call."
Sparks said she will compromise on what the city will allow so the memorial could stay.
"If there was something tacky out there, I would have no complaint," she said. "I'd have no problem being humbled and saying I'm sorry. Why should a mother have to fight for a dead child, especially over something so trivial? But I will."
Miss Clipping Out Stories to Save for Later?
Click the Purchase Story button below to order a print of this story. We will print it for you on matte photo paper to keep forever.