Working in a winter wonderland: Frozen warehouse workers at Dot work daily in sub-freezing temperatures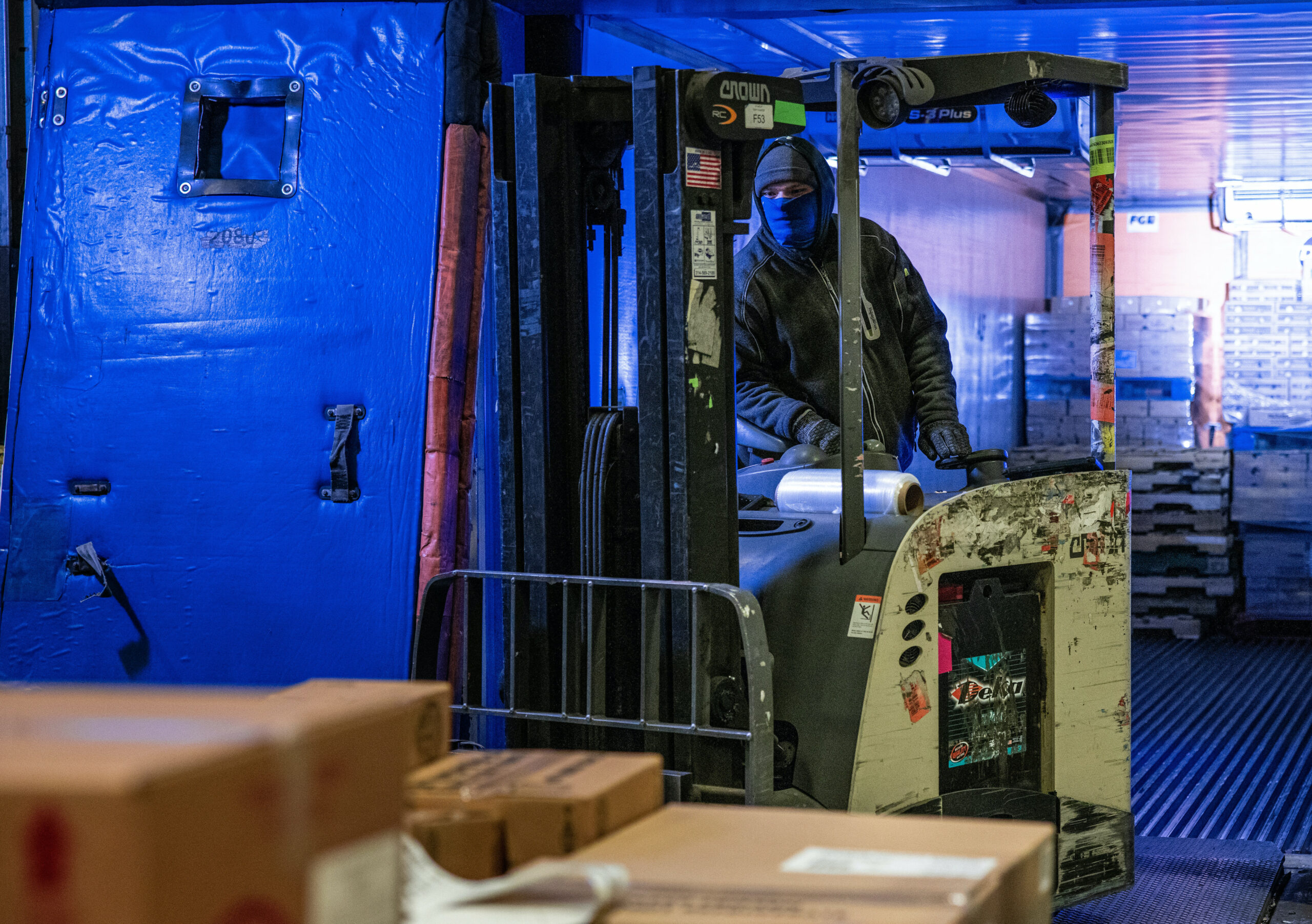 Winter is coming.
A common refrain over the 73 episodes of "Game of Thrones."
The fear of a winter lasting generations with snowfalls of more than 100 feet.
Kings in their castles and shepherds in their huts would freeze to death in sub-freezing temperatures.
At Dot Foods, when 400 warehouse employees head to work, they enter a warehouse they call the "Tundra." While most people break a sweat just walking to their cars in 90-degree and 100-degree temperatures during this summer, sub-zero temperatures greet these employees as they pull their 12-hour shifts.
Winter greets them on every shift.
Rodney Smith, who commuted from St. Louis when he first started and now travels from Macomb, has worked in the frozen warehouse for three and a half years.
"Man, it's like the wintertime inside," he said. "You're shivering … frostbite, you know. You've got to push through it for that paycheck."
Andrew Harper, a shift coach after six years, remembers his first day.
"At first, I was thinking, 'Oh, what did I sign myself up for?'" Harper said with a laugh. "But as I got through my starting period and everything … I gradually adjusted to the temperature. It took about a good four months in total."
The frozen warehouse at Dot Foods covers 700,000 square feet. That's more than 16 acres or 12 football fields. It's half the size of The Pentagon. There are more than 15,000 SKUs (stock keeping units) and 75,000 pallet positions. Plans are to add another 120,000 feet.
Why do employees choose to enter a winter wonderland to work when other warehouse positions are available?
"It was probably more practical to go find another job in St. Louis, because it was closer," Smith said. "But I just couldn't find anywhere else where I can advance so fast. Kind of like the best job I've ever had (at Dot). When I came, and they had a list of different temps (jobs in warehouses) and how much they pay, and I saw the frozen pay. It was no questions asked."
Harper tells a similar story.
'I had a son on the way, and the place I was working at, the pay was good, but it didn't offer benefits," he said. "So I wanted to start a job where I could provide him with health insurance and anything that he might need later along the line. I went with the money."
John Bordewick, general manager of the warehouse at Dot Foods, says staffing the frozen warehouse can be troublesome.
"You know, historically it's been a challenge, but I will tell you right now, we are above our frozen headcount right now, which is really awesome," he said. "We are always hiring, because we're growing. We think a part of that is not just the kind of the job and opportunity and schedules, but it's also the pay. Our highest paid position is our frozen warehouse."
Frozen warehouse workers start at nearly $25 per hour, and 24 schedules offer flexibility for employees.
Smith loves the flexibility of working overnights. He gets quality time fishing, bowling and swimming with his 6-year-old daughter.
Harper appreciates his three-day work week.
"A little over a year ago, my son was diagnosed with autism," Harper said. "This shift works out great, because I can do all of his therapies and doctor appointments, including OT, PT and food therapy on weekdays when their schedules are a little more open."
Spending hours in a freezing environment, Harper says, creates a unique bond.
"It's just the way that we're able to come in here, and you get so used to some of the other faces that are in here, especially ones that you've worked alongside for years, even some of the new guys that come in … sometimes you just click right away," he said.
Bordewick has a unique perspective on working in the Tundra.
"It's really not that bad," he said with a chuckle. "Like my family in Minnesota says, 'There's no such thing as bad weather. There's bad clothes.'"
Yes, Dot Foods provides the clothes.
Miss Clipping Out Stories to Save for Later?
Click the Purchase Story button below to order a print of this story. We will print it for you on matte photo paper to keep forever.