Yohn claims judge has put him at 'very unfair disadvantage' and 'blatantly lied,' files motion for replacement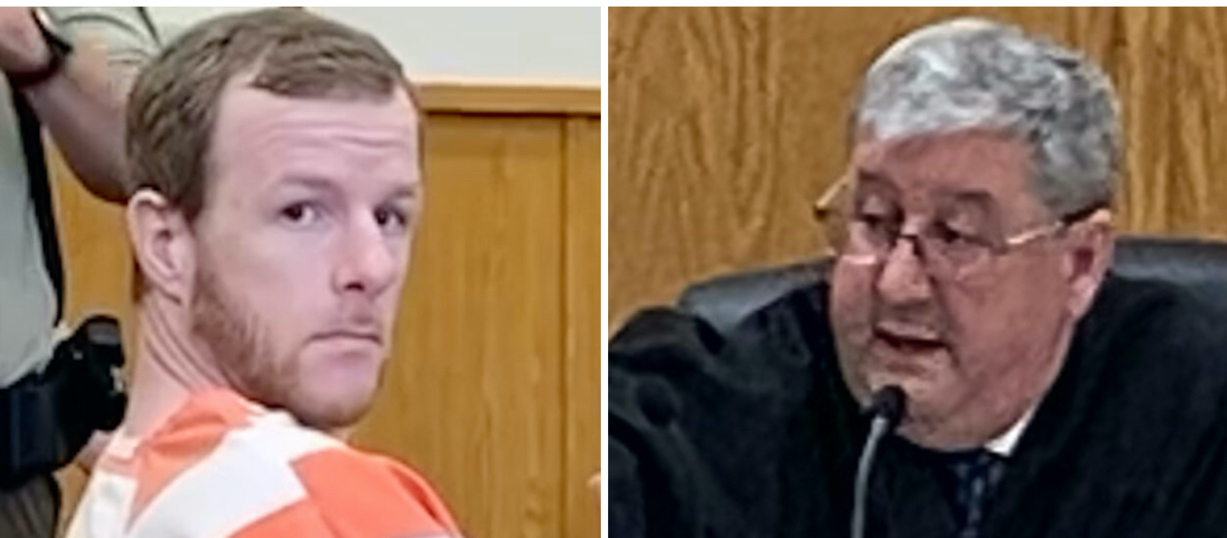 QUINCY — Bradley Yohn, a Springfield man charged with four Class X felonies in Adams County in connection with a Nov. 9, 2021 sexual assault, filed a motion last week requesting a substitution of judge in his case in Adams County Circuit Court.
Yohn, 35, is defending himself against charges of home invasion, aggravated kidnapping, aggravated vehicular hijacking and aggravated criminal sexual assault with a weapon. He allegedly committed the crimes on Nov. 9, 2021, at the home of Christine "Tina" Schmitt, who died on Dec. 12. Yohn could be sentenced to serve between six and 30 years in the Illinois Department of Corrections if he's found guilty of any Class X felony.
Judge Roger Thomson has presided at most of the hearings involving Yohn, as well as the jury trial that was scheduled to begin June 21 when Yohn said to Thomson moments before jury selection was to begin, "I can't do this." Public defender Todd Nelson was assigned to represent Yohn in July, but Thomson granted Yohn's wish to have him dismissed on Sept. 7.
A motion hearing set for Wednesday afternoon was cancelled. Judge Amy Lannerd is scheduled to preside at a Monday hearing about Yohn's motion to replace Thomson.
The motion, filed on Sept. 22, claims that during the June 21 hearing, Yohn was given a list of witnesses to be called to testify. He wrote that two names had not been disclosed to him, nor had he received any written or audio/video statements from those two people.
Yohn wrote he was given four options — proceed with the trial; waive the jury trial and accept a bench trial; return to his cell and let the trial proceed without him; or take an appointment of a public defender and have the trial continued. Yohn said Thomson "placed the defendant at a very unfair disadvantage and violated his right to discovery … and also violated the defendant's rights to self-representations."
Yohn accepted the appointment of a public defender.
The motion also noted he had asked Thomson to recuse himself from the case during a Sept. 7 hearing. Yohn made vulgar comments directed at Thomson as he was escorted from the courtroom following a status hearing on July 20. He apologized to Thomson, but he also said the comment could be used in a "prejudiced" way against him.
Thomson refused the request to recuse himself, claiming he didn't he hear what was said.
"Folks calling me names is the least of my worries," he said that day. "There is no ill will or hard feelings … towards you, because again, I didn't hear it. Quite frankly, it wouldn't have affected me much if I had."
Yohn wrote in his motion that Thomson "blatantly lied" about whether he heard Yohn's comment.
"Considering the occurrences at hand, the possibility of fair and impartial court proceedings under hearing by the honorable Judge Roger Thomson are unable to be held in a manner reasonable to support the defendant's constitutional rights and due process," Yohn wrote. "Therefore, it is imperative that the defendant be granted a change of judge to hear these cases through to completion.
"With the status of the caseload at hand and the level exposure, you may even consider a change of authority over all proceedings."
Yohn also filed two more motions on Wednesday. He asked that all video and audio statements and any testimony from Joshua Pearcy, Michael Cameron and Troy Hedges — all inmates in the Adams County Jail at some point in 2022 — be suppressed and excluded. Yohn claims the audio/video statements are hearsay and are "inconsistent with the alleged crime or alleged victim's account of the crime." He believes the statements were "possibly made up in hope to secure a deal from the prosecution."
Yohn also requested for assistant state's attorneys Josh Jones and Laura Keck to disclose:
A video taken of a truck theft at Instant Replay, 2739 Chestnut, on Nov. 9, 2021;
The location of camera footage from a Ring doorbell;
A statement made by Randall Young.
Miss Clipping Out Stories to Save for Later?
Click the Purchase Story button below to order a print of this story. We will print it for you on matte photo paper to keep forever.