Yohn decides to keep standby counsel as sexual assault trial is moved to July docket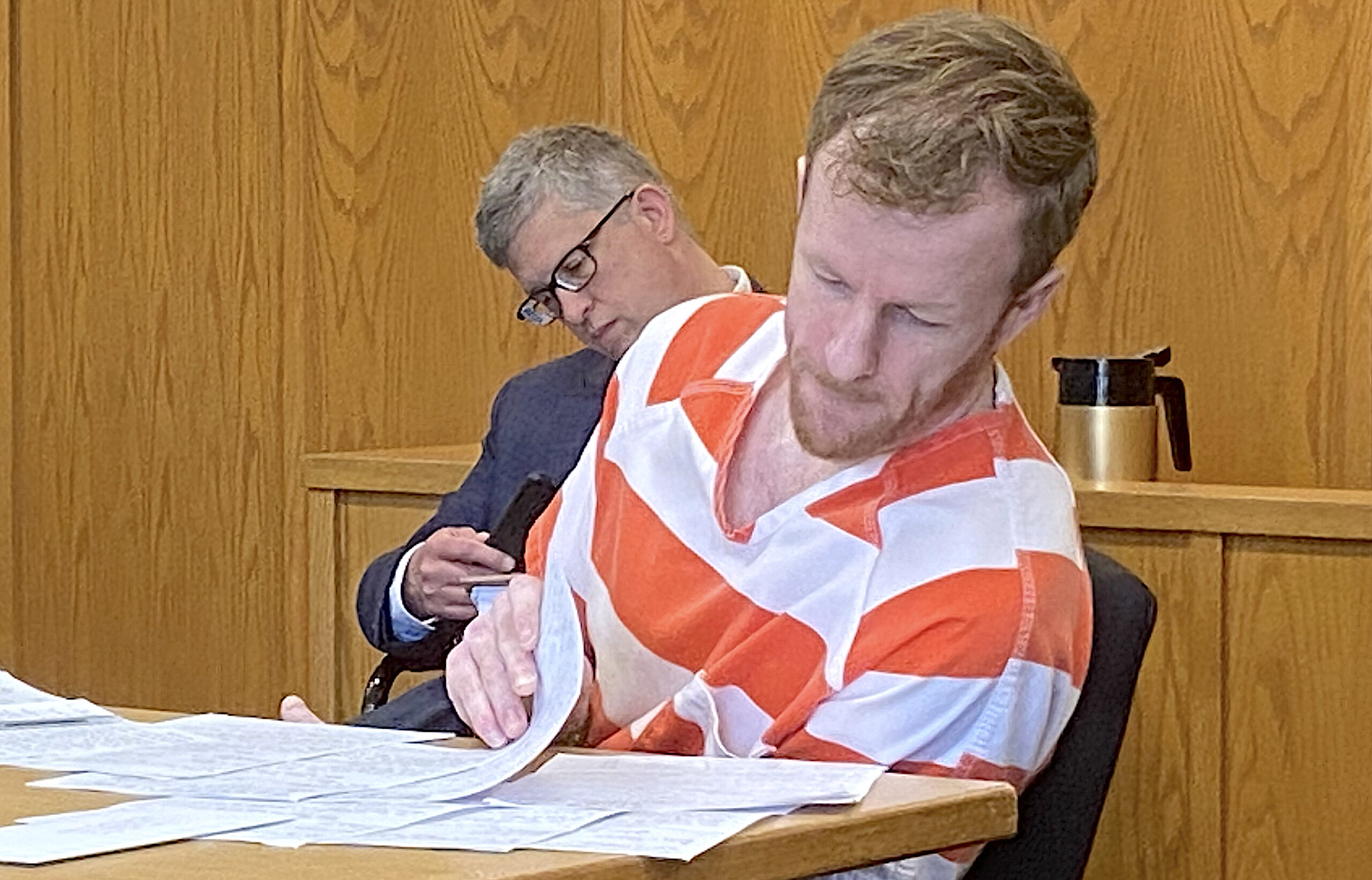 QUINCY — Judge Roger Thomson addressed several motions during Wednesday afternoon's motion hearing in Bradley Yohn's criminal sexual assault case in Adams County Circuit Court. Two, however, appeared to rise above the others.
Yohn eventually dropped his motion to fire Public Defender Todd Nelson and acquire new standby counsel as he continues to defend himself pro se. Thomson granted a motion to continue the trial, set to begin May 8 but now scheduled to begin July 10.
Yohn is defending himself against charges of home invasion, aggravated kidnapping, aggravated vehicular hijacking and aggravated criminal sexual assault with a weapon — all Class X felonies. He allegedly committed the crimes on Nov. 9, 2021, at the home of Christina "Tina" Schmitt. Yohn could be sentenced to serve between six and 30 years in the Illinois Department of Corrections if he's found guilty of any Class X felony.
Yohn told Thomson he had unsuccessfully tried to contact Nelson nine times in the past three weeks. In his motion, he wrote, "Nelson wants to do the least possible in his assistance." He said he has unsuccessfully asked corrections officers in the Adams County Jail to send emails to Nelson. He claimed he had the right to call a public defender directly when he was incarcerated in other counties.
"I can't get my grievances answered or emails approved to get all the experts I need to confer with me more quickly," Yohn said. "People (in the jail) are just biased or prejudiced. They just don't want to do their job."
After Assistant State's Attorney Josh Jones said he wouldn't object to Yohn discharging Nelson, Yohn recoiled and offered another option.
"If it's not Mr. Nelson's fault, I would choose not to fire him," he said. "None of us have any control of what correctional officers do and don't do in the county jail, and they don't do anything. The only other option viable is to change the placement of the defendant. I can't get anything done."
Thomson suggested Yohn use the U.S. Mail to send requests for consultation with Nelson.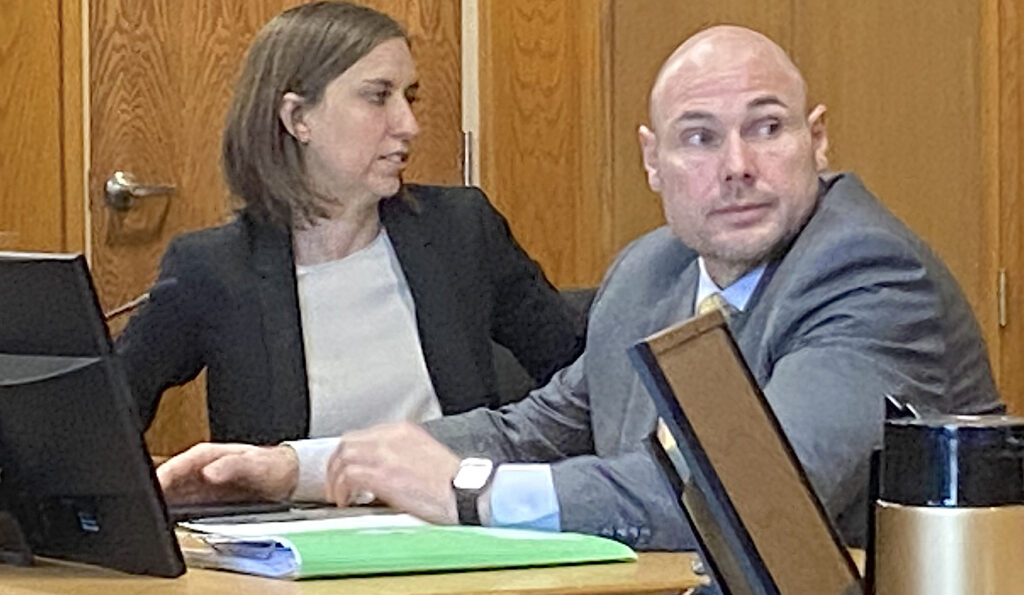 Near the end of the hearing, Thomson addressed Yohn's motion to continue the trial. Yohn said he's waiting on DNA evidence and again complained about a lack of assistance from corrections officers.
"It's rough getting a hold of certain people, because I'm kind of denied a few things in the jail," Yohn said. "It's hard for me to get a hold of Mr. Nelson and get help with the additional information he needs to get me. What happens in the jail affects this trial, even though it's not supposed to."
Yohn again asked to be removed from the Adams County Jail.
"If I was in Pike County right now, I'd be the courthouse trustee without these shackles and handcuffs every day," he said. "A lot would change if I was in a different county."
Yohn originally asked for a 30-day continuance. Thomson pushed the start of the trial back even further away to allow Yohn to make more motions before a May 15 cutoff.
Other motions Yohn made were:
To strike the state's motion on March 6 to continue a March 8 hearing, and a motion for sanction for the same continuance. Yohn claimed an affidavit needed to support the request, and none was provided. "The defendant would be prejudiced and delayed in an irreparable manner if the continuance was granted," Yohn wrote. When asked about the continuance for the hearing, Jones said, "My grandmother died. I'm sorry it was inconvenient to Mr. Yohn." Yohn then withdrew the motion.
To receive documents he has subpoenaed but yet to receive from the Hannibal Courier-Post, KHQA-TV of Quincy and WICS-TV of Springfield.
To receive limited exam photos from a sexual assault examination of Schmitt. Yohn said he needed to study the photos of Schmitt's hands, knees and her arm. Assistant State's Attorney Laura Keck said her office's policy is not to provide photos from sexual assault kits. "I'm asking for nothing provocative," Yohn said. "Nothing private. I don't need all that." Thomson asked Yohn to provide a list of the photos he wants.
To receive an aerial map of the area from 2000 Bottom Road to 5000 Bottom Road, including the intersection of Bottom Road and Koch's Lane and to the east approximately one-half mile. Jones said he would go to Google Earth himself and print a map for Yohn.
To receive transcripts from a hearing from Oct. 3, 2022, during which Judges Amy Lannerd and Holly Henze ruled on Yohn's request for a substitute judge. Thomson told Yohn he had asked for transcripts from every hearing to be provided to him.
To interview investigators Kelsey Miller and Sam Smith, deputy Ruth Boden and deputy Joe Lohmeyer with the Adams County Sheriff's Department. Yohn's motion included more names, but he only named the four listed above during the hearing. Jones said he forwarded Yohn's request to the officers, saying it was their option to choose to be interviewed under Illinois law. All of them told Jones they would refuse Yohn's request. "You may not like it, but that is their absolute choice," Jones said. Yohn said Smith was "surprised" by his request and acted as if he wasn't aware of it. "Even though I can't prove it, I don't know why Mr. Jones would perjure himself," Yohn said. Thomson suggested Yohn himself contact the people he wants to interview.
To receive funds to hire Todd Mutchler, a forensics expert from Urbandale, Iowa. Yohn wants him to investigate if video and audio interviews, as well as photos and cell phone extractions, were illegally manipulated. He believes several segments of an interview of Schmitt were altered. "It is full of blatant lies and laughing and giggling about being heinously raped," Yohn said. "It's like it's a comedy show." Thomson denied his motion, but Yohn asked for a hearing specific to the investigation of the files he claims are altered.
To receive a "more definitive" statement from Dr. Ada Kagumba with Quincy Medical Group, who interviewed Schmitt when she sought medical treatment for injuries. Yohn claimed a statement he received in medical documents is different from one he received in a subpoenaed document. "She's of a different ethnicity," Yohn said. "The statement in Quincy Medical Group's documents were clearly from an American. I don't mean to make this into an ethnicity war, but it was not put together by Dr. Kagumba." He said he could not understand her original document "at all." Jones questioned if Kagumba's ethnicity was relevant. Yohn replied, "As we know, when foreign doctors are here overseas, they do not type in the form that an American does. Their stuff seems to be confused at times." Yohn asked if he could "get a foreigner who could pronounce everything" in Kagumba's statement. Thomson ruled Yohn should have a copy of both statements.
To appeal Judge John Wooleyhan's ruling on March 22 to deny Yohn's motion to replace Thomson as a judge. "This isn't the appellate court," Thomson said.
To receive a "more complete" CFS (Call for Service) report from the night of Nov. 9. Yohn said he received two 911 reports, and "no one called 911 that night. People were too busy calling The Abbey, Texas Roadhouse and family members." Jones said his office has provided Yohn what it has. "We can't provide what doesn't exist," he said. Thomson told Yohn to subpoena the agencies he believes has the report he wants.
To file a Freedom of Information Act request to get a copy of notes he believes were taken during a June 16 conversation with Keck, Jones and Karen Blackledge, who allegedly was with Yohn on Nov. 9. Jones said the conversation was not recorded, and Blackledge agreed to a plea deal of two 20-year sentences in prison in exchange for her testimony. Yohn said he was sure notes were taken. Jones said no notes were taken. Thomson told Yohn filing a FOIA request through the court was not proper.
Yohn also learned before Wednesday's hearing that the Adams County State's Attorney's Office is dismissing charges against him in an October 2022 case in which he allegedly threatened a public official.
Another motion hearing is set for April 26.
Miss Clipping Out Stories to Save for Later?
Click the Purchase Story button below to order a print of this story. We will print it for you on matte photo paper to keep forever.